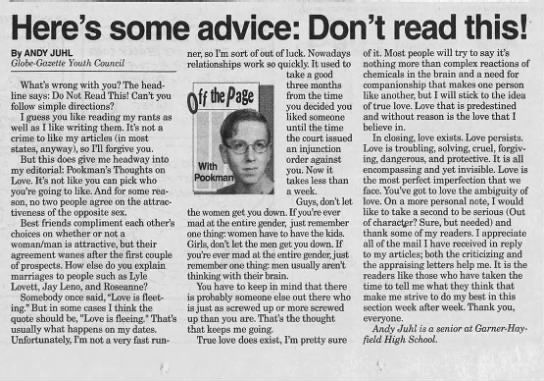 Editor's note: This article was originally published in our "teen xpress" section on Feb. 7, 2000. We're bringing it back in time for Valentine's day.
What's wrong with you? The headline says: Do Not Read This! Can't you follow simple directions?
I guess you like reading my rants as well as I like writing them. It's not a crime to like my articles (in most states, anyway), so I'll forgive you.
But this does give me headway into my editorial: Pookman's Thoughts on Love. It's not like you can pick who you're going to like. And for some reason, no two people agree on the attractiveness of the opposite sex.
Best friends compliment each other's choices on whether or not a woman/man is attractive, but their agreement wanes after the first couple of prospects. How else do you explain marriages to people such as Lyle Lovett, Jay Leno, and Roseanne?
Somebody once said, "Love is fleeting." But in some cases I think the quote should be, "Love is fleeing." That's what usually what happens on my dates. Unfortunately, I'm not a very fast runner, so I'm sort of out of luck. Nowadays relationships work so quickly. It used to take a good three months from the time you decided you liked someone until the time the court issued an injunction order against you. Now it takes less than a week.
You have free articles remaining.
Guys, don't let the women get you down. If you're ever mad at the entire gender, just remember one thing: women have to have the kids. Girls, don't let the men get you down. If you're ever mad at the entire gender, just remember one thing: men usually aren't thinking with their brain.
You have to keep in mind that there is probably someone else out there who is just as screwed up or more screwed up than you are. That's the thought that keeps me going.
True love does exist, I'm pretty sure of it. Most people will try to say it's nothing more than complex reactions of chemicals in the brain and a need for companionship that makes one person like another, but I will stick to the idea of true love. Love that is predestined and without reason is the love that I believe in.
In closing, love exists. Love persists. Love is troubling, solving, cruel, forgiving, dangerous, and protective. It is all encompassing and yet invisible. Love is the most perfect imperfection that we face. You've got to love the ambiguity of love. On a more personal note, I would like to take a second to be serious (Out of character? Sure, but needed) and thank some of my readers. I appreciate all of the mail I have received in reply to my articles; both the criticizing and the appraising letters help me. It is the readers like those who have taken the time to tell me what they think that make me strive to do my best in this section week after week. Thank you, everyone.
Andy is a senior at Garner-Hayfield High School.
1962 valentine's poem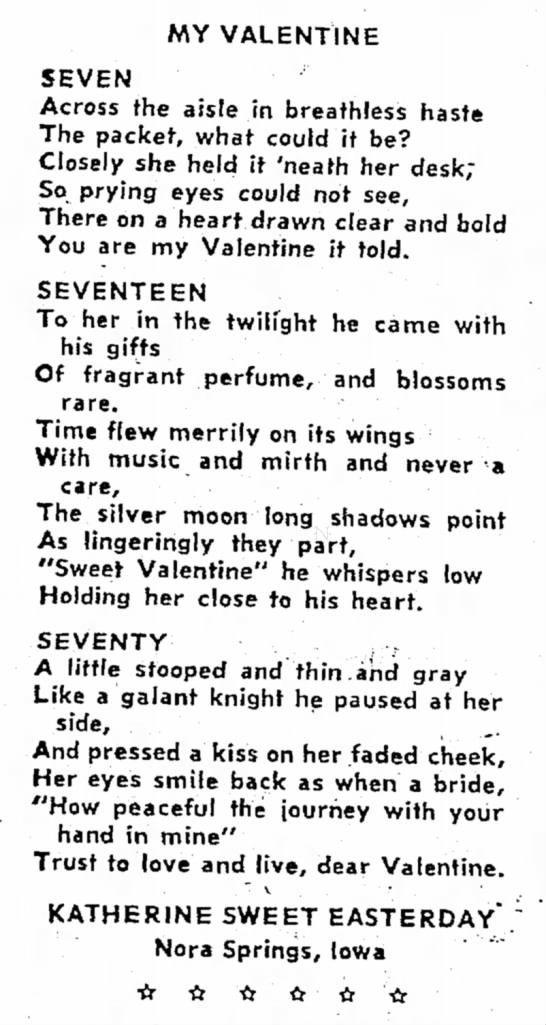 1974

1940 dance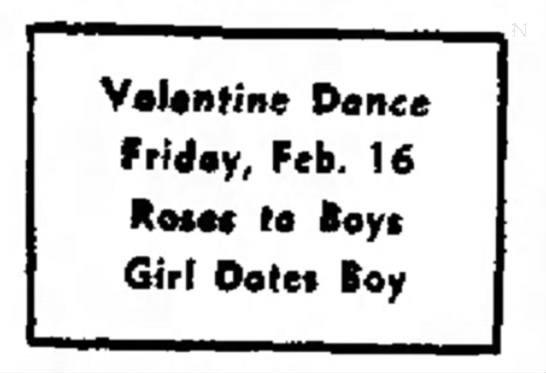 1951 ad
1974 haroe honey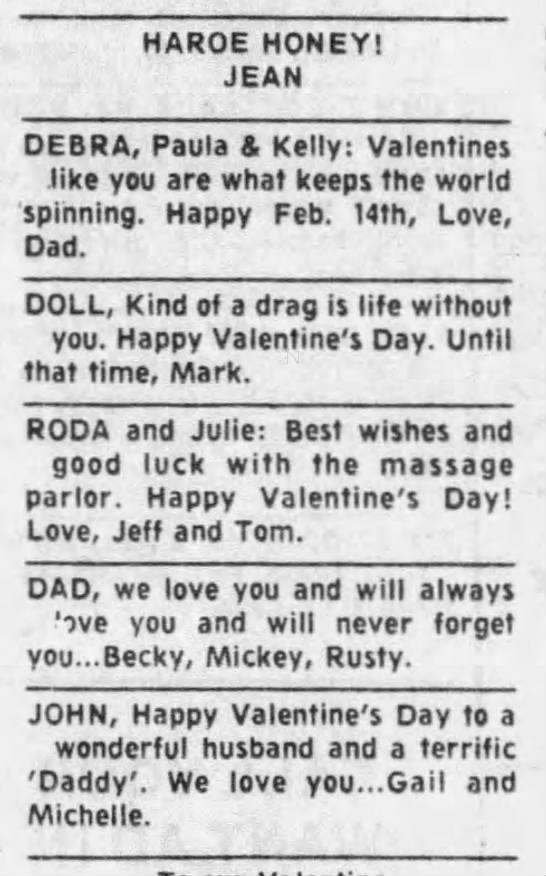 1974 valentine well wishes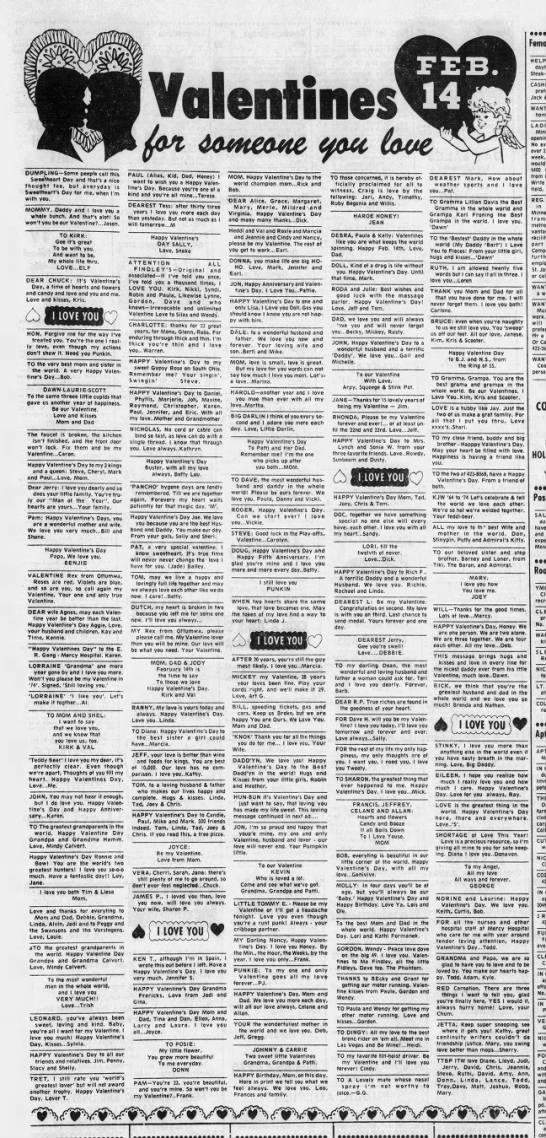 1933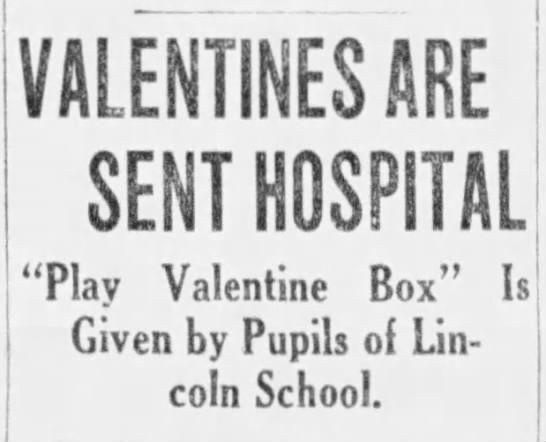 1937 ad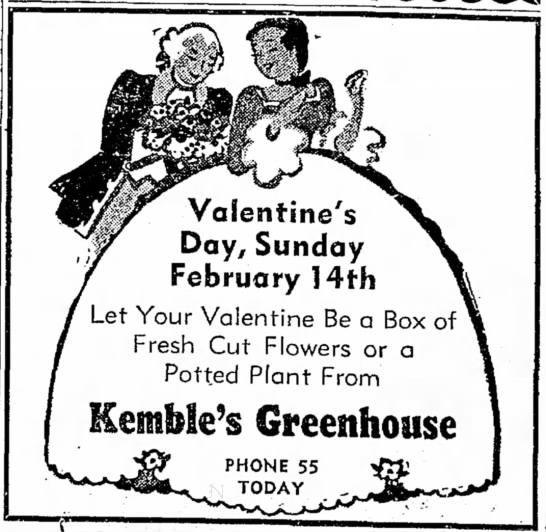 1959 flowers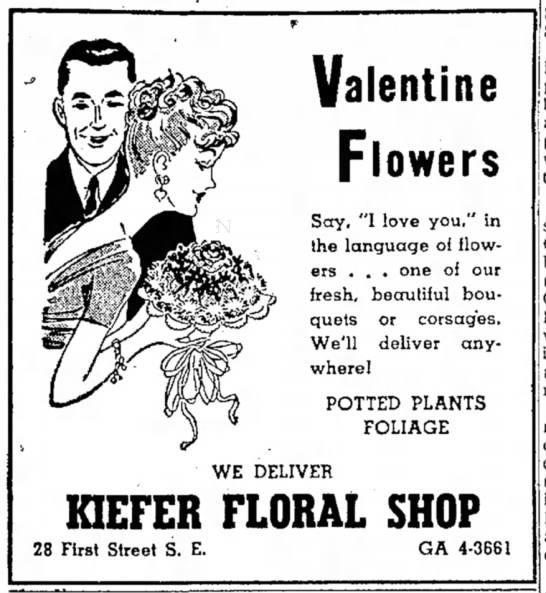 1972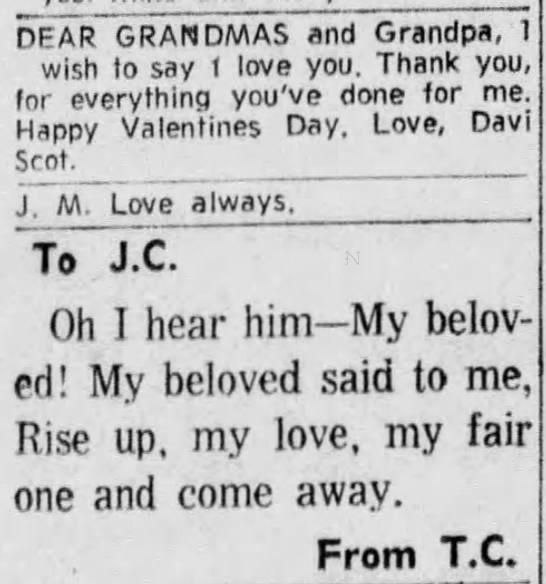 1934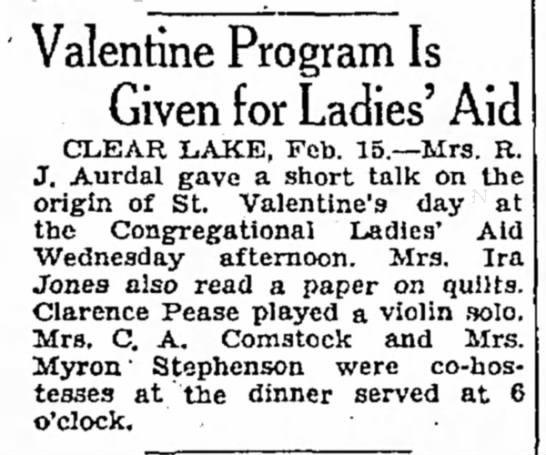 1959 poem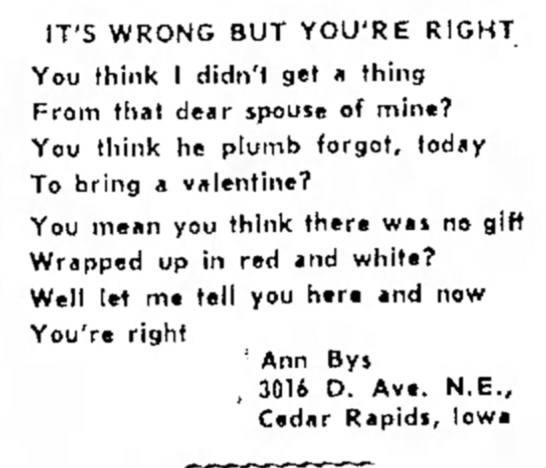 1974 i love you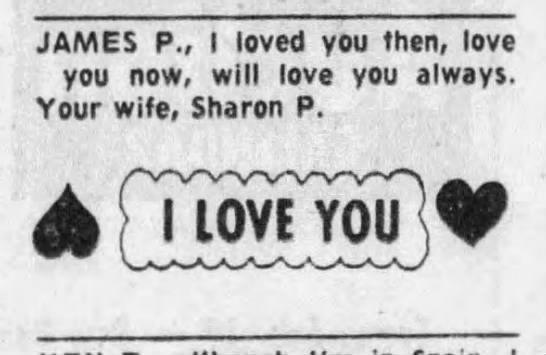 honey roses harley 1997.jfif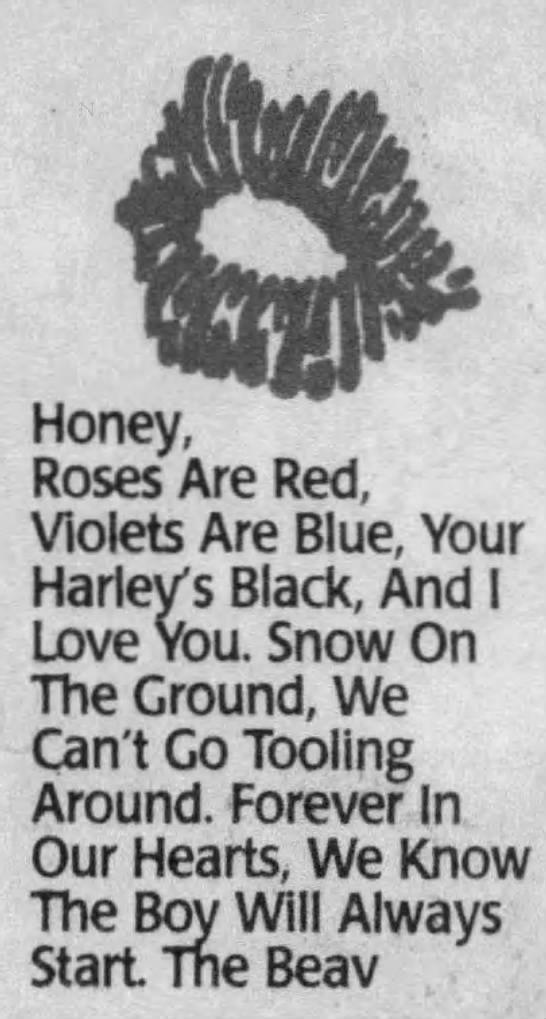 1974

1974 valentine

1997 baron ii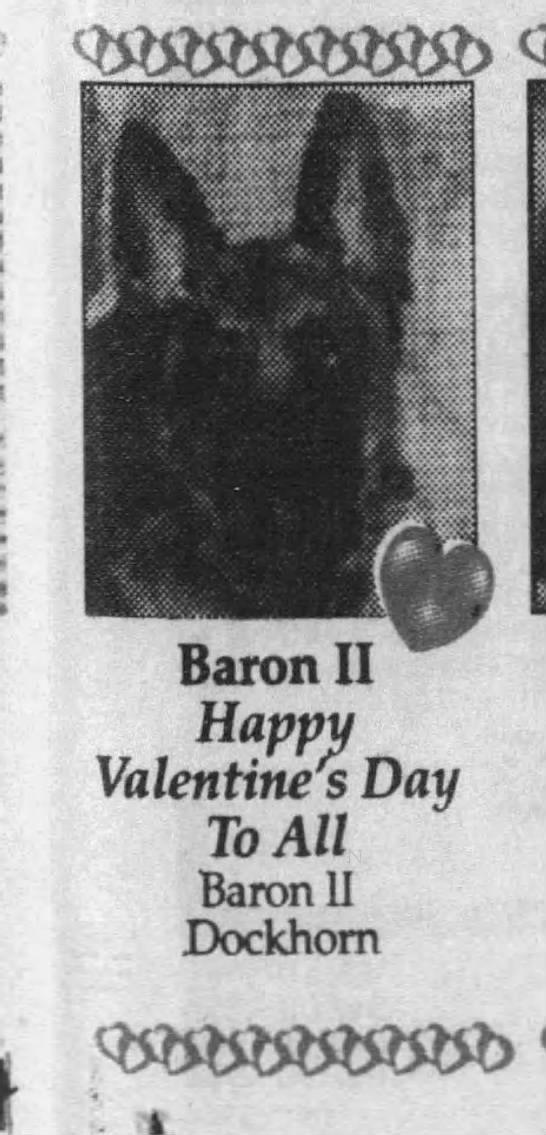 1997 love lines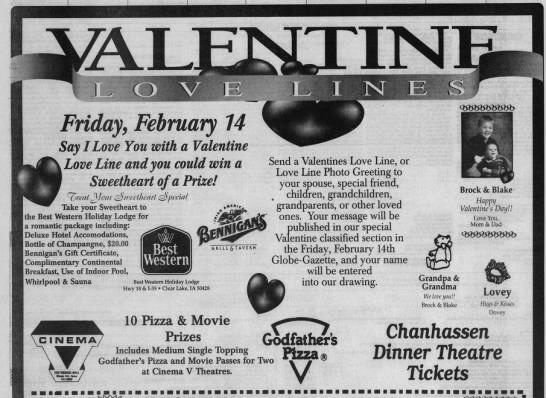 2001 v day origin.jfif

2000 v day teen column.jfif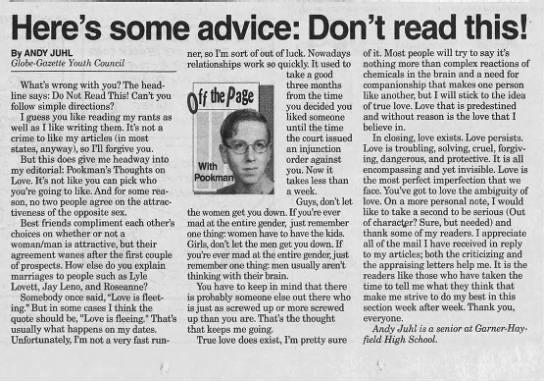 1997 peggy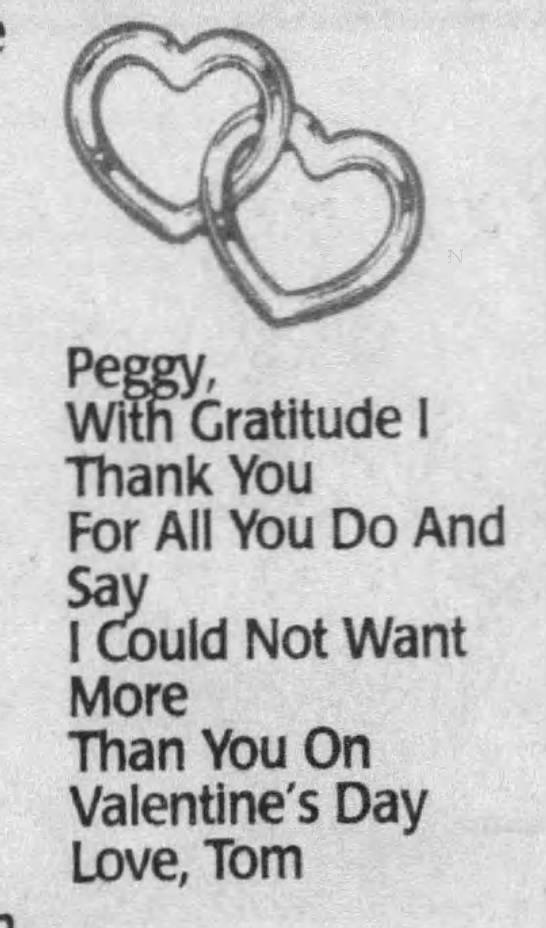 2013.jfif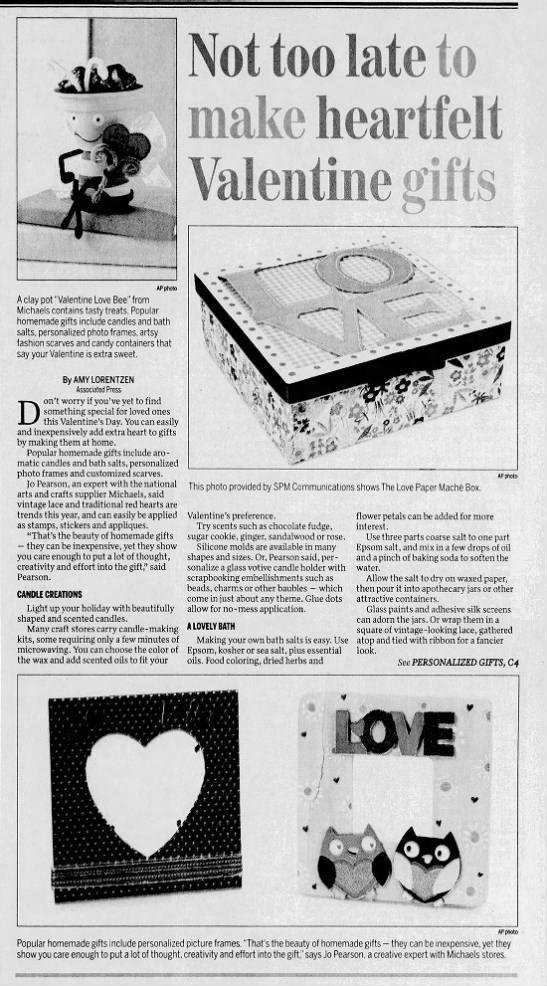 2000 v day solo.jfif
1997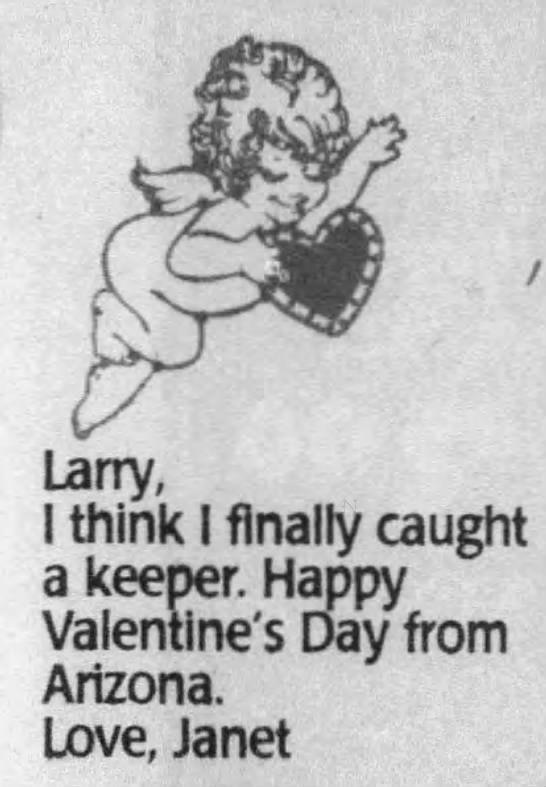 1997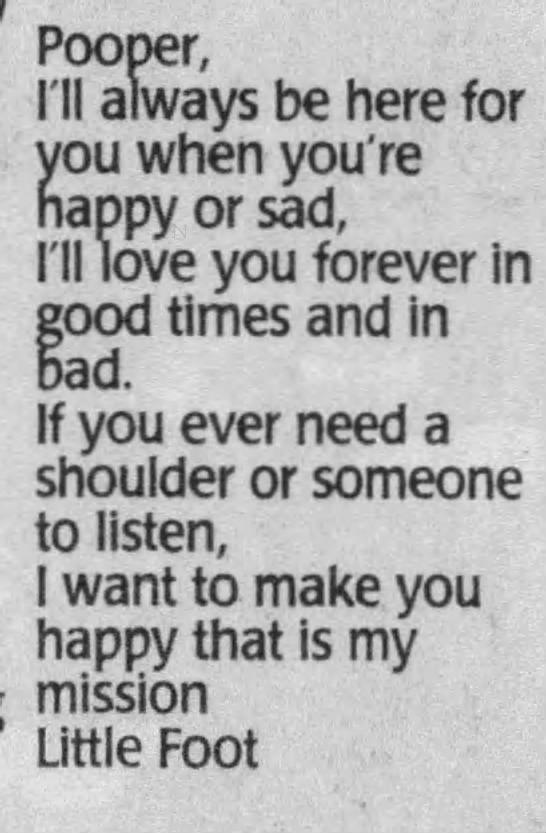 1997 valentine's kids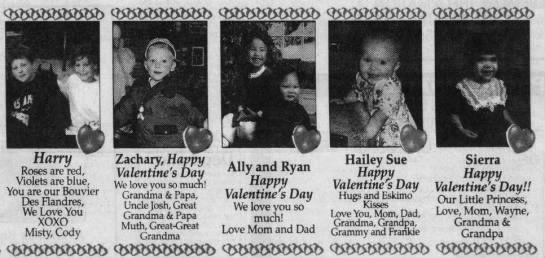 1974

1998 comic

1998.jfif