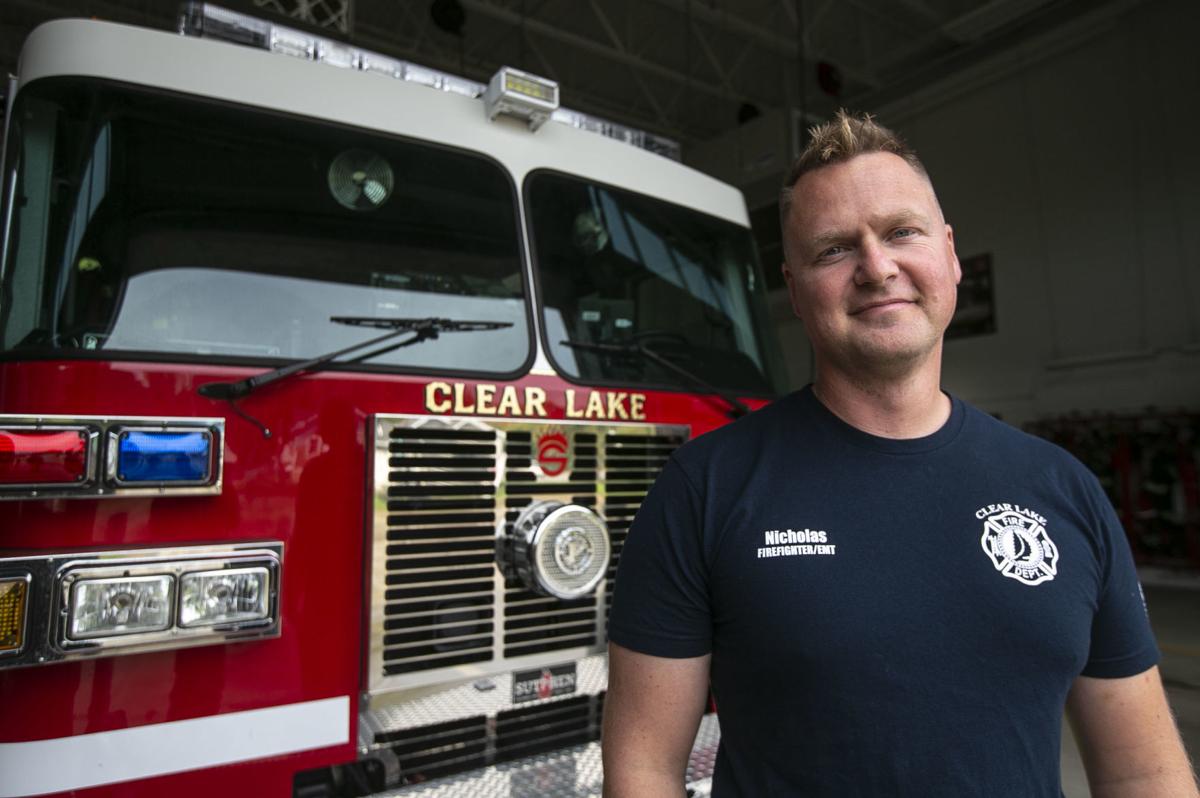 Greg Nicholas Jr. lives by one simple credo in his role as a volunteer firefighter and EMT for the Clear Lake Fire Department.
"If you want a hobby, get a job. If you want to help somebody on their worst day, become a volunteer firefighter," he says.
For the past five years, Nicholas has been doing just that in Clear Lake, not for the recognition or for pats on the back, but to genuinely help people in times of crisis.
"I always wanted to join the military, but I didn't pull the trigger," said Nicholas, a full-time farmer in Clear Lake. "This was my supplement for that. It's hard to quantify, but I enjoy it very much. It's about helping people."
Nicholas said there are about 28 members of the Clear Lake Volunteer Fire Department, with three squads of about eight on each one who work every other day for six days, then take off four days.
On the EMS side, he said there are always paramedics and EMTs on duty 365 days a year, 24-hours a day, along with part-time EMTs like himself that are on call and help out whenever they are needed.
"We average about 2 1/2 calls a day, so there isn't much down time," Nicholas said. "
Nicholas said he and the other volunteer firefighters and emergency medical technicians and paramedics go on calls ranging from a common cold to "the worst of the worst" calls.
You have free articles remaining.
And while he says the job can be difficult at times, it is always rewarding, no matter how mundane or tragic the call.
"We see the good, the bad and the ugly, and it's a job I couldn't imagine not having," Nicholas said. "Everybody struggles with it from time to time, but you see the best of people and sometimes the worst of people."
Nicholas was nominated for the "Community First Responders" honor by fellow firefighter Gabriel Hauglund, who said in his letter: "He has done incredible work for the community responding to accidents, fires and emergencies over the last five years. He volunteers for extra duty frequently."
Being a volunteer firefighter and EMT, among other things, are ways Nicholas says he can give back to the community in which he lives. He said that is a way of life for he and his colleagues on the volunteer fire crew and the other EMT and paramedics.
"They are a part of a whole team that help people, sometimes on the worst days of their lives," he said. "They are the first on the scene and the first step on the rung of helping people."
Nicholas says he's always talking to people about volunteering for the fire department or about getting their EMT certification. While a part of that is because he knows how rewarding it is, he also does it because small communities always need more people to serve.
He said 100 years ago, everybody showed up when the bell rang, and that what he urges folks to do in Clear Lake and in all of the other North Iowa communities hurting for volunteers.
"It's incredibly important. We can't find enough volunteers," he said. "It's difficult to find people who are willing to step up and do this."
Nicholas likes to leave those he is trying to recruit with this:
"If you only did what you've always done, you'll always be where you've always been."
Jerry Smith is Special Projects Editor for the Globe Gazette. He can be reached at 641-421-0556.