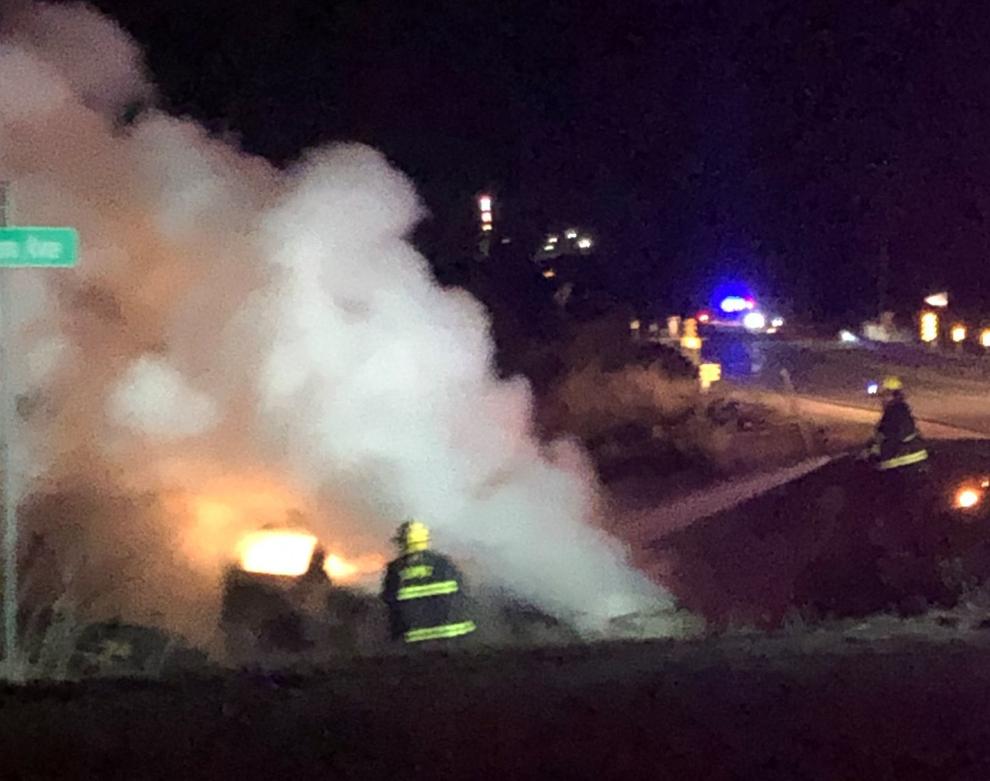 Most days we put our faith in God that we're on the right path.
But then comes that one day when He decides to put his faith in us.
For Brandon Shahan and his fiance Sandra Bednarz, that day was Good Friday.
The two were driving home in separate cars to Dows, about a mile past Dows Junction, when Bednarz spotted a minivan in the ditch with flames coming out of the hood in two places, and a woman in the driver's seat.
They both pulled over. It was about 8:30 p.m.
By the time the two got to the minivan, the flames had spread to the passenger side of car, where they discovered three children in the second row seats.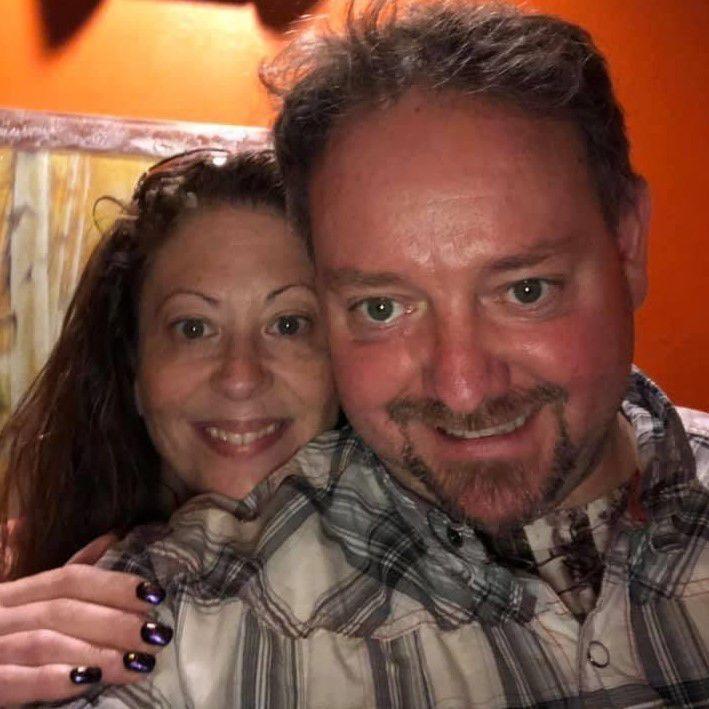 After assisting mom Amanda Jones – who was calling 911 for help – out of the car, Bednarz and Shahan helped 7-year-old Jerzey -- who had already unbuckled her seat belt and opened the door -- get out the van, along with her younger brother Jace, 5.
Shahan helped Jones, Jerzey and Jace, who was crying uncontrollably because he left his favorite blanket in the car, up out of the ditch and across road, a safer distance away.
Amanda Jones' mind was racing in too many directions at once. She and her three kids were trying to get home. She had pulled over to the side of the road to start a movie for the kids but her rear tire ended up off the road. She couldn't get enough traction to pull away so she tried putting the car in reverse and instead ended up fully in the ditch.
She turned the car off and called a friend for help. Realizing she had a wait in front of her, Jones turned the car back on to start the movie. Smoke began wafting in through the vents and seconds later, flames shot up through the hood in two spots.
She opened her window and called 911.
Shahan, a dryer service manager at Sukup Manufacturing, assumed his fiance Bednarz was right behind him as he hustled Jones and her two children to safety. 
But when he turned around he saw two things immediately. One was that Bednarz was still in the minivan, stretched across the second row seats, fighting with the restraints that held a third child, 2-year-old Carson, in his car seat.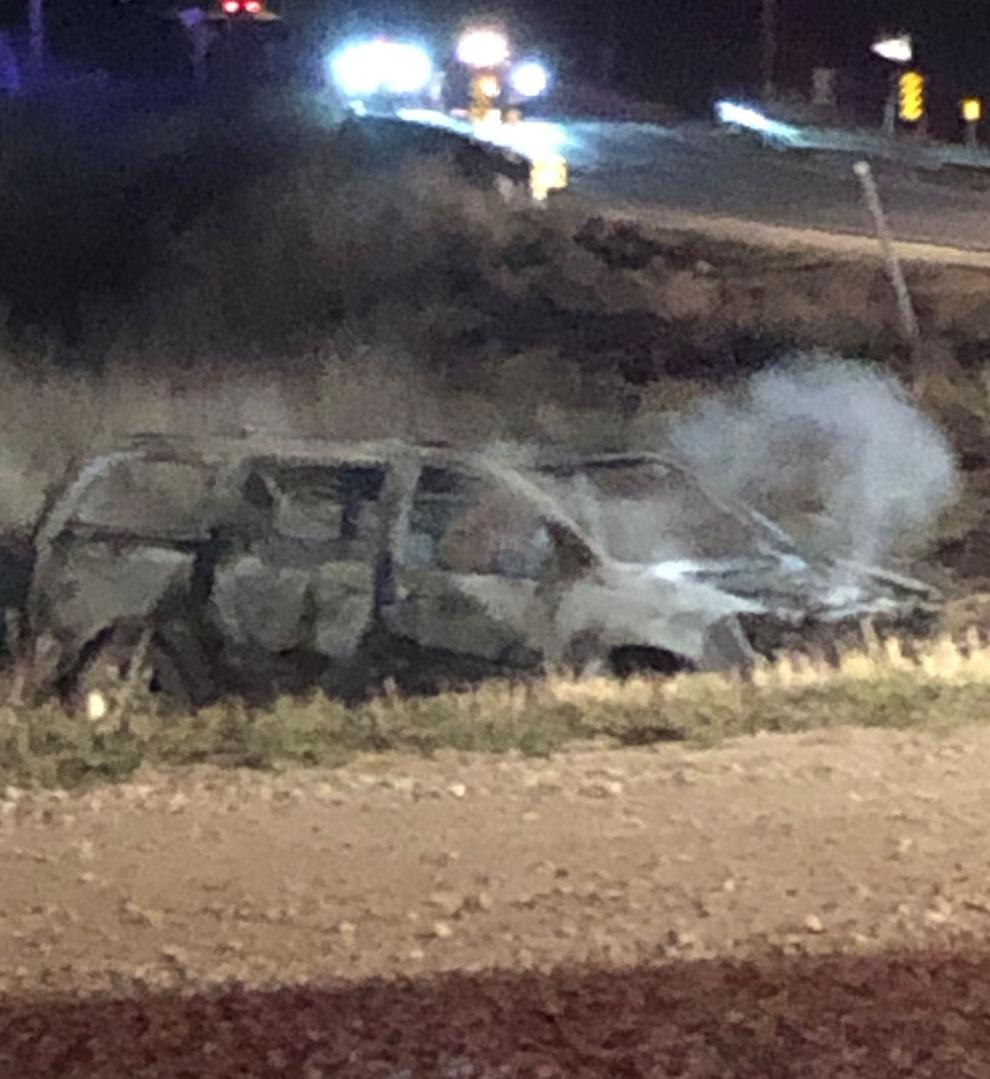 "I was not leaving that car without that child," said Bednarz, a chiropractor with several small practices in North Iowa. By now, she said, flames were shooting four feet high out of two sides of the car, including right outside where Carson was sitting.
"I could see the fire through the car window," Bednarz said. "It was terrifying. The child was calm and just looking at me, but I couldn't get that third restraint.
"I have nieces and nephews so I know how car seats work. I could hear Brandon yelling. It felt like a ticking time bomb."
And that was the other thing both Bednarz and Shahan realized at about the same time.
The fuel line had just exploded.
Car fires are nothing like we see on TV. They don't start out of nowhere and they generally don't blow cars into the air.
But they do burn hot, about 1,500 degrees, and they do spread quicker than most realize. Bednarz felt the fuel line blow and knew she was nearly out of time.
He pulled her out of the car, where flames were now above the roof on three sides, including the back by the fuel tank.
"As I told her I was going to get the child, I realized there was a chance I might not be coming back," Shahan said. 
A car's fuel tank is insulated to prevent it from immediately exploding if fire reaches the fuel line. But that doesn't mean the tank will never blow. Eventually, depending on the heat of the fire, it will, often a mere minute or two later.
"He was literally standing in the flames getting Carson out," Jones said.
"It was suddenly like I was the calmest I'd ever been in my life," he said. Bednarz and Jones said Shahan was in the burning car for nearly a minute, working to get baby Carson out of his seat. He said he had no sense of time at all. 
"I felt like I was in a miracle. Like God had just pushed the pause button on everything," he said.
Bednarz said he emerged through flames with the baby and was just crossing the road when the fuel tank blew, fully engulfing the minivan.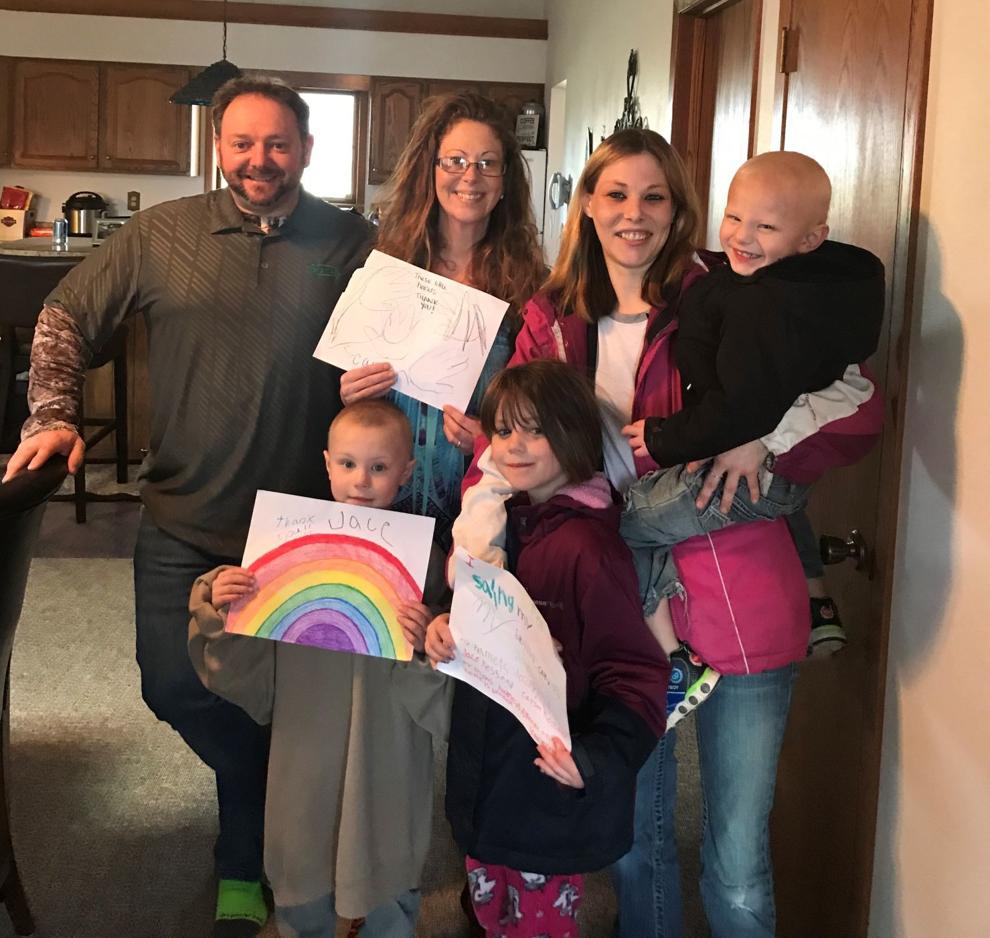 Nearly a week later, Jones and her three children stopped by Shahan's home to give him and Bednarz thank you cards. They talked for a bit and took a photo together.
"If they had not been there to help me out I don't know what would have happened," Jones said.
Shahan and Bednarz complimented each other on their perseverance and heroism, but ultimately both felt more of a divine hand than anything else.
"You just have to put your faith in God," Bednarz said.
But sometimes, just sometimes, it might be the other way around.
"As I told her I was going to get the child, I realized there was a chance I might not be coming back."

Brandon Shahan