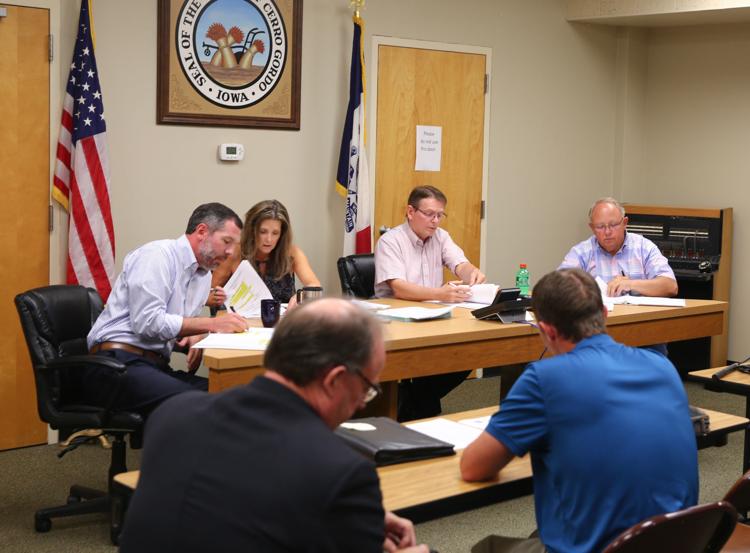 In its last regular session of 2019, the Cerro Gordo County Board of Supervisors didn't have an exhaustive list of new business to attend to but it did have impactful hiring and financial decisions to weigh.
Among them were an acknowledgment of a shift of Cerro Gordo County social service workers and approval of final payments for $279,613.37 worth of roadwork improvements to Kingbird Avenue off of Highway 122.
Social services
After the first of the year, seven people employed through Cerro Gordo County will see their employment shifted to County Social Services (CSS) which provides financial support for mental health and disability services programs to individuals in North Central and Northeastern Iowa.
Those seven jobs constitute all of Cerro Gordo's in-county social service positions that make up the broader 22-county region that is CSS.
The decision by CSS to become an employer of record was passed by its board and not by the Board of Supervisors, according to Cerro Gordo County Director of Administrative Services Tom Meyer.
In 2017, two offices of CSS were consolidated to provide better access for clients and more efficiency in serving them, according to chief executive officer Bob Lincoln. In 2018, the county weighed the option of leaving its 22-county mental health region before eventually opting to stay put.
Improvements 
Dating back to July 2018, there was bidding process for work on a Kingbird Avenue improvement project in the county. Actual work commenced on the project this year and went through the fall. 
When the final costs came in for payment approval, at Monday's meeting, they totaled $279,613.37 which is almost $70,000 than the initial projections from County Engineer Brandon Billings. 
A lion's share of that cost was for pavement while procedures such as excavation totaled about $14,000. 
Billings has previously said that, as the county heads into 2020, there's a possibility for snow mitigation plans as well as more road grading for summer 2020. 
What a Globe Gazette News+ membership can do for you:
A deeper examination of local issues than you'll find anywhere else.
Two products in one – not everything that's in the print edition of the Globe Gazette is on our website, and not everything on our website is in the print edition.
Access to newspapers.com archives dating back two years.
The ability to carry your local news with you and receive alerts instantly as news unfolds.
Advertising that frequently gets you deals you won't find anywhere else.
Reach Reporter Jared McNett at 641-421-0527. Follow him on Twitter and Instagram at @TwoHeadedBoy98. 
Be the first to know
Get local news delivered to your inbox!