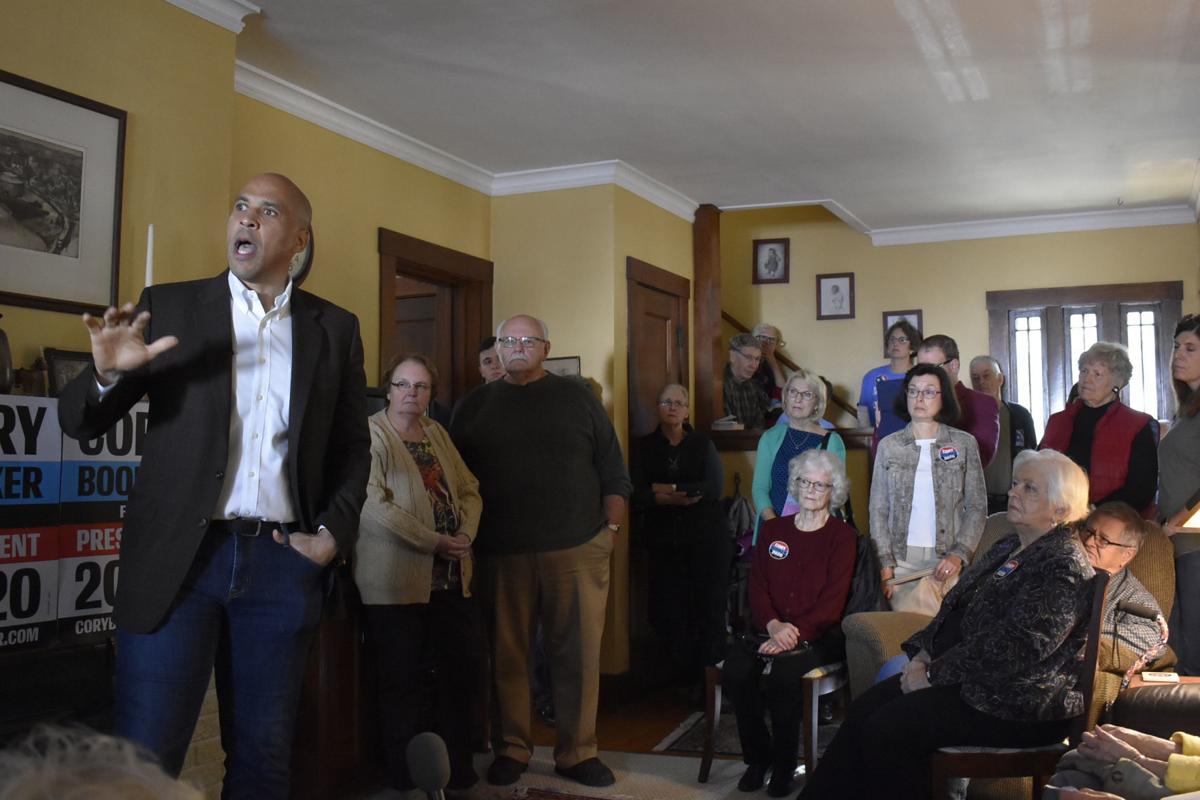 CHARLES CITY -- More than 60 people packed inside Rep. Todd Prichard's living room Monday to see presidential candidate and New Jersey Sen. Cory Booker in Charles City.
They listened intently as Booker answered a question about pre-existing medical conditions from Tami Haught of Nashua. She told Booker she has dealt with being HIV positive for 26 years. 
"I'm getting tired of having to fight to have life-saving medication," Haught said. "I have no idea if I'll have health insurance in January if the Affordable Care Act is repealed."
Booker spoke against pharmaceutical countries "profiting from pain," he said. "It is deeply, deeply immoral." 
Booker said he'd use executive action to take away patents from pharmaceutical companies that raise their prices too much, and that he would defend the Affordable Care Act. 
"I'm going to play hard ball," Booker said. "I believe (that) in America, health care should be a right for everyone." 
Booker took questions on his position on charter schools.
"I don't believe we should have charter schools in rural areas," Booker said. 
You have free articles remaining.
Booker focused on his own experience working with schools when he was the mayor of Newark, N.J. 
As a mayor Booker said he raised the salary of public school teachers, closed bad charter schools and expanded good charter schools.
"We told the charters 'you can't be a separate district, you're going to have join the district as a whole,'" Booker said. "We created an integrated network, and guess what? We are now the No. 1 school system in all America for beat the odds schools, high poverty to high performance." 
Nationally, Booker wants to see the ideas he presented locally used on a national level. 
"There are a whole bunch of charter (school) laws in this country that are awful. Often pushed by Republican legislatures that do not have kids in community in the center," Booker said. Charter schools in areas with one other school in a rural or suburban area can pull resources away from that other public school, he said.
"Every child in every zip code should have a great public school to go to," Booker said. 
Throughout the event Booker focused on the culture of the United States and bringing people together. 
"This election is not about one person in one office, it's about us," Booker said. "I'm running for president because I believe fundamentally our culture is beginning to tear itself apart."
Prichard is the Iowa House minority leader and has had three presidential candidates come into his home, but he hasn't made a choice on who he'll support in the Iowa Caucus. 
"I'm no endorsing at this point," Prichard said. "I plan to later, as we get closer to the caucus. But right now as a party I want to make sure everybody has an opportunity."