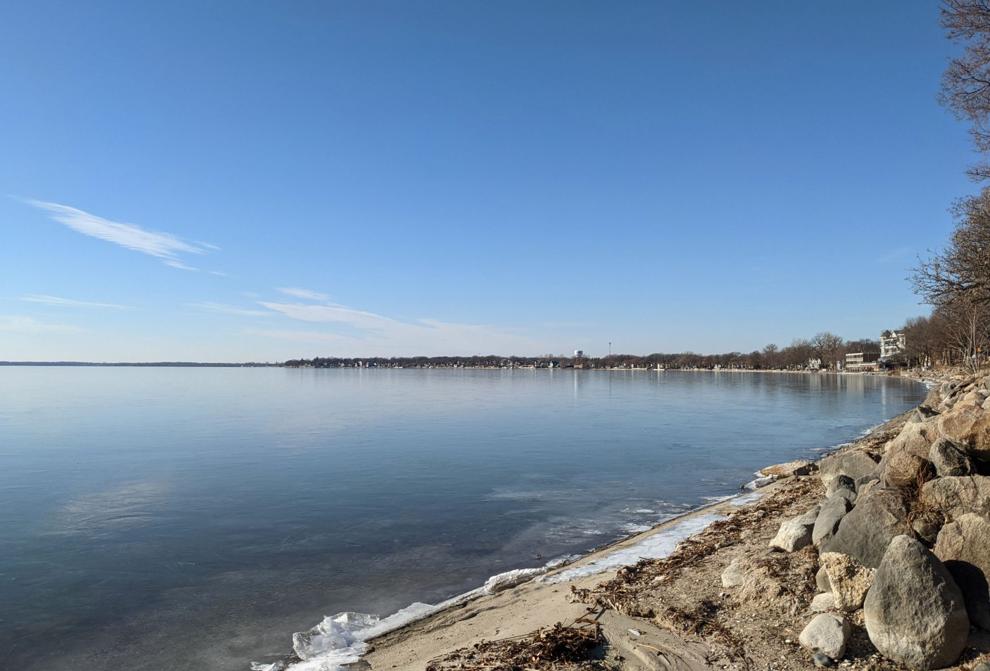 Despite a decrease in the number of water bodies on Iowa's impaired list, more than 40 in North Iowa remain.
The Iowa Department of Natural Resources released its draft 2020 list identifying water impairments on 586 river, lake and wetland segments across the state, including Clear Lake, Winnebago River and Calmus Creek, on Tuesday for public comment.
"An increase or decrease in impaired waters does not necessarily mean that the water quality in the state is worsening or improving," said Roger Bruner, supervisor of the DNR's Water Quality Monitoring and Assessment section. "It could be a reflection of the additional monitoring we are conducting, changes in water quality standards and changes in assessment methodologies."
The federal Clean Water Act requires states to compile a report for the U.S. Environmental Protection Agency every two years.
Of the 1,545 water segments studied, which include portions of rivers, streams, lakes, reservoirs and wetlands, 284 fully met the state's water quality standards for their intended use, while 489 uses were identified as needing further investigation and 586 didn't fully meet the standards needed for their intended use and were impaired.
It's the first time since 1998 that the number of impaired water bodies has declined, said Ken Krier, an Iowa DNR water quality specialist, during a virtual press conference Tuesday.
Compared to the 2018 impaired waters list, there are 36, or nearly 6%, less Category 5 water bodies on the draft 2020 list.
There was a 2% decrease in water segments considered impaired, either Category 4 or 5, from 2018 to 2020, according to state data.
The water bodies on the impaired list had a total of 775 impairments, the state DNR said. Waterways can have more than one impairment.
An impairment means a segment of a water body doesn't meet established quality standards for their intended use. It doesn't mean a river or lake is unusable, Bruner said, during a virtual press conference Tuesday.
"There is a perception that once a segment is impaired, it's unusable and that's not correct," he said.
Bruner said overall, waters in Iowa are safe to use for swimming, fishing and other uses.
Algal growth, turbidity, pH and indicator bacteria were the leading causes lakes, reservoirs and wetlands in Iowa were impaired, Krier said.
The most common river impairments in Iowa include indicator bacteria, or E. coli; biological; and fish kill, for which the leading causes are animal waste, unknown toxicity and pesticides.
Clear Lake was added to the impaired waters list during the 2004 cycle as Category 5 due to E. coli and it was added for blue-green algae during the 2016 cycle, the report shows.
Segments of the Winnebago River, which flows 20.53 miles through several North Central Iowa counties, were added to the list in 2008 as a Category 5 for E. coli and again in 2016 for low fish count.
Calmus Creek, which flows 5.5 miles in Cerro Gordo County, was added in 2006 for low fish count.
Some of the other North Iowa water bodies included on the list are the Shell Rock River, Bailey Creek, Crystal Lake, Cedar River, Beaver Creek and Rice Lake.
All Iowa waters are designated for both aquatic life protection and water contact recreation. Others also may include one or both designations for drinking water and human health protection.
"The DNR has a long history of working with Iowans across the state to help address our water quality challenges," said Lori McDaniel, Iowa DNR Water Quality Bureau chief. "The importance of this collective, persistent work is clear and will continue to be a priority for the DNR."
Category 5 water bodies, or impaired waters, require a total maximum daily load, or TMDL. A TMDL is a water quality improvement plan created by the Iowa DNR outlining data and practices that can be used to work toward reducing the impairment.
The impaired waters list determines the TMDL group's workload, which is prioritized based on complexity, cost and social impact.
Clear Lake is part of a statewide beach bacteria TMDL, which includes data from McIntosh Woods State Park, started this summer because of its social impact.
Data released by the Iowa DNR shows 99 impairments are recommended to be removed from the impaired list, once approved by the EPA. The leading rationale is a prepared and approved TMDL and new data showing water quality improvement.
The draft 2020 impaired waters list was compiled using 2014-2018 data from fixed station river, lake and beach monitoring; wadeable stream biological monitoring; fish tissue monitoring and wetland/shallow lakes monitoring as well as several other data, like the Iowa DNR's Fish Kill Database.
Public comment about the draft impaired waters list is welcome through Jan. 1 and can be emailed to IRcomment@dnr.iowa.gov or mailed to:
Iowa Department of Natural Resources
Attn: Impaired Waters/Segment List
Water Quality Monitoring & Assessment Section
Wallace State Office Building
Ashley Stewart covers Clear Lake and arts and entertainment in North Iowa for the Globe Gazette. You can reach her at ashley.stewart@globegazette.com or by phone at 641-421-0533. Follow Ashley on Twitter at GGastewart.