CHARLES CITY – A Charles City man who was convicted in a string of burglaries in 2017 is now facing federal weapons charges.
Prosecutors filed a charge of felon in possession of a firearm against Justin Allen Bryce Gulian, 28, on Friday in U.S. District Court in Cedar Rapids.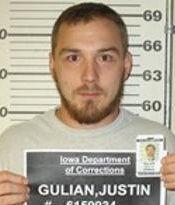 Court records allege Guilian, who is barred from handling firearms because of a 2014 burglary conviction in Colorado, possessed a .17-caliber Savage Model 93R17 rifle on June 6, 2017.
Details weren't available, but the date corresponds with his 2017 arrest in connection with break-ins at the YMCA and Trinity United Methodist Church in Charles City. He pleaded guilty to the Charles City burglaries and was sentenced to up to five years in prison in October 2017.