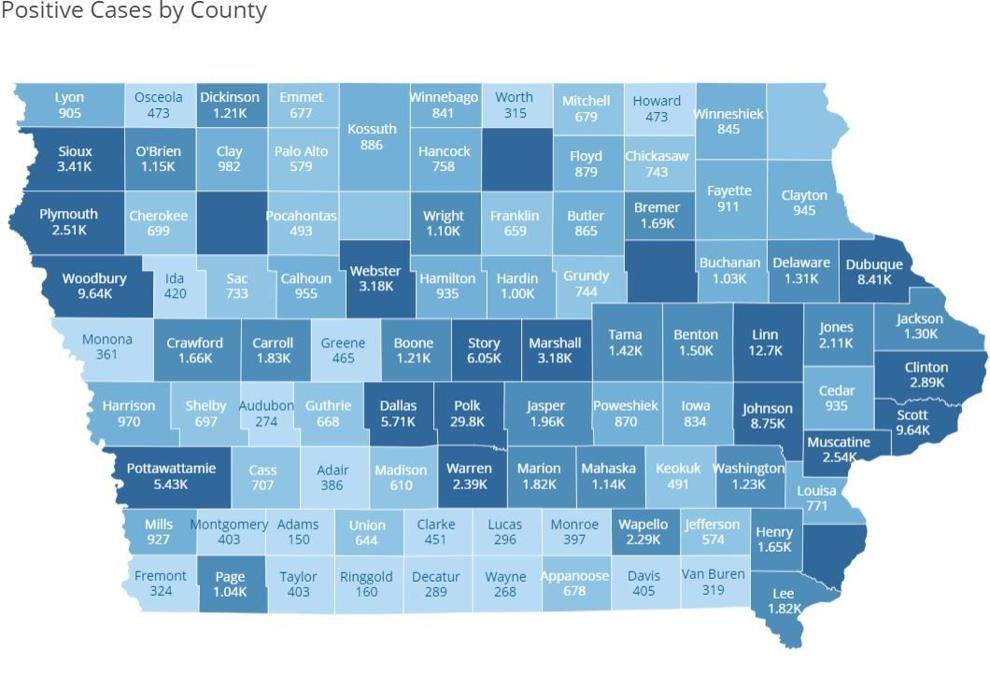 When the week started, the total of COVID-19 cases in Cerro Gordo County was just slightly above 2,700 at 2,714. Active cases were at 1,458 and the 14-day average for positive test rate was at 26.5%. Deaths from the virus were at 32. 
As the week closes, only the positive test rate has gone down or stayed the same. And even it was only down to 25%. Everything else has gone up. 
Data from the Iowa Department of Public Health's Coronavirus.Iowa.Gov website shows that Cerro Gordo County is at 3,071 total cases as of Friday morning with 1,753 cases being counted as active. Six more people have died in the county with COVID, which brings that total to 38. 
On the IDPH's website, there's also a section that breaks down Iowa into six medical regions for hospital data. Cerro Gordo County is in "Region 2" which also includes: Chickasaw, Floyd, Franklin, Hancock, Hardin, Kossuth, Mitchell and Wright. According to the website, there are currently 96 hospitalizations from COVID in the region, 275 people are in the ICU because of the virus and 16 residents have been admitted in the past 24 hours (as of Friday morning). Stark enough numbers that CG Public Health Director Brian Hanft summed up the situation on Wednesday by saying "This right now is downright scary." 
Now the numbers are at a point where cases are somewhat evenly distributed across age groups. 
Though the 18-29 demographic has the plurality of cases with 22%, four other age ranges account for at least 10% of the total COVID cases in Cerro Gordo County: 30-39, 40-49, 50-59 and 60-69. The 0-17 age group accounts for 9% of cases and 70-79 accounts for 8%. 
"While the children had no symptoms of COVID-19, they had the same viral load of SARS-CoV-2 in their nasal areas, meaning that asymptomatic children had the same capacity to spread the virus compared to others who had symptoms of COVID-19," the article said. 
As cases, hospitalizations and deaths continue to rise in Cerro Gordo County and across Iowa, state officials have tried to ameliorate this late-fall spread in a number of ways.
Gov. Kim Reynolds enacted a limited statewide mask mandate at the start of the week that requires everyone 2 or older to wear masks when in public, indoor spaces within 6 feet of others who aren't member of their households for 15 minutes. In addition, she also limited indoor gatherings to no more than 15 people and outdoor gatherings to 30, including family get-togethers.
Along with such mandates, Reynolds also announced this week that that she will provide $14 million in federal funds to Iowa's long-term care centers to help them combat new coronavirus outbreaks at their facilities. As the Associated Press reported, the money can be used toward additional testing and staffing at the long-term care centers, and it comes at a time when Reynolds said another 20 facilities are dealing with outbreaks of the coronavirus including Good Shepherd Health Center and Oakwood Care Center in Mason City.
With this being a time of year when people typically gather, medical officials are taking an even closer look at household spread.
On Thursday, the AP reported that Gov. Kim Reynolds and Dr. Caitlin Pedati, the state epidemiologist, said that as the number of COVID-19 cases and hospitalizations in Iowa have exploded over the past month, their case investigations and contact tracing have become focused on whether Iowans are taking appropriate precautions around each other.
"As numbers have increased, we've increasingly focused on high-risk situations, which includes households. We know that households are a place where all kinds of illnesses can spread quickly," Pedati said. "When we live together, there are more chances for a virus that moves from one person to the other to move between us. So we want to help do what we can to protect other people who may have been exposed and are at higher risk for becoming sick."
Right now, there are recommendations at the local, state and federal levels to avoid large family gatherings for the holiday season with the CDC recommending that people not travel for Thanksgiving week.
What a Globe Gazette News+ membership can do for you:
A deeper examination of local issues than you'll find anywhere else.
Two products in one – not everything that's in the print edition of the Globe Gazette is on our website, and not everything on our website is in the print edition.
Access to newspapers.com archives dating back two years.
The ability to carry your local news with you and receive alerts instantly as news unfolds.
Advertising that frequently gets you deals you won't find anywhere else.
Jared McNett covers local government for the Globe Gazette. You can reach him at Jared.McNett@globegazette.com or by phone at 641-421-0527. Follow Jared on Twitter at @TwoHeadedBoy98.