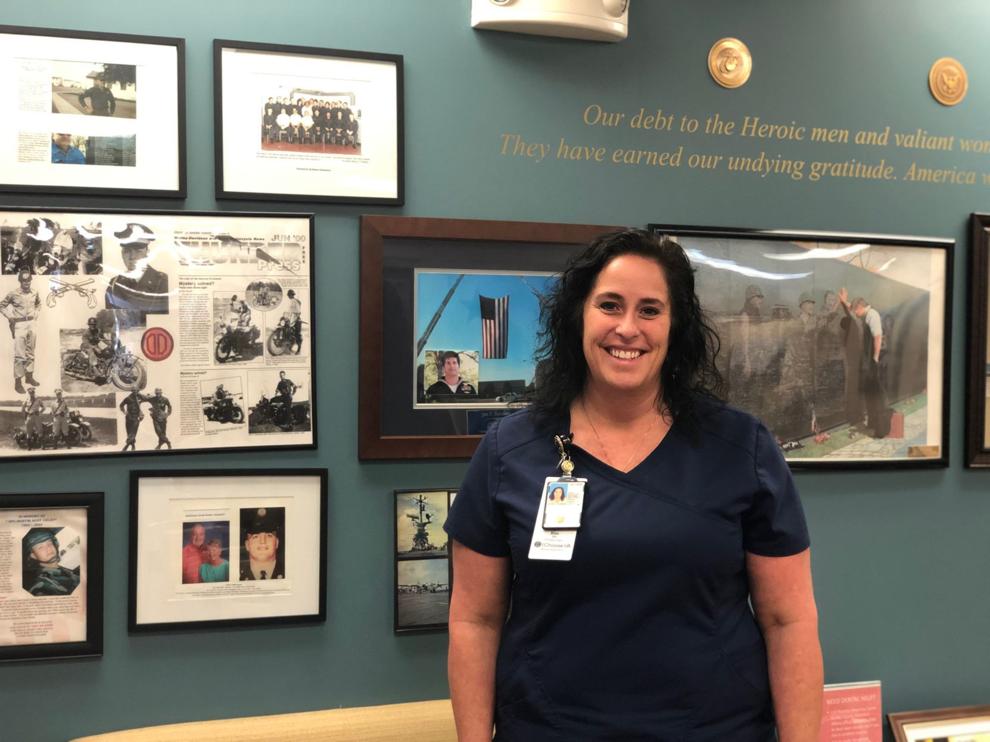 Since September, the Mason City Community Based Outpatient Clinic for veterans has offered traditional chiropractic and acupunctural care. But a few months farther back, in February, they began offering "battlefield acupuncture," which is something else entirely.
While explaining the difference, nurse Kimberly Mcvay gestured to a comic clipping pinned to a nearby bulletin board, noting that it was "poking" fun at traditional acupuncture. The patient in the comic, a little distressed, has dozens of extremely long needles inserted into his skin, all over his body.
McVay says people who haven't had the battlefield acupuncture treatment before sometimes think, "Oh gosh – I'm gonna look like a porcupine."
But with battlefield acupuncture, that's not the case; it uses a different type of needle. A much, much smaller needle.
She held it in the palm of her hand: a plastic applicator, semi-translucent, about the size and shape of the head of a pencil. She pointed to its tip, where a small gold speck, hardly visible, was waiting inside. That small gold speck, it took me a moment to realize, was the needle.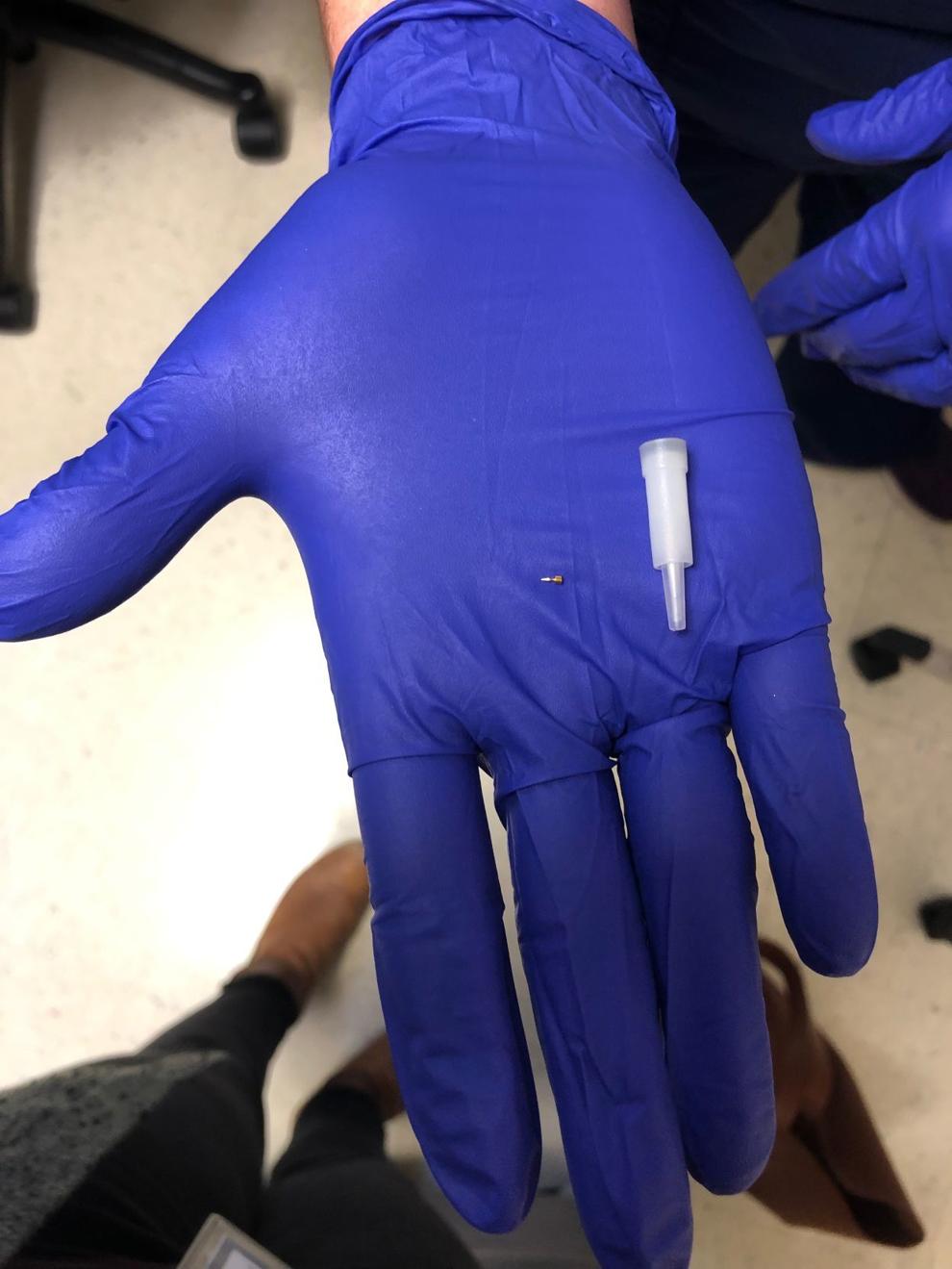 The needles aren't inserted all over the body, either. Only the ear. The different points on the ear are based on traditional Chinese acupuncture, intended specifically for pain management. Inserting the needles at specific points in a certain sequence causes the body to release chemicals which can reduce the feeling of pain.
Also different from a traditional acupuncture session, after the needles have been inserted, they stay embedded, just under the skin, for up to three days. They'll fall out on their own, while the rest, if bothersome, can be removed with gentle rocking.
All the RNs and physical therapists at Mason City's VA Outpatient Clinic are trained in Battlefield Acupuncture, so they're able to offer it to a number of veterans.
Initially, when staff members at the clinic were originally training to offer the service, they had practiced on each other. Other curious staff members elsewhere in the clinic began lining up at the door, asking to be guinea pigs.
"Wow," one woman said, "this is like a really good glass of wine." (One of the common side effects is a feeling of euphoria.) "I just feel so good and peaceful right now."
Response from veterans has been similarly enthusiastic.
"The number [of patients] seems to climb daily," Mcvay said.
They see a combination of people with some acupuncture history and people who are completely new to the experience.
"I had one guy come in here and after we were done, he looked at me and said, 'What did you do to me?' 'I asked, what do you mean?'" Mcvay laughed. "It was almost comical. He said, 'I had pain when I came in here. And now it's gone.'"
Statistics state about 82% of people who have received battlefield acupuncture will experience some type of immediate pain relief. With patients Mcvay has seen herself, she estimates the percentage would actually be over ninety.
In some examples, Mcvay has seen some patients come into the clinic stooped over, unable to walk upright, with pain they place at a 9 or 10. But after the treatment, they're able to walk out pain free, or with a pain of one.
"It really is kind of miraculous," she said. "You would not think that piercing the skin at certain points would bring that much difference in the relief of pain. But it really is successful."
The treatments have been successful with different types of pain, too: muscular, skeletal and neuropathic.
Relief from one type of chronic pain condition was especially surprising to Mcvay: diabetic neuropathy, a type of nerve damage which can occur with diabetes. It's "typically kind of difficult to treat, pain-management-wise, and I've had huge success with them having results with their diabetic neuropathy as well as other pain," she said.
The treatment can be offered up to once a week, and Mcvay says many vets opt to do just that. She said a good amount of veterans have learned about Battlefield Acupuncture by word of mouth, like a vets' local morning coffee group, for example.
"There are some days I come in, and my entire schedule is filled with battlefield acupuncture. I can honestly say on a good week, I personally treat anywhere from five to ten veterans for battlefield acupuncture.
"Everybody is really responding to it. They enjoy it."
An opioid alternative with a ripple effect
What also makes battlefield acupuncture attractive is that is has the possibility of lessening a patient's need for addictive prescription pain medications.
"In the day that we're in with the opioid epidemic, things have to change with pain management. We have to offer alternatives," Mcvay said.
"We have to give people options on what to do to avoid narcotics. While battlefield acupuncture won't fix what's wrong with your back, it's therapy to help you deal with and manage the pain without medicine."
That relief of pain can have an important ripple effect. People who are in less pain can get better sleep, more easily complete daily tasks, experience reduced stress and be more present in their relationships and day-to-day interactions.
"It's amazing to see, and it's really fulfilling as a nurse, knowing we are making a difference in managing their pain… If you are in pain and it's not controlled, usually, you see that spill into other areas of people's lives. And so, controlling that pain is just key."
Are you a veteran interested in this treatment? Here's what you can expect.
You'll fill out a pain inventory at the beginning of the appointment to determine where you're at that day with your pain, how it's contributing to your stress or mood, etc.
If you're a first time patient, you'll get a run-down of how the procedure goes, then receive the treatment.
Finally, you'll run through a reassessment of your pain.
The whole process is about 15-20 minutes, and you can call the VA's front desk to set up an appointment.