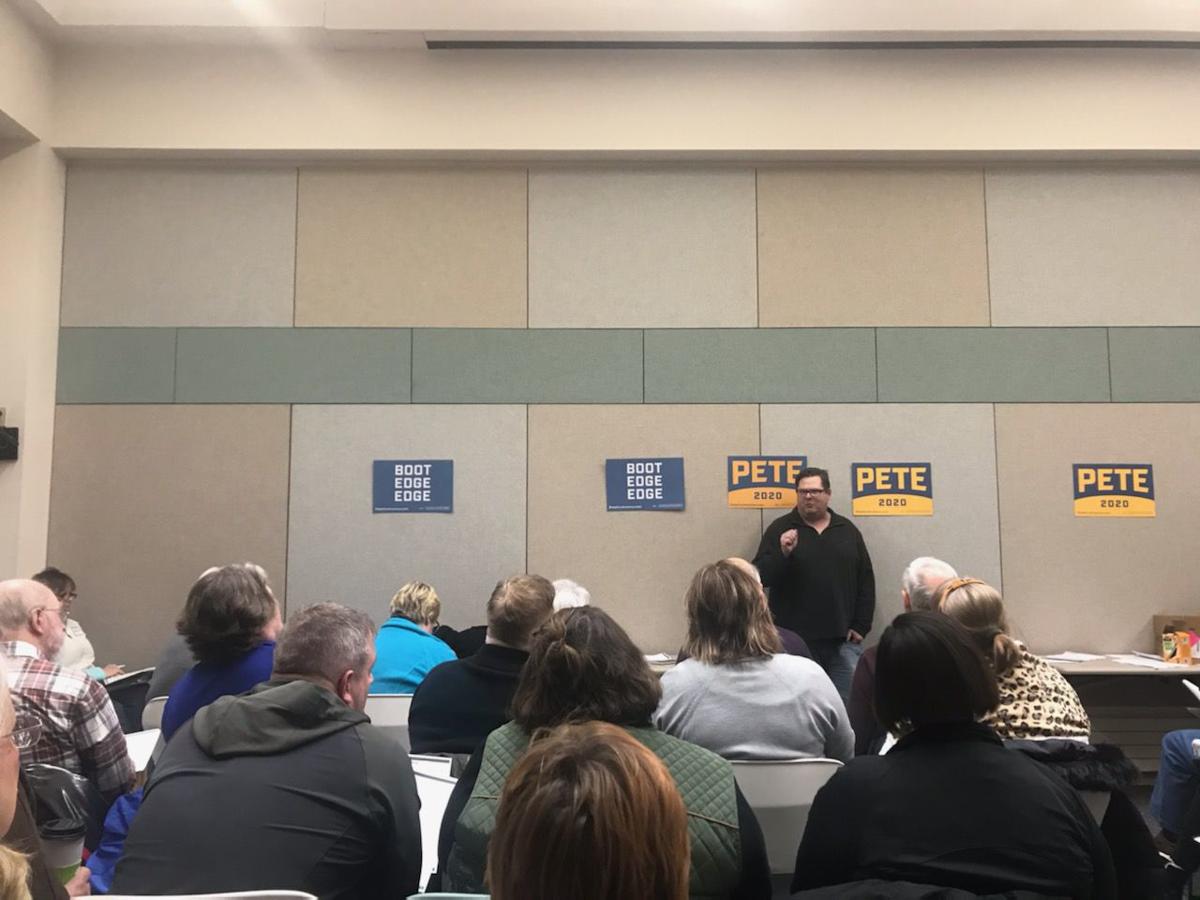 BETTENDORF — School let out hours ago. But here at a local library in east Iowa, many parents have gathered for night class.
The class is called "Caucus 102." It's designed to teach adults about math. And also about how to elect the next president of the United States.
The event is run by the presidential campaign for Pete Buttigieg, former mayor of South Bend, Ind. With three weeks left before Iowa's first-in-the-nation caucuses, all of the well-organized campaigns are holding sessions to train their volunteers in the art and science of the quirky caucus system.
Buttigieg's sessions feel like a college course, leaning into the candidate's reputation as an Ivy League whiz kid. Caucus 102 is a lecture-style tutorial, complete with 18-page curriculum packets packed with info on civics (the presidential race), human psychology (how to convince undecided voters) and dreaded mathematics.
"It was a little overwhelming at first, but then the way they lay it out, it starts to make sense," said Tracey Mouw, a Caucus 102 student and Buttigieg volunteer. "I've never caucused before, so it's helpful to have a class before you go."
Caucus 102 even has homework — math problems to "test your caucus knowledge!" (Question #4: If 86 people are attending a precinct caucus that elects 12 delegates, what is the viability threshold?)
The students are precinct captains and other grassroots volunteers like Mouw. Their teacher is Travis Brock, Buttigieg's national caucus director, who leads the room with the cheery patience of a high school teacher explaining something droll but essential.
"Math is awesome and math is easy," Brock assures his pupils, leading them through the formulas for candidate "viability" — the threshold for a candidate to advance beyond the initial round of voting — and "apportionment," or the number of delegates viable candidates ultimately receive.
Caucus 102, which followed Caucus 100 and Caucus 101, was one of over 20 trainings recently held by the campaign across the state.
Only in Iowa does the very act of voting need a 90-minute how-to seminar.
In normal American elections, voters mark secret ballots, which are added together to find the highest vote-getter. (Presidential elections get tricky after that, what with the electoral college, but that's a discussion for another time.)
The Iowa caucuses aren't normal. Voters gather in public places and declare their support openly, without any pretense of secrecy. After an initial vote, if a candidate doesn't receive enough support—determined by the "viability formula"—their supporters get a sort of re-vote in which they can support another candidate.
The system is governed by a byzantine set of rules for how to calculate viability and how to ultimately divvy up the delegates.
This is the heart of the reviled "caucus math."
The Buttigieg campaign has a whole page devoted to "unusual scenarios" in which rounding errors or ties screw up the calculus. For example, when two groups are split evenly over an odd number of delegates, the traditional way to break the tie is a coin toss.
"The solution to those problems is what everyone usually complains about when they say, 'ugh, caucus math is so complicated. I don't understand it,' " Brock said. "Turns out, the solutions are actually based on simple rules, not complex mathematics."
Those rules can lead to outcomes that are strange, and possibly infuriating. For instance, it's possible that one candidate gets 28% of the final vote share but receives the same number of delegates as a candidate that receives just 17%, while a third candidate receiving 16% of the total gets zero delegates.
Brock has no illusions about "the cold hard justice of caucus math." But the rules are rules. Campaigns can only teach their supporters what to expect and, within the confines of what's allowed, how to up the odds of victory.
"With high turnout expected and a lot of Iowans still undecided, we want to make sure our supporters are the most organized people in the room on caucus night," Brock said. "These trainings provide our precinct leaders with the tools they need to organize and grow Pete's group of support in their precinct."
Be the first to know
Get local news delivered to your inbox!