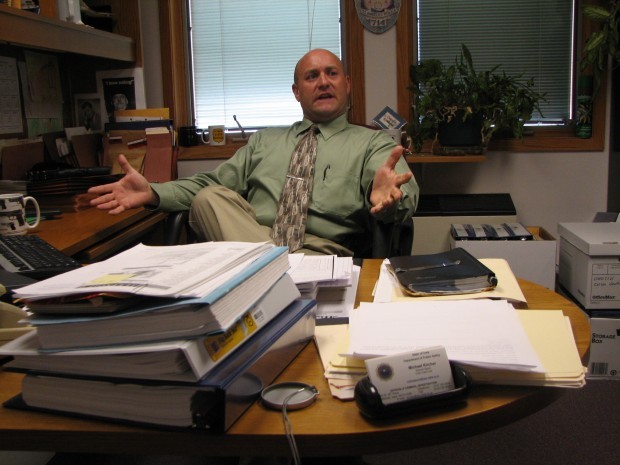 DES MOINES — Time and money are running out for the state's two-person cold case unit.
The team came together in January 2009 to help the state's police and sheriff's departments cover the gap between what DNA forensic science could do to help solve unsolved cases and the cost in labor and hours that careful investigation requires.
Since that time, the unit collected data on 150 unsolved cases going back to the 1960s. The investigators prioritized 50 of them and conducted DNA analysis on 2,018 pieces of evidence. They developed profiles in 23 cases and checked 11 of those profiles against the nationwide DNA database.
Of those, two have resulted in hits, meaning investigators have a name, and likely much more, to go with the still-unsolved case.
Yet there haven't been any arrests made based on the unit's work since it began, which could factor into how likely it is to get the money it needs to continue operating past Oct. 31.
"It's very concerning if this unit gets shut down," said Bremer County Sheriff Dewey Hildebrandt, who also serves as president of the Iowa State Sheriffs' and Deputies' Association. "It wasn't really given a fair chance to get started."
State lawmakers voted to create a cold case unit in the Department of Public Safety in 2008, but federal — not state — money has always picked up the tab.
A $500,000 National Institute of Justice grant paid for the first year-and-a-half of the unit, which started with two special agents and one criminalist, who serves as its laboratory tech.
State officials reapplied for the same justice grant, but were denied in 2010. Still, they were able to snag a one-time grant of $194,000 through the federal Community Oriented Policing Services, or COPS, program, which they funneled to the program.
The smaller grant meant losing one agent, but it kept the unit going for another year. The COPS money runs out in November, and the state has an application in, again, with the justice grant program it started with.
But with the future of the federal budget in question and no money set aside in any version of the state budget, prospects for the cold case unit to continue beyond this fall are unknown.
"I think there was an understanding that the first grant would be used to get the program off the ground, and then the state would take over," said Special Agent Michael Kircher, the remaining special agent assigned full time to the unit. "But then the economy hit and, well, that never happened."
Cold cases are homicides that stumped the best law enforcement could offer and are set aside as investigators take up more pressing matters.
Many have become the basis of books, movies, television shows and — in cases such as the victims of Jack the Ripper of London in the 1880s — legend.
Nancy Bowers runs Iowacoldcases.org with founder Jody Ewing. The two women have never met in person but have worked together since 2008 on the website which Ewing began in 2003 and now operates as a nonprofit.
The aim of the site — essentially a repository of all available public information on every cold case in the state — is to make sure the crimes aren't forgotten. "Iowa Cold Cases … where hope never dies" is the site's banner.
The work also has, naturally, brought the women in contact with law enforcement, including the state's cold case unit. She singles out Department of Public Safety Special Agent Mike Motsinger for praise. Motsinger is the agent-in-charge of the cold case unit.
"One thing I've learned is that it seems that they move so slowly, but there is a lot happening behind the scenes," Bowers said. "It's not like something we see on (the television show) 'CSI' where it happens all at once."
Bowers and Ewing cast a wide net. Others keep a singular focus.
Josh Benson, a television journalist in Orlando, Fla., is the webmaster behind FindJodi.com. The site is named after Jodi Huisentruit, a news anchor who was abducted from her Mason City apartment complex on June 27, 1995, and has not been seen since.
Benson, who used to work in the southern Minnesota market, said he started the site to keep a spotlight on Huisentruit's case. He said he's shared information with Mason City investigators over the years, but has never heard of the Iowa cold case unit.
"Which is surprising because we certainly would be willing to help out with anything," he said.
One of the officers Benson talks to is Mason City Police Lt. Frank Stearns. Stearns said Huisentruit's disappearance isn't a cold case — even though the state lists it as such — because his department is still actively working the investigation.
To that end, he said what happens to the state unit doesn't make a difference to him.
"Would it affect us, personally? No," Stearns said. "But I think it would be a loss for a lot of the smaller departments out there that don't have the resources that some of your mid-sized or large departments do."
And that, Motsinger said, is the value. If money isn't found to keep the unit going, he'll still have his job, as will the agent and criminalist. It's just that they won't be solely focused on cold cases.
"What I find surprising is how well some of the evidence has been kept," Motsinger said.
He said he's seen evidence rooms that are little more than closets in a rural county building or police department that have held usable DNA samples. On the other hand, he said, cold case evidence has also gone missing, been destroyed or otherwise made unusable over time.
Motsinger said it is frustrating that the unit cannot yet point to a specific arrest that has resulted from its work, but he believes that will come as investigations continue and technology improves.
"It's important," he said, "because it shows the families of the victims that we have not forgotten and there's still a chance for closure after all these years."
Then, after a pause, he adds, "and to bring the person who committed the crime to justice."
Be the first to know
Get local news delivered to your inbox!