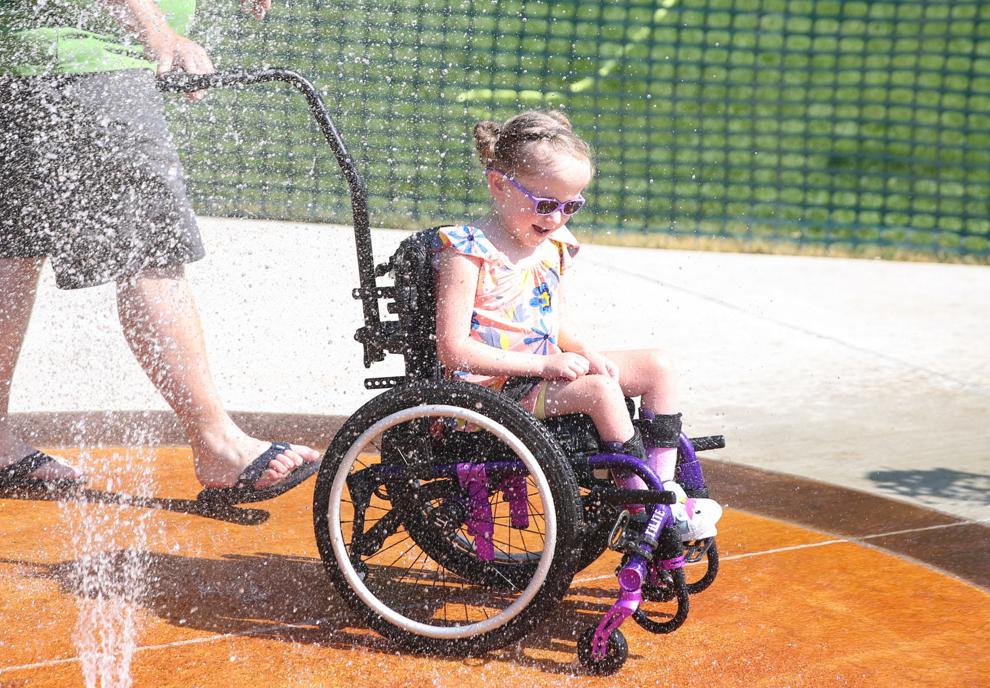 Dozens of children played in the foaming geysers, gushers and jet streams of Clear Lake's new splash pad Friday morning beneath the sun.
The splash pad was part of the city's $1.4 million City Beach enhancement project completed earlier this summer by Peterson Construction of Webster City.
It officially opened ahead of the Fourth of July weekend after a brief ribbon-cutting ceremony despite uncertainty on whether Gov. Kim Reynolds' state public health disaster emergency prohibiting the use of spray pads due to COVID-19 would be extended.
Reynolds lifted restrictions on the use of wading pools, water slides, wave pools, spray pads and bathhouses on June 12.
"Our city, state and country have been through some tough times recently economically and socially, so as we gather here today to celebrate this beautiful project, the thing I'm most excited about is for the future," said Clear Lake Mayor Nelson Crabb said. "Later today, tomorrow, for days to come, this space will be full of young children playing, people picnicking and just plain enjoying our unique City Beach.
"What a beautiful gift to give our current and future residents to enjoy this Fourth of July weekend."
Nearly 100 people gathered for the ribbon-cutting ceremony hosted by the Clear Lake Area Chamber of Commerce and the City of Clear Lake.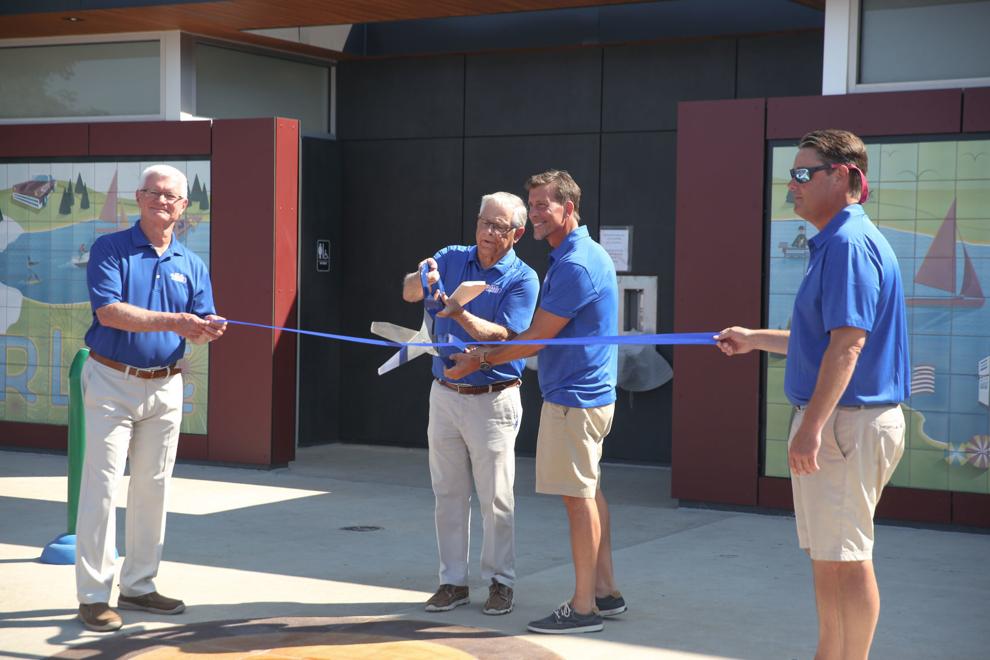 Peterson Construction had been working at the site since February after it was awarded the second phase of the project for $1,087,000 in January.
The estimated cost of the project was $1,206,344 with the cast-in-place concrete wall with manufactured stone veneer and cast stone cap in lieu of dry-stacked boulder walls and additional plants and landscaping.
Peterson was the contractor that built the city's aquatic center in 2007.
The second phase of the beach enhancement project featured the construction of a splash pad, a new restroom facility, a sun shade shelter, landscaping improvements and lighting.
The splash pad is located northwest and southwest of the new restroom facility and it contains three zones that can be activated individually.
Each zone comprises water features that are appropriate for different age groups.
The sun canopy is positioned between the water treatment plant and the beach at the former site of the playground equipment.
"The project was well over a year in construction and was done in phases, and the planning that preceded it was equally as thoughtful, so we are thrilled to open this project to the entire public today," Crabb said.
Brooke Webb, of Ackley, stopped at the splash pad Friday morning with her 6-year-old son, Elijah, while visiting family for the holiday weekend in Clear Lake.
She and her son enjoyed the city's old splash pad last year, so they decided to check out the new one.
"It's awesome," Webb said. "Not many towns have something like this."
Megan Brandrup, of Clear Lake, decided to spend her day off at City Beach with her 2-year-old son, Hendrix.
Brandrup, originally from the West Coast where splash pads are more common, said the new splash pad is a great feature for Clear Lake to have and anticipates she and her son will spend a lot of time there this summer.
"He's a fish," she said. "We'll be spending a lot of time here and at the beach."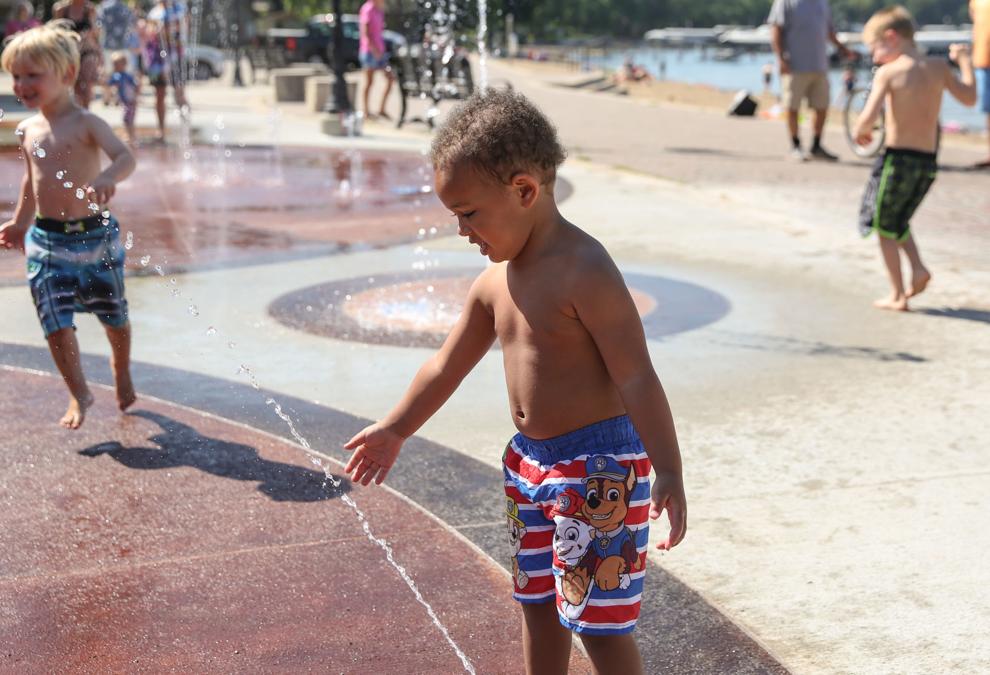 Brittany Hultman, of Mason City, and her 2-year-old Rowan Brandt-Hultman ventured to Clear Lake Friday morning, as well.
Hultman, who used to reside in Clear Lake, said they came to check out the new splash pad.
"The old one was great, but this is better," she said. "It's a place for kids to come and have fun."
A committee, comprising members of the Clear Lake City Council, city staff and community organizations, had been working with RDG Planning & Design since June. The city hired the firm for up to 11 percent, or $176,000, of its construction budget, according to the agreement.
The project was identified as a capital improvement in Clear Lake's 2020 budget. It will replace the original splash pad that was among nearly $400,000 in City Beach improvements completed in 2007.
In November, Dean Snyder Construction completed the first phase of the project, which cost about $237,000, including water main improvements and demolition of the restroom facility and pump shed.
The total cost of phase one and two was estimated at $1.4 million. It was paid for by Clear Lake's general fund, which will be reimbursed by the city's tax-increment financing fund for capital improvement as approved by the City Council.
Clear Lake City Councilmen Dana Brant, Mike Callanan, Mark Ebeling, Gary Hugi and Bennett Smith as well as City Administrator Scott Flory and other city staff attended Friday's ribbon-cutting.
Individuals from Peterson Construction, RDG Planning & Design and Veenstra & Kimm were also present.
"We think it's going to be a great feature for those who live here as well as those who are visiting here," said Stacy Doughan, Clear Lake Area Chamber of Commerce CEO and president. "So despite everything that's going on and that the Fourth of July looks different this year, it is really exciting to be able to cut the ribbon on this outstanding splash pad here this morning."
The opening of the splash pad bookended a celebratory week for Clear Lake.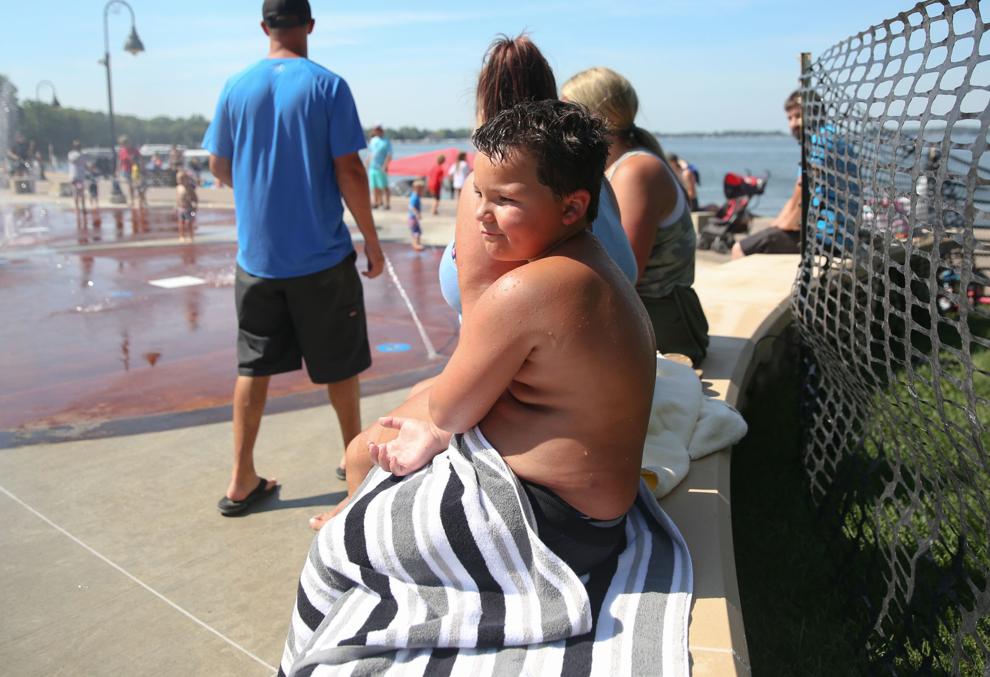 On Monday, JSM Investment LLC, of Johnston, broke ground on a $13 million Marriott hotel and event center project in Courtway Park east of Interstate 35 slated to be completed by June 2021.
Ashley Stewart covers Clear Lake and arts and entertainment in North Iowa for the Globe Gazette. You can reach her at ashley.stewart@globegazette.com or by phone at 641-421-0533. Follow Ashley on Twitter at GGastewart.