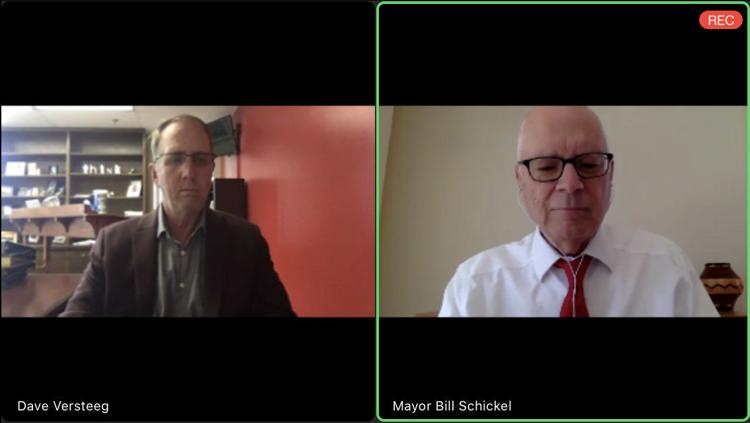 The information that Mason City Mayor Bill Schickel shared at the top of Wednesday afternoon's press conference was a sobering reminder that the COVID-19 pandemic is still ongoing. 
Schickel pointed out that in addition to reported positive cases going up by more than 100 in the past week, from 347 to 457, 21 people are currently hospitalized from the virus, with two in intensive care. And in the past week-plus, numbers have come in that show the death toll from COVID in Cerro Gordo County has gone from one to 14, with one of those deaths being reported yesterday. 
With all of that, Schickel did point to a slight silver lining: "On the brighter side, only one new case was reported yesterday."
As the pandemic isn't going to fully disappear anytime soon, officials across the city have had to adapt.
According to Versteeg, the district, like others throughout the state, has three components to its learning plan for the fall semester: in-person learning, continuous learning such as online or remote learning and some kind of hybrid of the two. Based on surveying that the district has done, Versteeg said that about 30% of district families are interested in going the continuous learning route.
For kids coming back to school, Versteeg made it clear that the district is doing a whole host of things to keep students and staff safe. That includes: new visitor procedures so that people can't just come and go as they please, new cleaning procedures, disabling drinking fountains, no large indoor group meetings, maintaining social distancing in and out of the classroom and encouraging everyone to wear masks. 
"We know our parents and employers all want school to open and so do we," Versteeg said. "As a community, these decisions we make have an impact about the start of school on August 24."
Both Versteeg and Schickel emphasized that one of the best ways to return on-time and maintain is for people to wear masks. Schickel pointed out at the top of the meeting that "(The) City is mandating face coverings at all public buildings" and then he asked all residents to wear masks in all other locations when possible. 
"I've been very happy with that," Schickel said of the city mandate. "People are complying with that."
As of now, MercyOne North Iowa has said its staff is currently collecting specimens for 200-250 tests each day from people in the community who meet the testing criteria for COVID-19. The current positive test rate for the county has been circling around 6%.
With the volume of tests being processed, MercyOne noted in a press release from Cerro Gordo County Public Health that "While most results return within 3-4 days, it will occasionally take up to 7 days if volumes at the State of Iowa Hygienic Lab are high."
What a Globe Gazette News+ membership can do for you:
A deeper examination of local issues than you'll find anywhere else.
Two products in one – not everything that's in the print edition of the Globe Gazette is on our website, and not everything on our website is in the print edition.
Access to newspapers.com archives dating back two years.
The ability to carry your local news with you and receive alerts instantly as news unfolds.
Advertising that frequently gets you deals you won't find anywhere else.
ICYMI: Stories from the weekend
Here are stories from the weekend you might have missed:
Jared McNett covers local government for the Globe Gazette. You can reach him at Jared.McNett@globgazette.com or by phone at 641-421-0527. Follow Jared on Twitter at @TwoHeadedBoy98.
Concerned about COVID-19?
Sign up now to get the most recent coronavirus headlines and other important local and national news sent to your email inbox daily.