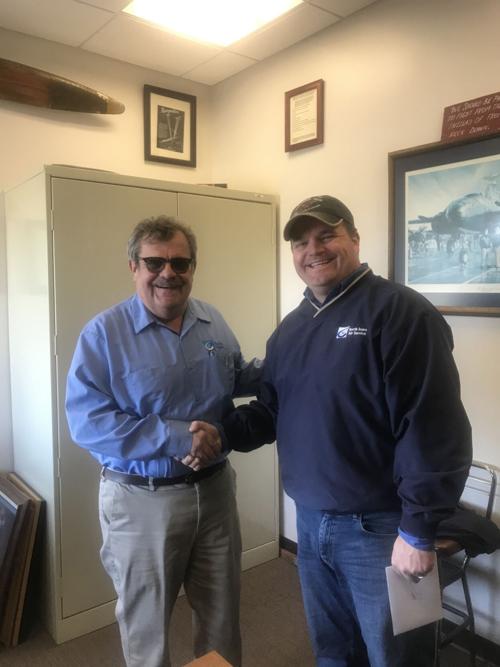 WHKS earns client satisfaction award
WHKS & Co. was presented recently with a 2020 Premier Award for Client Satisfaction from PSMJ Resources, Inc.
PSMJ Resources is a leading authority, publisher, and consultant on the effective management of architecture, engineering, and construction firms.
The Premier Award recognizes firms in the engineering, architecture, and construction industries that receive exceptional client service ratings measured with an online application called the Client Feedback Tool. The web-based tool provides clients the opportunity to provide feedback in the areas of client communication, project delivery, performance, and budgets.
Founded in 1948, WHKS & Co. provides consulting engineering, planning and land surveying services from offices in Mason City. Ames, and West Des Moines, Iowa; Rochester, Minnesota; and East Dubuque and Springfield, Illinois.
Kyle celebrates 25 years at Charles City Aeronautics
Charles City Aeronautics, Inc. (d/b/a North Iowa Air Service and Central Iowa Air Service) Vice-President and Chief Pilot Todd E. Kyle is celebrating his 25th Anniversary with the company this year.
Kyle began his career in aviation in 1995 working part-time line service at the company's Charles City location with his father and grandfather, William and Lyle Kyle. He earned his pilot's license at 18, and continued to expand his flying skills by earning his ratings to achieve his goal of becoming a charter pilot. After graduating from the University of Northern Iowa in 1999, Todd joined the company full-time as pilot and aircraft sales.
In 2001, William and Todd were awarded the contract for service at the Mason City Municipal Airport, creating North Iowa Air Service. Todd moved to Mason City to run that operation, building up a successful charter, aircraft management, maintenance, fueling and flight instruction business.
Today, Todd runs the charter / aircraft management fleet at Charles City Aeronautics' locations in Charles City, Mason City and Ames, in addition to his duties as chief pilot at all locations.
Midwest Meter, MID-COM sold to North Dakota firm
The leadership of FEI Inc., has acquired Midwest Meter and MID:COM of Hampton. Midwest Meter provides a distribution line primarily serving propane and petroleum markets along with an array of services that includes meter proving, pump repair and plant construction. MID:COM is a leading manufacturer of electronic meter registers, on board computers, and accessories for all types of flow meters with a footprint that serves North America and markets overseas.
FEI purchased the businesses from owners Rick and Julie Salvesen, who provided their employees with the opportunity of employee ownership by selling the company to FEI. Through the acquisition, the employees of Midwest Meter and MID:COM will be included as employee-owners of FEI, Inc., allowing them to benefit directly from the success of the merged companies. Rick Salvesen will stay on for a few years under the new ownership structure.
Midwest Meter was founded in 1969 as a precision meter calibration service for liquid handling applications.  
FEI Inc., was founded in 1978 and is now an employee-owned company headquartered in Valley City, North Dakota with locations in Hastings, Nebraska; Billings, Montana; Yakima, Washington; and now Hampton. The newly combined companies have a total of 99 employee-owners and three independent contractors.
Breaking Glass series to host Rev. Everist
The Breaking Glass Leadership Series, hosted by the Mason City Chamber of Commerce, will feature the Rev. Norma Cook Everist as its speaking in December.
The virtual event will be held from 8 a.m.-9:30 a.m., Dec. 3.
Everist is a Mason City native earned a bachelor's degree, two master's degrees and a Ph.D, and has spent her career as a teaching theologian, most recently at Wartburg Theological Seminary for 38 years. She has published 14 books and more than 100 articles.
Everist faced rigid institutional barriers to woman serving professionally in the church. Her persistence paved the way for others.
Be the first to know
Get local news delivered to your inbox!