I have lived in North Iowa all of my life and I have had the opportunity to travel a lot. One of the places that I had not been to as an adult was the Grand Canyon. When I had the chance to visit last October with my friend Melody Pittman of WhereverIMayRoamBlog.com, it's fair to say that I jumped on the opportunity.
It's also important to note that my trip was in a partnership with Visit Mesa.
When I mentioned to local folks in Cabin Coffee that I was going to Mesa, Arizona, and heading north to the Grand Canyon, the response I often received was, "Oh, I will never see it, as it's too long of a drive."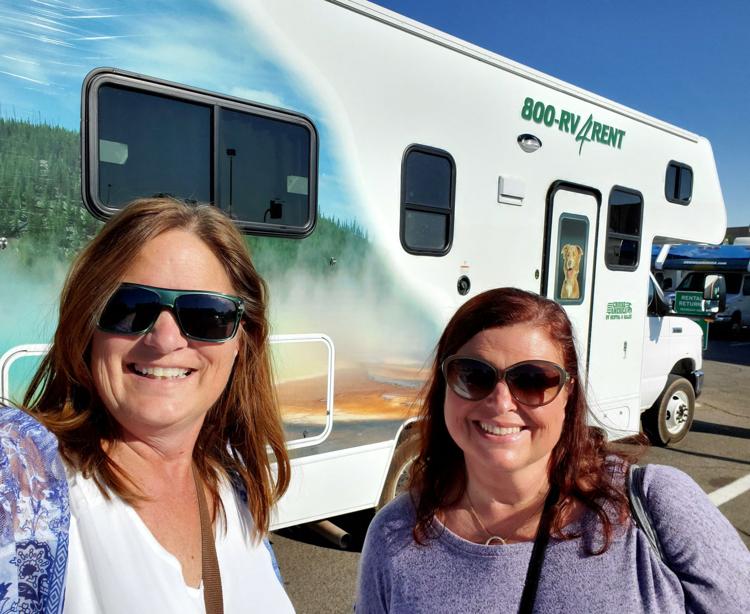 If you are not a road-tripping enthusiast, I have found your solution. My trip to the Grand Canyon is one that you can easily replicate by renting a Cruise America RV Rental unit upon your arrival in Arizona.
Your journey to the Grand Canyon will begin at the airport. You have choices, as you can fly out of Des Moines or hop on Air Choice One in Mason City, with a connection in Minneapolis or Chicago; and then on to Phoenix, Arizona.
By flying into the Mesa area, you will have chopped off thousands of miles of driving. The driving that you do in Arizona will be breathtaking and a drive you will never forget. In Arizona, the landscape changes every hour and you will literally be wondering what is around each corner as you head north on I-17.
After you arrive in Phoenix, I would suggest taking an Uber to the Cruise America corporate headquarters located at 11 W Hampton, Avenue Mesa, Arizona, as this is where you will hop in your Cruise America RV rental unit for the next several days. You will not need any special qualifications to drive your RV, just a willingness to enjoy the adventure. I would highly suggest finding a Walmart after you pick up your RV to pick up some of the basic necessities.
The best tip that I can give you is to stock up on plenty of water. The air is much warmer and drier in Arizona than in the Midwest, so plan accordingly. The Grand Canyon is approximately 4 ½ hours north of the Phoenix area.
Sedona, Arizona, is a popular tourist spot, and along your route to the Grand Canyon. I would not suggest spending time there with an RV, as parking for a 27' RV unit is challenging. Enjoy the beauty and it won't take you long to realize that you will want to plan a return trip to Sedona.
Flagstaff is along your route and has a nice KOA in town that I would highly recommend. The campground is RV-friendly and super easy for a novice RVer to navigate. Head west out of Flagstaff on I-40, aka Route 66. You will find that the road north to the Grand Canyon lies near Williams. I would drive into Williams, as you will love all of the Route 66 memorabilia and enjoy the culture that this town has to offer.
Once you have spent time in Williams, head north to the Grand Canyon. You will need to pay a national park entrance fee to enter the park. If you plan on visiting more than two national parks in a year, I'd highly recommend investing in an annual pass. Within minutes of the entrance, you will be in the parking lot of the visitor's center. Here is where you can board a free shuttle bus to take you to the south rim. Hop on the first bus that arrives and you won't be disappointed. In a short matter of time, you will be standing over the Grand Canyon and realizing that you are in a vast, beautiful land that you never thought you would see.
Trailer Village offers full hookups for campers in the national park and is located within Grand Canyon Village. Reservations can be made by calling 877-404-4611, and same-day reservations can be made at 928-638-3047. I would reserve two nights of camping as soon as you know the dates of your RV road trip to avoid any disappointment when it comes to your campground reservations.
When you start your return trip back to Mesa, enjoy the sights along the way. Walnut Canyon National Monument is worth a visit and if you purchased an annual national park pass, your admission is free. Then head further east to stand on the corner in Winslow, Arizona. Take a selfie and listen to the music on Route 66. Then drive south on Highway 87 to Highway 260, which meets up with I-17 in Camp Verde, Arizona. The drive is beautiful, and the views are outstanding. Make sure you gas up in Winslow, as there are not many gas stations along the stretch from Winslow to I-17.
When you are traveling with a Cruise America RV, you have your bathroom, clothing, food, and all of your belongings in tow. If you find yourselves needing to take a break while driving, find a roadside park to pull over and enjoy.
Sadly your Arizona road trip will come to an end, as you will need to return your Cruise America RV rental unit and plan your return trip home. The Holiday Inn & Suites Phoenix-Mesa, located at 1600 S. Country Club Drive in Mesa, is a short Uber drive from Cruise America. I would highly suggest it if you need lodging before and after your RV trip, as it is convenient and a safe place to stay.
Important things to note: You can also rent outdoor chairs through Cruise America, which I would also recommend, along with the bedding and pots & pans. The staff at Cruise America RV is very knowledgeable and will assist you in any way that they can.
This is truly one of the best ways to experience the Grand Canyon for those of us that reside in North Iowa. Road tripping is an adventure, but it's a true adventure when you start and end in a state that you do not call home. 
Be the first to know
Get local news delivered to your inbox!