Julie Gordon is a recipe developer, housewares expert, kitchen stylist and the lifestyle blogger of Inspiring Kitchen, who loves cooking with chickpeas. Her cucumber and chickpea salad recipe is simple, flexible and full of flavor.
"This is a really easy recipe that has lots of room to make it your own," Gordon says. "During the winter, I use Italian seasoning and in warm months, fresh dill."
The recipe calls for Peppadew peppers, a small pickled sweet pepper with mild heat. Gordon notes that you can adjust the quantity to your taste, depending on how much you like them. And if spice isn't your thing, replace the Peppadews with raw red bell pepper.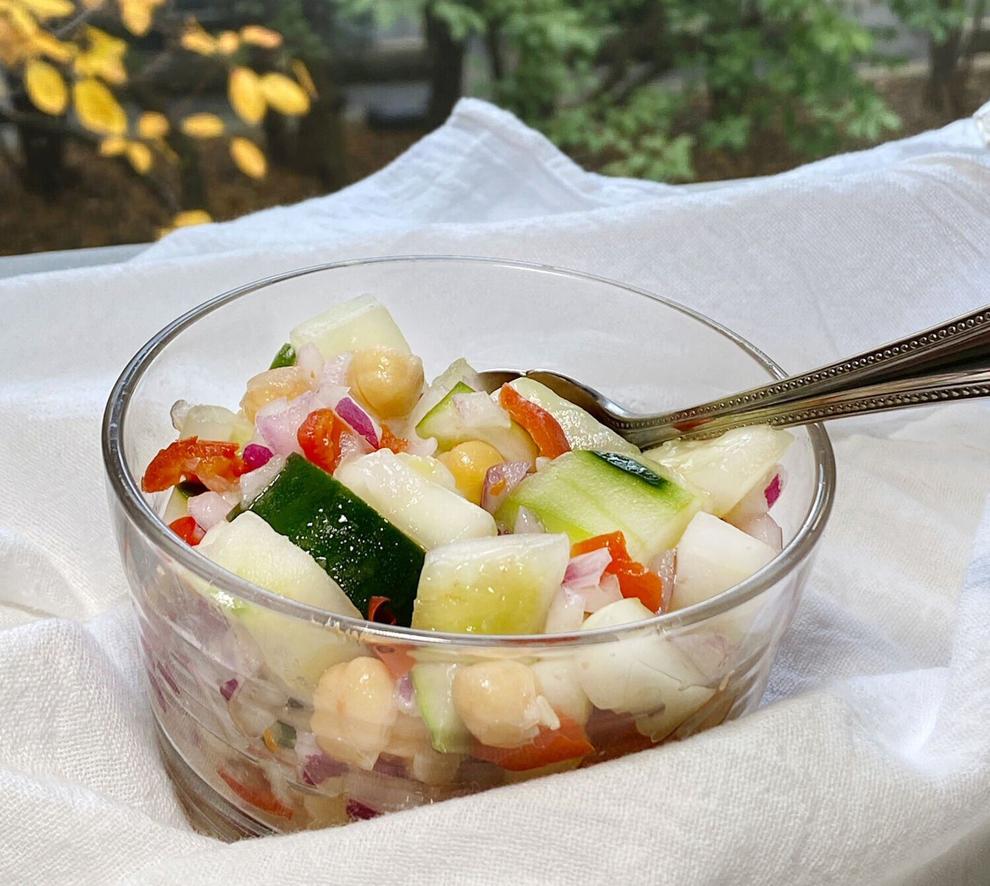 ---
Cucumber Salad with Chickpeas, Peppadew Peppers and Red Onions
1 1/2 Tbsp neutral oil, such as canola, safflower or sunflower
3 Tbsp fresh lemon juice
2 Tbsp sugar, divided
2 tsp dried Italian seasoning
1/2 tsp kosher salt
3 cucumbers, washed and sliced into 1/8-inch rounds (unpeeled, peeled completely or peeled in decorative strips, depending on your preference)
1 cup canned chickpeas, drained and rinsed
1 medium red onion, halved and sliced thinly (about 1/2 cup)
3 to 4 Peppadew peppers or half a red bell pepper (seeds and ribs removed), cut into 1/4-inch pieces
In a small bowl, whisk together oil, lemon juice, 1 tablespoon sugar, Italian seasoning and salt. Taste for balance between acidity and sweetness. If you prefer additional sweetness, add up to 1 tablespoon of remaining sugar to taste.
In a medium-sized bowl, combine cucumbers, chickpeas, onions and peppers. Pour dressing over salad and mix thoroughly. Cover and refrigerate for at least four hours or overnight to allow the flavors to meld. (More time will enhance the flavors.)
When ready to serve, remove salad from refrigerator and stir. Taste to determine if additional salt is needed, adding up to 1/4 teaspoon if necessary before serving.