By incorporating fresh, seasonal ingredients, Maxie B's in Greensboro, North Carolina, has built a reputation for creating tempting desserts bursting with local flavor. And though fans may crave a blueberry pie in January, owner Robin Davis says it's worth the wait to get those fresh, local berries.
"We don't usually get blueberries here until late June or the first of July, so we don't typically start blueberry pies until July," Davis says. "But we do have some that we froze from last year's crop that we'll use, if necessary, until this year's berries come in."
Davis holds her Southern pie crust recipe as a closely guarded secret, but it's the blueberries in this recipe that take the spotlight, and any rolled refrigerated pie crust will work perfectly well, or feel free to make your own double-crust recipe from scratch. If you have leftover egg wash and scraps of dough, simply brush them lightly with the egg wash and sprinkle with a heavy dose of cinnamon sugar or a mixture of black pepper, Parmesan and your favorite dried herb. Place them on a sheet of parchment paper on a cookie sheet and bake along with the pie until golden brown.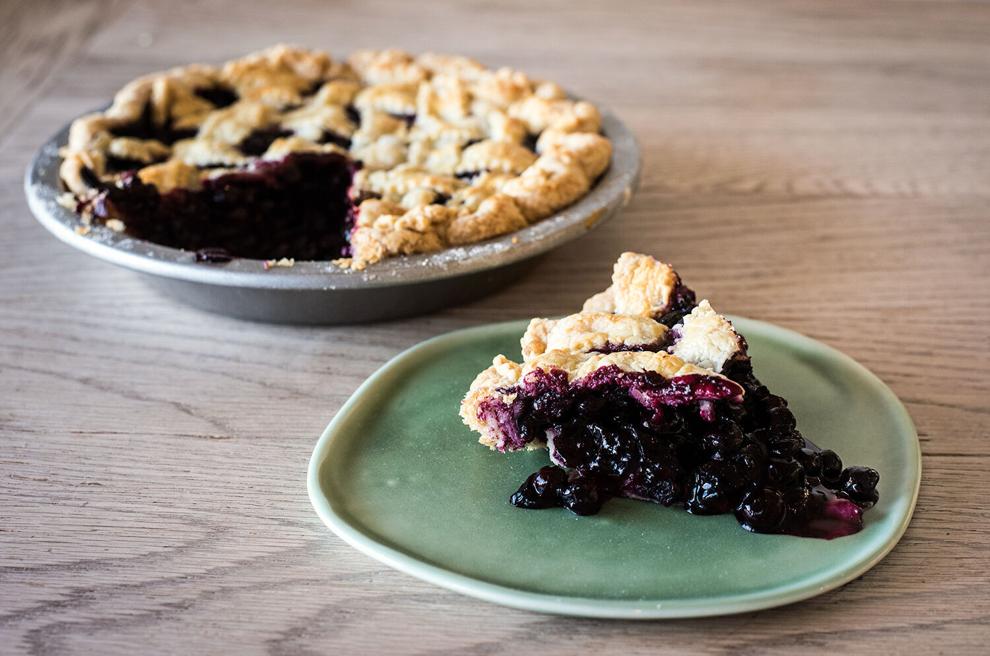 ---
Fresh Blueberry Pie
1 egg
1 Tbsp heavy or whipping cream
1 lemon
½ cup granulated sugar
5 Tbsp cornstarch
¼ tsp salt
4 cups fresh or frozen (unthawed) blueberries
1 package (14.1 to 16 oz) refrigerated rolled pie crusts, at room temperature
1 Tbsp salted butter, cut into pieces
Preheat oven to 350°F. Meanwhile, in small bowl, with fork, beat egg and cream well. Into large bowl, from lemon, grate 1 teaspoon zest. Squeeze 2 tablespoons juice into second small bowl.
Into bowl with lemon zest, add sugar, cornstarch and salt; stir with spatula until well combined. Add blueberries and lemon juice and toss gently until blueberries are evenly coated with sugar mixture.
Unroll 1 pie crust; line 9-inch glass or ceramic pie plate with crust. Spread blueberry mixture evenly in crust; dot with butter. Unroll second pie crust; cut into ½-inch-wide strips. Weave strips across blueberry mixture to make lattice top. Turn bottom crust over ends of strips, then pinch together to seal. If desired, make fluted edge. Brush lattice top and edges of pie with egg wash. Place pie on foil-lined rimmed baking pan. Bake in center of oven 50 minutes to 1 hour or until center bubbles. If necessary, cover edges of pie loosely with foil to prevent overbrowning during last 15 minutes of baking. Cool pie slightly on wire rack to serve warm, or cool completely to serve later.