Forrest Buffington enjoyed collecting rocks.
Agates, geodes and petrified wood were among some of his favorites, but he never passed up the opportunity to pick up something that was interesting or lovely to cherish, his family said.
He had an extensive rock collection from everywhere he went, and with each one, a story.
One time, Forrest and his wife, Jan, went on a trip to Washington and returned home with nearly 200 pounds of rocks.
Another time, they were in Alaska collecting rocks, and when they went through security on their way home to Forest City, their luggage was taken apart because it was filled with a bunch of flat, black rocks.
The last rock-collecting trip Jan can remember is when she and Forrest visited a big field in North Dakota where they were given permission to pick up any kind of petrified wood they wanted, and they left with buckets and buckets of it.
Even trips taken where rock collecting wasn't planned, it always happened.
"He just liked rocks," said Jan, Forrest's wife of 61 years.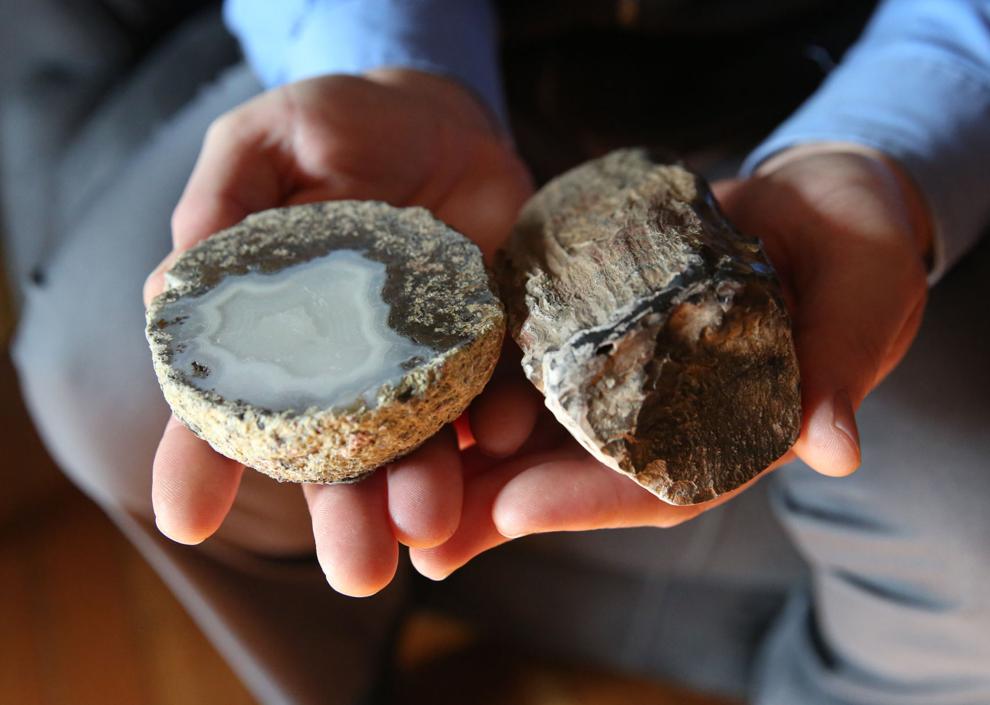 Evidence of that is in Forrest's shop filled with dozens of marked and unmarked buckets and containers of rocks that he collected throughout his life as well as rock saws and tumblers.
Neither his wife nor his children, Ellen Bruns and Andy Buffington, know where his love for rocks originated, but it's safe to say, he passed it onto them.
Rocks of all shapes and sizes that he collected can be found in their yards and their homes, as well as the yards and homes of their children, Forrest's granddaughters.
"We have a lot of rocks," Jan said with a chuckle, knowing full well that Forrest would always make room for more.
Nearly 10 years ago, Forrest scoped out a giant rock on a farm near Crystal Lake that he liked, and after looking at it for a couple years, he made arrangements with the farmer to have it relocated to their home in Forest City.
The farmer hauled the rock in the bucket of his tractor all the way to their yard, where Forrest had the spot prepared for it, Jan said.
After the rock was placed, their neighbor took a photo of Forrest with his foot up on the rock and a big smile on his face that he later printed and framed for him.
"Roger had to wait until I was there (to give it to him) and he said, 'I didn't know your dad when you were born, but I guarantee he wasn't half as proud on the day that you were born as he was the day he got his rock,'" Andy recalls. "He was so excited."
That photo is now a treasured memory of Forrest's wife and children.
Forrest, 80, died on Oct. 18 at MercyOne North Iowa Medical Center in Mason City due to complications from COVID-19.
Before then, he was "perfectly healthy." He had no comorbidities or underlying health conditions, Andy said.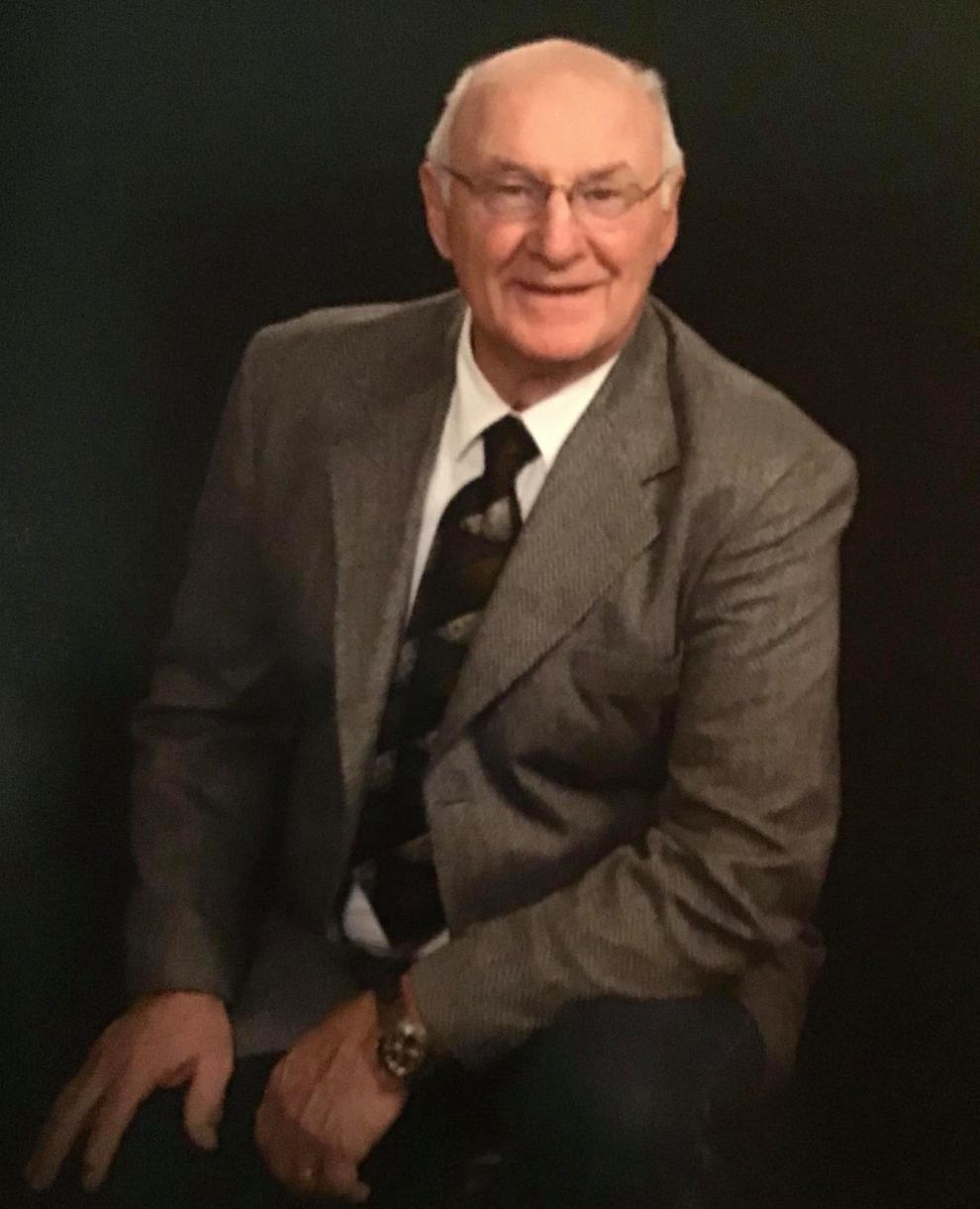 At Forrest's Celebration of Life on Nov. 7, his family made some of the many rocks he had collected available for his loved ones to take home to cherish.
"Dad was literally our family's rock," Ellen said.
Rocks weren't the only things Forrest collected.
Old radios, light bulbs, razors, Christmas tree lights and cuckoo clocks were some of the others.
"I think the reality when it came to dad was if he didn't have it, they probably didn't make it," Andy said. "He was going to have it somewhere. He never turned down a good deal, and if one was good, 50 was better."
Forrest was born in Titonka on Feb. 27, 1940. He attended school in Crystal Lake and graduated in 1957.
He enlisted in the U.S. Navy, where he served from February 1958 to June 1962.
On Sept. 12, 1959, he married Jan, and after he was discharged from the Navy, they settled in Muscatine, where Forrest worked for Monsanto Corp.
In 1968, they returned to North Iowa. He started Tri-County Plbg. Htg. & Elec., and they raised their children in Forest City.
If there was ever a question, he had the answer. If there was ever a problem, he had the solution, and if there was ever a story that needed telling, he would tell it.
Forrest was a storyteller and a jokester.
Ellen and Andy described his stories as lengthy and multifaceted. Over time, his stories got more embellished and more interesting.
"He was a good storyteller," Ellen said. "You just had to listen for a while."
One of Jan's favorite stories is when Forrest told his then elementary-aged granddaughter that he had caught the World's Largest Bullhead in Crystal Lake and she believed him, so later on a school field trip, she announced it to her class and got laughed at.
"She never let him forget it," Jan said, wiping tears from her eyes.
While Forrest enjoyed talking, he did his fair share of listening, too, his son said.
He liked people and made friends easily. He always had time to stop and visit.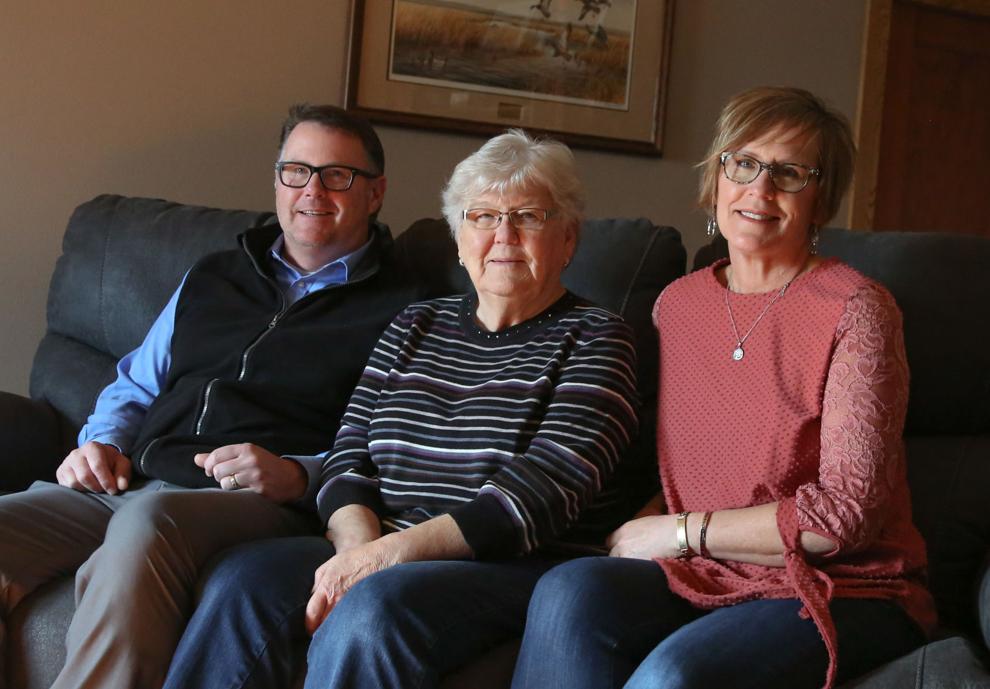 "He was always so very interested in what somebody had to say because everybody had their own story and he wanted to know about them," Andy said.
Forrest loved intentionally, whether you were family or not. He not only told them, but he showed them.
When his family or friends called or visited, he stopped what he was doing, greeted them as if they were the highlight of his day and treated them as the most important thing by listening intently and responding thoughtfully. Plus, there were always hugs, a lot of hugs.
"He just always made it special when you were there and when you talked," Ellen said. "It was important to him."
To him, family was his greatest joy.
He spent his whole life building and nourishing a close — and strong — family filled with love and devotion.
"I'm grateful for many, many things but I got to see my dad be healthy, happy and joyous his whole life," Ellen said. "We have many, many blessings, but I'm grateful for that because that's how I will always have him."
Iowa Mourns: Around the state
Ashley Stewart covers Clear Lake and arts and entertainment in North Iowa for the Globe Gazette. You can reach her at ashley.stewart@globegazette.com or by phone at 641-421-0533. Follow Ashley on Twitter at GGastewart.