In North Iowa, school cancellations, delays and early outs related to weather aren't uncommon. Most of the time, the weather has to do with extreme cold or snow. What's more rare is when the issue is related to heat.
With temperatures soaring into the mid-90's in the early parts of this week, Newman Catholic is making sure its students are a little bit more comfortable by letting them out early on Monday and Tuesday.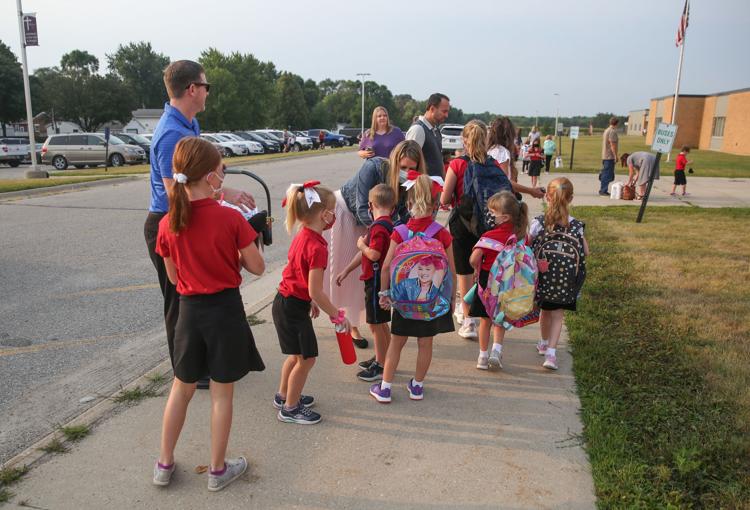 "Due to forecasted high temps, high school students will be dismissed after fourth hour (11:10) on Monday and Tuesday," Newman Catholic said in a post on social media pages.
Only students in the high school were let out early, as the middle school and elementary have air conditioning available for students, according to administrator Tony Adams.
"I think just with the heat the next couple days, it was just the right decision right now to let students out early in the day," Adams said.
Students are already dealing with many changes due to COVID-19 regulations. Extra sanitation, social distancing and masks are mandated for students in the building.
A select few have noticed that sometimes masks can be annoying and stuffy with the heat buildup from breathing through the cloth. Although some might think the wearing of masks might have been considered in the process of canceling afternoon classes, Adams says that's not the case.
"Not really in the decision making process. Obviously it just adds another factor to the heat," Adams said. "As far as us deciding if we were going to let students out or cancel school, the masks have nothing to do with that."
Newman Catholic isn't the only district letting students out early due to heat. West Fork, St. Ansgar and Central Springs have cut school short on some days early this week. Smaller schools with older buildings often don't have A/C throughout the whole building.
"We've been adding as we've gone," Adams said. "Like I said, we're about 60 percent A/C right now and the plans are in the next couple years that we'll be fully air-conditioned."
The Mason City school district isn't worried about the heat, as all buildings in the district have A/C. Unless there was a malfunction, don't expect the Mohawks to cut school short anytime soon.
While it's not uncommon for small schools to cut days short when it is hot due to older buildings' lack of A/C, it is rare to have those days in general. According to wunderground.com, the temperature on Aug. 25 last year in Mason City reached 73 degrees.
"We don't come across a lot of days where we have to deal with the heat," Adams said. "I don't recall if we had an actual day last year where we had to cancel or have a half-day, but it happens from time to time."
With the way things have been going in education, you can chalk the extreme heat up as another win for 2020.
"That's one thing with education anyways. Teachers have always had to be flexible with schedules and flexible with the learning environment," Adams said. "Obviously this year with everything that's happened, that flexibility has really been emphasized."
Be the first to know
Get local news delivered to your inbox!