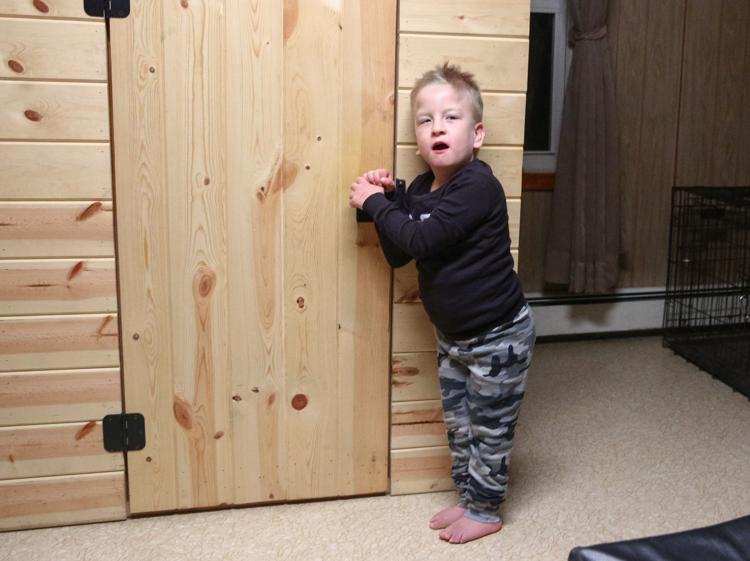 Last March, Corbin Deling, 8, had to go to the emergency room while his parents, Chelsi and Trey Deling of Swea City, were out of town.
He had a case of pneumonia that needed to be addressed immediately.
When his parents talk about it, there's a bit of fear: fear that any parent would have at their young child having to be hospitalized, mixed with the disappointment of not having been there and, additionally, familiarity. 
It wasn't their son's first trip to the hospital in his young life. 
A little less than two weeks after Corbin was born, he had to be life-flighted. When Corbin was 6 months old, he had to spend four-and-a-half months in the hospital at the Mayo Clinic because of a myriad of problems, including chronic lung issues. 
Those issues haven't subsided in the years since his early hospitalizations. Now, Corbin, who is non-verbal and non-mobile, has to use a wheelchair to go to school and get out and about with his parents. 
That lack of mobility is what has them worried.
Where the Delings live in Swea City, a town of 500 in northwestern Kossuth County, they're struggling with transportation issues.
The stretch of road in front of their family home is prone to frost boils, which cause uneven terrain and drainage problems. It's been bad enough that, in 2018, local workers had to lay several loads of new gravel out on the road.
This patched things — for a time.
Since then, however, Corbin has gotten his wheelchair stuck in the road's mud, and his parents say there was a six-week period last winter where neither he, nor the school bus, could use the road at all.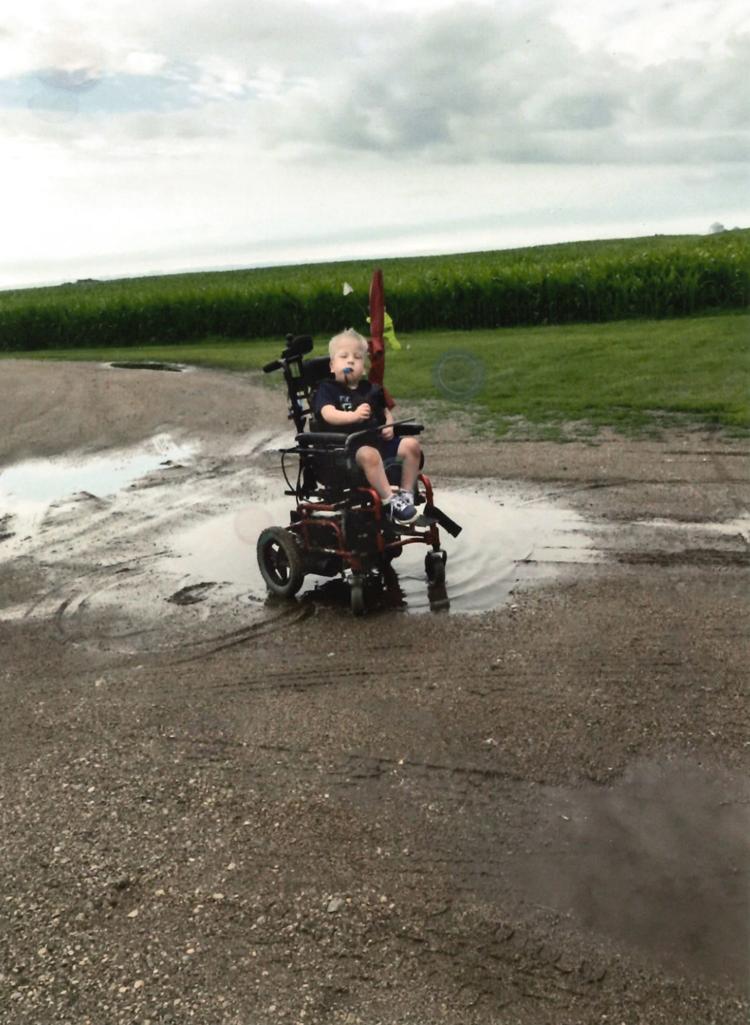 During that time there were days when one of his grandparents, Deb Govern, had to carry him down the road to as close as the school bus could get to the Delings' house. 
"If the bus can't make it, he can't make it," Chelsi said. Both she and Trey reckon that if a bus can't make it, then an ambulance might not be able to make it, either. And an ambulance being needed is just a matter of time for them.
"It's not if, it's when Corbin is going to need an ambulance again," Chelsi said. 
With these more recent issues, the Delings say they've been flagging the issue for Swea City officials to address, but they haven't had much luck. They're uncertain of Swea City's motivations.
"I don't know why and I want that answered," Chelsi said. 
So on Wednesday, Nov. 20, Chelsi and Trey showed at the Swea City Council meeting to try and reach some sort of understanding.
When Swea City Mayor Wendy Zielske turned the meeting to the public hearing section, Chelsi's question was immediate: "Where are we with the road?"
Zielske's answer: "I have not had an opportunity to update the council." 
Zielske added that she talked with a local ambulance driver who said they were unaware of any event to which the city was unable to respond. She also said that the street is on a FEMA listing from a series of springtime storms that tore through the area and did some form of damage to most of Swea City's roads. 
"With FEMA money, we can't upgrade but we can repair," Zielske said.
Chelsi, with growing frustration in her voice, shot back: "Has the road not deteriorated? That road is terrible and you guys would be in the same situation if it was your child."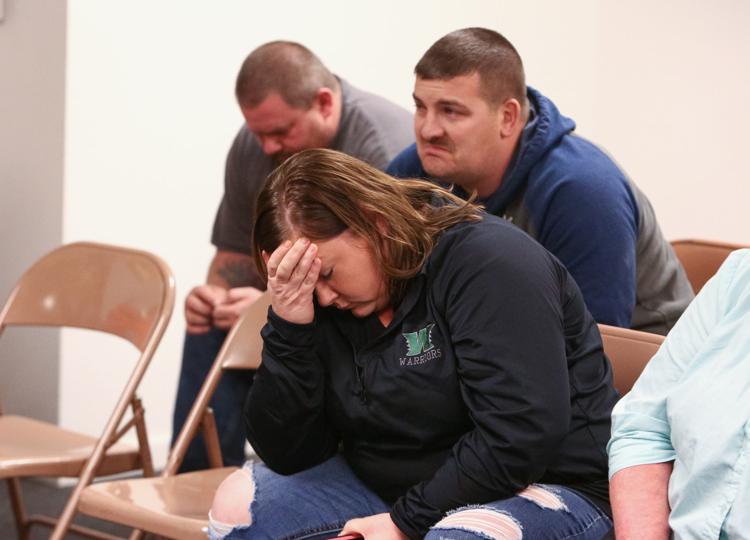 Zielske then attempted to corral things: "There will not be a discussion. The city has no legal obligation to maintain the road different than any other road."
Still not satisfied, Chelsi asked why the city had denied help from a family friend, Gary Wilson, whose wife does work with children who have medical crises. 
Because of his own work at a parts store, Wilson found a client who could help lay gravel.
"My client was basically ready to foot the whole bill," Wilson said. However, according to him, the mayor turned down the offer.
"She told me 'We've got this handled, we don't need your help. We've got an engineer working on this.'"
On that charge, Zielske said, during the meeting, that the particular offer "did not help."
They then made a hard pivot right to other business on the council's agenda, such as approving financial reports and taking action regarding speed signs in town. But the topic of roads did come up again.
Late in the meeting, a council member asked about a different road in town: "Why can't we start fixing some of this crap...In my mind, it's getting ridiculous. Can't we put it in the budget?"
"It's difficult to even make headway with the budget we have," Zielske responded.
Concern and understanding
After the meeting ended, Zielske reaffirmed where Swea City stands and what its concern level is. 
"It's a matter of does the road require maintenance? And it doesn't," she said before adding "None of the council is heartless. It has been played like that."
To signal the city's responsiveness, she pointed out the loads of gravel that the city placed in May 2018. At least five loads, by her paperwork.
She also said the road has been dug out before to try and relieve frost boil pressure. But in a place with frigid winters, that can be a temporary fix. And those low temps can wreak havoc everywhere.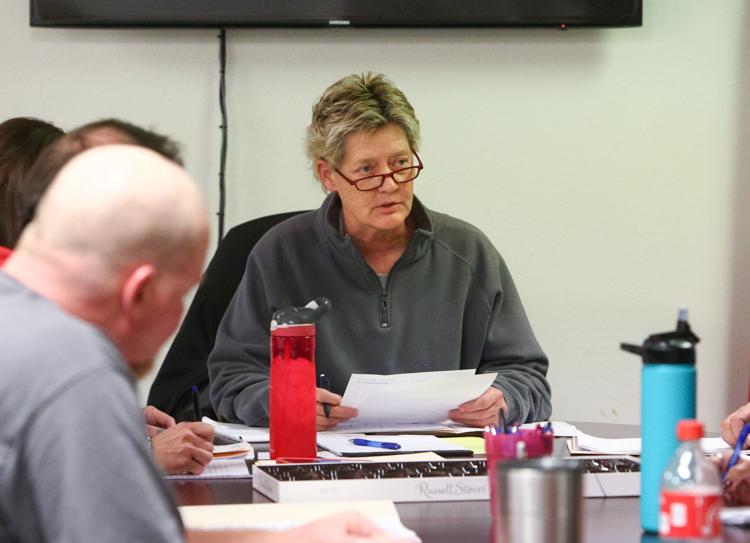 According to Zielske, most every road in town has frost boil issues. So the Delings aren't alone although their son has special circumstances.
"We're not cold and heartless," Zielske said. "I fully understand their concern. I really do. But these are the types of hard decisions we have to make and it's not easy.
Back at their house, the Delings are still trying to figure out what can be done to improve their situation but they have a lot to focus on. 
On the fridge in their kitchen, there are multiple magnets for pediatrics and the Red Cross and case management and Mayo Urgent Care and home patient services. 
Even with grandparents ready and willing to help however they can, it's a lot of work. Work, that as Govern points out, isn't something everyone has to do.
"Until you have a chronically ill child, you don't get it."
What a Globe Gazette News+ membership can do for you:
A deeper examination of local issues than you'll find anywhere else.
Two products in one – not everything that's in the print edition of the Globe Gazette is on our website, and not everything on our website is in the print edition.
Access to newspapers.com archives dating back two years.
The ability to carry your local news with you and receive alerts instantly as news unfolds.
Advertising that frequently gets you deals you won't find anywhere else.
Reach Reporter Jared McNett at 641-421-0527. Follow him on Twitter and Instagram at @TwoHeadedBoy98. 
Be the first to know
Get local news delivered to your inbox!