Randall: Wedding then marriage, a labor of love
Weddings are a lot of work, even for a mother of the groom.
My soon-to-be daughter-in-law has done a great job of planning. Most of what's left to do will be done by professionals, or by family or friends who want to help in any way they can.
My daughter will arrange the flowers. My youngest will assemble the arch. His wife will pick up guests at the airport. My husband will play guitar. And the little people (the groom's niece and nephews, and the bride's godchildren) will get all dressed up and steal the show.
My job is easy. All I have to do is walk down the aisle on my boy's arm, and try not to cry a river of mascara.
I also volunteered for a few other tasks. For example, my husband and I plan to host the rehearsal dinner. I briefly considered having it at our home and doing the cooking.
Then I came to my senses and called a restaurant. The only hard part was deciding what to serve to a guest list that will include seven kids. I hope the adults like mac 'n' cheese.
The bride and groom wanted to display photos at the reception of family members they've lost over the years. My son had lots of great shots of his dad, but none of my parents. So I said I'd find some for him.
It was easier said than done. My parents divorced when I was 2, and never spoke to each other again. We didn't make a lot of photos. I finally found two old snapshots I took of each of them a few years before they died.
My mother is sitting by a lake watching my children play. I snapped the photo just as she looked at me and laughed.
And my dad is sitting on a porch in his overalls, resting his chin on his fist and giving me his slow, sweet, easy grin.
They aren't great photos, but they look happy. Seeing their smiles made me happy, too. They'd be proud that their grandson, whom they adored, wanted them at his wedding in photos as well as in spirit.
My hardest job for this wedding seemed easy at first. The grandboys (ages 8, 7 and 5) are supposed to wear matching outfits (shirts and pants with suspenders and bow ties) that needed a little touch up with an iron. I vaguely remembered having an iron someplace, so I volunteered to take care of it.
Also, Henry's pants needed hemming, so I said I'd do that, too. How hard could it be? I planned to buy that iron-on tape I used years ago. But I couldn't find it. So I gave up and starting looking for my sewing box. Luckily, it was hiding in the closet with the iron.
I nearly lost my religion trying to thread a needle. But finally, I started hemming the way my grandmother taught me long ago. Imagine my surprise to see my hands now look like hers.
I was ironing Wiley's shirt (size 5, white, buttoned-down collar) when suddenly I recalled ironing a similar shirt for my boy, the groom, when he was not much older than Wiley.
It made me think of all the joy he has brought to my heart and how happy I am to see him so happy and so in love. I had to stop ironing before I dripped mascara on Wiley's shirt.
Weddings are a lot of work. So is marriage. But both are labors of love. They celebrate the love that is shared by two people; the love that is poured out on them by family and friends; and all the love that will come from their union to bless them and the world for generations.
Someday I hope to dance at my grandchildren's weddings. But just in case, I plan to leave a photo (maybe one from my boy's wedding a few days from now) with a smile on my face that says, "I love you ALL."
All is the most you can love someone. I wish you could see that photo. I might be dripping mascara. But I'll be grinning like a mule eating briars.
North Iowa Celebrations: Anniversaries, weddings, birthdays and more for Sept. 16
Doughan, 45 years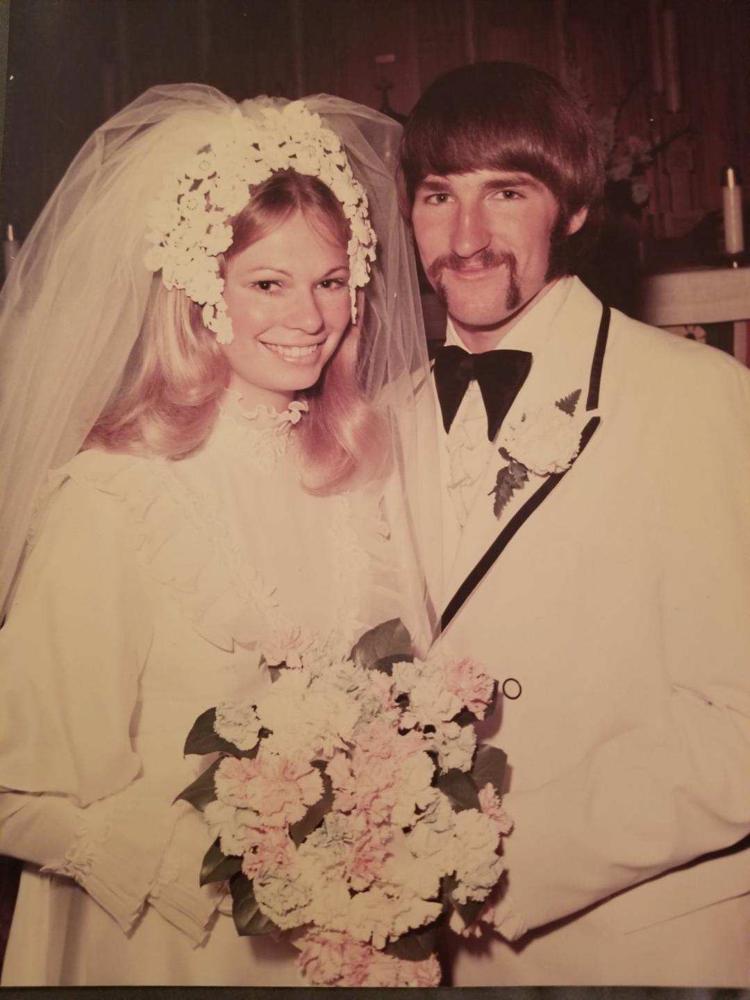 Duane and Lynda (Brewer) Doughan, of Britt, IA, were married September 14, 1973, at St. Patrick's Catholic Church in Britt, IA. The couple celebrated their 45th wedding anniversary with a dinner including family and friends on September 14, at Hillside Golf and Dining Club in Wesley, IA. Cards and wishes may be sent to them at 62 Third Avenue SW, Britt, IA 50423.
The couple's children and their spouses are Dr. Jeremy Doughan, (Roger Mohammed) San Francisco, CA; Troy Doughan, (Melissa) Jacksonville, FL; Nichalous (Nic) Doughan, (Fiancee, Dawn Maroushek) Calmar, IA; Brooke Doughan, (Fiance, Nick Humphrey) Dakota City, IA; and Iryna Johnson, (Cody) Forest City, IA. They have 8 grandchildren.
Look Who's Turning 60!
Angie Mayer will be celebrating her 60th birthday on September 25. Greetings may be sent to her at 522 7th Ave. N, Clear Lake, IA 50428.
Stone, 60 years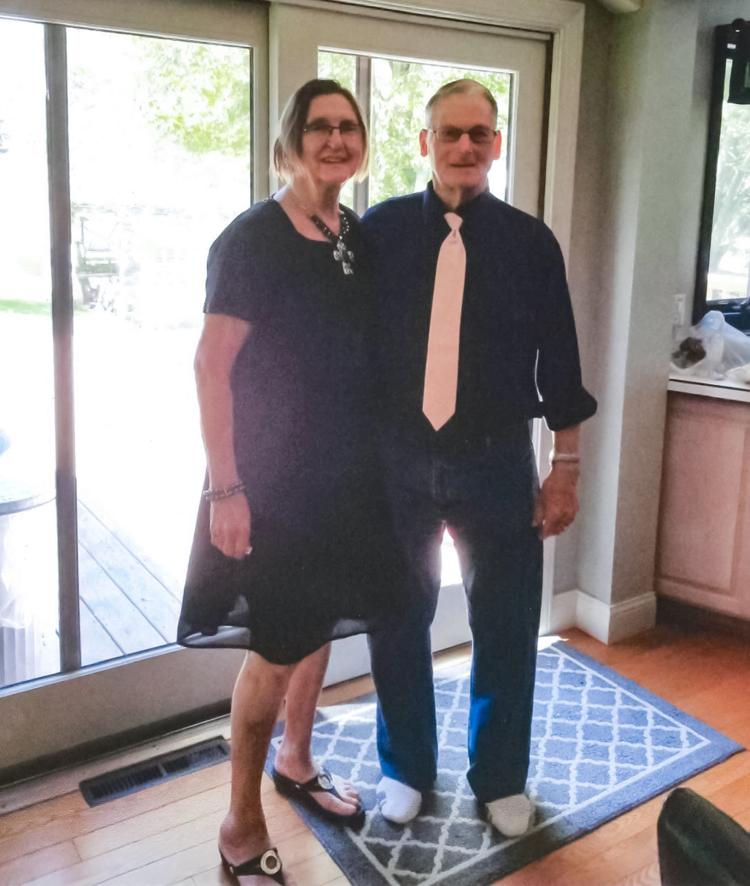 Merlin and Carol Stone of Algona, IA, were married September 19, 1958. The couple celebrated their 60th wedding anniversary with a family dinner in Algona on September 15. Cards and wishes may be sent to them at 718 S Jones St., Algona, IA 50511.
The couple has a son, Jeffrey and 3 grandchildren.
We Miss You Jeff
I feel a warmth around me, like your presence is so near.
And I close my eyes to visualize your face when you were here.
I endure the times we spent together, and they are locked inside my heart.
As long as I have those memories we will never be apart.
Even though we cannot speak anymore, my voice is always there because every night before I sleep, I have you in my prayer.
1 year since you left us. 9/12/17
Always in our hearts- Mom, Dad, Jennifer, Jeremy, Tyler, Ashley, Henry, George, Manuel, Blake, Leah and Megan
Mildred Peters Memorial
There will be a memorial service for Mildred "Millie" Peters, formerly of Mason City, on Saturday, September 22, at 1 p.m., at Hanford Community Church, Hanford, IA. She passed away at age 96 on May 30, 2018.
Niichel, 50 years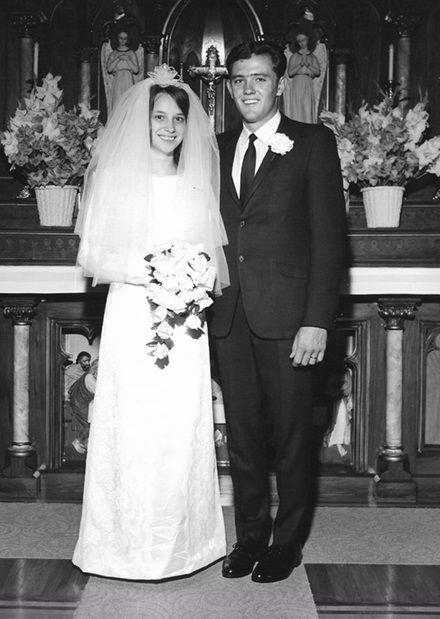 Thomas Ray and Karen Kay (Hall) Niichel, of Osage, IA, were married September 21, 1968, at St. Joseph Catholic Church in Granville, IA. The couple will celebrate their 50th wedding anniversary with a family camp outing.
The couple's children are Terri (Andy) Barrick of Trussville, AL; Craig (Kim) of Charles City, IA; Jeff (Katey) of Jesup, IA; and Justin of Ankeny, IA. They have 9 grandchildren and 3 great-grandchildren.
Gone But Not Forgotten
We thought of you today, but that is nothing new.
We thought about you yesterday and days before that too.
We think of you in silence, we often speak your name.
Now all we have is memories and your pictures in a frame.
Jeff Lessor
12/20/1970-09/12/17
We love and miss you!
Nicki and Jaxon 
Frank Wellik, 90 and Shirley Wellik, 89
Frank and Shirley Wellik of Britt, IA, together will be honored at an Open House on Saturday, September 22, 1-4 p.m. at St. Patrick's Catholic Church hall in Britt, to celebrate his 90th and her 89th birthday. Frank was born April 4, 1928, in Duncan, IA, and Shirley Ann Studer was born September 30, 1929, in Wesley, IA. Cards and wishes may be sent to them at 2480 Kent Ave, Britt, IA 50423.
Thank You
We had celebrated our 50th Anniversary with a family trip. Then our girls surprised us with the anniversary announcement in the local newspapers.
We have received cards and greetings from people far and near, people we see on a regular basis, and those we haven't heard from or thought about for years. It was better than Christmas with all the cards, emails, texts and verbal expressions of congratulations. For all of these, we say "Thank you." We also especially say "Thank you for playing such a special part in our lives and marriage." Thank you for reaching out to us on this important milestone. We have been blessed. May God Bless You All.
Terry and Lois Long
Thornton, Iowa
Thank You
A huge thanks to friends and family who came from near and far to make my 90th birthday such a happy and memorable day. Many others sent lovely cards, gifts, flowers and wishes which added to the blessings. My heartfelt thanks to everyone.
Milly Schaefer
Clear Lake Art Sail raffle
Terri Mumm of Clear Lake was the big winner of the Clear Lake Art Sail raffle on Saturday, July 28. The Clear Lake Arts Center raffled off two Air Choice One flight vouchers as part of its 40th annual Clear Lake Art Sail. Merit Award winners were: ceramics artist James Kerns, jeweler Darla Ellickson, glass artist Chris White, fiber artist Carole Osburn, and painter Cheri Courter. The judge of the show was painter and fiber artist Sally Rasmussen of Clear Lake. Art Sail has been organized, promoted, and run by the Clear Lake Arts Council, (DBA: Clear Lake Arts Center) volunteers, and staff for 40 years, and is a part of Clear Lake's LakeFest Weekend.
Lawrence University
APPLETON, Wis. | Christian Vallery, Hampton, has been named to the Lawrence University Dean's List (3.4 GPA) for the 2017-18 academic year.
University of Iowa
IOWA CITY | The following North Iowa students graduated with highest distinction from the University of Iowa College of Liberal Arts and Sciences in May 2018:
Mason City: Vanessa Johnson; Alex Rier.
University of Denver
DENVER | Lydia Aberg, Forest City High School, was named to the Spring Quarter 2018 Dean's List (3.75 GPA or better) at the University of Denver.
University of Nebraska-Lincoln
LINCOLN, Neb. | Haley Jo Eustice, St. Ansgar, was among 751 graduates who received degrees from the University of Nebraska-Lincoln during the summer commencement ceremony Aug. 11 at Pinnacle Bank Arena.
Coca-Cola Promise Scholar
North Iowa Area Community College student Kala Rose, Greene, is one of 207 Phi Theta Kappa honor society members named a 2018 Coca-Cola Leaders of Promise Scholar. She received a $1,000 scholarship.
Day to Remember
On Saturday, August 18, 2018, Heartland Chapter 10 of Muskies Inc., Clear Lake members Michael Wentworth, Public Relations/Media and Christopher Doane, Treasurer assisted Scout Troop 401, Epiphany Catholic Parish, Mason City, Troop 1012, Wesley United Methodist Church, Mason City and Pack 401, Newman Catholic School, Mason City with an afternoon of fishing and fun at Eldred-Sherwood Park, Goodell, IA.
The outing consisted of a brief presentation about the purpose of Muskies Inc. highlighting current projects, assistance and donations that the chapter has provided to various groups. After a challenging afternoon of fishing, the Scouts shared a meal and participated in a drawing for prizes donated by the Heartland Chapter. The Heartland Chapter is very pleased to work with our Scouting organizations to promote our fisheries, research and youth fishing for all species of fish.
Muskies Inc. is dedicated to the promotion of catch and release conservation of muskies and the enjoyment of muskie fishing. Besides helping and donating to the Scouts, Heartland Chapter members have assisted with various state and community projects such as DNR spring gill netting, fish stocking, Kids Fish Camp and Kids Fishing Tournament to name a few. Local community organizations and groups looking for assistance of this nature should contact the Heartland Chapter via our web site, Facebook page or visit one of our monthly meetings (all listed below).
The Heartland Chapter meets at 7:00 pm, on the second Tuesday of each month, at the Other Place Restaurant, in Clear Lake. We welcome fishermen of all age groups, interests and skill levels to check us out and become an active member. Please visit our web site at http://heartlandmuskies.org/ or our Facebook page Heartland Muskies Inc Chapter 10 for additional information.
Katlyn Elaine Ewing
Katlyn Elaine Ewing
Jami Verhalen and Chris Ewing, of Clear Lake, IA, are the parents of a daughter, Katlyn Elaine Ewing, born at 11:08 p.m. on July 31, 2018, at Mercy Medical Center NI. She weighed 9 pounds 8 ounces and was 22 inches long.
Grandparents are Eric and Kathy Verhalen, and Gary Sliger and Deni Sliger.
Dr. John Dixon, 100
Dr. John Dixon will be celebrating his 100th birthday Sunday, September 16, at Good Shepherd Health Center. Please join him for coffee & cake from 10:30 to 11:30 a.m. in the east wing dining room. Cards may be sent to Dr. John Dixon, 302 Second St. NE, A-132, Mason City, IA 50401.
Amosson, 50 years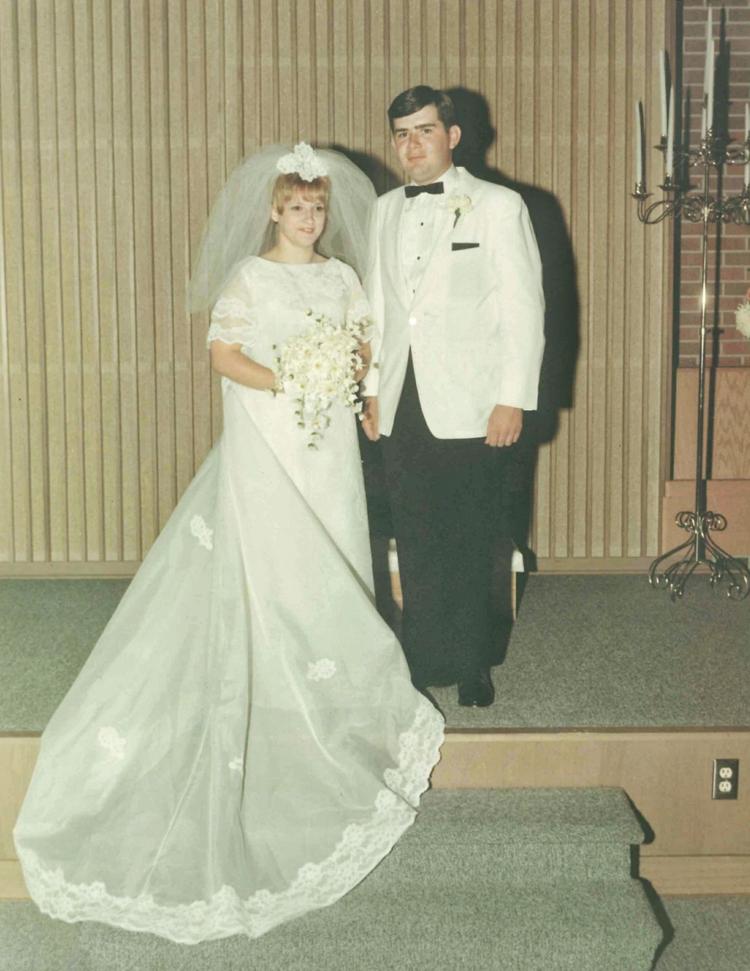 Robert Amosson and Patricia Amosson (Bos) of Clear Lake, IA, were married September 6, 1968, in Albert Lea, MN. The couple's children and their spouses are Scott and Vonnie Amosson of Clear Lake, IA, and Jeremy and Ginger Amosson of Rockwell, IA.
Beatrice Smoley, 85
Help Beatrice Smoley celebrate her 85th birthday from 1:30 to 4 p.m. on Sunday, September 16, at the United Methodist Church, 215  First St. NW, Buffalo Center, IA.
Cards may be sent to Beatrice at: 15 Third Ave. SE, Buffalo Center, IA 50424.
Thank You
The family of Catherine Phearman would like to thank all of our family, friends, and neighbors for the prayers, food, cards, and memorials we received. Your kindness and thoughtfulness helped our family through this difficult time.
We would also like to thank the staff and neighbors of Homestead Assisted Living for being so supportive. Thank you to the Hogan Bremer Moore Colonial Chapel staff for helping us with so many decisions. Thank you to Hospice of North Iowa for our brief experiences, especially the nurse Julie. Thank you to pastoral staff at Epiphany Parish-Holy Family and the Ladies of the guild who helped serving the luncheon.
Thank You
Thank You!
How blessed am I to have so many great friends and relatives wishing me a Happy Birthday. Thanks for all the phone calls, gifts, visitors and all my cards. 80 isn't so bad after all!
Dorothy "Dort" DeVary
Thank You
I wish to thank my big family of four generations for an absolutely wonderful celebration of my 80th birthday, it was saturated with love, appreciation, memories, laughter and beautifully prepared food. I am humbled and happy!
I also wish to thank my Epiphany Parish Family for responding so kindly to a requested card shower.
With gratitude, Lorraine Mackey
Millie Black, 90
Millie Black will be honored at an Open House Coffee to celebrate her 90th birthday. Please join us, Saturday, September 15, 2-3:30 p.m. at Manly Town Hall, 106 S Broadway St., Manly, IA.
Elizabeth Morse, 100
Elizabeth (Betty) Morse of Mason City will celebrate her 100th birthday with a family party. She was born September 15, 1918 in Mason City, Iowa. She resides at the IOOF Home in Mason City.
Mark S. Nelson attends Intergenerational Handbell Choir camp
Local musician Mark S. Nelson, Forest City, attended the 28th Annual Intergenerational Bell Choir Camp, July 2018, in Park View, MO. As well as playing with a brass group for a concert processional, a highlight for Nelson was playing with mallets on the bells in a piece entitled "Chatting with the Angels."
Nelson is a member of Handbell Musicians of America, and enjoys playing with the Clapper and Clatter Handbell Choir at Trinity Lutheran Church in Mason City. He also co-directs the Hand Chime Choir for Faith Village, an after-school music program, at Forest City United Methodist with his spouse, Lisa Nelson.
Gone But Not Forgotten
Raymond A. Bagley
1954-2003
We think about you always.
We think about you still.
You have never been forgotten,
And you never will.
We hold you close within our hearts,
And there you will remain.
To walk and guide us through our lives,
Until we meet again.
Love and Miss You,
Terri Sue, Eric, and family
Thank You
We are so grateful for everyone who remembered us with cards, flowers, greetings and gifts to help us celebrate our 60th wedding anniversary. We had a wonderful weekend with our entire family and feel blessed.
Dick & Nadine Wagner
Thank You
Thank you for all the cards and birthday wishes that were sent to me.
Mary Borrill
Prayer to the Blessed Virgin
(Never Known to Fail)
Oh, Most Beautiful Flower of Mt. Carmel, Fruitful Vine, Splendor of Heaven, Blessed Mother of the Son of God, Immaculate Virgin, assist me in my necessity.
Oh Star of the Son, help me and show me herein you are my Mother.
Oh, Holy Mary, Mother of God, Queen of Heaven and Earth, I humbly beseech you from the bottom of my heart to succor me in my necessity (make request).
There are none that can withstand your power.
Oh Mary, conceived without sin, pray for us who have recourse to thee (three times).
Holy Mary, I place this cause in your hands (three times).
Say this prayer for three consecutive days.
You must publish it and it will be granted to you.
MMS
NIACC Dean's List
MASON CITY | North Iowa Area Community College released its Dean's List (GPA between 3.25 and 3.49) for the 2018 Spring term.
MASON CITY: Alexis Lynne Acker; Jared L Adams; Cassidy Ann Allison; Ashley Danielle Baer; Madison Kay Benson; Blazer James Blake; Danielle M. Crom; Savanah Brooke Draper; Julia Anne Dunlavey; Morgan Rose Dvorak; Levi Curtis Follmuth; Mariah Ann Ginapp; Colton James Hansen; Noah Ray Harris; Halley Rayshell Johnson; Jacob Lang; Stephanie Mae Lau; Eden N Lewerke; Morgan Kay Luecht; Kaylee R Meyer; Tyler Matthew Nestvedt; Justice Ann Page; Kyle Samuel Riker; Joseph Ray Sage; Deborah Jean Shannon; Briana Marie Solano; Amanda Marie Sweet; Xander Jared Tierney; Tyler James Toebe; Cole Michael Werner; Elyssa Mackenzie Wilson; Sarah Lynn Yaggy.
CLEAR LAKE: Alexander James Hunt; Alicia Rene Perego; Dalton Drew Mennenga; Guissella Maria Johnson Munoz; Mikayla Renee Brant; Milo Rory Dugan; Noah Joseph McLaughlin; Ryan Dale Faught; Torian James Lee; William Garrett West. 
BELMOND: Blaine Richard Hanson; Brady Jon Bock; Brandon M Watne; Briana Lisette VerHelst; Cameron Anthony Beminio; Christopher K Aguilera; Daniel Curtis Chapman; Jesse James Gobeli; Keaton Harold Buseman; Nicholas Brinton Meints; Zachary Dennis Anderson. CHARLES CITY: Ashley Elizabeth Pahnisch; Daniel James Anderson; Derek Keith Milligan; Dylan Allen Steinlage; Dylan Craig Parsons; Jewel Marie Gipple; Kevin White; Lee Wayne Hoeft; Lucas Alexander Comito; Marshall Raymond Holzer; Tina L Slinger. 
GARNER: Connor Timothy Burke; Mattilynn Myrie Ulven; Andrew Paul Baumgard; Austin Bailey Case; Chase Maverick Monson; Clayton Aaron Prescott; Derek Ross Neuberger; Hannah Marie Field; Jonah Barrett Albertson; Nicholas Michael Joynt; Paige Kristy Rasmuson; Rachel Suzanne Sokol; Ray Lincoln Cataldo. BRITT: Benjamin Mark Eisenman; Elizabeth Zamago Ibarra; Katlyn Jo Ohrt; Makada Lashaun Hunt; Zachary Clifford Clark. HAMPTON: Callie Christina Grover; Eric Tyler Arenholz; Iris Lynn Varrelman; Kaylea Michelle Rew; Max Garrison Aalbers; Miles Louis Sharp. 
OSAGE: Abigail Jean Wagner; Emily Violet Ross; Jack Anthony Huebsch; Monica J Carlson; Nathen Micheal Adams; Shelby Jean Blake. ROCKFORD: Amy Lynn Fullerton; Shana Joycelynn Wood; Amber Lee Staudt; Chloe Amilaine Thompson; Theresa J.M. Jones. ROCKWELL: Lindsy Kae Mayland; Nicholas Ryan Crooks; Samantha M. Ries; Zachary Taylor Rocheleau. FOREST CITY: Andrew Victor Kuhn; Dakota Martin Bang; Sydney Shae Pederson. MANLY: Alan James Fuller; Amanda Michelle Cary; Ezekial Nicholas Hodak. 
PLYMOUTH: Amanda Dawn Jacobs; Katlynn Olivia Roney; Zachary Lowell Ryg. SHEFFIELD: Collin Joseph Meints; Devon Lee Kothenbeutel; Raegan Alexa Arbegast. ST. ANSGAR: Grace Marie Heimer; John Dale Patterson; Bryton James Lowe. 
AREDALE: Katelyn Noelle Johnson. BUFFALO CENTER: Peter R Baker. CHAPIN: Brandon Michael Emhoff. DECORAH: Alexandra M Hable. DENVER: Joshua Alwin Schaefer. DES MOINES: Danyelle Dornbusch. DOUGHERTY: Christina Marie Antal. DOWS: Alitheia Ruth Holmes. FERTILE: Marissa Lanae Westfall. FREDERICKSBURG: Shine A Schultz. KLEMME: Emily Sue Dodd. LAKE MILLS: Emily Marie Rice. 
MESERVEY: Jakob E Gustin; Jordan Robert Clark. NASHUA: Kevin Herbert Hinz. NEVADA: Lindsey Marie Haley. NORA SPRINGS: Colton James Fink. NORTHWOOD: Bethany Anna Gentz; Clifton B Davis. OSSIAN: Libby Lou ManningRICEVILLE: Natasha Ann Duryee; Logan Paul Mayer. SULLY: Canyon Jaymes Kuhlmann. THOMPSON: Chelsey Marie Gonsalez. THORNTON: Brittany Nicole O'Donnell. VENTURA: Ashley Rachael Markla; Jaden Marie Parra.
BELVIDERE, Ilinois: Jaccob Adam McIntyre. PEORIA, Illinois: Alexis Alain Tahet. SCHAUMBURG, Illinois: James William Brady. ALBERT LEA, Minn.: Bryce Daniel Fink; Samantha Ann Bernice Schultz. EDEN PRAIRIE, Minn.: Ryan Thomas Swanson; Vaughn John Deinhart. EXCELSIOR, Minn.: Fox Grant Leum. HOLLANDALE, Minn.: Calin Marie Adams. KIESTER, Minn.: Zachary Alan Knudtson. LE ROY, Minn.: Terrye J Vikre. NEW RICHLAND, Minn.: Isaac D Morgan. OAKDALE, Minn.: Miyah Teres'e Walker. OKLAHOMA CITY: Stephanie Jo Muhammad. OSCEOLA, Wis.: Sydney Rae Roush.
COLAC, AUSTRALIA: Caitlin Jane Serle. TELEGRAPH POINT, AUSTRALIA: Kirrilly Audrey Hughes. SAO PAULO, BRAZIL: Raphael Sergio Xavier. LIMA, PERU: Claudia Maria Cueva Escobedo. PRESTON, UNITED KINGDOM: Thomas Aubrey Cobham. READING, UNITED KINGDOM: Jack Colin Doyle.
NIACC President's List
MASON CITY | North Iowa Area Community College released its President's List (GPA between 3.5 and 4.0) for the 2018 Spring term.
Mason City
Ashley Elizabeth Alert; Edna Sue Angle; Bailey Rae Badker; Brycelin Steven Ball; Krista Jean Barnish; Mason William Berg; Sarah Katherine Betz; Stephanie Lynn Bierbrodt; Jared Patrick Bock; Leah Michelle Bormann; Matthew Paul Bormann; Jenna Paige Bowers; Abbigail Elaine Brosdahl; Bradley Alan Burns; Bryce Charles Butler; Cyle Ray Calhoun; George Sigurd Conway; Michael Lloyd Craft; Benjamin Arthur Crockford; Michelle A Crooks; Ethan Timothy Curry; Megan Christine Dempsey; Julie Ann Draper; Austin Louis Eckenrod; Trevor Anthony Eidemiller; Steven Robert Farrington; Anthony Michael Fitzgerald; Logan Joseph Forburger; Seth Alan Clayton Foster; Elijah Michael Francis; Joshua G Francis; Hayley Jo Lynn Fransen; Morgan Elizabeth Fritz-Ward; Tristan Patricia Gahn; Jaidyn Marie Godfrey; Alex Goranson; Brooke Marie Greenwood; Wil James Gribben; Macie Kay Hadacek;
Brenann Renea Hamilton; Theresa Marie Hanley; Nathan J Hanna; Maggie Marie Harrison; Malajah ReShell Shaneek Hayes; Kristopher Glenn Hearn; Mara Diane Heimbuch; Kiarra Cleasha Heston; Timothy Harold Hoffmann; Ian Dave Holmgaard; Van Timothy Ingersoll; Joshua Dean Jasso; Zachary John Jimenez; Gage Maurice Johnson; Shelby Theresa Johnson; Dakota Lee Jones; Katelyn Ann Julsen; Alicia Marie King; Erika A Klus; Abbey Lee Knowlton; John Marshall Kraft; Bryan R Larson; Bryan James Lathrop; Brennan Lee Laugen; Jace Adam Leininger; Senai Miyan Lewerke; Danielle Rae Lorentzen; Erika Lynne Mariner; Blake Joseph Martinez; Marcia D Medley; Katrina Jolene Miller; Andrew Keith Morse; Megan Marie Notermann; Peyton Jo Olson; Katelyn Elizabeth Ouverson; Samantha Janel Papouchis; Andrew Lee Peterson; Luke Martin Peterson; Trey Michael Pfeffer;
Mirsada Pivic; Jonathan Carl Rodemeyer; Jacob Troy Rood; Jordan M Rowe; Alec Ryan Schmidt; Maria Carol Schmidt; Mitchell David Scholl; Natalie Jean Scholl; Samantha Kay Schupanitz; Kelley David Schwab; Samuel Allen Seiler; Madeline Faith Shaffer; Emaan Jaffar Shaikh; Brett M. Smith; Joshua A Smith; Sierra Jade Stauter; Morgan Joseph Steenhard; Krisia Lynn Stephens; Ely Bryan Taylor; Joshua Thomas Thilges; Aubrea Marie Thompson; Kayla Marie Till; Tyler B Trout; Jeffrey Scott True; Ian P Vallebo; Kalynn Kristine Washington; Kallie Jo Whitehill; Cody Blake Whitehurst; Trey Lee Wiegmann; Carson Trey Williams; Jacob Tyler Worman; Miranda Marie Wulff; Josiah Daniel Wunderlich; Sarah Z. Yacoub; Brandon M. Yarahmadi; Justin Dean Zeigler.
Clear Lake
Joellen Ashley Andrade; Skylar Lee Andrea; Lainey Ann Arians; Landon Alexander Jord Blackburn; Benjamin David Blaha; Cael Braden Crispin; Nicholas Jason Currier; Tyler D Curtis; Grant Thomas Dieken; Virchell Zene' Dungee; Emily Nicole Endelman; Steven Michael Follmuth; Rowan Marie Fread; Anthony Dylan Gansen; Hunter James Gerhardt; Eric Dennis Hahn; Alexandria Kay Holtz; Mattie Kay Krause; Nicholas James Matthews; Harper M. Mehman; Leah Annmarie Meinders; Seth Karsjens Miller; Alanna Nicholle Monson-Zeiger; Marissa Elise Olk; Duke Timothy Olthoff; Owen Lee Orr; Corrigan Michael Ouverson; Carson J Parker; Jonah Ross Pedelty; Kristina Marie Peterson; Michael Lee Phaiboun; Star Le'Anne Pralle; Elijah Dale Reid; Brian William Smith; Kaitlyn Elaine Stroup; Maegan Marie Tegtmeyer; Tucker John Tusha; Abigail Sabine Wheatcraft; Gable Ryan Williamson.
Other Iowa
CHARLES CITY: Michael Anthony Andrews; Theo Arthur Arndt; Madison Avery Becker; Alayne Marie Buseman; Holly M. Caspers; Marissa Ann Renee Deeter; Luke Austin Delap; Joshua David Doucette; Allyson Christina Effle; Jason Abelardo Flores; Brady Cole Girkin; Emma Kathleen Heidebrink; Tangela Marie Jensen; Kelby Ann Katcher; Robert Benjamin King; Derek William LaBarge; Branycia A. Mitchell; Makayla Marie Nierling; Jacob Christean Niichel; Silina Shae O'Neill-Vaughn; Jenna Rae Page; Payton Danielle Reams; Collin David Retterath; Tayler Jean Schmidt; Trevor O Singh; Ciana Kaye Sonberg; Kennedi Lee Stewart; Jamie Michelle Tucker; Charles Anthony Walker; Elizabeth Grace White; Mackenzie Ann Wilson; Isaac Christopher Wink; Ryan William Wolfe.
HAMPTON: Christopher William Ballard; Taylor J.E. Baltes; Sara Isabelle Buseman; Austin Michael Busma; Meg Alyse Christiansen; Crystal Lynn Cross; Cesar Alejandro Damas; Luis M Damas; Abbey Mae Fielding; Abigail Clair Fink; Gisselle Gutierrez; Jacob Douglas Hansen; Ally Lynne Hanson; Ashlyn Rae Hanson; Alexis Lynn Harkema; Cassie Ven Ho; Kolton Jon Koenen; Joseph Steven Madson; Zarek Jesse Mahler; Mikyla Zoe Marquard; Hayley Rae McNealy; Carlie Mae Miller; Heidy Sarai Ojeda-Rodriguez; Jordan Nichole Prantner; Brady Laverne Ringleb; Dakota Renee Sliter; Eileen Jacqueline Solis; Paige Regina Springer; Douglas Scott Steinhoff; Patricia Susan Teggatz; Lisandro Verdugo; Kylie Kay Voy; Jayde Lee Wikert. 
OSAGE: Nathan Allen Bushbaum; Klaire Josephine Chisholm; Olivia Thies Dodd; Hailey Marie Gentz; Gracie Mae Halbach; Kelsey Marie Havel; Elizabeth Alice Hope Jenkins; Logan Earl Linkenmeyer; Avery Anna Marley; Bethany Ann Meitner; Anna Elaine Miller; Erin Kaye Miller; McKenzie Ann Mohl; Hanna Rae Mullenbach; Jackson Paul Murphy; Nadezhda Ektriana Murphy; Hunter Samuel Noordhoek; Rylie Marie Olson; Joseph James Popp; Carter Joseph Roggensack; George Michael Schorg; Claire Renae Sullivan; Thurston Alan Taets; Trey William Tesch; Coryssa Ann Tucke; Courtney Marie Tusler; Hunter James Wagner; Emily Ruth Waitek; Jacob Dean Wihlm; William Roy Witt.
BELMOND: Avery Lynne Barkema; Alexander Michael Buseman; Ashlyn Elise Buseman; Emma Jean Cox; Danielle Kay Jenison; Michael Alan Knapp; Madelyn Paige Mason; Shaila Christine McDaniel; Stefany Ann Naranjo; Kobe Joseph Jon Negrete; Ryann Cherie Sander; Easton Robert Smith; Tatin Jo Sorensen; Isaac Zane Sorenson; Gustavo Adolfo Suarez; Sergio Carlos Suarez; Brooklynn Ann Thayer; Alexandra Dawn Trager; Grace Renae Wertjes; Tristan David Wessels. 
GARNER: Payton Ann Bamrick; Breanna Marie Billings; Candie Janet Cueva; Ryan Lane Hall; Christopher A Harris; Adyson Nicole Hook; Emily Ann Howke; Abigale Rose Kale; Tyler Allen Kumsher; Christine Ann LaBounty; Jon Neal Loeschen; Kaylee Marie Mahlstedt; Amidy RR Mego; Ryan Carl Meyers; Tehya Jo Mitchell; Tyler William Obermann; Holden Wesley Oulman; Harrison R Roberts; Jacqueline Grace Van Oort; Micah John Wacker; Hannah Jo Wellik; Alexis Marie Wirtz. 
SHEFFIELD: Makenna Joan Amsbaugh; Alli Kay Arndt; Alyssa Ann Barkema; Paul Mark Currier; Jacy Bella Guerrero; Ylani Cruz Guerrero; Mitchell Jordan Halloran; Austin Matthew Larson; Preston M Larson; Samantha Kay McGuire; Nathan James Meinders; Erika Paige Perkins; Justin David Rooney; Kyle James Rooney; Talia Marie Rowe; Grace Elizabeth Shreckengost; Spencer Lee Streblow; Lauren Daleigh Trewin; Jonah Brenton Van Horn; Erika Darlene Wogen; Lukas Brian Wogen. 
NORTHWOOD: Marcus Timothy Brandt; Mackenzi Kay Duvall; Shelby Nicole Hagen; Lindy Sue Marie Harris; Matthew Thomas Jensen; Morgan Jean Johnson; Travis Alan Johnson; Taylor Reese Jorgensen; Katrina Marie Kranda; Naomi Ruth LaRue; Savannah Mae Lira; Shelby Renae Low; Cassandra Jean Nolte; Sarah Jo Pederson; Julia Lynn Quisley; Sully Christian Reyerson; Jamie Lynn Steinman. ST. ANSGAR: Benjamin Paul Boerjan; Nicholas David Wayne Bork; Paige Kathryn Brumm; Jessica Ann Gonnerman; Hannah Jean Groth; Abigail Leona Hansen; Sabrina Joy Hershey; Brianna Lea Hildebrand; Chelsey Rae Huisman; Brenna Elizabeth Jacobs; Jared Gene Mayer; Justin Tayler Okland; Clay Dean Pierce; Colin James Salz; Maggi Georgia Steele; Daniel Mark Wilbur; Abigail Lea Wold. 
BRITT: Arthur W Deaner; Chase Matthew Eisenman; Ryann Rochelle Hagen; Sydney Lynn Hudspeth; Bailee Elizabeth Joy Leerar; Kelly Christine Leerar; Nicholas Daniel Lemmon; Mariah Lynn Pavelka; Brigid Marie Smith; Alyssa Ann Tegtmeyer. LAKE MILLS: Adam Dean Bergo; Abbey Mae Bray; Dylan Michael Cavett; Jocelyn Deelda Dahle; Morgan Jae Marie Fritz; Ashley Marie Groe; Ashley Rae Henderson; Jadyn Christyne Joynt; Laura Elizabeth Knudtson; Hannah M. Rank. 
MANLY: Theresa E Corell; Madison Nicole Daily; Trace James Kessler; Casey Marie Kisner; Dylan John Kisner; Brooke Marie Mueller; Alexis Marie Oppman; Aricka Lynn Oppman; Emily Mae Overy; Bethany Renae Shackleton; Kelli Annice Wilson. NORA SPRINGS: Ellacyn Mae Coleman; Kiley Kae Hanft; JC A. Houdek; Caleb Gregory Howe; Morgan Kay Kelley; Tammi Lynn Kuhlers; Gregory Norman Schmitt; Riley Adrianna Sellergren; Evan Michael Seybert; Caleb Richard White; Rachel Leanne Wyborny. 
ROCKWELL: Taylyn Ann Akins; Chadd Michael Blanchard; Megan Jane Jones; Rachael Marie Jones; Payton Michelle Kuhlemeier; Kylie Elisabeth Laudner; Kaitlyn Rae Liekweg; Maddison Elice Shupe; Reba Marie Struchen. FOREST CITY: Kyle Austin Brown; Michael LaMont Nielsen; Benjamin Richard Roisen; Colton Charles Schroeder; Becca Rae Seglem. GREENE: Amanda Jan Allan; Sarah Jane Goodrich; Kala Lynn Rose; Clay Robert Shultz; Alexis Marie Stirling. 
KENSETT: Dusti Jo Bratrud; Paige Alexandera Oleson; Dylan James Parks; Kaylee Jolynn Parks; Emma Marie Walling. KLEMME: Taryn Rae Carolus; Alexa Louise Garcia; Jamie Lynn Horspool-Ridlon; Katie Ann-Marie Emma Lester; Anastasia Marie Nannenga; Samantha Rae Wester.  
ALGONA: Luke Gregory Arrowood. ALLISON: Addyson Renee Clark; Madison Rachael Pleas. AMES: Blake Philip Preston. AREDALE: Ashley Marie Harms. BRADFORD: Briana Stephanie Flack; Mattilyn Stephanie Flack. BUFFALO CENTER: Nadalyn Anne Myer; Jordan Alicia Ostrander. CARPENTER: Emily Rose DeBower; Lindsey Marie DeBower; Jayme Alan Van Sabben. COULTER: Jesse Albert Zander. CRESCO: Katie Lynn Chapman. CUMMING: Madison Nichole Gremler. DES MOINES: Brian J. Fisher. DOUGHERTY: Cailey Lynn Weaver. DUMONT: Lexis Jerilyn Kalkwarf; Christy L Norton; Austin Michael Rieken.
ELKADER: Brandy Jean Nauman. ELMA: Jenna Marie O'Donnell. FLOYD: Matthew Dennis Freund; Sydney Rose Loeckle; Emma Jean Staudt. GENEVA: Sara Ann Snook. GILBERT: Tate Irene Powers. GOODELL: Brylee Sue Halfpop. GRAFTON: Cody W. Hansen; Derek James Jorgensen; Ryan Andrew Petersen. HANLONTOWN: Hailee Susanne Ausenhus; Brenna Nicole Jara; Kolton Andrew Kinne. HOSPERS: Rebecca Lynn Konz. JOICE: Trevor James Hanna; Kristine Nicole Kingland; Paul Alexander Olson; Tyler James Swenson. KANAWHA: Madison Kay Daniels; Megan Beth Schreur.
LAKOTA: Jordan Wayne Boekelman; Rachel Ann Schutter. LATIMER: Jesse Lucas Anderson; Madilyn Ann Vanness. LITTLE CEDAR: Keith Adrian Adams. MARBLE ROCK: Tara Jane Burnett; Sadie Jane Ruzicka. MCINTIRE: Blake Christopher Adams; Katelyn Debra Jean Merten. MESERVEY: Sierra Autumn Bailey; Katelyn V Fekkers; Edson Alberto Ramirez. MILO: Kaci Lynn Sherwood. NORTH LIBERTY: Hannah Lacey Raim. NASHUA: Shannon Nicole Koebrick. NEW HAMPTON: Thomas Patrick Hart; Jesse Andrew Schwickerath. OTTOSEN: Taylor Dresden Bennett
OTTUMWA: Joel Brennan Thomas. PLYMOUTH: Madison Rae Navratil; Abigail Ann Rye. READLYN: Brandon Lee Hyde; Lakin N Joerger. RICEVILLE: Bailey Virginia Mae Dohlman; Spencer James Kuhn. ROCK RAPIDS: Sarah Lynn Schultz. ROCKFORD: Carrigan Marie Schmitt. ROWAN: William Anthony Miller. RUDD: Mackenzie Lea Rooney. STACYVILLE: Sterling Scott Adams; Nicole Marie Hemann; Alexis Kathryn Meek. SWALEDALE: Jacqlyn Hannah Caspers; Morgan Alysse Meier; Mikenzi Mae Roberts. THOMPSON: Dalton B Adams; Katelin Elizabeth Adams; Lexie Marie Arnevik; Abigail Grace Chose. 
THORNTON: Christopher Lee McDowell; Rhonda E Smit; Edward Joseph Westemeier. TITONKA: Taylor Marie Heidt. TOLEDO: Hunter Jeffrey Filloon. TRAER: Kodi Lea Hillman. URBANDALE: Ashley Leann Johnson. WADENA: Denise Sue Thompson. WASHBURN: Cade Joseph Schares. WATERLOO: Tahya Ann Campbell; Cecilia Grace Novotney. WAVERLY: Sigrid E Brus.
Minnesota
ADAMS: Logan David Kirtz. ALBERT LEA: Kathryn Elizabeth Flaherty. AUSTIN: Randy Huls. BLUE EARTH: Nicholas David Schonrock. CANNON FALLS: Nathan William Overby. ELMORE: Kenlie A Pytleski. FAIRMONT: Spencer David Chirpich. GENEVA: Nicholas Henry Hinnenkamp. HASTINGS: Joseph Timothy Werner. MINNETRISTA: Brock Woodruff. NEW RICHLAND: Aubrey M Schlinger. WALDORF: Carter L Fischer. WANDA: Morgan Marie Frank. WELLS: Katelyn Marie Loegering. WOODBURY: Cecile Catherine Kieger. ZIMMERMAN: Taylor Marie Laabs.
Other states
SAFFORD, Arizona: Chanse Rene Rios. CAPE CORAL, Florida: Kristen Dawn Cox. PALMETTO, Florida: Madison Kay Patten. MACON, Georgia: Bailey Anne Kibsgaard. HAWTHORN WOODS, Illinois: Neha Milind Sathe. LAKE IN THE HILLS, Illinois: Kaitlyn Jennifer Carlson. DES PERES, Missouri: Tyler Jacob Lien. MOUNTAIN GREEN, Utah: Jaycob Alan Payne. GLEN ALLEN, Virginia: Jessica Rose Paulsen. AUGUSTA, Wisconsin: Alyssa Estelle Laxson. WINTER, Wisconsin: Ellie Jo Martin.
Australia
BRISBANE: Nathanael John VanKan. COLLINSWOOD: Nicholas Emil David Wurm. PERTH: Julian Alfred Benjamin Giustiniano. THORNLANDS: Kyle James Pike
Canada
ABBOTSFORD: Chase Zachary Stewart. REGINA: Benjamin Carter Komonosky. VANCOUVER: Isaac Stephen Greer.
United Kingdom
BIRMINGHAM: Awais Abed; Camron Rayden McPherson. WALTON-ON-THAMES: Jack Scott Woods. WOKINGHAM, UNITED KINGDOM: Charlie Thomas Evans.
Saudi Arabia
RIYADH: Waseem Raddad A. Altalhi; Abdallah Khalid Yasin; Alfaisal Khalid Yasin; Luma Khalid Yasin.
Other international
BRCKO DISTRICT, BOSNIA-HERZEGOVINA: Aleksandar Trujic. CANOAS, BRAZIL: Pedro Henrique Giordani. SAO PAULO, BRAZIL: Vinicius Henrique de Oliveira. BOGOTA, COLUMBIA: Julian Echeverri Spaggiari. BUNKYO-KU TOKYO, JAPAN: Takahiro Higuchi. SAITAMA-SHI, JAPAN: Sae Oikawa. MOMBASA, KENYA: Stacey Buzune Sewe. IKORODU, NIGERIA: Konyegwachie Dieyi. KIEV, UKRAINE: Anastasiia Hennadiyivna Antonova.
Heuberger, 60 years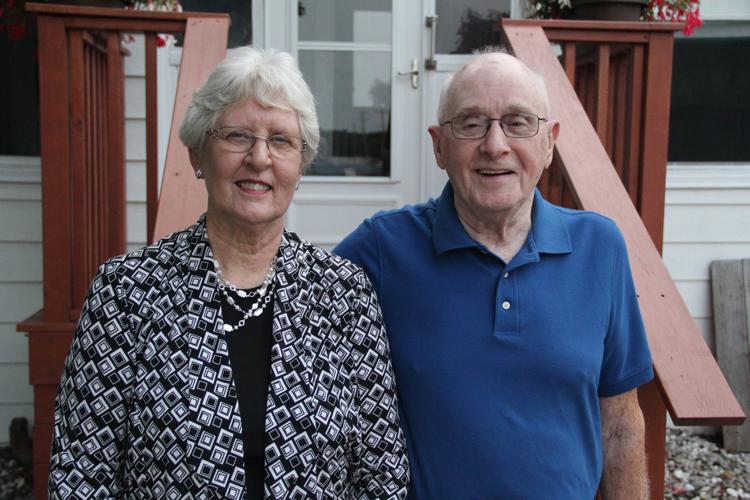 Don and Maxine (Janssen) Heuberger of Sheffield, IA, were married September 7, 1958, at Trinity Lutheran Church in Hampton, IA. The couple will celebrate their 60th wedding anniversary. Cards and wishes may be sent to them at P.O. Box 356, Sheffield, IA 50475. The couple's children and their spouses are Dave and (Carolyn) Heuberger of Hampton, IA, (Parrish) and Lisa Plagge of Sheffield, IA, and (Joe) and Janna Eyanson of Charles City, IA. They have 11 grandchildren and 1 great-grandchild.
Urbatsch, 65 years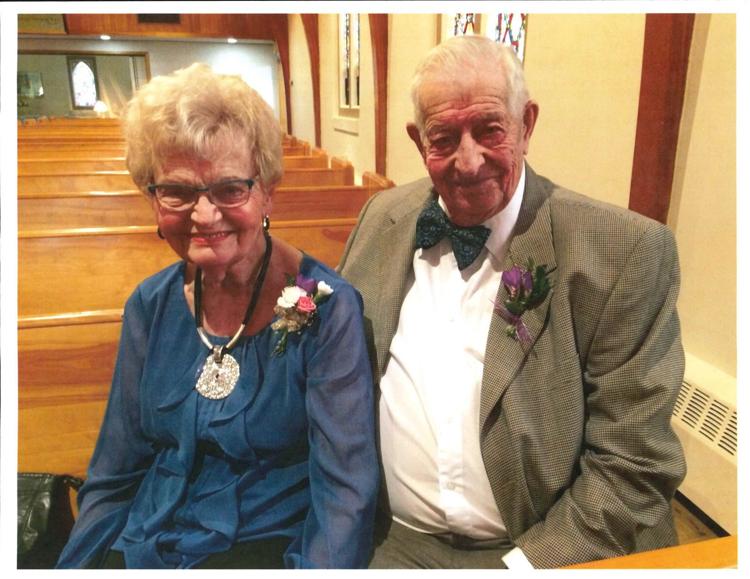 Forrest Urbatsch and Dorothy Urbatsch of Grafton, IA, were married September 12, 1953, in Bolan, IA. The couple will celebrate their 65th anniversary with a card shower. Cards and greetings can be sent to 405 First St., Grafton, IA, 50440. Their family includes sons, Mike, Mark, and Greg and families. They have 7 grandchildren and 6 great-grandchildren.
Arlin Enabnit, 85
Arlin Enabnit, of Marble Rock, IA, will celebrate his 85th birthday with a family get-together. He was born September 4th. Cards and wishes may be sent to him at 2735 Glass Ave., Marble Rock, IA, 50653.
Fox triplets, 1
Happy 1st Birthday to Zander, Easton, and Carter Fox on July 27th.
Parents are Chris and Kristen Fox of Norwalk, Iowa. Big sister is Anna, of Norwalk, Iowa. Grandparents are Dave and Joan Hickman of Mason City. Great-grandmothers are Ardis Ellwood of Mason City, and Marie Hickman of Belmond.
Klocke, 40 years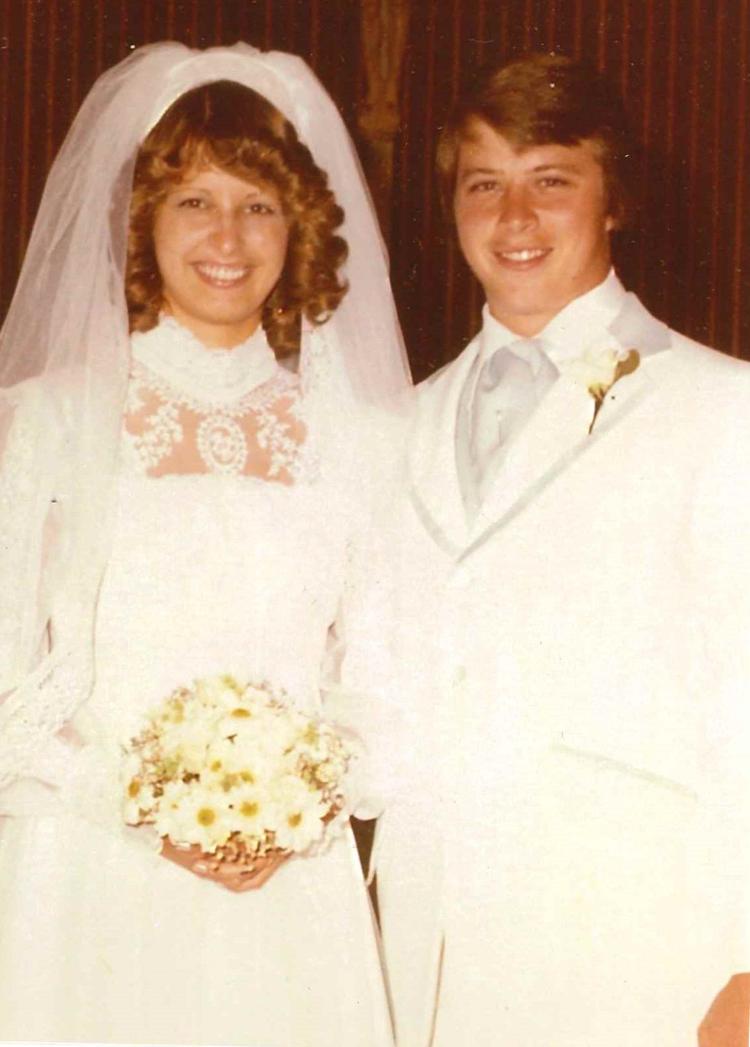 Bob Klocke and Carol (Starman) Klocke of Mason City, IA, were married August 26, 1978, at Holy Spirit Church in Carroll, IA. They will celebrate their 40th anniversary with a family weekend. The couple's children and their spouses are Dan (Jana) Klocke, Lakeville, MN; Ben (Lindsey) Klocke, Stillwater, MN; and Josh (Adam) Klocke, Dallas, TX. They have 4 grandchildren: Bryson, Rylan, Hazel & Harriet.
Happy 90th Birthday Amelia Guth
Help Amelia celebrate her 90th birthday from 1:30-3:30 p.m. on Sunday, September 9th, at the Leinbach Center, 116 Luick's Lane N, Belmond, IA. Enjoy cake and refreshments and share some memories with her. Amelia was born September 9, 1928.
Cards may be sent to 2475 100th St., Meservey, IA 50457.
Harriet Janson, 100
Harriet Janson, of Mason City, IA, will celebrate her 100th birthday. She was born September 5, 1918, in Wisconsin. Cards and wishes may be sent to her at 4 Third St. NW, #747, Mason City, IA 50401. We request no gifts, please.
Freese, 65 years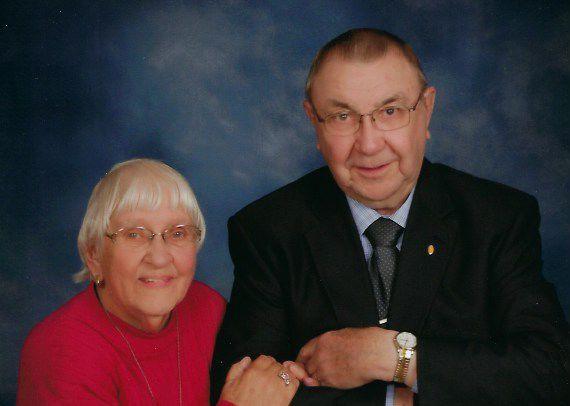 Donald Freese and Lila (Austin) Freese, of Mason City, Iowa, were married September 7, 1953 in Nashua, Iowa, at The Little Brown Church. They will celebrate their 65th wedding anniversary. Cards and wishes may be sent to them at 2907 S. Jefferson Ave., Mason City, Iowa 50401.
The couple's children and their spouses are Kevin (Pam) Freese of Kingsville, MO, and Deb (Richard) Peshak of Plymouth, IA. They have 5 grandchildren, 3 step grandchildren, 12 great-grandchildren, and 12 step great-grandchildren.
Sharon Randall can be reached at P.O. Box 416, Pacific Grove, CA 93950, or visit sharonrandall.com.