Nearly 10 shuttered high schools in North Iowa will be featured in a new book released in February.
"Echoes in the Hallways: History and Recollections of 102 Closed Iowa High Schools," written by James Kenyon, of Cedar Falls, is a collection of stories from student alumni who attended closed Iowa high schools from the state's 99 counties, including Floyd, Hancock, Mitchell and Winnebago.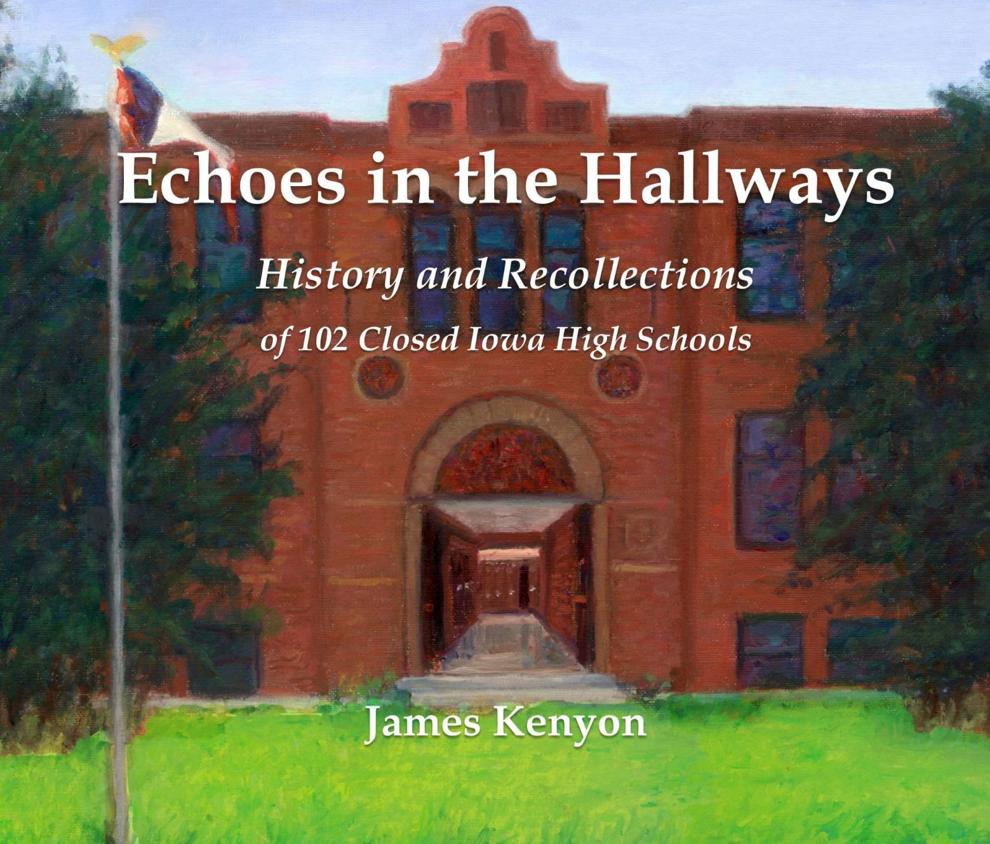 "I had been on the school board for 24 years, and I saw schools closing, merging, burning down, and I wanted to commemorate this for history," Kenyon said.
Kenyon retired eight years ago after a 35-year career as a veterinarian in a mixed animal practice in Cedar Falls and served for 24 years on the local school board.
After he retired, he began writing, a hobby that's turned into another career.
His first book, "The Art of Listening to the Heart," featured 22 tales from his 35-year career in veterinary medicine caring for animals big and small, was published in 2017.
His second and third books, "A Cow for College and Other Stories of 1950s Farm Life," and "Golden Rule Days: History and Recollections of 109 Closed Kansas High Schools," were published in 2017 and 2018, respectively, by Meadowlark Books.
Both books received commendation as Martin Kansas History Book Award winners.
It was the latter that inspired him to write his fourth book about closed Iowa high schools, which he started working on in January 2019.
Kenyon did his first interviews for "Echoes in the Hallways: History and Recollections of 102 Closed Iowa High Schools" with a group of Floyd alumni on Feb. 17, 2019, in Charles City.
He then spent the next 17 months crisscrossing the state to consult county historical records and interview other former students and teachers.
The result was a collection of unique school profiles featuring information ranging from the origin and growth of education in each county to athletic records, programs and school traditions.
"It just gives a glimpse across the state, and I will tell you no one, probably other than Chuck Grassley, goes to all 99 counties in a year and has fun meeting people and getting their history," Kenyon said.
"Echoes in the Hallways: History and Recollections of 102 Closed Iowa High Schools," features information and stories from Fertile, Floyd, Klemme, Lakota, Thompson, Ventura, Visitation (Stacyville) and Woolstock schools.
One of Kenyon's favorite parts about traveling across Iowa to talk to people about their high schools was how they'd light up when sharing their stories from decades earlier.
"If not written down, whoever remembers it other than passing down through family lore," he said.
The stories he shares can't be duplicated because many of the schools are gone, and so are many of those who attended them, Kenyon said.
He said at least six of the people he interviewed from North Iowa for the book have died.
Kenyon acknowledged there are many closed schools across the state that aren't in the book, but he said there is a school, and history, from each Iowa county featured.
"High schools have long made up the social fabric in communities across the state, especially in rural Iowa. By engaging with community members in the 102 schools cited in the book, Dr. Kenyon reveals the extreme pride people of Iowa have in their schools and communities," said Dave Else, University of Northern Iowa PHD, professor emeritus. "'Echoes in the Hallways' showcases how Iowans have built an extraordinary education system school by school. Because it is so well researched and written, once you pick it up, you'll have a hard time putting it down."
Kenyon said he received notification late Thursday that "Echoes in the Hallways: History and Recollections of 102 Closed Iowa High Schools," published by Meadowlark Books, was going to the printer, and he should have books in hand in about a week.
In the meantime, he has nearly finished his fifth book, "Kansas City Kitty," which he hopes to publish at the end of February.
"It's the satisfaction of something that's there for many other people to enjoy," he said about writing that commemorates life and history.
Kenyon's paperback books are available at the Top of Iowa Welcome Center and Rest Area in Northwood and online.
His 576-page paperback "Echoes in the Hallways: History and Recollections of 102 Closed Iowa High Schools" can be ordered online at meadowlark-books.square.site.
Bookstores, retailers and libraries are invited to email Meadowlark Books at info@meadowlark-books.com for ordering instructions.
Ashley Stewart covers Clear Lake and arts and entertainment in North Iowa for the Globe Gazette. You can reach her at ashley.stewart@globegazette.com or by phone at 641-421-0533. Follow Ashley on Twitter at GGastewart.