It's been 62 years since Dick Rogeness attended his first — and last — Winter Dance Party at the Surf Ballroom & Museum in Clear Lake, but he remembers it fondly.
Attending then-Waldorf Junior College in Forest City at the time, Rogeness was among dozens of students who went to the concert against the college's rules and got caught.
"Oh no way do I regret it. Never. Not a bit. It was fantastic," he said. "I still look back at it as a good decision."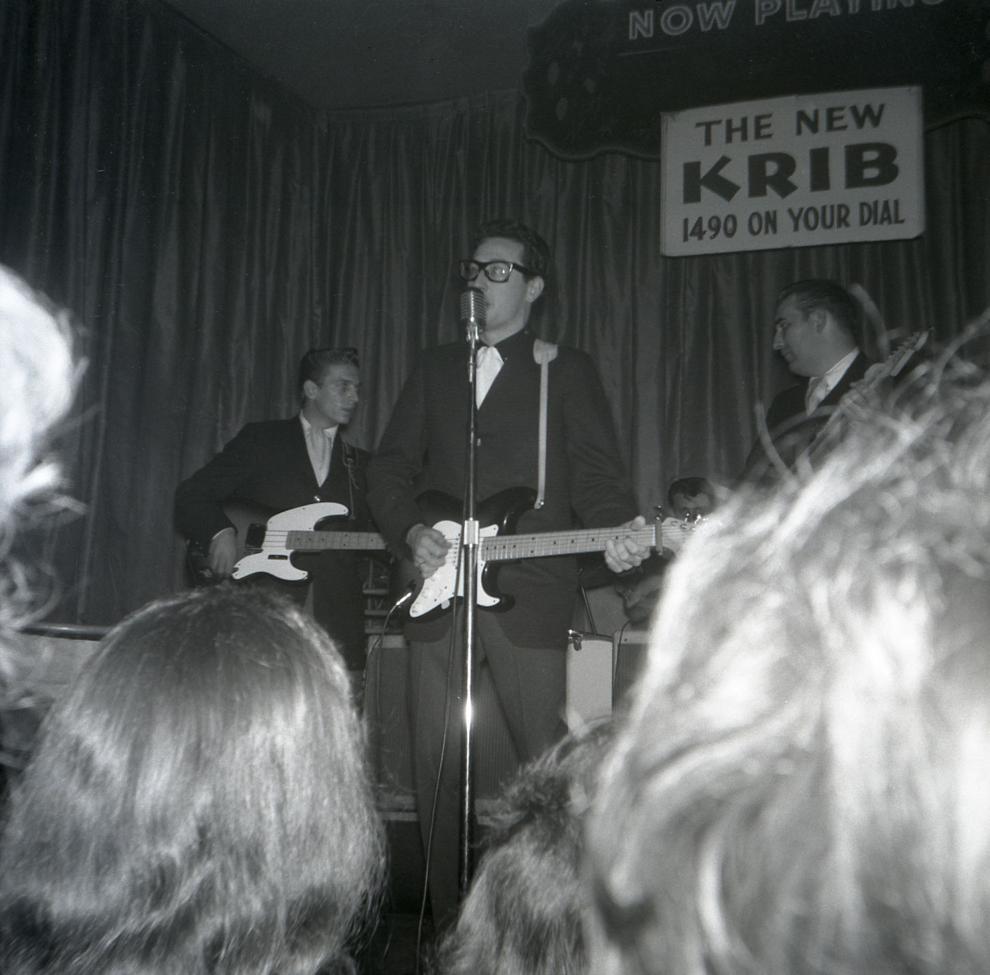 The concert on Feb. 2, 1959, would be the last for rock 'n' roll musicians Buddy Holly, Ritchie Valens and J.P. "The Big Bopper" Richardson who all died in a plane crash early the next morning just north of Clear Lake.
Rogeness, who commuted to Waldorf from Crystal Lake each day, said the Winter Dance Party tour, and the musicians it featured, created a buzz on campus.
"These were big names played on the radio, so it was a big deal, a really big deal for us," he said.
Rogeness remembers men in suits and women in can-cans piling out of their dorms into cars to head south 20 miles to the Surf Ballroom the night of the concert.
At the time, drinking and dancing were prohibited at Waldorf, a Lutheran-affiliated institution, so it was "pretty obvious a place we shouldn't be going," he said.
Rogeness estimates at least 50 Waldorf students attended the concert that night.
"It was pretty well filled that night," he said. "There were tons and tons of people there."
He and a friend were among them, and when they arrived, they stood in the middle of the dance floor and listened to the music, while others, like David Hill and his friends danced.
Hill, who had been attending Waldorf on and off for the past two years to play football, loved Holly's music and dancing, and was a regular at teen dances at the Surf; he had no plans of missing this one.
"I had been dancing all the way through high school, and the Lutheran church didn't condone it, but I had always done it, so I wasn't going to stop now," he said, noting there was no drinking at the teen dance as far as he could remember.
Both Rogeness and Hill recall in the middle of the concert, the doors swung open and it was announced that members of Waldorf's student government and faculty were there to bust those in attendance.
Some students fled to the restrooms, while others hid in the crowd or escaped outside, but Rogeness said he wasn't quick enough. He ran into the student body president and his name was written down.
Rogeness and Hill were among at least 30 Waldorf students written up that night for breaking the rules.
After they were caught, they still stayed for the remainder of the concert.
"Once they knew we were from Waldorf, it was too late anyway, so why leave?" Hill said.
Rogeness and Hill said while many of the details related to that night have faded over the years, they remember how much they enjoyed being there with their friends and listening to great music.
"Overall, I just remember the music was fantastic and in general the whole night was super," Rogeness said.
After the concert, Rogeness and Hill drove home to Crystal Lake and Forest City, respectively, while it was cold and snowy, they recalled.
The next morning, they awoke to the news that Holly, Valens and Richardson had died.
"It was like, 'Wow, we saw the last concert of Buddy Holly,'" Rogeness said. "It was really something, and that took some heat off us, too, when we appeared before the student government about breaking the rules."
Hill said he and a friend visited the crash site that morning before class, and the musicians, police and emergency personnel were gone.
While there, he snagged a small piece of the plane, but over the years, it's disappeared.
"It was curiosity more than anything," Hill said. "We believed the news, and at that time, it had quite an effect on us.
"I don't get too emotional, but it was kind of tough. I liked their music."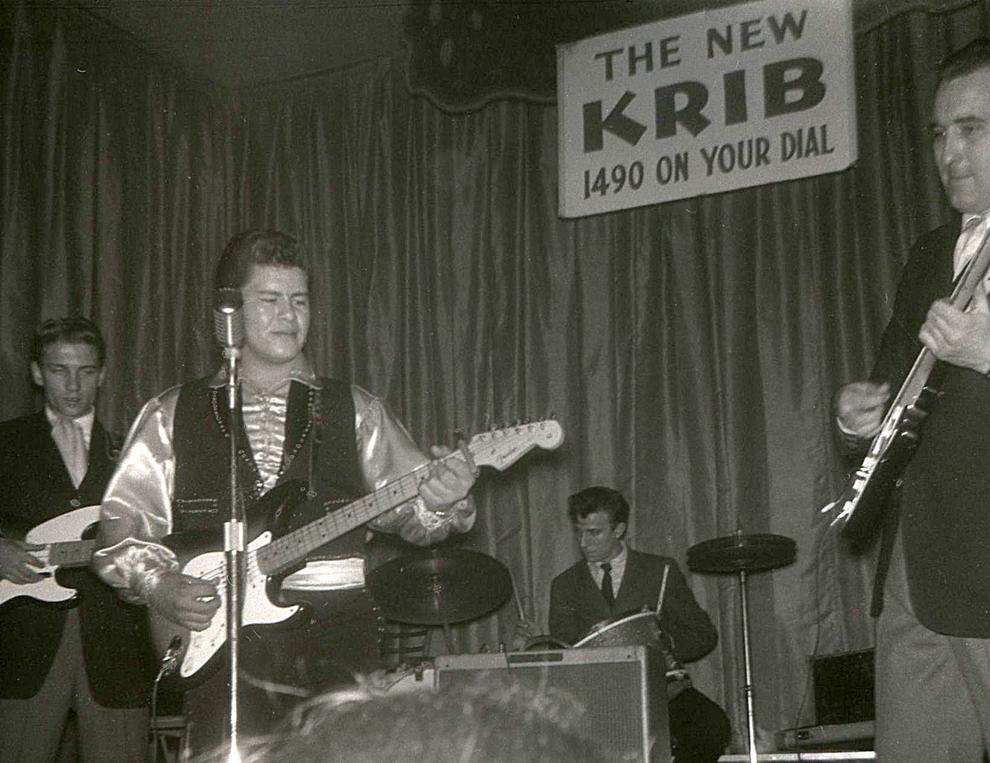 A few days after the concert, and the crash, Rogeness, Hill and the other students who were written up appeared before the student government to explain why they knowingly broke the rules and to receive their punishment.
At first, Waldorf officials considered expelling those who attended the Winter Dance Party in Clear Lake, but when they realized who, and how many, students that'd take out of school, they decided to suspend them instead, Rogeness said.
The students were suspended from campus for two weeks and were asked to leave right away.
If that wasn't bad enough, Rogeness said his parents, who weren't happy about him breaking the rules, made him spend the next two weeks on the farm in Crystal Lake shoveling manure without friends or activities.
"I didn't regret it," said Rogeness, who graduated from Waldorf in 1959. "That was the highlight of my going to Waldorf."
Rogeness's and Hill's experiences as Waldorf students at the Winter Dance Party in Clear Lake are part of a documentary series on the infamous 1959 tour.
The series "The Winter Dance Party Tapes," co-produced by Sevan Garabedian, of Montreal, Canada, and James McCool, of Madison, Wisconsin, has been in the works since 2009.
Bonding over the music and history, the two men — self-proclaimed Winter Dance Party "fan boys" — decided to do something special to commemorate the tour ahead of its 50th anniversary in 2009.
Garabedian and McCool have spent more than a decade interviewing musicians, like Tommy Allsup, Frankie Sardo and Carl Bunch, of the Winter Dance Party tour, as well as fans from each of the 24 cities the tour played, including those after the plane crash.
Initially, they planned to cut their "hundreds and hundreds of hours" of footage into a two-hour documentary, but because of "all the different storylines," the men decided to release all the interviews online throughout 2019 to commemorate the 60th anniversary of the tour.
However, their full-time jobs prevented that from happening until the COVID-19 pandemic.
Garabedian, who works in the retail industry, said the pandemic, and subsequent lockdowns and closures, allowed him to "jump into (his) research with all (his) attention" again.
Since April, he's interviewed dozens of fans who attended the Winter Dance Party in Clear Lake that he'd never spoken to, including several from Waldorf, which more than doubled the amount he'd interviewed prior to 2020.
"Every week, I do two or three, so I have another 51-52, which is incredible," Garabedian said. "It's not always easy to find people. Some people move, some pass away and some are lost in time."
Garabedian said they hope to release series episodes on "The Winter Dance Party Tapes: A documentary series" YouTube channel this spring.
The episodes will be released periodically in order of the 1959 tour stops, he said. The tour, including stops in Wisconsin, Minnesota and Iowa, took place from Jan. 23, 1959, to Feb. 15, 1959.
Currently, Garabedian and McCool have posted a five-minute trailer and two videos on the YouTube channel. The videos feature Frankie Sardo in Clear Lake in 2010.
Garabedian and McCool, who've been attending the Winter Dance Party in Clear Lake to connect with other rock 'n' roll fans for years, said they'll miss it this year.
Due to the pandemic, the Surf Ballroom & Museum canceled the multi-day event, scheduled Feb. 4-6, for the first time since 1979, and instead, the Holy Rocka Rollaz, a Minnesota-based trio, hosted a virtual Winter Dance Party commemorative concert Saturday evening.
Neither Rogeness nor Hill, both in their 80s, have returned to the Winter Dance Party since 1959.
"That memory is enough for me," said Rogeness, who retired from Winnebago Industries in 2002 and resides in Arizona. "I've shared it with other people, like my kids. That was a great memory."
Hill, who resides in Leland, agreed.
"Things are not real clear, a lot of things forgotten, but I can still dance," he said.
Garabedian and McCool are still looking for photos from the Clear Lake stop on the 1959 Winter Dance Party tour, and they are offering a reward for them.
For anyone who has photos from that evening or can help them find them, email Sevan Garabedian at sevan1@sympatico.ca or call 514-931-6959 or 514-970-1959.
Remembering 'The Day the Music Died': Buddy Holly, Surf Ballroom coverage over the years
On Feb. 3, 1959, rock 'n' roll musicians Buddy Holly, Ritchie Valens and J.P. "The Big Bopper" Richardson and pilot Roger Peterson were killed in a plane crash near Clear Lake after their performance at the Surf Ballroom. They had been traveling across the Midwest on their "Winter Dance Party" tour.
Collected here is just a handful of related coverage from the Globe Gazette over the years.
Ashley Stewart covers Clear Lake and arts and entertainment in North Iowa for the Globe Gazette. You can reach her at ashley.stewart@globegazette.com or by phone at 641-421-0533. Follow Ashley on Twitter at GGastewart.