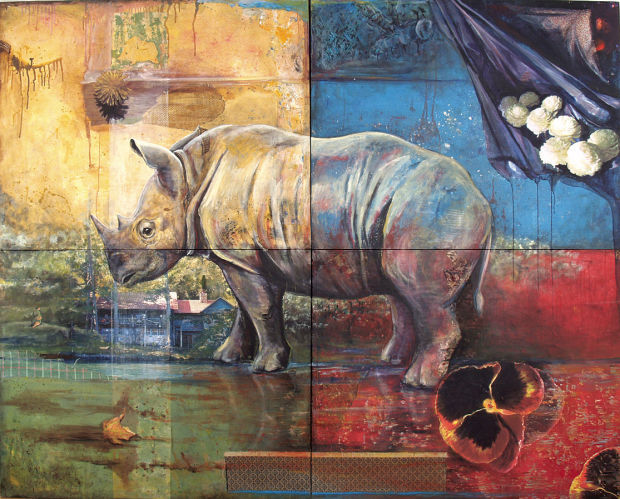 MASON CITY — "Truth in Animals," mixed media paintings and installations from the past eight years by Linda Mitchell, opens at 9 a.m. Friday, Feb. 8, at the Charles H. MacNider Art Museum in Mason City. 
Mitchell's layered, richly colored paintings are populated by real and imagined animals who are often stand-ins for human beings and their inner lives.
Mitchell combines painted and photographic images, fabric, wood, safety glass, and found objects in works that plunge the viewer into dream-like scenarios.
In her highly-textured paintings, she uses objects and images of personal significance, such as fabric from her childhood home, her son's drawings, and her pet dogs.
In her works, animals act out human dramas of loss, searching, and even transcendence. The floating landscapes are drenched in the feeling that a way of life and the land itself may be vanishing. The African animals in Mitchell's recent work also suggest the threat of environmental degradation.
Mitchell has described her process as intuitive, with a kind of visual poetry emerging from the layering of images and materials.
Combining paint, images, words and objects, a piece develops in ways that are often surprising and in Mitchell's words it "... inevitably ends up that a piece is about something with which I am dealing, thinking about, or problems I am working through in life."
Mitchell has exhibited her paintings extensively. Solo exhibitions include Peninsula Fine Arts, Newport News, Va.; Visual Arts Center of Northwest Florida, Panama City, Fla.; Spiva Center for the Arts, Joplin, Mo.; The Goddard Center, Ardmore, Okla.; Tinney + Cannon Contemporary, Nashville; Mason Murer Fine Art, Atlanta, Ga., and the Metropolitan Arts Council, Birmingham, Ala.
Museum hours are 9 a.m. to 5 p.m. Tuesday through Saturday; 9 a.m. to 9 p.m. Thursday. The museum is closed Sunday and Monday.