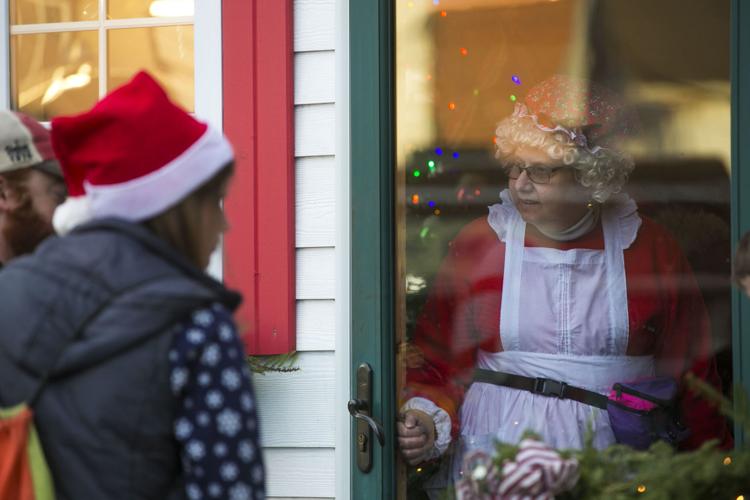 A North Iowa holiday tradition filled with food, fun and festivities is celebrating a milestone this year.
Christmas by the Lake — in its 25th year — will take place Saturday and Sunday in downtown Clear Lake.
"It means a lot this year," said Gene Madson, Christmas by the Lake Committee chairman. "Twenty-five years is a long time and it's probably one of the highlights of the holiday season."
The event is the culmination of weeks — if not months — of work on behalf of the all-volunteer organizing committee, and this year, it hopes to bring more people to Clear Lake to celebrate the holidays, the community and the event's anniversary.
Christmas by the Lake offers something for everyone, Madson said, which makes it a great tradition for families.
"The more the merrier as far as I'm concerned," he said.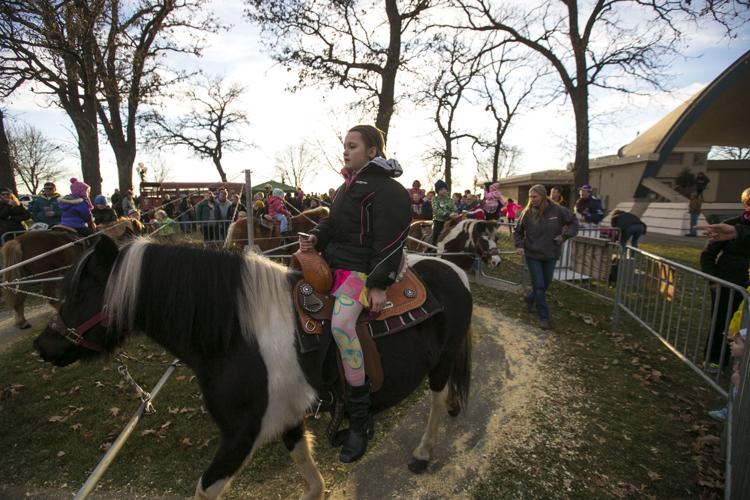 The event, which has won several tourism awards for best holiday festival, generally goes on as planned unless bitterly cold temperatures or blizzard-like conditions occur.
The festival has been postponed twice since it began, once in 1995 and the other in 2018.
For those looking to attend Christmas by the Lake, here are 10 things you won't want to miss:
1. Lighted Christmas by the Lake Parade
Twinkling lights and holiday music will abound when this year's Lighted Christmas by the Lake Parade makes its way through Clear Lake. The parade begins at 5 p.m. on Saturday, Dec. 7.
The parade route will come down Main Avenue to the lake, turn west on North Lakeview Drive and continue on North Lakeview Drive to Fourth Avenue North and turn east on North Shore Drive.
2. Spectacular fireworks finale
A full slate of festive Saturday activities will conclude with a colorful fireworks display over the frozen lake off the Seawall after the lighted parade.
3. Polar Bear Dip
Take a dip in the frozen lake for two great local causes. Proceeds from the 22nd annual Polar Bear Club will go toward Make-A-Wish of North Iowa and Toys for Tots.
The Polar Bear Dip will take place at 12:30 p.m. on Sunday at City Beach.
4. Matinee at Lake Theatre
The Lake Theatre will be showing "Abominable," or another kid-friendly film, at 11 a.m. both Saturday and Sunday in Clear Lake. Admission is free with a donation to the local food bank.
You have free articles remaining.
5. Christmas with the Holy Rocka Rollaz
Kick off the holidays rockin' with The Holy Rocka Rollaz on Saturday.
The Minnesota-based group, known for its classic early rock 'n' roll and rockabilly sound, will perform at 7 p.m. at the Surf Ballroom & Museum, 460 N. Shore Drive, in Clear Lake.
6. European-style outdoor market
Enjoy an open-air Christmas market during the festivities. The market, hosted by Simply Nourished, will feature local artisans, entertainment, traditional food and drink on North Third Street along the east side of City Park. The market will take place from 11 a.m. to 3 p.m. on Saturday.
7. Santa
Santa Claus will be making his rounds during this year's Christmas by the Lake, but be sure to catch him from 1 to 4 p.m. and from 6 to 7 p.m. Saturday, and 1 to 4 p.m. Sunday at City Park in Clear Lake. He may also make a special appearance in the lighted parade, so keep your eyes out.
8. Honoring and remembering World War II veterans
This year's Christmas by the Lake Parade theme is patriotic in honor of Pearl Harbor Remembrance Day, a day where people come together to honor and remember the service members and civilians who were killed during the Japanese attack on Pearl Harbor on Dec. 7, 1941
The parade will start by honoring and remembering World War II veterans from North Iowa and beyond with the help of local law enforcement.
9. Santa's Workshop Festival
Santa's Workshop Festival, the indoor portion of Christmas by the Lake, has been moved to the Blackbox Theater at The Hub, the Zion Lutheran Church annex building on North Fifth Street in downtown Clear Lake.
The festival will take place from 1:30 to 4 p.m. on Saturday and feature performances by "Punch & Judy" puppet show, the Victorian magician, comedy skits, short music performances and more.
In an adjacent space, children will have the opportunity to experience tea with Queen Victoria, get a souvenir from the Jolly Elf balloon twister or help decorate cookies.
10. And so much more.
Trolley, horse-drawn sleigh and carriage rides; strolling Dickens' characters; s'mores; Christmas karaoke, wood-carving demonstration; indoor nativity scene displays and plenty more for the entire family to enjoy.
Don't forget to peruse the local businesses for holiday specials and treats.
Photos: Christmas by the Lake 2017 in Clear Lake
Reach Reporter Ashley Stewart at 641-421-0533. Follow her on Twitter at GGastewart.