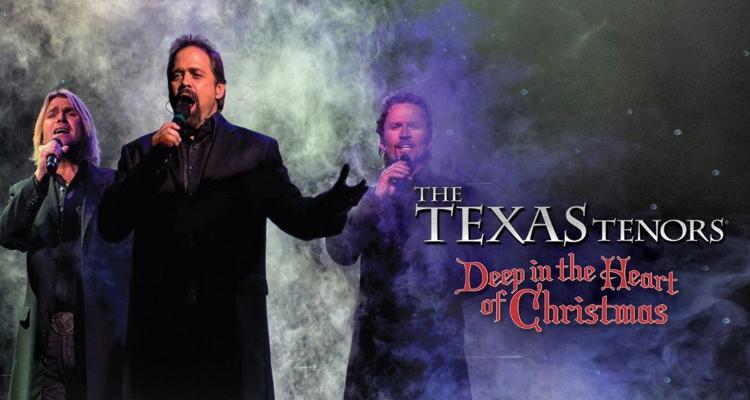 The Texas Tenors are bringing two holiday shows to Mason City.
The Texas Tenors: Deep in the Heart of Christmas, sponsored by the G.G. George Family and the Historic Park Inn, will perform at 4 p.m. and 7 p.m. on Thursday, Dec. 19, at the North Iowa Community Auditorium, 500 College Drive, as part of North Iowa Area Community College's 2019-2020 Performing Arts and Leadership Series.
The Texas Tenors consists of Marcus Collins, John Hagen and JC Fischer who use their breathtaking vocals, humor and a touch of cowboy charm to create an unforgettable Christmas show.
The group, which appeared on "America's Got Talent" in 2009, is celebrating 10 years together.
Since appearing on the show, The Texas Tenors has released four studio albums, two PBS Specials, four DVDs, multiple singles and a children's book. The group has earned three Emmy Awards, The Gelett Burgess Award for Excellence in Children's Literature, and the distinction of being Billboard Magazine's 2017 No. 10 Classical Crossover Artist in the World.
You have free articles remaining.
The group was among the top 50 acts in the world and the only vocal group from the U.S. invited to compete on NBC's primetime series "America's Got Talent: The Champions" earlier this year.
The Texas Tenors has performed more than 1,300 concerts around the world, including headline shows in Las Vegas, China and a 24-city tour of the United Kingdom.
The group performs three live concerts "Rise: Live on Tour," "Let Freedom Sing," and "Deep in the Heart of Christmas" that appeal to all ages.
Tickets for the 4 p.m. show are still available and can be purchased by calling the NIACC Box Office at 1-888-466-4222, extension 4188, or by visiting www.niacc.edu/boxoffice. Tickets to the 7 p.m. performance are already sold out.
Photos: Price is Right Live at NIACC, Oct. 25, 2019
Price is Right Live returned to Mason City on Friday, Oct. 25 at NIACC Auditorium. Numerous contestants won prizes worth $500 or more, including two trips. A surprise wedding proposal also took place during the show.
Reach Reporter Ashley Stewart at 641-421-0533. Follow her on Twitter at GGastewart.