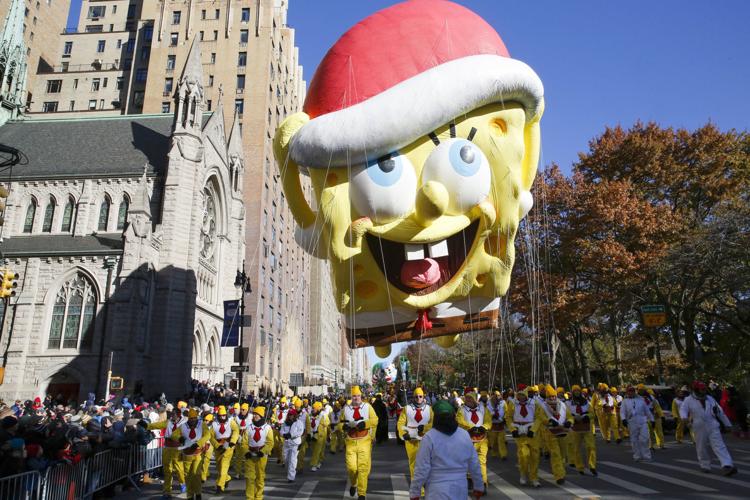 For a group of North Iowa women, a collective bucket list has been a gift that's given them cherished memories.
Skydiving, rock climbing, surfing and countless 5Ks are among some of the things the friends have crossed off the list over the years, but their next experience may be the most special.
Next week, Diane Arndt, of Rock Falls; Cindy Lipp, of Nora Springs; Nancy Lund, of Nora Springs; Kim Rosenbaum, of Rock Falls; and Kathy Young, of Manly, will travel to New York City with their daughters to participate in the 93rd annual Macy's Thanksgiving Day Parade as balloon-handlers.
"We never ever thought this would happen, but what makes it more amazing, other than it being something on our bucket list, is that we get to do it with our daughters," Lund said.
The Macy's Thanksgiving Day Parade, which is known as one of the world's largest parades in the world, will air on NBC from 9 a.m. to noon on Thursday.
It will feature 16 giant character balloons; 40 novelty balloons, heritage balloons, balloonicles, balloonheads and trycaloons; 26 floats; 1,200 cheerleaders and dancers; 11 marching bands; 21 performers and more than 1,000 clowns.
The women and their daughters will be among 90 handlers for the new "Green Eggs and Ham" balloon, sponsored by Netflix. It's one of five debuting in this year's 2.5-mile parade route.
The balloon, which stars the animated series' Sam and Guy in a hammobile, is 46 feet tall, 51 feet long and 27 feet wide.
"We're way excited," Young said.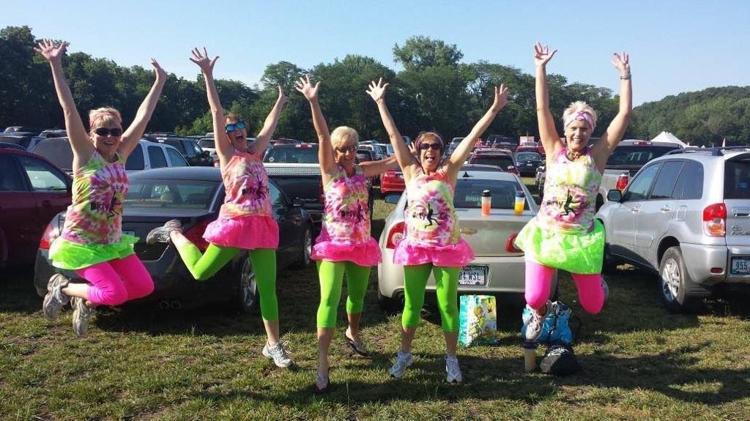 Participating in the iconic Macy's Thanksgiving Day Parade was Lund's contribution to the bucket list, but it was an item many of the women thought "was dang near impossible" to satisfy because of its participation policy.
Since the parade began in 1924, participants have been Macy's employees, their families and friends or others who have a relationship with the parade's elements or partners, according to its website.
"It's akin to Packers season tickets," Lund said. "None of us work for Macy's, and none of us knew anybody at Macy's."
But that changed when the women, who've called themselves the "5K Virgins" since participating in their first run-walk event years ago, were crossing another item off their bucket list.
They were invited to participate in the show after being selected and filmed in 2018 for "Life's First-Evers with Jeannie," an EllenTube video series where Ellen DeGeneres fans are filmed doing things for the first time.
You have free articles remaining.
In Episode 6 of "Life's First-Evers with Jeannie," the five women learned how to surf in California, which was Rosenbaum's bucket-list item.
"We are so lucky to have support like this, most friends wouldn't do this," Rosenbaum said. "I'm pretty lucky."
It was on that trip that Lipp and Arndt shared their group's bucket list with a woman they sat next to on the plane.
"This only happened because we had an open conversation with a complete stranger," said Arndt, who has two daughters making the trip with her. "We literally never stopped talking this entire plane ride to LA."
The woman, who resides in St. Paul, knew the parade's creative producer.
After they were notified they'd be able to participate in the parade, the group decided to make it a week-long mother-daughter trip comprised of an Airbnb stay and visits to all the tourist attractions.
"Everything got more exciting when we found they could walk with us," Lipp said. "They're all pretty excited about it."
For some of the women, like Lund and Young, this is their first visit to New York City.
Arndt, Lipp and Rosenbaum visited New York City to celebrate a 40th birthday about 15 years ago, but they're looking forward to sharing this experience with their friends and their daughters.
"It's very special," Young said.
The women credit their guardian angels for the opportunities they've experienced over the years, especially this one.
Lund, whose father died in 2011, said their hookup for the Macy's Thanksgiving Day Parade isn't a coincidence, but rather a gift from their lost loved ones.
"I'm thankful not only to have the opportunity, but to have it with some of people I love most in the world," she said. "I wish we could take our whole entire families, but that'd be a parade in and of itself."
The women encourage North Iowans who are interested in seeing them as balloon-handlers to tune into the live broadcast of the parade or visit the 360-degree livestream on Verizon's YouTube page.