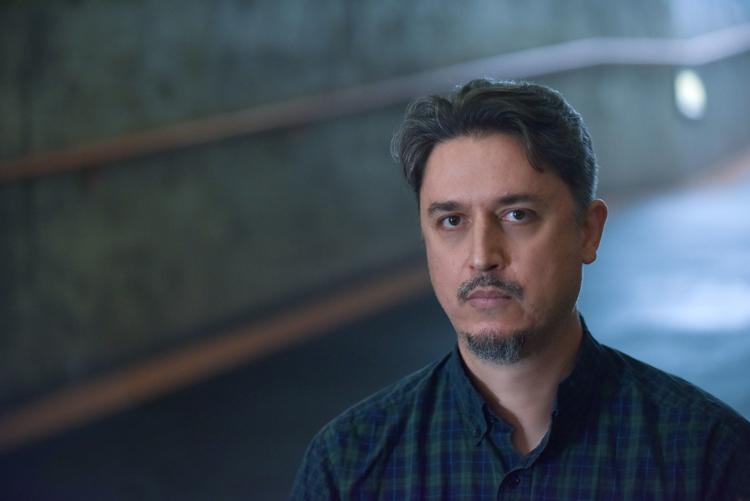 A severely injured Iraq War veteran overcomes his lost sense of identity through perseverance and humor by becoming a stand-up comedian to help heal his physical and emotional wounds of war.
A Vietnam War veteran becomes a Buddhist monk in an effort to come to terms with the carnage and dehumanization of combat.
A female Iraq War veteran fights through the effects of military sexual trauma and post-traumatic stress by filing a class-action lawsuit against the U.S. government with the hope of securing spousal benefits for same-sex couples.
A World War II veteran, who waited years to receive military benefits, spends time helping others with the support of a young, civically minded Marine Corps veteran looking out for him.
Those are the stories shared in a Mason City native's documentary that will premiere nationwide on Tuesday.
"Surviving Home," a film directed, produced and edited by 1991 Mason City High School graduate Matthew Moul and his wife, Jillian, will broadcast at 7 p.m. Tuesday on WORLD Channel and stream on worldchannel.org in honor of Veterans Day.
"If there's someone out there that could have their trajectory changed and be pointed to a slightly better path by seeing the film, we want to make sure they see it," said Moul, an Emmy Award-winning film and TV editor, producer and director who now resides in California.
The 85-minute documentary feature film is the culmination of eight years of interviews with veterans from different generations rebuilding their lives after war.
The project, which was almost entirely funded by the Mouls, was prompted by their desire to better understand and appreciate the sacrifices of service members and their families and to share it with others.
"We believed this was something we could do with our own unique backgrounds and our own unique skillsets to effect someone else in the world," Moul said. "All the years are worth it."
As independent filmmakers, the Mouls submitted their documentary to film festivals across the country in hopes of garnering the attention of a distributor so the film can reach as many veterans — and civilians — across the country as possible.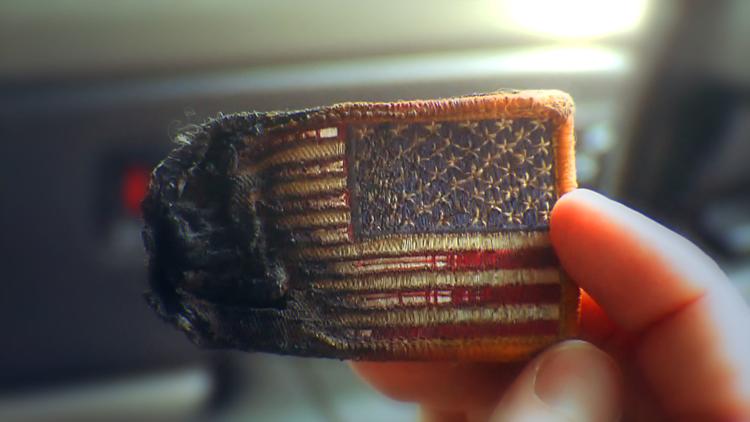 In addition to winning Best Documentary Feature at the GI Film Festival, Best Film at the Chicago International Social Change Film Festival and the Audience Award for Best Overall Film at Vail Film Festival, they secured distribution of their film on PBS.
You have free articles remaining.
"It was one of the best moments of my life," Moul said. "Jillian and I did not set out to make 'Surviving Home' so we could get recognition or so that we could get acclaim as filmmakers. Our objective and purpose of making the film was to address something we saw in society that we thought could be improved.
"It was one case where filmmaking, storytelling and documentary could improve the lives of individuals out there."
Today, there are more than 20 million people who've served in the U.S. military, but for many, surviving war is just the beginning.
The film uncovers the detrimental gap between military veterans and the civilians they protected, while exposing a culture of silence that prevents many veterans from talking about their experiences of war.
Through the bravery of the men and women who open up their lives and share their stories in "Surviving Home," audiences are introduced to a diverse community of veterans who've discovered inspiring ways not only to survive but also to thrive back home, transforming their lives and continuing their service to others.
"Surviving Home" will conclude the seventh season of "America ReFramed," an award-winning series from WORLD Channel and American Documentary, Inc. dedicated to showcasing stories from America's changing landscape.
Moul, the son of Rob and Judy Moul, said growing up in Mason City, the hometown of Meredith Willson, had a big influence on him.
He was in plays at Stebens Children's Theatre and Mason City High School. He received a bachelor of fine arts degree from the University of Southern California, then performed in plays and musicals in the Los Angeles Area.
"I think all those things led me and contributed to where I am now as a storyteller and filmmaker," he said. "It was an excellent place to grow up."
In addition to the TV broadcast, "Surviving Home" will also stream on worldchannel.org, amdoc.org and all station-branded PBS platforms, including PBS.org and on PBS apps for iOS, Android, Roku, Apple TV, Amazon Fire and Chromecast.
They Served with Honor: North Iowa's Korea Veterans
They Served With Honor: Hansell native remembers being 'scared to death' in Korea
MASON CITY — When 83-year-old Wayne Oswood was a teenager, fresh out of high school in Hansell, he took an excursion that changed his life.
Like many young people, he wanted to see the country.
"I followed the old adage 'Go West, young man, go West,' so I went to Arizona and found a place to live," he said.
But he failed to notify his local draft board that he had moved.
"A couple of MPs (military police) found me and gave me 48 hours to report to draft officials at the Mason City Post Office. It wasn't long after that I was in the Army, and not long after that I was in Korea," Oswood said. "I hardly had time to tell my mother good-bye."
It was January 1953. Oswood was 19. "I was scared to death. That's what I remember most," he said. "I grew up in a hurry."
He also remembers going over on a Merchant Marine ship — "a lousy ship that didn't even have enough beds for everyone. We slept wherever we could," Oswood said. "I was scared of getting shot before we even got off the boat."
As part of the Army artillery, he was assigned to observation posts that were on mountainsides with the mission of picking out targets below.
It was frightening duty and it was lonely, he said, because he was in the mix with South Korean soldiers who spoke no English.
The climb up the mountainside to the observation posts was grueling. "There were no helicopters to drop us off. We had to climb the hill," Oswood said.
He was in Korea for a year and a half and came home with his hearing permanently impaired because of all of the artillery fire around him.
"There were several cease-fires, but they never held," he said.
In October of 1954 he came home to Hansell, the little Franklin County town of about 100, where he had grown up, but now was anxious for something more.
"Life there was too dead," he said. "I was glad to get home but it wasn't the same."
So he came to the "big city," Mason City, where he held several jobs over the next 50 years.
Asked what his occupation was, he laughed and said, "When?"
He worked in construction and for Northern Lumber Co., and bought a roller rink in Clear Lake that he operated for several years. That's where he met his wife, Marlene. They have three grown children.
He also worked for the Mason City Post Office for 26 years.
Oswood has a scrapbook filled with photos, clippings and mementos from his days in Korea and also wrote his memoir, which is tucked in the back of the scrapbook.
"I wanted to do that before I started forgetting things," he said, "and I'm glad I did." He suffered a stroke three years ago that he thinks has impaired his memory.
But many memories are still fresh of his time serving his country in Korea — when he went over as a kid and came home a man 18 months later.
They Served with Honor: Rockford native joined the Navy to 'find my brother'
JACKSONVILLE, Florida — Harlan Krieder was home alone in February 1951 in rural Rockford when the phone began to ring.
"I wasn't allowed to answer it, but I thought I'd better, because no one was here," Harlan said.
Harlan, then 15, received the news his brother, Army Sgt. Leighton Kreider, was missing. He had been taken prisoner Feb. 12 during combat near Wonju, South Korea.
"It's still emotional for me," said Harlan, now 81 and living part-time in Jacksonville. "It was just one of those things you're not ready for."
Leighton, whom Harlan remembers as a typical stubborn farm boy, joined the National Guard his senior year of high school. He later volunteered for the Army in 1949 or 1950, and was assigned to the 2nd Infantry Division.
During active duty, Leighton was hospitalized with hives several times before deployment to Korea in August 1950.
"We thought maybe they would have let him out because of medical, but they ignored it and sent him overseas anyway," Harlan said.
As a prisoner of war, Leighton was marched north — in subfreezing conditions during which exhaustion, disease, exposure, malnutrition and lack of medical care were common — first to prisoner of war Bean Camp near Suan, arriving there in late March or early April, according to military records.
Near the end of April, he was taken further north to the Mining Camp, where he died in late spring or summer 1951, around the age of 20. The Army set his date of death as Aug. 31, 1951.
Harlan believes his brother's remains are buried near the camp, which is 30 miles south of Pyongyang, the North Korean capital. At the time of Leighton's death, his mother decided against bringing his remains to Iowa, unsure of what she'd receive.
Harlan joined the Navy in 1953, with a mission in mind.
"I decided I was going to go in and find my brother," he said. "If you look back at it, it was totally impossible, because I had no control about where I would go or what I would do."
Although he and Leighton weren't that close growing up, due to a four-year age difference, Harlan has been committed to bringing his brother's remains home and seeking posthumous honors for his service.
Harlan has attended the annual Korean War Defense POW/MIA Accounting Agency briefings in Washington, D.C., since the late 1990s, hopeful Leighton's remains will be returned to join family members.
In the late 1990s North Korea turned over 200 caskets representing over 600 servicemen, which Harlan said couldn't be identified at the time. Their bodies had been buried with chemicals that stripped DNA.
New techniques have allowed researchers to identify bones, Harlan said, with more than 70 matched to servicemen this year. Some who have been identified were imprisoned near the same area as Leighton.
"We've been told there was a 50-50 chance he was in those boxes, so we wait," he said.
If Leighton is not among those remains, Harlan said future recovery efforts in North Korea are highly unlikely due to political tension.
South Korea, however, has been welcoming to veterans' families.
During a 2015 trip to the country that included memorial services and tours of the DMZ and military academies, Harlan and his wife, Connie, accepted an Ambassador of Peace medal from the government on Leighton's behalf. The medal is considered an expression of gratitude to Americans who served in the war.
"It made you feel really good, like they really cared about what we did," Harlan said.
He also lobbied for a Purple Heart for his brother.
"If you died in prison camp — not of wounds — but starved to death, you didn't get a Purple Heart," Harlan said.
He wrote letters to his congressional representatives; that stipulation was later reversed by legislation in 2008.
They Served with Honor: Buffalo Center man spent 11 months, 19 days and two hours in Punchbowl
BUFFALO CENTER — Marlyn Hanson, of Buffalo Center, wasn't sure what he was in for when he joined the Army in 1952.
It turns out he got to choose.
"I could either be on the guns or I could be a cook," said Hanson, 86. "And, a guy told me, 'Don't even think about it. Be a cook.'
"So there I was. I was a cook."
The Rake High School graduate spent about a year in eastern Korea with the 196th Field Artillery Battalion in a valley dubbed the Punchbowl.
He arrived in Korea by boat after training at Fort Crowder, Missouri; Fort Hood, Texas; and Fort Chaffee, Arkansas. The rest of the journey was by land.
"We went by train as far as it would go and then we went by truck to the Punchbowl, so that was kind of scary because if we would've been cut off ... ," Hanson said, trailing off.
By the time Hanson got there in January 1953, the American and opposing forces were entrenched on the mountainous ridges.
"We were on the top on this side, and the enemy was on top on the other side," Hanson explained. "It was 8-10 miles across, that bowl, and we were there the whole time, but we was below the ground."
Soldiers slept below the ground in order to protect them from incoming rounds.
The mess hall, where Hanson worked, was one of the only above-ground structures.
Soldiers covered its tin roof with dirt and grass to camouflage it from attack. Even then, it wasn't safe.
"You wouldn't dare go walk up there behind the mess hall," Hanson said. "It'd be all booby trapped."
Heavy fighting had turned the Punchbowl into a desolate place.
"There had been so many rounds that there wasn't much," he said. "The trees were just about non-existent. They were just little bushes."
Cooks worked three days on, three days off. He wrote home nearly every day.
"We'd get up early, about 6 o'clock. I think we had to begin to serve breakfast about 7 o'clock," he said. "Then, we'd be done by 12 o'clock, but by the time we had to clean up it'd be 1 o'clock."
The soldiers liked some of the food. Some dishes weren't big hits.
"They had chicken noodle soup, that was the best," Hanson said. "And, they had green pea soup, which nobody liked. I wouldn't eat it now."
Hanson was there less than a year.
"The fighting stopped Aug. 31. And, then we stayed in the same position until I went home the end of September," he said. "So I was there just 11 months, 19 days and two hours."
These days, Hanson doesn't think about Korea very much.
"As long as I didn't get hurt, and nobody right next to me got hurt or anything, why then I really don't think about it," he said. "Now, it'd be different I think if I would've been hurt or if my buddies, friends, got hurt, but it didn't happen.
"I was very lucky that way."
They Served With Honor: Clear Lake man endured heat, humidity, typhoons
CLEAR LAKE — When A. James "Jim" Bonner of Clear Lake was stationed in Okinawa, Japan, as a chief radio operator during the Korean War, he had to deal with heat, humidity and typhoons.
But the worst part was "leaving home and being gone," he said.
Shortly before he went overseas, Bonner and his wife, Beverly, learned they were expecting their first child. He didn't meet his baby daughter, Jane Ann, until several months after she was born.
Bonner, now 84, said when he got home Jane looked at him as if she was thinking, "Who the hell is that?"
"But it didn't take long for us to get acquainted," he said.
Bonner, a 1949 graduate of Swaledale High School, was drafted into the Army at age 20. He had just started a trucking job.
A lot of the other guys from his high school class also were drafted, according to Bonner.
"It had to be done and you just went," he said.
He was sent to Fort Riley in Kansas for basic training.
The air base in Okinawa where Bonner was stationed bombed North Korean targets whenever the weather was good.
"We were on alert all the time," he said.
The weather was hot and humid, according to Bonner. He said there were four typhoons while he was there.
"It rained all the time," he said. He was overseas for a year and a half.
He went back to trucking when he got out of the Army. He started with one truck and ended up with 20 trucks that went all over the country.
He has been living in Clear Lake for the past 24 years.
Beverly died in 1987. Bonner and his second wife, Luella, have been married for 28 years.
He has three children and four stepchildren.
Bonner has been on the Cerro Gordo County Veterans Commission for the past 20 years. He is currently the chairman.
He is a member of the Thornton American Legion and the VFW in Clear Lake.
He's also with the Disabled American Veterans unit of Webster City and a member of the Korean War Veterans Association.
Looking back on his service during the war, Bonner said, "I've seen a lot but I would never go back again."
They Served with Honor: Clear Lake veteran close to Korea explosion thought he was dead
On July 14, 1953, Russel "Russ" Borchardt of Clear Lake was walking to the officers' quarters at a camp in Kumsong Valley in Korea when an explosion knocked him flat on the ground.
"I thought to myself, 'I'm dead,'" Borchardt said.
He couldn't hear, see or move.
"I just laid there for a while," Borchardt said. "My vision started to come back and I thought 'guess I'm not dead.'"
Once he could move, he stumbled into the bunker, covered in dirt, thinking he was badly hurt. A medic dusted him off, looking for signs of injury and found none.
"I looked down at my hand and saw a little speck of blood on my finger," Borchardt said. "I cleaned it and had to pull a pebble out of it. I still have the scar."
He said he put a Band-Aid on it and that was the extent of his injuries.
The commanding officer told him the explosion was caused by an armor piercing shell that is meant to go through steel armor before exploding. The shell went deep into the ground before exploding so the shrapnel was absorbed in the ground, causing dirt to fly and leaving Borchardt unharmed.
Now, 63 years later, Borchardt feels the effects of those loud explosions he experienced in Korea. He has hearing aids he can control though a remote worn around his neck.
In October 1952, the Cerro Gordo County Draft Board sent 18 men including Borchardt for military service.
One day during his U.S. Army basic training he was told to report to his commanding officer's office.
Borchardt said he was "shaking in my boots." The commanding officer handed him a letter from his mother, begging the officer to let Borchardt have some time off to be the best man for his younger sister's wedding.
"I broke down in tears," he said.
The officer granted him nine days to go to the wedding. To this day, it still makes him tear up.
On February 20, 1953, his 21st birthday, Borchardt set sail and made several stops before making it to Busan, Korea, on March 17.
He and other troops then boarded a wooden train from Busan to an Army base near Seoul.
"We saw evidence of the war pretty quickly," Borchardt said. "The further north we traveled the worse it got," with destroyed homes, burned-out factories and more.
He was assigned to C Battery, 69th Field Artillery Battalion, a mobile unit, on the front lines, and was assigned to the communications squad where he first worked as a telephone switchboard operator then later installing and repairing phone lines.
"Our nickname was Hell on Wheels," he said. "I can't say that we were 'hell on wheels' but we moved around a lot."
Borchardt had another close call in June in a location called Mortar Valley. Mortar fire started coming in and one of the phone lines to a large gun was cut. Since he had strung the phone wire he went out to fix it.
He was able to fix the break, but, "as soon as I stood up, the gun a few yards behind me decided to fire and the concussion knocked me to the ground," Borchardt said.
He was unharmed but it took several days to fully recover his hearing.
Before one large battle, Borchardt remembers four men in his company who comforted them all.
They formed a quartet and sang the hymn, "Were You There When They Crucified My Lord" at prayer service in the mess hall.
"They were amazing singers," he said.
Borchardt remembers huddling in heavy overcoats and ponchos with his crew in a ditch. It was cold, dark and raining during mortar fire.
"We were all scared," he said.
In the night, he could hear a strong voice begin singing the hymn again. Then three others joined him.
"They relaxed us and we weren't afraid anymore," Borchardt said. "There were good things that happened, too."
On April 22, 1954, Borchardt made it back to Mason City with another veteran from Plymouth.
"We took a cab to Park Hospital where my sister worked and surprised her," he said.
Borchardt grew up in Plymouth and now resides in Clear Lake with his wife, Judy.
They Served with Honor: Rock Falls veteran's letters home preserve his memories of Korea
MASON CITY — Roland Gorkowski was a 20-year-old farm kid from Rock Falls when the Army sent him to Korea.
Gorkowski, who died in 1979, didn't talk much about the war when he returned home. But he wrote home to his parents regularly when he was in Korea and his daughter, Rhonda True of Mason City, has preserved many of his letters.
Collectively, they tell a story of a kid who was thousands of miles away from home, sometimes in awe of what he was experiencing, other times cynical; sometimes describing primitive farm equipment he was seeing, other times wondering how the crops were doing back home.
All of his letters were written in legible cursive, as if he was sitting at a desk in a comfortable office somewhere instead of in a dusty tent in the middle of nowhere.
"We are south of the 38th parallel about four miles," he wrote in June of 1951. "We got our positions dug in pretty deep. We practice firing every day. Sure a waste of ammunition. I guess we fire some demonstration for some big shots the next three days. Tomorrow night we get to go to a Jack Benny program. Should be pretty good."
(Jack Benny was a famous comedian of his day with both radio and television programs.)
The living conditions for the soldiers were plain and simple. "We live in a big tent with mosquito netting all around it. Sure cool at night," he wrote. "It finally rained the other day and settled all that dust. In the daytime, it must be 100 degrees."
The soldiers got treats on Independence Day. Gorkowski wrote to his parents, "We had ice cream and turkey for the 4th of July. Also we got six cans of beer but they were warmer than hell."
The Iowa farm boy inquired often about how the crops were doing back home and wrote about the agriculture he was witnessing.
"We have been on the train the last few days. Japan sure is a beautiful country. All the farms are like garden spots," he wrote.
"The wheat is ripe here. They thresh by beating sticks on it. The corn is about waist high and the beans about knee high. They plant rice in mud knee deep. Their plows are old wooden things. They pull them with a Holstein cow and milk her at night. The cows in the states really get a break, ha!"
In one of his letters he mentioned how skinny the mules were and how they were always kicking someone. Also, he wrote, "Heard a pig squeal; long time since I heard that."
Gorkowski was exposed to many different cultures, as he explained in this letter. "Yesterday, I got mixed up with a bunch of French soldiers. They are really good looking men. Also, I see Canadians, Greeks, Turks, Filipinos and Belgiums. Do they ever like USA cigarettes."
True said she didn't think her father was in combat in Korea but he witnessed some things he would never forget.
In October of 1951, he wrote home, "On the train, along the tracks, people are just lined up for cigarettes and candy the soldiers throw out to them. Yesterday, we hit one of them. Killed him instantly. I seen it all happen. There are so darn many of them. You never seen so many kids as there are here."
After the war, Gorkowski came home to Rock Falls and dairy farmed with his father. He suffered a brain aneurism and died in January 1979. He was 48.
They Served with Honor: Mason City Marine wounded in Korea; beat odds and walked again
MASON CITY — Karen Lair remembers the day the telegram arrived. She was 10 years old at the time.
"I came home from school and saw my mother crying. A neighbor friend was there and so was a priest," she said.
They had just learned that Karen's brother, Kenny Meacham, serving with the Marines in Korea, had been badly wounded. Shrapnel had severely damaged both of his legs.
Meacham, a state champion wrestler at Mason City High School in 1948 and 1949, joined the Marines in June of 1950 at the age of 18. 
He was wounded at Bunker Hill, the first major Marine ground action in Korea, in September 1952.
"He said an enemy soldier kicked him and thought he was dead so he left him alone. Otherwise he would have been killed. Then someone rescued him and saved his life," said Lair.
She said Meacham didn't talk much about the war when he got home, but when he did, "He always talked about Bunker Hill."
He was flown by helicopter to Japan and then to a hospital in San Francisco.
"He called home from San Francisco and I answered the phone. I was the only one home. He told me he would call back at 7 o'clock that night and for me to make sure the whole family was there," said Lair.
"Seven o'clock came. No phone call. Eight o'clock came. No phone call. My family began to wonder if I had gotten the message straight. At 9 o'clock, he called.  It was 7 o'clock San Francisco time," she said.
Meacham was eventually transferred to Great Lakes Hospital near Chicago where doctors told him he would probably never walk again. Lair remembers the family traveling by train to visit him in the hospital
"When he came home, he went to the Red Wing shoe store in Mason City and bought boots that laced tightly all the way to his knees. He began walking. Nobody was going to tell him he couldn't walk again," she said.
Meacham went to Hamilton College and got a degree in accounting and worked at that for a little while.
"But his first love was farming," said Lair. "He purchased a farm in Plymouth and lived there the rest of his life," she said. He died in June 2014.
Lair said he walked with a bit of limp in one leg from his war injuries but it did not stop him from his work on the farm. 
Asked what she remembered most about her brother when she was growing up, she laughed and said, "He was a toughie. He was a 'rassler.' He was a North End kid."
They Served with Honor: Rockwell vet 'wouldn't give up the experience for anything'
ROCKWELL — Although Mel Kruckenberg didn't speak much about his time in Korea, his children helped him fill a scrapbook of memories from the war before he died in 2014.
Kruckenberg was drafted into the Army on June 4, 1952, and after stateside training was sent to the 40th Infantry Division training center in Chuchon for about a week, according to an autobiography the Rockwell man wrote about his military service.
From there, he went to the front line in the Punchbowl, a bowl-shaped valley south of the Korean Demilitarized Zone, where he was assigned to the A Battery of the 625 Artillery.
Although the pay wasn't much at the time — $145 a month plus $45 combat pay — Kruckenberg was pleased with the food.
"The first morning I went to breakfast, I was going through the chow line and they asked me how I wanted my eggs done," he wrote. "I didn't expect that."
In charge of communication, Kruckenberg's first duty was working on the wire section's switchboard.
Later as a wireman, he went to the Main Line of Resistance several times a month.
A buddy of his was killed there, hit by a mortar shell as he looked through a little window in the basket.
"It blew his head off," Kruckenberg wrote. "The bad thing about this is he could have been home."
After receiving the Bronze Star for laying wire under fire, his friend re-upped for six more months in Korea.
In May 1953, Kruckenberg had to help load weapons during an advancement.
"All of us wire men had to go to the gun crews and help load the 105s," he wrote. "We didn't know much about it but we helped anyway."
The night of the ceasefire in July 1953, Kruckenberg said the enemy shot "everything they had at us" before going quiet at 11 p.m.
"The next morning we went up on the line, the North Koreans were waving at us and we waved back," he wrote.
The rest of his time there, Kruckenberg laid new wire "just as like if we were at war," and moved around often.
His battery commander asked him if he wanted to re-enlist and stay six more months in Korea.
"I said, 'no,' I wanted to get back to Iowa," wrote Kruckenberg, who achieved the rank of sergeant. He received word in December 1953 he was going home.
Once back home, Kruckenberg worked at AMPI for 44 years until his retirement in 1996. He was a 60-year member of the American Legion Gallagher Post 208 in Rockwell and a lifetime member of the VFW in Mason City.
As an active member of those organizations, Kruckenberg was often part of Veterans Day programs at schools.
Kruckenberg recalls in his autobiography a conversation he had on that holiday in 1998 with a friend who also served in Korea.
"I told him I didn't like being there at the time, but I wouldn't give up the experience for anything," he wrote. "A school teacher in front of me turned around and said, 'Just like school, huh?'"
His son, Patrick Kruckenberg, remembers him as a "quiet man" who had "silent victories."
"He was proud of his service and his scrapbook," daughter Kris Kruckenberg said via email. 
They Served with Honor: Clear Lake Korean War vet would 'absolutely' do it all again
CLEAR LAKE — Keith Reason of Clear Lake had never seen a ship until he enlisted in the Navy in 1950 and saw the vessel he had been assigned to, the USS Princeton.
"That was the biggest thing I had ever seen in my life," said Reason, 85. 
Honoring the service of Korean War-era veterans from North Iowa.
The attack carrier, which was headed to the waters off the coast of Korea, had a crew of 3,200. It carried 125 aircraft, including Navy fighter planes, a light bomber and a Panther jet.
Reason grew up in the town of Lenox in southern Iowa. He enlisted in the Navy in March 1950, two months before he graduated from high school. A few days after graduation he was on his way to San Diego for training.
A little over a month later, North Korean forces crossed the 38th parallel into South Korea and President Harry Truman ordered U.S. forces to help defend South Korea.
All leaves were cancelled, so Reason did not have a chance to go home before being shipped out.
Reason was assigned to the boiler room on the USS Princeton. Each crew member would work a four-hour shift and get four hours off before going back on duty for another four-hour shift. 
The ship had four boiler rooms that provide the steam that powered the vessel.
"It was very hot," Reason said, but the work had to be done.
The USS Princeton, which had been commissioned in late 1945 and had been decommissioned in 1949, had to be "taken out of mothballs" before its new crew could go onboard, Reason said.
The ship reached the waters off the Korean coast in early December.
Reason said the pilots aboard the ship included Lt. Guy Bordelon, who was designated a flying ace after downing five enemy aircraft. 
About 70 percent of the crew on the ship was 18 to 20 years old. 
The captain "used to speak to us as his kids, and we were," Reason said.
Reason said one of the most challenging parts of being on the ship was "you worried all the time."
However, everyone knew they still had to do their job, he said.
The USS Princeton headed back to the United States after 13 months. Reason then transferred to the USS Oriskany. 
The ship was short of personnel in the division he was in, and the Navy was asking for volunteers. Reason said he decided to sign up because he was young and unmarried.
Reason went aboard the USS Oriskany in January 1953 and returned to Korea. The ship was there until August of that year. 
When the ship returned to the U.S., Reason was assigned to a Navy pier in Washington state until being discharged form the service in 1954. 
A friend encouraged him to go to college. Reason said he thought he wasn't "college material," but ultimately decided to enroll at Northeast Missouri State Teacher's College.
After receiving his degree in 1958, he started teaching physics and industrial arts in the Sidney area in southwest Iowa. He stayed there for five years.
He received his master's degree in botany and taught at Northwood for one year before going to Clear Lake, where he taught high school biology and physics until he retired in 1993.
He and his wife, Janice, have been married nearly 58 years. They have two children and five grandchildren. 
When asked if he would serve in the Korean War if he had to do it all over again, Reason said, "Absolutely."
They Served with Honor: Mason City Marine remembers Korea with tears, laughs
MASON CITY — Chuck Harris wept as he recalled the most harrowing experience he had as a Marine serving in Korea.
"We had to unload a truck," he said. "We opened the back of it and it was filled with dead Marines, their bodies all frozen. It was horrible."
Harris, 86, said his days in the Marines began after he and a friend, Elvin Anderson of Northwood, were riding in a car together in 1951 and heard a radio report about Marines in Korea.
"This was on a Friday night. We said to each other, 'Let's join.' We enlisted at the post office the next day and two weeks later we were in boot camp," said Harris, a lifelong Mason City resident and 1948 graduate of Mason City High School.
"At boot camp we were told, 'Half of you won't come home,' and then it was off to Korea," he said.
It should have been a scary experience for a 20-year-old kid from North Iowa, but it wasn't, Harris said.
"I was fearless," he said. "Hell, we all were. We had to be."
He remembers digging long trenches where the Marines would sleep and putting corners in them to hopefully block a mortal shell from hitting them. One night a piece of mortar shell went through his shoe — the most serious injury he received in his 11 months in Korea.
"At night when I was out, I used to sing 'The Marine Corps Hymn' because I didn't want a Marine to mistake me for someone else and shoot me," said Harris.
One unique memory of his days in Korea involved him and a good friend, Kenny Meacham, who was also from Mason City and was in Korea at the same time Harris was. "He was a couple of years behind me in school but we knew each other," he said.
"In Korea, you only had one set of clothes and you had to bathe and wash the clothes in rivers and streams. There was a bridge over the Imjin River that was about 2 feet wide and about 200 feet long with ropes on each side that served as railings," said Harris.
"We would wash our clothes and then hang them on the rope to dry. One day I was on the bridge and Kenny was bathing in the river. His clothes were on the rope. I accidentally knocked them down, and when he saw that, he came up fighting.
"So there we are, the two of us, him stark naked, fighting on this little bridge. Everyone was watching us and shouting. It must have been pretty good entertainment.
"Anyway after a while, we got tired of fighting and began to laugh. We wound up hugging each other. It's the only time in my life I ever hugged a naked man," Harris said with a laugh.
Then he turned serious and said, "Kenny Meacham was a Marine's Marine, a real hero. He earned a Purple Heart. We became great friends after the war and I saw him often until the day he died," he said.
Harris had been working for Northwestern Bell when he enlisted and he went back to work for the company when he returned home in January of 1954. He remained there for his entire career, retiring in 1989.
He and his wife, Dixie, whom he met in Central Park in 1954, have three children, eight grandchildren and 10 great-grandchildren.
Among his points of pride: Winning the state heavyweight judo championship at Ames in 1966; and participating in more than 1,000 military funerals in the past 20 years.
"You've had quite a life," a reporter told him.
He smiled and said, "I did all right."   
They Served with Honor: St. Ansgar man's unit took in teen orphaned by Korean War
ST. ANSGAR — A St. Ansgar man was compassionate to the youngest victims of the Korean War while stationed near Seoul. 
"There's no one that suffers more in war than the children," said Nels Goldberg, 83. 
Goldberg, then a 23-year-old carpenter, was drafted and assigned to the military police. He joined the 728th MP BN, part of the 8th Army, which was responsible for guarding a highly-classified Air Force installation about 10 miles north of the capital that was surrounded by rice paddies. 
He was sent to Korea in March 1956, after the war had ended. 
"We never knew what they were doing, but our job was to make sure the airmen were secure," he said. "We were all alone but no harm was going to come to any of us."
Although there during peacetime, Goldberg said his unit was instructed to leave the area in case of attack, and the installation would be blown up.
He believes that unit is still guarding the same spot today, which is located near the 38th parallel, or the demilitarized zone separating North and South Korea. 
ST. ANSGAR — Most of us would consider stone work a tough job, but Nels Golberg, 82, of St. …
The Pubwoon Orphanage, which housed about 60 children, was about three-fourths of a mile away from where Goldberg was stationed. 
"We could see the kids any time we wanted to," he said. "We were always welcome." During a Christmas party, the children sang carols in English and Korean to the soldiers, who gave them a meal and fresh fruit.
His mother and church women in his hometown of Lyle, Minnesota, collected and mailed warm clothing for the orphans for the winter, weather Goldberg said was similar to Iowa. He continued to send clothing to the orphanage two years after he returned home in August 1957. 
The children, however, craved attention the most. 
"What I couldn't bring them didn't compare to me sitting and holding them in my lap," he said. 
His unit even took in a 13-year-old boy, Lee In Soon, otherwise known as Tony, who had no known living relatives. He had been found alone during the war. 
Tony lived in the barracks with the officers, wearing a khaki uniform with master sergeant stripes a village woman had tailored for him. 
"He spent an awful lot of time with us guys," Goldberg said. "He just loved the GIs."
Two years after he returned home, Goldberg received a letter saying Tony had found a grandmother but didn't hear from him again after that. He would be in his early 70s today. 
"When I knew him, he spoke fluent English, so I think he could have gotten a tremendously good job in Seoul," Goldberg said. 
Whenever he visited Seoul — then a city of about 1 million — Goldberg always brought a camera. "You'd never know what you'd see along the way," he said. 
Upon returning home, Goldberg returned to his building career, constructing homes, the bell tower of First Lutheran Church and 14 signs around Lyle and St. Ansgar, one of which was completed this fall. 
They Served with Honor: Mason City Korean War veteran remembers one harrowing night
MASON CITY — Harold Hopp remembers the cold winter nights of Korea. He remembers the beach bombardments.
He remembers the constant noises on a ship — "ghostly sounds — creaking and groaning."
"You get used to it after a while but it never ends," he said.
And he says forthrightly, "Anyone who's been in the Navy and says they never got seasick is telling an 'alternative truth.'"
Hopp was assigned to a Navy destroyer as a radar specialist, part of a combat information center.
"We were in a task group of 12 to 14 destroyers, a couple of cruisers and one or two aircraft carriers. We received and transmitted information, mostly assignments or orders coming in from others in the task group," said Hopp.
Life in the Navy was quite an adjustment for the 19-year-old kid who grew up in the western Iowa town of Moville.
"Moville — that's next to Larryville and Curleyville," Hopp said with a laugh.
He enlisted in July 1950.
"It was an unwritten rule for Hopp adult men that, when called on to serve, you went in the Navy," he said.
When he got out of the service he went to Iowa State Teachers College (now the University of Northern Iowa), where he met his wife of 58 years, Joyce, and then did his student teaching at Monroe School in Mason City.
From 1959 until his retirement in 1992, he taught at Roosevelt Middle School with occasional stints at John Adams.
Hopp has devoted much of his life in retirement to making sure the public pays proper tribute to men and women who have served their country.
"They owe a debt of gratitude and a duty to remember," he says unhesitatingly.
Over the years, Hopp has written close to 200 letters to the editor, many of them with his opinions on war and reminders to readers as to what war is all about.
From 2004 to 2015, he had a handmade sign in his front yard on which he kept track of the U.S. war dead in Iraq and Afghanistan. The number was 1,319 on the day he put up the sign, Veterans Day 2004. On May 7, 2015, the day he took it down, the number was 6,840.
"Thankfully, casualties are down," he said at the time. "I took no pleasure in doing it."
For 10 years, he and his wife volunteered their time making weekly trips back and forth to Des Moines, taking North Iowans to the Veterans Administration Center.
Through the years, one harrowing experience in Korea has stayed with him.
One of his destroyer's roles was to recover any pilot who didn't make a successful launch or landing on a carrier deck. It was a routine assignment most of the time, he said.
One night a fighter plane, probably hit by enemy fire, went down and Hopp's ship got word the pilot was in the water needing to be rescued. As his ship lowered a whaleboat with a rescue crew, a helicopter hovered over the fallen pilot and a lowered a cable for him to grab and attach to himself.
The helicopter began to rise with the pilot grasping the cable as he was being hoisted to safety.
"Suddenly," said Hopp, "for some reason, the pilot fell and the sea swallowed him. We watched in dismay as our whaleboat crew tried to locate him but had no success."
"That was over 60 years ago," he said "and now when I am on my solitary early morning walks and my thoughts wander without focus or restraint, I sometimes think of that young pilot. And I live with the paradox of not knowing anything about him, or even his name, yet never forgetting him."
They Served with Honor: Mason City soldier made ultimate sacrifice in Korea
MASON CITY | Albert Chavez of Mason City was a handsome young man, a good athlete and a patriot.
He led an exciting life that ended way too soon "somewhere in Korea" -- "somewhere" because no one knows quite where.
After graduating from Pasadena College in Pasadena, California, where he played football, Chavez went into the Army and was a weapons and ammunitions specialist in World War II.
He was a cannoneer on a 155mm howitzer, helped maintain guns and handled ammunition.
After the war, he returned to the states but re-enlisted to serve his country in Korea, said his nephew, Philip Sanchez of Mason City.
"I am told he loved to travel and this was his way of seeing the world," Sanchez said.
On Jan. 20, 1951, while serving on patrol with the 3rd platoon of L Company, 17th R.C.T., enemy forces engaged his platoon in a fierce firefight that lasted eight hours.
Many soldiers were killed. Fourteen were captured. Chavez was one of them. So was Master Sgt. Woodrow Haines, who wrote to Chavez's parents on March 19, 1951.
"We were marched back to their corp for questioning, some 40 miles north," he wrote. "After 15 days, four other men and myself were released because of wounds and frostbite, and guided back to our own lines.
"Albert and the others were taken further north, I believe, to attend a school on communism, before being released. Albert was not wounded and in good health.
"We received no brutal treatment and were fed twice a day. I hope this brings you some comfort about Albert."
That was the only communication the family received about Chavez for years. Since they had not heard from him personally, their only hope was that he was still alive in captivity.
But it was not to be. On Feb. 5, 1954, nearly three years since Master Sgt. Haines had sent them the letter, the Army informed them in a letter that Corp. Albert Chavez had died of malnutrition.
His date of death was believed to be in May of 1951. It had taken that long to confirm the death and notify the next of kin. He was 29.
He had served his country and died for it -- "somewhere" in Korea.   
They Served With Honor: Hampton veteran recalls field of bodies
HAMPTON | Clifford Huff recently started talking about his service in Korea. The memories come back in pieces but they're vivid.
He described the scene when his company arrived at a minefield and found victims.
"There were a lot of bodies lying around," said Huff, 82. 
"They had one big square metal can with sticks of dynamite in it," Huff said. "And they never had to set it off because they went through the minefield."
He remembers how exactly how it felt that particular moment in the field.
"It stunk," Huff said. "That's about the worst I've ever seen."
Huff grew up in Mason City then joined the Army at age 17, in 1952. When he got to Korea, peace talks had begun but were not close to ending.
"It's a very mountainous place," Huff said. "We had trenched clear across that peninsula, I think."
It was cold in the winter and hot in the summer, Huff said. He carried a BAR, M1918 Browning Automatic Rifle, in the infantry.
"I don't think I ever killed anybody," Huff said. "I tried not to."
He remembers how heavy the BAR was to carry during the long walks. Huff was quite a sharp shooter when he was training in Hawaii.
"They took me out with a BAR and the cardboard pop-ups, and I never missed a shot," Huff said, laughing. "It's got to be a record over there."
He also trained in Alaska briefly.
After Korea, he ended up transferred to an Army Fire Department and was stationed in Japan.
"I went to Iwo Jima, Japan, and it's a small island," Huff said. "I went there and trained to be a firefighter."
Toward the end of his enlistment, he had the opportunity to choose another area to work in. He was flown to South Korea and other places to perform fire inspections.
The man who suggested his transfer was shot and injured in Korea when checking the area around him.
"He was in A company and I was in B company, and I couldn't get to him," Huff said. "I wanted to help and I tried to get a bunch of guys to do it but they said, 'No, hold your ground.'"
Eventually, the man was able to get help.
"When he returned after he got well, he started recruiting people," Huff said. "He came to me and said, 'Hey, wanna be a firefighter?'"
They ran a fire station at Camp Fuji, then called Camp McNair.
"I was a fire chief," Huff said. "There I am at 23, and they actually got me a hat!"
He left the Army in 1958 and returned to North Iowa. From there, eventually he followed his brothers into the baking business.
Huff and his wife, Jane, own the Korner Bakery in Hampton. The couple met shortly after he returned from service and celebrated their 55th anniversary this month.
They Served with Honor: North Iowa medic died aiding comrade in Korea
Editor's note -- This story first appeared in the Globe Gazette on May 31, 2004. 
FOREST CITY | The American flag over the soldier's grave snaps in the strong wind.
Raymond Oleson kneels near the granite headstone, paying tribute to a fallen comrade -- his brother.
Cpl. Allen Keith Oleson died Sept. 24, 1950, when struck by enemy fire along the 38th parallel in Korea. He was 20 years old.
Pushing to his feet, Oleson says, "Allen was in the Army Medical Corps. He died giving aid to a comrade, got a Purple Heart."
After a quiet moment, the 71-year-old Oleson turns away.
Duty, honor and integrity -- more than words for the nine sons of Roger Oleson.
The band of brothers, raised on farms in Winnebago and Worth counties, all became soldiers.
Four chose the Army, another the Army Air Corps. One joined the Navy. Three enlisted in the Air Force.
"I believe in those old words -- love your country," says Raymond, a rural Northwood Air Force veteran. 
Their brother's death in Korea "probably cemented the feeling of duty" in the younger brothers, says 70-year-old Roger Oleson, a career Air Force veteran.
"I still remember the day our family was notified," Roger said. That is the only time he recalls his father shedding tears.
"Honesty, integrity and hard work were part of our background," said Roger, who retired in Anchorage, Alaska. "Being a farmer's sons, we learned hard work, learned when there was a job to be done, give it your best."
Those ethics and values grown in the fields of North Iowa served the Olesons well during military service.
There was never any question about serving in the military, said 68-year-old Berl Oleson of Dexter, Minn. "It was our duty, we all knew that."
"I remember as a kid, Dad was so proud of his military boys, his sons," said the youngest, 62-year-old Emory Oleson, an Army veteran who lives in Port Charlotte, Fla.
Oldest of the brothers, the late Pfc. Valere "Frank" Oleson, enlisted in the Army during World War II.
The late Ronald Oleson joined the Army Air Corps in August 1945, the day after Japan surrendered. Sgt. Oleson was a courier, carrying military messages between bases in the Philippines and Japan.
The late Fred Oleson, one of the youngest brothers, served two years in the Air Force.
The only Naval veteran of the Oleson brothers is 76-year-old Sherman of Forest City. He served aboard the USS PC 1170 performing sea and air rescue in the Pacific Ocean.
"Joining up was something you had to do," Sherman said. "And you served with honor and fulfilled your obligation to your country."
They Served With Honor: Mason City veteran witnessed nuclear bomb detonation
MASON CITY | Roger Paulson of Mason City witnessed the detonation of a nuclear bomb during the Korean War-era. It was a top secret test and he was forbidden to talk about it.
"I'll never forget it," said Paulson, 83. "It will be 65 years this year."
Paulson joined the Navy at age 19. 
"It was the thing to do then," Paulson said.
He was not stationed in Korea during his military service with the Navy in 1951-52, instead serving aboard the USS Curtiss.
"You had your gun duty and we kept it clean," Paulson said. "It takes a lot to sweep that stupid thing clean."
The Curtiss was launched and commissioned in 1940. The ship was at Pearl Harbor on Dec. 7, 1941, when the Japanese attacked. It was damaged but was repaired and remained in use throughout World War II and into the Korean War.
"I was a seaman," Paulson said. "She was a seaplane tender but after the war they converted her to atomic energy."
The Curtiss was altered in 1951 to be used as a base for "Operation Greenhouse" and atomic tests. 
"On board there were all the scientists," Paulson said. "We put the bomb... on the back of the ship and the scientists worked on it."
Paulson said that certain scientists would work on one portion of the bomb, then they would leave. Another crew would come in for another portion and so on. 
"That way nobody knew the whole thing," Paulson said.
The Curtiss was the most secret ship in the Navy, he said.
"They used to call her the ghost ship because once she left you didn't know where she was going and you didn't know when she would be back," Paulson said.
Paulson was on board for one such atomic test in the Marshall Islands.
On Nov. 1, 1952, the Curtiss delivered and witnessed the first test of the thermonuclear device, named Ivy Mike.
It was early in the morning when it detonated, Paulson said.
"They took us to quarters, we faced away from the blast," Paulson said. "They said, 'fold both your arms, put your head in it and close your eyes.'"
Though the ship was sitting in the ocean, 39 miles away from the blast, Paulson said the light was blinding.
"And with the first blast you could see your bones in your arm, that's how bright it was," Paulson said.
The island Elugelab in Enewetak Atoll was completely destroyed and is now a large crater.
"That mile-long island was gone when we came back," Paulson said.
The Curtiss was decommissioned in 1957, long after Paulson left the military.
"She only had 17 years of service when Eisenhower stopped the testing," Paulson said.
He came back to North Iowa and married.
Now, Paulson suffers from hearing loss he attributes to the nuclear testing.
"Doctors say it was the radiation that did it but they (Navy) said we weren't exposed to much," Paulson said. "Who are you going to believe? You couldn't say nothing for 50 years."
They Served with Honor: Hampton man grateful for God's protection, mail service while in Korea
HAMPTON | A Hampton man says he was grateful for two things while in Korea for 21 months. 
"I thanked God for his protection every day, and for the U.S. mail service," said Murrel Symens, 85. 
Symens was drafted into the Army at age 21. He was working on local farms when he received his orders, leaving on July 2, 1952.
"I knew it was going to happen," he said. "You just accept those things."
By the end of the first few weeks of basic training at Ft. Sill in Oklahoma, he and two other men from Mason City had grown homesick.
Although they weren't supposed to be more than 20 miles from the base, the three stretched that rule by more than 700 miles and chartered a plane to fly home. He walked to the drug store, surprising his future wife, Rosie. 
After giving Symens money for the return trip, his father had stern words for him: go back and stay back. As far as he knows, the Army didn't find out his excursion because he returned to the base when he was supposed to. 
Symens took survey training during the last few weeks of boot camp. 
"We never really knew what we were supposed to survey and we never learned much," he said. "We were out in an open field and spent most of our time looking through our binoculars at officers' housing nearby."
He and Rosie were married on Nov. 11 -- Veterans Day -- two days after he returned home from basic training. 
His company was divided in half, with deployments to Germany and Korea, before leaving Ft. Sill. He left for Korea in December 1952 on a ship with more than 5,000 other men. 
Of the 5,000 -- who were stacked in bunks of five -- Symens said at least 4,000, including himself, were seasick. 
"The first three days we hit really rough seas," he said. "I was sick the first few days but got over it quick, once the weather settled down."
Upon arrival about two weeks later, he was assigned as a forward adviser. He worked along the 38th parallel in an outpost surrounded by sandbags, observing where enemy fire was coming from. Symens and the others would take turns squeezing through a small tunnel for a four-hour shift. 
He pushed a button to activate microphones on a recorder in the command post whenever he found an enemy firing range. 
"Remember this was 1950, and this was the best equipment the Army had to detect enemy fire at the time," Symens said. 
The little boxes overlooking North Korea were to remain pitch-black during observation. 
"I didn't smoke but it was a real problem for some of the guys," Symens said. 
After the armistice was signed in July 1953, Symens was relieved of outpost duties, instead driving officers around the mountainous terrain. 
He savored letters he received from Rosie. 
"She was really good about writing me," Symens said. "The mail call was important and helped me get through it."
He returned home via ship in December 1953 to Camp Carson in Colorado. Since he had served in a combat zone, three months were taken off his 24-month contract. 
Upon his discharge from the Army in April 1954, Symens was eager to return to the field. He farmed for at least 50 years. 
"I'm glad I could serve my country," he said. "I never had any bad thoughts about it."
Symens was honored along with other Iowa Korean War veterans during a ceremony in Des Moines in 2013, where he was presented a medal and a certificate. 
They Served with Honor: Mason City Marine remembers faces, tears of Korean refugees
MASON CITY | Robert "Bob" Echelbarger was sitting on a Korean roadside with fellow Marines when a line of refugees trudged past.
One of them, a little girl, locked eyes with him as she stumbled along the road. 
"She had a pack on her back and a white kind of gown and she has a page-boy haircut," said Echelbarger, now 88, of Mason City. "She was leaning and she had tears running down her face, and her feet had little spots of blood on them, because she was barefoot.
"And, I looked at her and she looked at me and, oh, it just really hit me."
Sixty years later he still remembers that face. The tears.
"I can still see her," he said.
That moment is one of many from the war that still sticks with Echelbarger.
It was part of an nontraditional tour through the military for Echelbarger, who served during two wars.
He joined the military at age 17 in June 1946.
Although the fighting was essentially over, it was still during World War II because Congress hadn't declared the war over.
"In those days, it was the tail end of World War II and I wanted to go to college, and my folks couldn't afford it and I had two choices," he said. "I could either wait to be drafted or pick my branch of service."
He chose the Marine Corps.
He served about two years, but did something on the way out that would impact the rest of his life. He signed up for the Marine Corps Reserve.
It didn't seem like a big deal at the time.
It wasn't until he was in college and preparing to get married that it occurred to him there might be a problem. The war in Korea was getting bad, and Echelbarger knew they were going to need more men in uniform.
"I thought of a little mistake I made when I was discharged the first time because I'd volunteered into the inactive Marine Reserve and then forgot about it, and that came back to haunt me," he said. "So, the war was really going bad and I told (his wife, Shirley) I'd thought that we shouldn't get married, because I knew I was going to be recalled and I knew I was going to be on the front line and the war was going badly, but she insisted that we go through with it."
On Oct. 12, 1950, he got word to report to Des Moines for active duty.
He was in a company attached to the 2nd Battalion of the 5th Marine Regiment
They went to Korea by ship, with a stop-over in Osaka, Japan. After spending the first night in canvas tents they were trucked out to the Korean back country.
Echelbarger spent most of the next year trekking up and down hills.
As an assistant Browning automatic rifleman, than meant he did so carrying a shoulder-operated machine gun.
"That sucker was heavy," he said.
The circumstances were punishing.
"Living on C rations," he said. "Climbing hills and getting whittled down by the hills and getting whittled down by rear-guard action."
They used water purification tablets so they could drink from streams and stayed out more than two months at a time.
"Didn't wash. Didn't change clothes," he said. "All we had was the pack on our backs and our equipment."
Around Thanksgiving 1951, the war of movement ended, and Echelbarger spent more time dug in around the edge of a wide valley known as the Punch Bowl.
The opposing sides went back and forth across that valley, advancing and retreating back again.
"So many times, so many times when I'd dig a hole in the ground I wondered if I would be in the right spot," Echelbarger said. "Because, it was just mathematics: you either were or you weren't."
He lost friends, and has sheets of paper with their names and dates of the firefights that cost them their lives.
Letters from Shirley, his wife, kept him going.
Stationery and envelopes were among the few non-essential items he and his fellow Marines carried in the field.
"The letters I got from her, they held me together," he said. "And she kept all of them."
He only kept one. The rest he read three or four times and then tore up.
"I didn't want them on me," he explained. "You had a little different view of life (over there)."
He arrived home for good on Christmas Day 1951.
For a long time Echelbarger didn't talk about Korea.
On his 80th birthday, he decided it was time to tell his second wife, Sadie, who he married after Shirley died, and his children what happened while he was in Korea.
The firefights. Soldiers killed. Dead civilians his company found on their patrols.
Things he'd seen. Things he'd done.
He told them everything. No holds barred.
His motivation was simple.
"I wanted them to know," he said.
They Served With Honor: Clear Lake vet says Korean War was 'a real awakening'
CLEAR LAKE | Darrold Mohr of Clear Lake left Buena Vista College during his final semester to enlist in the Army during the Korean War.
It was early 1951 and the news from Korea "didn't sound good," said Mohr, now 86.
After basic training and specialized training as an engineer, the Ayshire native was sent to an Army administrative school in Japan to learn about Army procedure. He also taught there. 
Mohr, who would later become a math teacher and a principal, said that's when he became interested in education as a career. 
"I thoroughly enjoyed teaching," he said. 
In late 1951, Mohr received orders to go to Korea, where he would remain for the next 12 months.
He was assigned to 10th Corps Headquarters Co., which he described as being "in the middle of nowhere."
His assignment was in the orders section. He typed many orders for personnel coming to Korea for assignment and for those rotating home.
The compound was "a beehive of activity," Mohr said, noting he met a lot of different people from generals to enlisted personnel. 
Everyone worked seven days a week, with an occasional Sunday off. 
The most difficult part about the war was being so far from home for the first time, he said. Letters were the only form of communication he had with his family.
The winters were extremely cold and the summers were hot, he said.
The compound was about 20 miles from the front line, so they could hear the artillery. 
Morh said he was glad to return home after 18 months overseas. 
He finished his college education and got married. 
Mohr's career in education lasted 37 years. He taught junior and senior high school math in Ringsted, Estherville, Fort Dodge, Humboldt, Jefferson and finally Ventura.
Mohr, who received a master's degree from the University of Northern Iowa, also served as a school principal in Humboldt and Jefferson.
Mohr and his wife, Joyce, moved to Clear Lake in 1977 so he could accept the teaching job at Ventura. He retired from teaching after 16 years there.
Joyce opened the Mohr for Her store in Clear Lake after she retired from her own career as an elementary teacher. She ran the store for the next 20 years. 
Mohr, who was raised on a farm, said going to Korea was "a real awakening for me."
"I was very happy to be a part of this," he said. "I never regretted my time in the service."
They Served with Honor: Rock Falls native excelled as Army surveyor in Korea
EAST MOLINE, Ill. | Although he was a honor graduate in his Field Wireman course, Rock Falls native Bill Schlobohm didn't use those skills while stationed in Korea. 
Then in his early 20s, Schlobohm had finished two years of junior college in Mason City and had planned to study civil engineering at Iowa State University, but the draft board had other ideas for him in August 1952. 
After a 17-day ocean voyage on the USS Howell, Schlobohm was assigned to the Army's 424th Field Artillery Battalion's "Baker Battery." Schlobohm was drafted alongside Tom Waggoner of Mason City, who was assigned to the same unit but a different battery -- Waggoner, the Headquarters Battery and Schlobohm, the Baker Battery. 
Schlobohm arrived in Korea late at night, and was asked if he'd eaten. 
"They said, 'Get somebody out in the kitchen and feed these men,'" said Schlobohm, now 85. "The cook was frying eggs with a flashlight and dished them into our metal containers.
"Then they shoved us out of the tent and into the February weather and into the dark."
He chuckled as he recalled the first mouthful of the meal -- pure lard. 
Schlobohm was assigned to the role of battery surveyor after an executive officer took note of his math expertise, college education and career goals.
In his role, Schlobohm computed how high guns needed to be raised and which direction they needed to point before firing. The 424th was an 8-inch howitzer artillery unit with 12 guns scattered in three to six locations north of the 38th parallel, he said, about 60 miles northeast of Seoul.
"We had maps and airplane observers, and the combination of those two allowed us to figure out the point where we wanted fire," Schlobohm said. Observers in airplanes at the scene would offer further modifications. 
Schlobohm's battery was eventually divided and sent to two separate locations. His group had four men who rotated a nighttime shift, so one was always awake and ready to answer a phone or radio call for a mission, which typically involved harassing enemy artillery or closing tunnels where enemy guns were located. 
Flying observers conducted daytime missions, he said. 
He felt fairly safe while in Korea, but incoming Chinese artillery occurred regularly. 
"I got combat pay for two or three months, but I never felt that I had been in any particular danger, although I could have been," Schlobohm said.
Only one man in Schlobohm's unit was wounded while he was in Korea, falling victim to shrapnel after running the wrong direction. 
After the cease-fire, Schlobohm was moved south of the demilitarized zone. He sent photos of the hills and fall colors home to his mother, who answered saying how beautiful the hills looked. 
"Needless to say, we were not thinking of the beautiful countryside," he said, noting the Army was "constantly on alert" in case fighting resumed. 
The Ninth Corps Artillery would occasionally visit, timing how long it took for Schlobohm's unit to set all four guns on a particular target. Another time, dynamite was used to loosen the ground, which had frozen. 
"These were just training exercises, but during the cold of winter, they were not appreciated," he said. 
Schlobohm was in charge of three battery survey personnel during a battalion test during the winter. 
"I did not have the opportunity to work with all three crews ahead of time," he said. "I had them measure the same course and averaged the result, and came in with coordinates that were near-perfect."
Schlobohm was later promoted to sergeant and named chief of detail, the third ranking non-commissioned officer in the battery. 
He returned home in February 1954 and, instead of resuming his career plans in Ames, studied at the University of Dubuque.
Schlobohm became an ordained minister in 1959, serving a number of churches in Iowa and Illinois. 
Although he has been retired for 20 years, Schlobohm still preaches occasionally, is a substitute Sunday School teacher and is involved in a Bible study. 
Now living in East Moline, Ill., Schlobohm says he never felt upset about his service. 
"I felt the Russians had to be stopped," he said. 
They Served with Honor: Wife preserved memories of Latimer man's service in Korea
LATIMER | Genevieve Borcherding saved everything she could about her husband's service in the Korean War.
Every medal, picture, dog tag or program was safely preserved in folders and boxes, piecing together the time in his life that he didn't speak of.
"Donald didn't talk about the war, even though he had his boots on the ground there," she said. 
Donald Borcherding of Latimer ran moving equipment to build air fields in Korea as a heavy equipment officer in the 840th Engineer Aviation Battalion.
From 1952 to 1954, Donald served in Korea in the Army, but was assigned to the Air Force with SCARWAF, a Special Category of the Army with the Air Force.
During his service he helped build Air Force runways at Kimpo and received a letter of commendation as assistant platoon sergeant of the earth-moving platoon.
"In fact, when he came home, he never hunted or anything like that again," Genevieve said. "Except one time he took my dad hunting. My husband shot a pheasant with a rifle right through the head and all my dad could say was 'Did you see that? He shot it right through the head!'"
Donald received several awards including the Korean Service Medal with two Bronze Stars, the Good Conduct Medal, National Defense Service Medal and United Nations Service Medal.
Though he didn't say much about his service when he returned, Donald became more involved with veterans' events and recognition later in life.
"I think he was proud of the fact that he served," Genevieve said.
The couple attended events in Washington, D.C., and other places to recognize Korean veterans. 
Genevieve and Donald married in 1957 and had three children during their 42-year marriage.
After his return to Iowa, he worked several jobs over the years as an electrician and in construction.
The couple had a family poultry operation as well.
Donald passed away at age 68 in 2000.
"We never argued," Genevieve said. "People always thought that was funny. We had all of our problems worked out before we were married." 
Genevieve and her son attended an event in Cedar Falls in 2001 to receive an award for Donald.
"He enjoyed going to those events so we went after," Genevieve said.
 She remembers it being an emotional time.
"People don't do much now for Korean War veterans," Genevieve said. "I thank a veteran every day or policeman or fireman for their service." 
They Served with Honor: Forest City POW says Korean War was a 'crash course in humanity'
FOREST CITY | Jerry Abrahamson was a POW for seven months in 1953 after his plane was shot down during the Korean War.
Although conditions in North Korean prison camps were not as brutal as they were earlier in the war, seven months was "long enough," said the 1950 Forest City High School graduate who now lives in California.
Abrahamson weighed around 150 pounds when he was taken prisoner. When he was released, he weighed just 118 pounds.
Abrahamson, 84, enlisted in the Air Force in 1951. After basic training in San Antonio, he was sent to Okinawa, Japan, in late 1952.
Abrahamson was the radio operator for a bomber crew that flew over North Korea. 
On the very first mission he was on, the plane was shot down.
Except for a few bumps and bruises, Abrahamson was not hurt in the crash. However, it was late January and very cold.
"We weren't really properly dressed for it," he said. 
The plane was shot down at 1 or 2 a.m. Abrahamson was captured in the afternoon of the following day.
After the crash he tried to walk either south or east toward the coast, but he knew the chances of getting out of North Korea without being captured were slim.
He said the area he was in was heavily populated and as a tall white man, "I stuck out like a sore thumb."
If you are going to be captured, you want it to be by a wealthy society because "poor people don't have enough for themselves, let alone prisoners," Abrahamson said.
He remembers eating a lot of rice. Sanitary conditions were poor and a lot of prisoners became ill.
"You just got well or you didn't," he said. 
No one was shot or beaten in the camps he was in, but when POWs were transported from one prison to another, "we were in danger of being bombed by our own folks," Abrahamson said.
The POWs were released on Aug. 30, 1953. 
Abrahamson said the release felt "outstanding."
They had a chance to finally get clean, change into decent clothes and eat the kind of food they were used to before being taken prisoner.
"We were all excited about that," he said.
When Abrahamson returned to the U.S., he went to Iowa State University. He graduated with a degree in electrical engineering. 
After about a year and a half in Milwaukee, Abrahamson and his wife, Ella, moved to California in 1959. They have been there ever since.
Over the years Abrahamson, who lives in Glendale, has worked in the aerospace industry as well as for commercial electric companies. 
The Abrahamsons have two children, one grandchild and one great-grandchild. 
Abrahamson said serving in the Korean War was "a crash course in humanity." 
When you grow up in a small town you don't "rub elbows" with a lot of different kinds of people like you do in the military, he said.
Being a POW exposed him to an entirely different culture, according to Abrahamson.
"I learned a lot about the world and the people in it," he said. 
They Served With Honor: North Iowa's Vietnam Veterans
Reach Reporter Ashley Stewart at 641-421-0533. Follow her on Twitter at GGastewart.