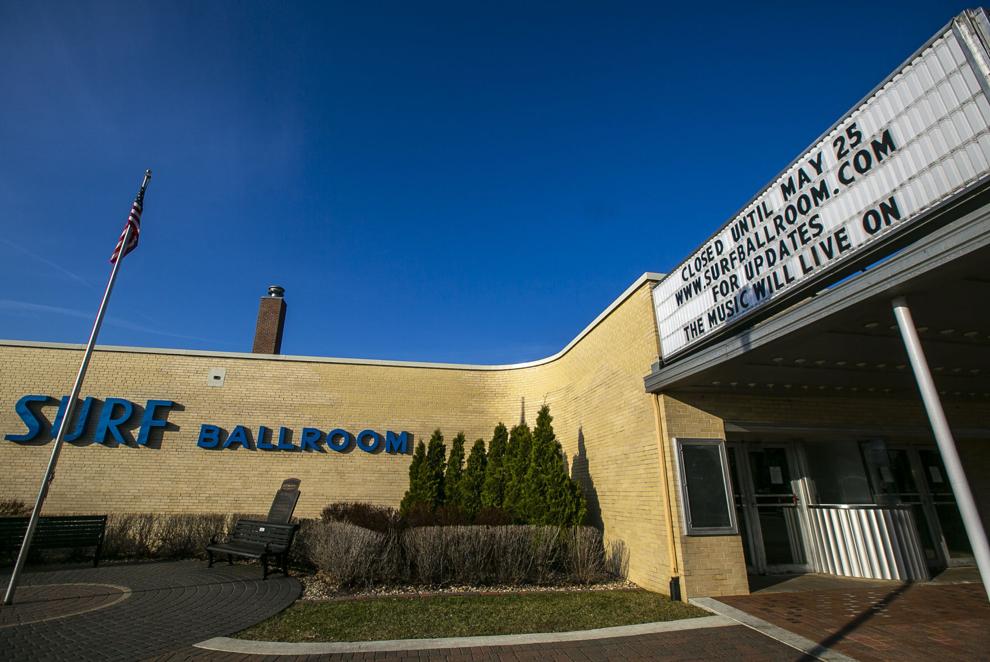 The Surf Ballroom & Museum in Clear Lake is reopening its doors.
The historic venue, which has been closed since March 17, announced on social media that its museum will open to the public on Wednesday.
"Visitors are strongly encouraged to wear a mask and practice appropriate social distancing guidelines as we reopen our doors for museum visitors next week," the post said. "Our volunteers and staff appreciate the support as we navigate these uncharted waters - we can't wait to see you soon!"
The Surf Ballroom, 460 N. Shore Drive, closed the same day Gov. Kim Reynolds issued a state public health disaster emergency in Iowa due to COVID-19.
Reynolds signed a new proclamation Wednesday that reopened movie theaters, zoos, aquariums, museums and wedding reception revenues effective Friday as long as they take reasonable measures to ensure social distancing of employees and patrons, increase hygiene practices and other public health measures to reduce the risk of spreading COVID-19.
"We're excited and a little nervous, too," said Laurie Lietz, Surf Ballroom executive director.
The museum — a popular North Iowa tourism spot — attracts visitors from around the world annually.
Last year, the Surf Ballroom welcomed visitors from all 50 states and more than 30 countries, Lietz said.
"While it isn't a big revenue stream, to be a part of tourism in North Iowa is important and important for our community," she said.
The museum will be open from 10 a.m. to 4 p.m. Tuesday through Friday and from 9 a.m. to 1 p.m. Saturday. It will be closed Sunday and Monday.
Lietz said in April that the decision to close the venue through May — when tourism starts to ramp up in Clear Lake — was not one the North Iowa Cultural Center and Museum Board of Directors made lightly, but it was necessary for the health, safety and well-being of its staff and volunteers, visitors and entertainers as well as the preservation of the venue.
The Surf Ballroom, a 30,000-square-foot historic rock 'n' roll landmark known as the last stage rising musicians Buddy Holly, Ritchie Valens and J.P. "The Big Bopper" Richardson performed on before they died in a plane crash on Feb. 3, 1959, hosts about 30 shows — and thousands of visitors — annually.
It's been on the National Register of Historic Places since 2012 and the Rock & Roll Hall of Fame in Cleveland, Ohio, recognized the Surf Ballroom as a historic rock 'n' roll landmark as part of its ongoing landmark series in 2009.
In 2019, it was one of five nominees for the Venue of the Year – Small Capacity Academy of Country Music Award.
The Surf Ballroom & Museum, which operates as a nonprofit under the North Iowa Cultural Center & Museum, relies on revenue from concerts, events and gatherings to remain open.
More than 30 events, including weddings, graduation parties, proms and concerts, planned between March through July have been canceled or rescheduled because of the COVID-19 pandemic.
"It's been quite a period of darkness," she said.
Lietz said the ballroom has the capacity to offer wedding receptions again, but the seating, and other components of such an event, will likely look a little different to follow public health guidelines.
While the Surf has been closed to the public, it has installed touchless faucets in the restrooms, put up a Plexiglass barrier in the gift shop and made hand sanitizer readily available for visitors, among other measures.
"I think it will be good for us in the long run to have those protections in place even when we get past this," she said. "We've put a lot of thought into it."
And as far as scheduling concerts and shows, the ballroom isn't booking anything.
In large part because large gatherings are still prohibited under the state public health disaster emergency and it's unclear when they'll be safe and allowed.
"As far as shows go, it's a very long road back for us," Lietz said. "We take it week by week, so we try not to worry too much about the future."
For questions, call the Surf Ballroom & Museum at 641-357-6151 and leave a message or email info@surfballroom.com.
Ashley Stewart covers Clear Lake and arts and entertainment in North Iowa for the Globe Gazette. You can reach her at ashley.stewart@globegazette.com or by phone at 641-421-0533. Follow Ashley on Twitter at GGastewart.