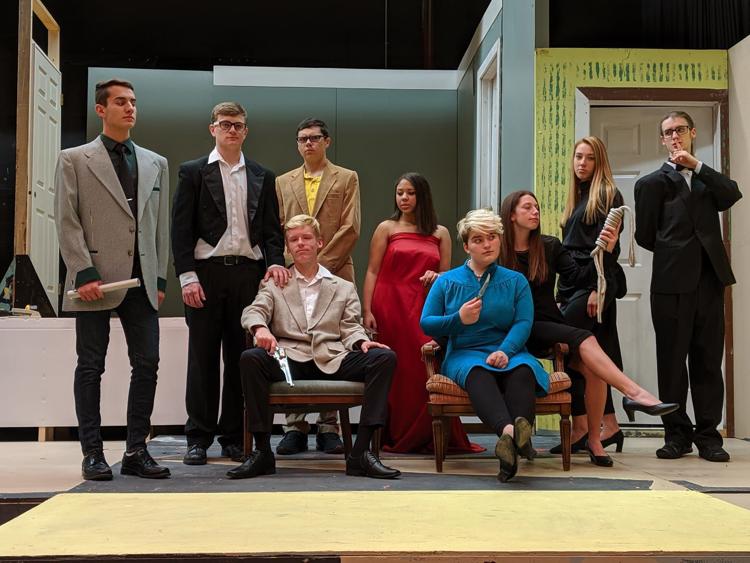 A classic murder mystery board game will come to life at Garner-Hayfield-Ventura High School this weekend.
The school's drama department will present "Clue, On Stage!" at 7 p.m. on Friday and Saturday at the GHV High School auditorium, 605 W. Lyons St., in Garner.
The production, written by Jonathan Lynn, is based on the cult classic film made popular in the mid-1980s.
In "Clue, On Stage!" six guests are invited to a dinner party by an anonymous host. They are given aliases — Colonel Mustard, Mrs. White, Mr. Green, Mrs. Peacock, Professor Plum and Miss Scarlet — and although they are discouraged from revealing personal information, it's soon discovered that all of them have fallen victim to the same blackmailer, their host of the evening.
You have free articles remaining.
Each is presented with a weapon and an option: pay their extortionist double or kill Wadsworth, the innocent butler.
What follows is a madcap, slapstick evening full of murder, mystery and laughs as they seek to puzzle the culprit among criminals.
Those cast in the production are Eric Heitland, Wadsworth; Sarah Schmidt, Yvette; Kenzie Cole, Miss Scarlet; Holly Piper, Mrs. Peacock; Abby Christians, Mrs. White; Nolan Balk, Colonel Mustard; Travis Schmidt, Professor Plum; Patrick Carew, Mr. Green; Brandon Brown, Mr. Boddy; Makenna Rayhons, Cook; Dylan Piper, motorist; Isaac Bell, cop; and Chloe Frank, singing telegram girl.
Others include Raine Pralle, Morgan Krein, Shelby Howke, Sam Dodd, Wyatt Heller, Nick Martinson, Braden Renner, Trenton Robinson, Morgan Kaczor, Kiana Lortz, Avery Lackore, Emma Goll, Maddie Barrett, Abbey Case, Kenadie Lau, Miranda Randall, Kylie Anderson, Josie Frohling, Carly Joint and Emily Martinson.
Tickets cost $5 for adults and $4 for students, and they are available on the high school website or at the door.
Photos: Forest City volleyball in regional action against G-H-V
Reach Reporter Ashley Stewart at 641-421-0533. Follow her on Twitter at GGastewart.