He walked 500 miles, and then he walked 500 more. And 500 more. And 500 more.
After the better part of the last two years, an Iowa artist has just finished a 3,000-mile hike across the country.
Luke Woolfolk, originally from Grinnell, is reflecting on his journey as it comes to a close this weekend.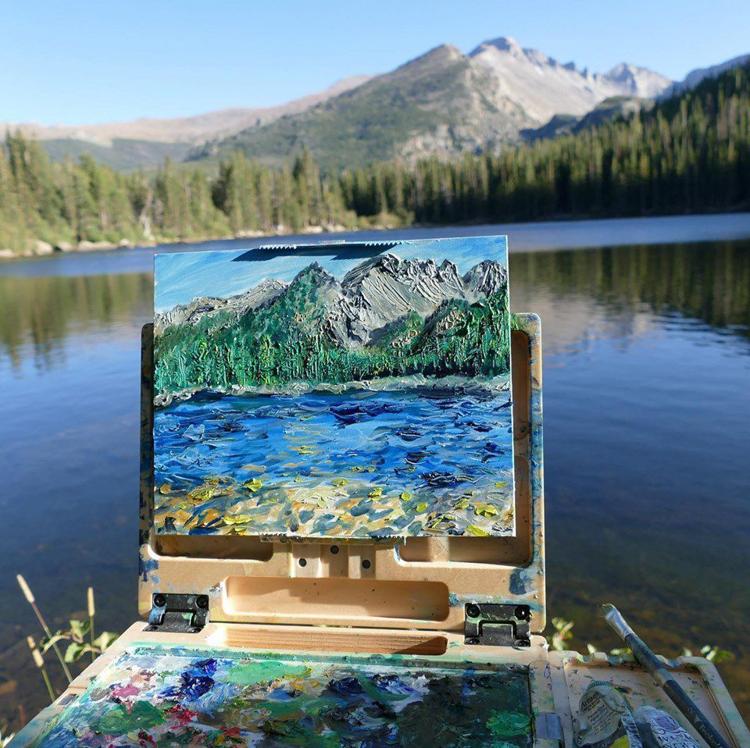 Origins
Shortly after graduating from Briar Cliff University in Sioux City in 2016 with degrees in art and psychology, Woolfolk found himself working in a window factory. 
"I was bored and depressed with the routine that I had," Woolfolk said. "It was stifling my creativity, so I didn't really feel like myself. I wanted to do something creative and feel like myself."
A couple years before graduating, he took a different trip with a college friend across the United States, one with its own kind of intrigue.
Initially, the two considered biking, but ultimately decided it would be too difficult. Instead, they made that journey hitchhiking and riding buses, which they both enjoyed. That trip is when he says he started thinking about hiking across the country.
Working at the factory only intensified that desire.
"Getting depressed actually probably pushed me. I was like, 'What am I waiting for,' you know? Sometimes, if you keep waiting for a perfect moment, then you'll wake up one day, and you'll be 97 years old, and you'll be like, 'Whoops.'"
Woolfolk began saving up and accumulating pieces of hiking gear, including a tent, a backpack, a sleeping bag, a knife, a water filter, a first aid kit, a GoPro, a journal, trekking poles. That gear list would fluctuate once he actually hit the trail.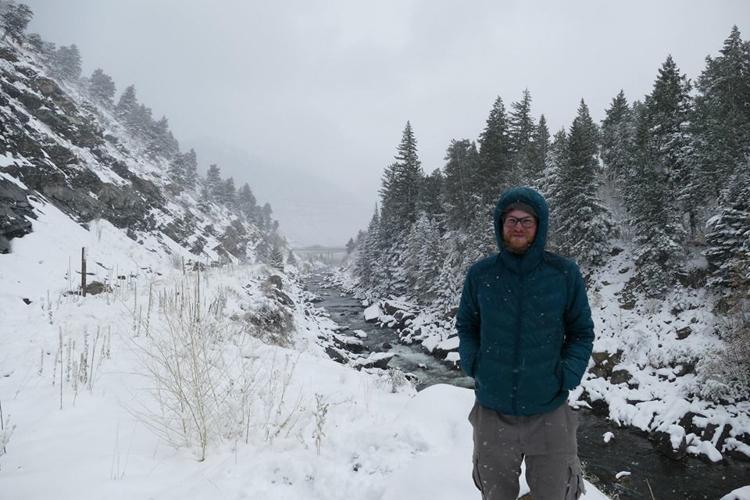 Preparations
"I wouldn't say I really physically prepared," Woolfolk said. "My factory job kind of put me in shape because I was already on my feet 10 hours a day."
But in bouts of free time, he'd go on long walks, something he says he's always done. As a college student, he'd hike the prairie reserve near campus almost daily.
"When I first started walking, I would ease myself into it, starting with 10 miles a day, then 15, and then 20 to 25; I'd slowly work my way up."
He also did research on people who took similar long hiking journeys.
"But then I stumbled on the American Discovery Trail," Woolfolk said, "which is not as well known."
The American Discovery Trail is a relatively new coast-to-coast trail, part of which passes through Iowa. It traverses urban and rural areas, as well as forests, mountains and deserts.
Woolfolk started reading up on people who'd chosen this trail, then decided he'd try it for himself.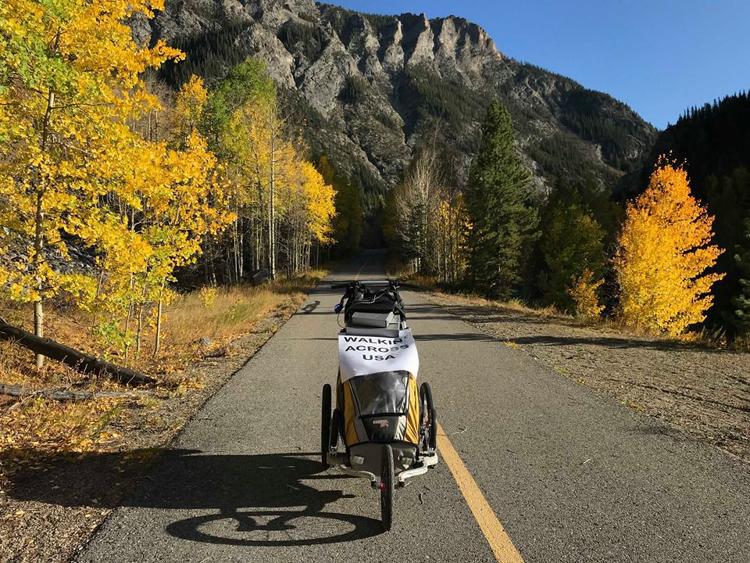 The journey begins
On April 1, 2018, Woolfolk took a plane headed east to where the American Discovery Trail begins in Delaware. He followed the trail pretty closely back to Iowa, though sometimes meandered from it for various planning reasons.
He learned quickly that much of the trip would be learning and adjusting through trial and error.
"As much as you train for it, you just have to start it to see where it goes," Woolfolk said.
He had problems with his feet in the beginning — they blistered and swelled with so much use — but for the most part, he adjusted. As he went, he figured out an optimal combination of shoes and inserts.
In all, he estimates he went through five pairs of shoes.
He began his hike using a backpack to carry his supplies. It was the height of summer when he found himself halfway through Ohio; temperatures were over 100 degrees, his pack was heavy and he needed to stock up on more water. So at a yard sale, he bought a cheap baby stroller for $20 to push his gear.  
The stroller made the walk much easier in many ways. But it also led to some interesting experiences with local law enforcement, as numerous times, people called the cops on him because they thought he was pushing a baby in his stroller along the highway.
He pushed the stroller home into Iowa until it shredded to pieces.
He stopped for the year when he made it to Adair, Iowa, just before fall cooled into winter. The first half of his trip was over; come spring, he'd start on the second half.
This year, before departing west, he bought a new, heavy-duty stroller and pushed it all the way to California. He says it's held up pretty well, aside from a few flat tires from thorns. The back axle snapped in half once, but he still made it work.
You have free articles remaining.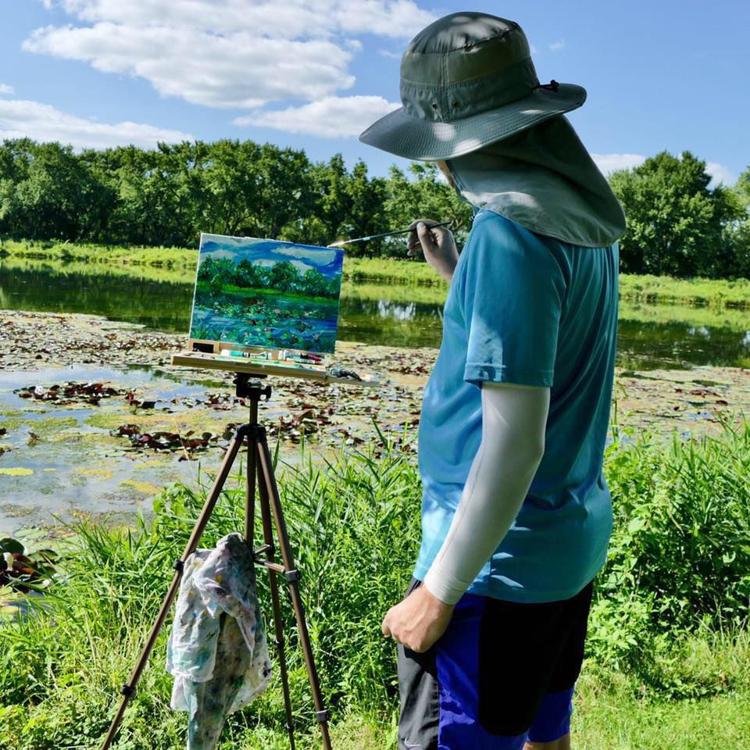 Art and walking
Among Woolfolk's gear on his hike were his painting materials so he could do some plein air painting — the act of painting scenes outdoors.
He says one of the ways painting on the trails has influenced his craft has been sharpening his attention to detail.
"A big thing with art is attention to details; when you're traveling at only three miles an hour, you notice a lot of details," he noted.
He describes his artistic style as expressionistic, which means his aim is to express an emotional experience; he wants to capture the energy of a place rather than create a completely realistic image.
"I paint based off photos a lot, but it's different to paint where you're at," Woolfolk said. "It feels more like, almost a spiritual connection to be right there."
He added, "I don't go for photorealism — if you go for exact realism, what's the point? You might as well just take a picture."
Lessons learned, experiences had
Some of the largest lessons he's learned on his trip are people are more capable than they think, and most people are kind.
"Living in a tent … makes you appreciate things a lot more ... Hot meals, showers, sleeping in an actual bed occasionally.
"It's been eye-opening that I think most people are truly good. I got to experience a unique cross-section of the country, all kinds of people and places. I've been invited in to sleep in people's houses in every single state.
"A lot of times, people focus on the bad … but there's so many good people that never make the news. Most people are very generous and open. And that's been one of the best things: meeting people that I'd never otherwise meet."
Complete strangers took him in, shared food with him. "Trail angels:" that's the trail world phrase for people who help hikers.
In North Platte, Nebraska, a man let him stay as a guest for several days to treat a poison ivy flare.
During a blizzard in Colorado, a man let Woolfolk stay in his home; he was a cyclist who had ridden his bike across the country before, and they developed a fast friendship.
"He stressed that it was meant for everybody to enjoy and share," Woolfolk said.
He's also had his fair share of wildlife encounters.
His biggest scare happened while camping in Ohio, when a venomous copperhead snake fell from a nearby tree.
He had close encounters with foxes — one ate a mouse in front of him. He saw bugling elk, big horn sheep and plenty of deer and birds. He's woken up in fields surrounded by cows. He had to shoo plenty of territorial country dogs away from his tent along the way, too.
Risk and resolution
The journey obviously wasn't without risk.
"Not every road is equal," Woolfolk said. "Sometimes you have to go through some dangerous roads."
The weather was unpredictable; he walked through thunderstorms, hail and flash flooding.
Eventually, he reached Forrest Gump Hill Monument Valley. "I'm pretty tired; I think I'll go home now," Forrest Gump had said at that point in the movie.
Woolfolk's own endpoint would be miles farther, though.
Initially, he wanted to see how far his feet could take him. Now, he's tired. He's been battling a cough since the Grand Canyon a couple weeks back. He's also ready to see his girlfriend, who's meeting him in San Diego this weekend so they can fly home together.
He's walked over 3,000 miles. He feels like he's done what he's set out to do.
Someday soon, he plans to write a book on his travels. Until then, he's known as The Trail Artist on Facebook and Instagram, and you can see highlight photos from his trip there.