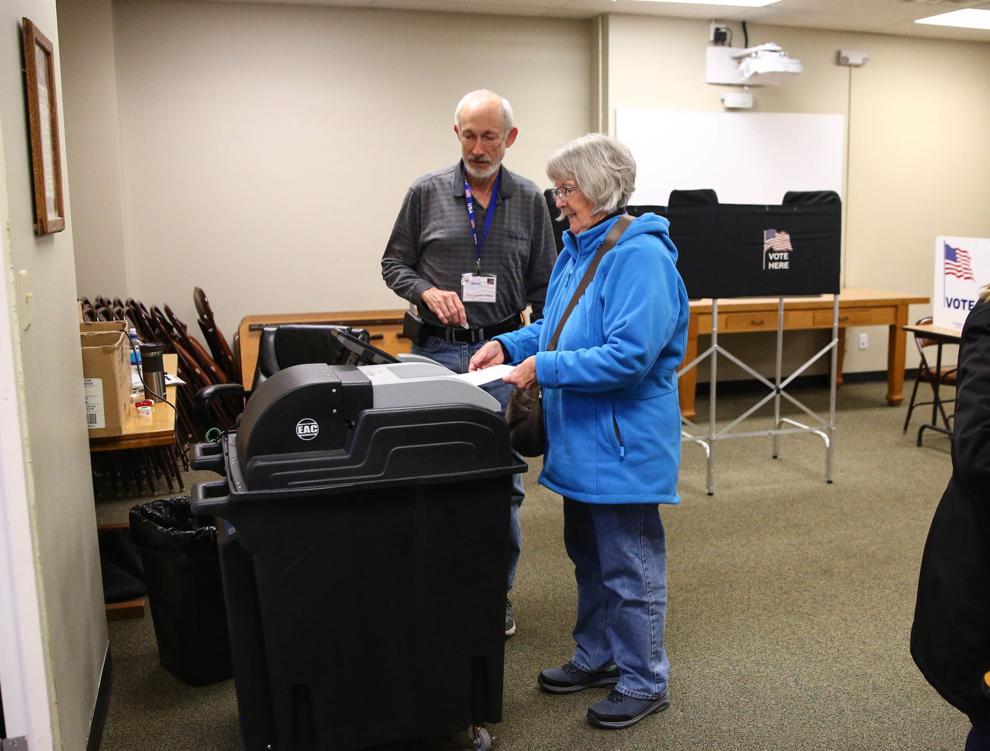 Even in a "normal cycle" planning would be happening at this point but it's perhaps more necessary for an election day where much of the process will be disrupted by the still lingering COVID-19.
Auditors around the North Iowa area are having to figure out how many polling places to have open, the best ways to keep election officials safe and how to get as many people as possible to stay in and vote absentee. 
"The first thing we did is we looked at what we would have for available precinct election officials that are willing and able to work so we reached out them and were able to identify how many we have and that sets our polling locations," Cerro Gordo County Auditor Adam Wedmore said. 
So based on that, Cerro Gordo will go from the usual 26 polling locations down to 10. 
And at those 10, Wedmore said that there are plans to: sanitize the most frequently touched surfaces at polling locations, maximize room layouts to ensure social distancing and put up clear barriers between election officials and voters. Even at the end of the night, during final ballot counting, there will be safeguards to minimize possible contamination. 
"Absentee voting is by far the safest and easiest means for all voters in Iowa. We're fortunate in Iowa that we do not have to have a reason to request," Wedmore said. Though his office can't yet mail out absentee ballots to residents, Wedmore said his office has already noticed an uptick in absentee ballot request forms. 
In Winnebago County, it's a similar story. 
Auditor Karla Weiss said that her office is also telling everyone that Secretary of State Paul Pate is sending out mailing with absentee ballot requests in it and that everyone that wants to vote should vote absentee to keep people safe. 
County residents who do decide to actually go out and vote will find fewer polling places.
Like Cerro Gordo, Winnebago is whittling down its locations. In this case, Weiss said that she hopes to go from 10 down to three (one for Buffalo Center, one for Forest City and one for Lake Mills).  
"Most of it is I'm worried about getting poll workers and having less people exposed," Weiss said.  
So to allay some of those concerns, polls will be at large locations where maintaining social distancing won't be as much of a challenge.
For Worth County, there will be one location open on June 2, at the Kensett Community Center near the center of the county. 
"Having one precinct was a decision I made after checking on availability of poll workers," Auditor Jacki Backhaus said. Again, the emphasis is on absentee voting which Backhaus said, in light of the current situation, seems to be the option that has the least health risks for everyone involved.
Even with all the considerations and planning, Backhaus admitted that it's not easy when so much is unknown. 
"Preparing for the 2020 primary has been completely different than any other election I've prepared for in the past 7+ years I've been Worth County Auditor ... We're doing the preparation not knowing what this election is ultimately going to look like."
What a Globe Gazette News+ membership can do for you:
A deeper examination of local issues than you'll find anywhere else.
Two products in one – not everything that's in the print edition of the Globe Gazette is on our website, and not everything on our website is in the print edition.
Access to newspapers.com archives dating back two years.
The ability to carry your local news with you and receive alerts instantly as news unfolds.
Advertising that frequently gets you deals you won't find anywhere else.
Has the COVID-19 pandemic left you in need? Here are some resources that may be of use.
Reach Reporter Jared McNett at 641-421-0527. Follow him on Twitter and Instagram at @TwoHeadedBoy98. 
"The first thing we did is we looked at what we would have for available precinct election officials that are willing and able to work so we reached out them and were able to identify how many we have and that sets our polling locations."

Adam Wedmore, Cerro Gordo County auditor