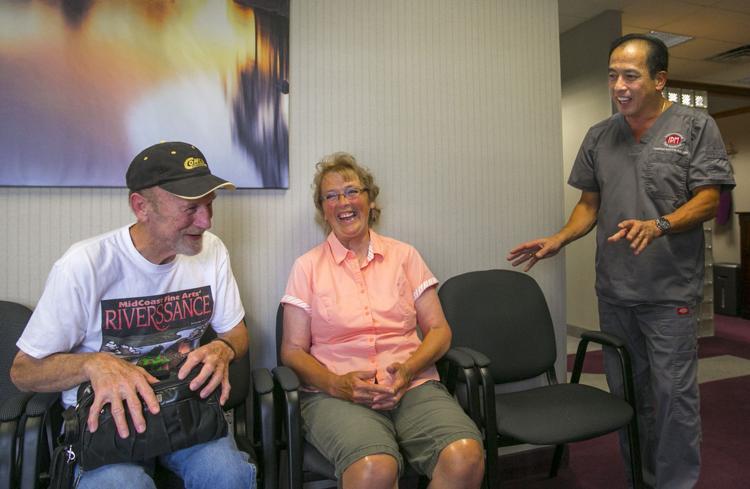 MASON CITY — In the three years since Shirley Smith received her Parkinson's disease diagnosis, she has gradually given up painting and traveling.
The progression of her symptoms has been heartbreaking for the once-active Greene woman as she has been losing her ability to walk.
Earlier this year, she decided to take a gamble by trying stem cell therapy at Regenerative Cell Institute in Mason City.
Smith had tremors, an unstable balance and was heavily dependent on a wheelchair, and Dr. Crispino Santos, who runs the practice, was initially skeptical he could offer any effective treatment.
Since 2014, Santos has offered treatments in Mason City for patients who have chronic neck, back, spinal or joint paint, as well as those with arthritis or sports- or work-related injuries.
Santos said Smith is the first patient he has attempted to treat with Parkinson's.
After her first stem cell treatment at his office Jan. 29, where stem cells were taken from her abdomen via liposuction and injected into her spine, Smith appeared to show little improvement, Santos said.
Following a second treatment using umbilical cord stem cells last month, she began to show some improvement, walking a little more independently.
"After being incapacitated for so long, she didn't have the self-confidence that the rest of us have naturally," said her partner, Eddie Hesalroad.
Santos' stem cell treatments typically cost between $4,000 to $7,000, he said. Patients pay out-of-pocket because the procedures are not typically covered by insurance.
That money came from her retirement fund, Smith said. She estimates she can afford one more treatment, which will be scheduled for next month.
Santos has said he believes his stem cell treatments are responsible for her apparent improvement, because she is not undergoing other treatments. He cautioned he hopes for gradual improvements.
"The reality is we really don't know the improvement (to expect)," he said.
Santos is board-certified in anesthesiology and pain medicine. He previously practiced for nearly a decade in Mason City, where he started the cardiac anesthesia program and pain management center at then-St. Joseph Mercy Hospital.
He currently practices pain management, stem cell therapy, regenerative medicine, aesthetics and platelet-rich plasma therapy in Las Vegas through the Regenerative Cell Institute and Interventional Pain Medicine.