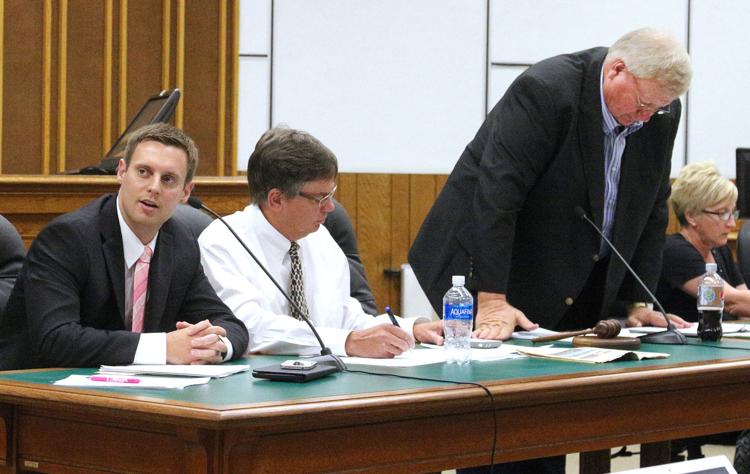 CLARION — The Wright County Board of Supervisors took an initial step Monday to approve an economic development agreement with Prestage Farms.
About 80 people including multiple members of the Prestage family attended the two-hour public meeting in a full courtroom to discuss the proposed development agreement, which the board supported 3-0.
On Monday, about 30 people spoke publicly. Two-thirds of the 17 Wright County speakers argued in favor of the project.
Six of eight speakers from bordering counties spoke in favor of the plant. Four of five speakers from outside counties opposed construction.
Opponents expressed concerns over wages, wastewater and environmental issues.
"Why aren't we calling the shots here?" said Wright County resident Kristi Frohling. "Prestage is desperate to locate in Iowa, anywhere that will put up with them."
Proponents cited economic benefits from the plant's construction and operation.
"We don't have the opportunity to attract the Microsofts or the Googles," said Humboldt City Councilman Jim Vermeer. "This is the (economy) that we have."
A public hearing on a proposed urban renewal plan — a way a county or town uses financing to renovate an area — is scheduled for 9:15 a.m. Monday, Aug. 8. The board will take a final vote on the economic development agreement during its 9:30 a.m. meeting Aug. 22.
Those hearings will be in Wright County Courthouse's second-floor courtroom and will follow rules the supervisors passed previously, including limiting each person's comments to two minutes and giving speaking priority to Wright County residents.
Last month, the board approved a zoning change from agricultural to industrial that would allow the company to construct its proposed facility 5 miles south of Eagle Grove.
The proposed development agreement calls for construction to be completed by March 31, 2019, with the plant employing 922 full-time workers by Jan. 1, 2020.
The lowest-paid workers will begin at more than $37,000 annually plus benefits, Prestage officials previously said. Average annual pay is expected to be more than $47,000.
A second phase would add at least 850 additional full-time jobs, according to the agreement, which stipulates the company must then employ at least 1,772 full-time workers through Dec. 30, 2030, to be eligible for incentives.
If employment stipulations are met, the agreement says Wright County will give 10 years of annual property tax rebates to Prestage, not to exceed $8 million. No additional taxpayer money is involved, Wright County Economic Development Director Bryce Davis told the Globe Gazette, since the rebates will be from taxes Prestage will pay.
The county will also resurface and improve portions of roads near the site, Highway 17 and County Road C-56, at its expense. The agreement indicates the county plans to apply for state funding for the road projects.
Prestage announced last month it would seek to locate a 650,000-square-foot plant near Highway 17 and 320th Street, about 5 miles south of Eagle Grove.
The $240 million project was rejected by the Mason City Council on May 3.