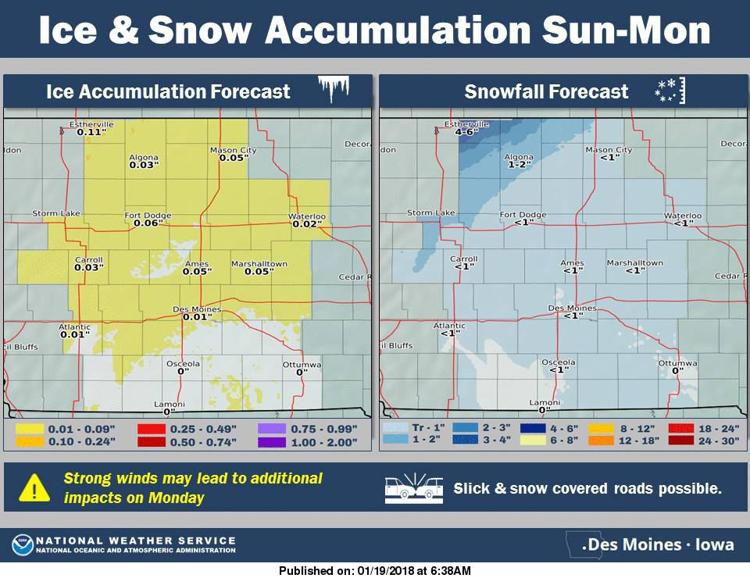 MASON CITY | A potential for freezing rain and drizzle could lead to dangerous road conditions in North Iowa Sunday into Monday.
The National Weather Service warns that the freezing rain may lead to ice accumulations across much of Iowa, specifically North Iowa. The wintry mix may lead to adverse travel conditions Sunday through Monday.
In Mason City, there is a chance of snow and freezing drizzle before 8 a.m. Sunday, then the drizzle is expected to continue through the afternoon. Temperatures are expected to reach 34 degrees with a low around 29.
Early Monday morning is expected to bring freezing rain possibly mixed with sleet before 11 a.m., then snow continuing though the afternoon.
Strong winds are possible on Monday which could make roads slippery and reduce visibility. Strong winds may also be dangerous for trees and power lines.
Temperatures will hover around 32 degrees Monday. Freezing rain is expected after 4 p.m. through early evening Monday. The rain is expected to turn to snow after 7 p.m. Monday. The forecasted low temperature is 15 degrees. 
Northwestern Iowa could see several inches of snow Sunday evening through Monday.
A winter storm watch is in effect from Sunday evening through Monday afternoon for Kossuth, Winnebago and Worth counties as well as Emmet and Palo Alto.
Heavy mixed precipitation and difficult travel conditions are possible for the area. Total snow accumulations could be between 3 to 5 inches with localized higher amounts of 6 inches toward Emmet County. Ice accumulations could reach one tenth of an inch.
Wind gusts of up to 45 mph will cause blowing and drifting snow. Freezing drizzle or rain is also possible earlier on Sunday that may create a glaze of ice in those counties listed in the watch area.