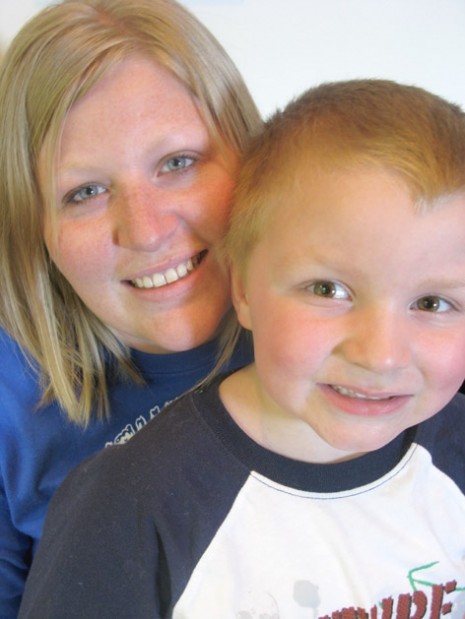 NORTHWOOD — Kari Halverson still has bad days when she doesn't answer the telephone or the door.
That's when the memories of what happened to her young, vibrant daughter crowd in.
Halverson is the mother of the late Kadyn Halverson, who died in May 2011 when she was struck by a truck when attempting to cross a rural Northwood road to board a school bus. The driver of the truck did not stop.
The terror and sorrow of those days can come unbidden.
"You go on. You hope that there will be more good days than bad days," said the 28-year-old.
Despite the pain, Halverson willed herself to work to promote a law that would help safeguard other children who rode school buses.
She worked with other family members and Kim Koenigs of Osage on lobbying for a state law that would tighten penalties for those who violate school bus arm laws.
Koenigs' daughter, Amber, rode the same bus as Kadyn when she attended Northwood-Kensett Schools. Koenigs said she contacted Kari Halverson a week after the funeral to see if she wanted to work with her on lobbying for the change.
Halverson was scared to work in a public arena, she said, but was glad to have Koenigs to lean on.
"I didn't understand the politics; I still don't," she said.
But she went to work anyway.
"I just couldn't believe that Kadyn was taken for no reason," Halverson said. "If this could help another child, I wanted to do it."
Supporters began to research laws, hold fundraisers and work on books filled with their research and letters from family that ended up on legislators' desks in January.
Kari's mom, Ladeena Halverson of Phoenix, and her sisters, Brandi Boles, who lives in Canada, and Laine Barlow of Mesa, Ariz., all worked on the books as well.
Halverson was sure that while they received good response from legislators, success in both the House and Senate would take some time.
But work by local legislators — Koenigs and Halverson applauded Sen. Amanda Ragan, Rep. Sharon Steckman, Rep. Linda Upmeyer and Rep. Josh Byrnes — helped push the effort along.
Awareness of the effort filtered to parents, she said.
"I've heard from parents so often since, saying, 'I cross with my child now to the bus,' or they work with the school to change which side of the road they're picked up on. It's amazing.
"I just wanted parents to know that there are people who don't stop for buses."
Halverson found her voice, said Koenigs, and is far stronger than she credits herself.
Koenigs recalled a committee meeting when legislators asked if there were studies to support the changes in law.
"Kari stood up, a picture of Kadyn in her hand, held it up and said, 'Here's your study.' I got goosebumps," Koenigs said.
When the legislation passed its last hurdle in the House, Halverson "couldn't even speak."
Having Iowa Gov. Terry Branstad sign the legislation into law at Kadyn's school, Northwood-Kensett, was emotional, she said.
"I was thinking a lot about Kadyn," Halverson said, tears welling.
"Then I thought about her classmates and friends," she said, stopping again as tears flowed.
Catching her breath, she smiled.
"The governor was so nice, even though I messed up on my speech ... I was shaking like crazy. He knew I was nervous," she said.
"When I sat down, he said, 'You did good.' I think the governor coming here gave us a little bit of closure."
The fight to keep kids safe continues — this time on the national stage.