Everything 4-H and Clover Kids (future 4-Hers) was on display as the Winnebago County Fair opened a four-day run on July 15.
Winnebago County ISU Extension staff, including county director Ashley Throne, fourth-year summer assistant Kenzie Ree, and first-year summer assistant MaKenna Hanson, began decorating the 4-H building on the Winnebago County Fairgrounds as early as Monday and Tuesday prior to the July 15 opening day.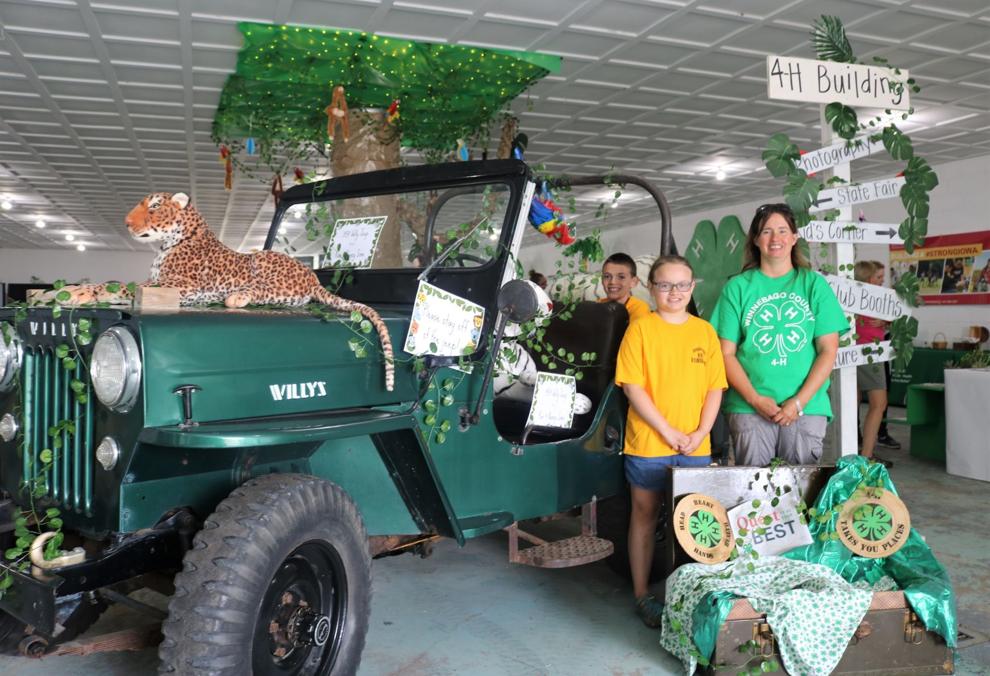 Their centerpiece was a 1954 Willy Jeep of the late Ron Sime and Nancy Sime of Rake. It was provided for use by Ron's daughter, Robin Charlson, and her family of rural Leland. Husband Brian Charlson and two of their children, 4-Hers Joseph, 12, and Emily, 10, who attend the Lake Mills School District, helped make the exhibit possible.
"Brian really helped in getting the Jeep here," Robin said. "We brought it here, washed it, and parked it. Extension and 4-H staff decorated it."
Extension board member Julie Hagenson said that the Jeep fit this year's 4-H fair theme, "Quest to be Your Best." She also cited the good efforts of all the (pre-4H aged) 2021 Winnebago County Clover Kids, who all received participation ribbons.
"We also wanted to see a jungle-treasure sort of theme this year," Hagenson said. "We wanted an older Jeep. When we were looking for a Jeep, Robin had one. It is something entirely new this year. We've not had anything like this before."
It is not just any Jeep. It was a treasured possession of Robin's father, Ron Simes, for more than two decades.
"It was something he always wanted," Robin said. "He was a farmer, but always wanted one of those Willy Jeeps. It was his baby!"
Ron had the Jeep well-maintained after acquiring it in the late 1980s or early 1990s, she said. He passed away about five years ago and Robin said the family is glad that one of his prized possessions could be utilized for all the kids and parents at this year's fair.
Forest City 9-year-olds Alexis Haugen, Natalie Hennigar, and Brooklyn Sorenson could all be found taking a breather from judging on the board seating of a makeshift boat that was part of the theme and décor, with a white and green 4-H flag flying behind them. All three said they really like the gardening with Alexis having entered a floral exhibit and Hennigar and Sorenson vegetable exhibits.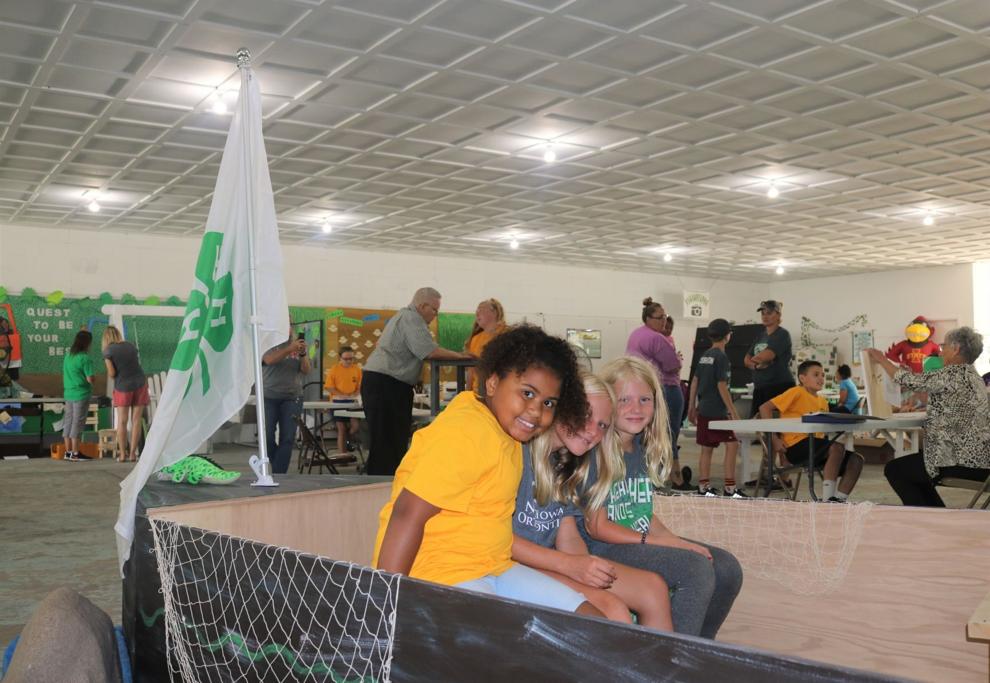 Judging of gardening, home economics, and SMA exhibits lasted throughout the morning and into the afternoon. Purple ribbon winners who qualified for the state fair include Justin Rygh, Emily Bray, and Kenlie Greenfield, all of Lake Mills.
Rygh said he only started his prize-winning woodworking category project of restoring an old cabinet in the last week of June. He said it belonged to Marcia Honsey, who he was helping with some yard work when the inspiration to restore it came to him. He stripped off the old paint, sanded and repainted it. Rygh, a soon-to-be sophomore at Lake Mills High School, also received a blue ribbon for a gun rack restoration project.
"I've done several projects like it," Rygh said. "It takes a very long time to sand. You have to power-sand in some spots and hand-sand in others, then refinish it."
Bray, who will be a senior at Lake Mils High School this fall, had three state fair qualifying projects. Her largest, an innovative and comfortable outdoor couch, was in the woodworking category. It was pieced together with screws for strength and stability and coated with a natural weather resistant finish. Bray said she used a Kreg jig for the wood pieces and needed lots of elbow grease plus some help to get the screws in just right. She said she power washed some old outdoor chair cushions and completed the coach within two days.
"The hardest thing was making sure the wood was flush, so I had some helping holding it in place," she said. "We will probably use it outside at our house on our deck."
Her second state fair qualifying project was in the home improvement category. It is a homemade flag board, displaying the red, white, and blue colors of the American flag. She started by painting a peg board blue and white as well as stringing red and white yarn for at least three days. Bray's third state fair qualifier, in the creative arts category, was a photo from her recent family vacation in Wyoming. It features a view of Wyoming's wide-open spaces on a sunny, blue sky day taken in June.
Bray has dabbled in photography for 4-H and in her personal life for many years. She quickly rattled off the brand, make, and model of camera that equipped her to take the winning picture. It was a Canon Rebel T5 EOS 700D.
Greenfield, 11, earned a purple ribbon and qualified for the state fair in sewing and needle arts with her multi-fabric and multi-colored tote bag.
"I really just started with the last year, so it's a new hobby, Greenfield said. "I went to a workshop in the spring and I just really like sewing."
Winnebago County Fair Little Miss, Queen Coronations
Summer Assistant Kenzie Ree fired up the Little Miss contestants once the judging was finished and their big moment in the spotlight was at hand.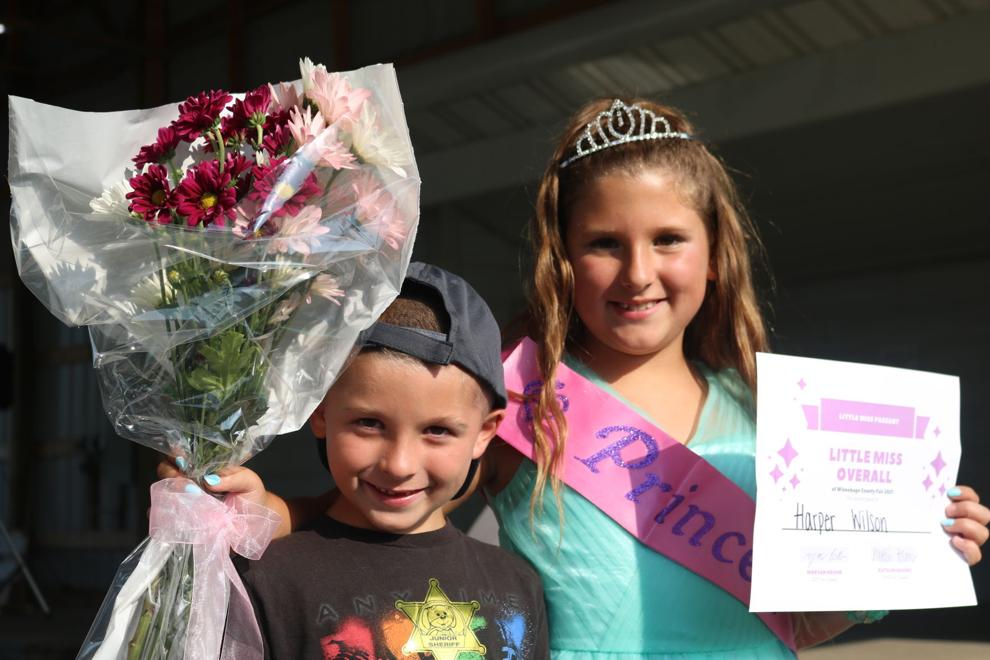 "You'll all get something," Ree said. "There will be a Little Miss overall and a Little Miss runner-up, but you will all receive a Little Miss award and you will all get flowers and a certificate."
One of the girls interjected, seeking clarification that everyone would get something good.
"We will all get a great prize, because we are all awesome," Ree responded to their smiling faces, some girls cheering.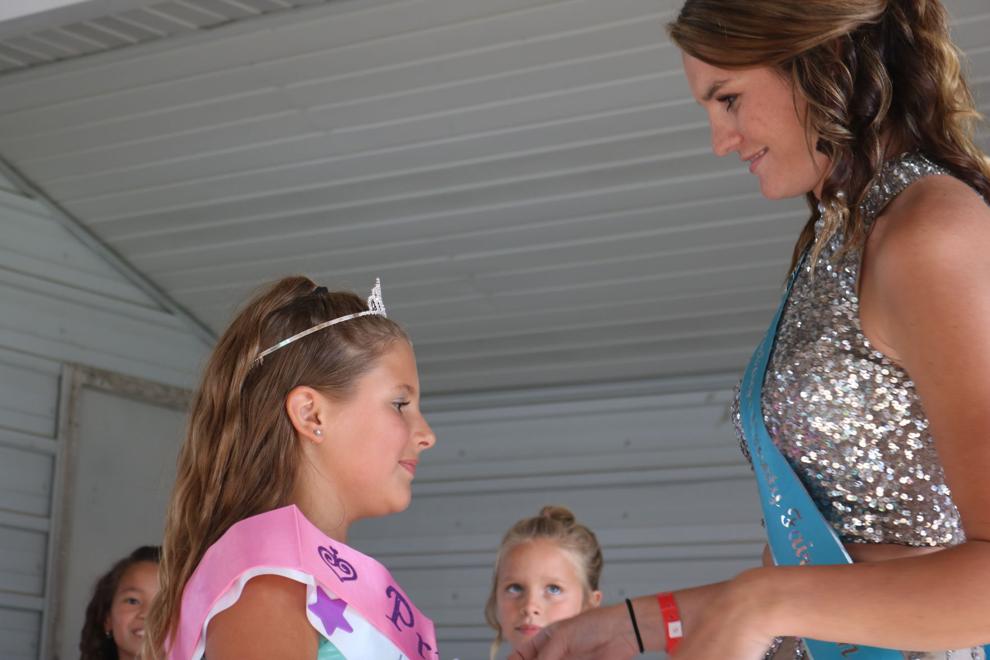 On the stage, Harper Wilson was crowned Little Miss Overall and Bailey Newton was named Little Miss runner-up. Kolby Wubben is Miss Chatty, Mariah Roth is Miss Cheerful, Emma Van Hove is Miss Creative, MacKenzie Willmert is Miss Funny, Norah Porter is Miss Personality, Aubree Brown is Miss Personality, Jewell Sachs is Miss Friendly, Abbey Wright is Miss Fashionista, Tessa Holland is Miss Best Hair, Lindsey Oldenkamp is Miss Spontaneous, and Teryn Branstad is Miss Outgoing.
The 2021 Little Miss, Harper Wilson, had competed in 2019 when she was Miss Outgoing. She has also been Little Miss Puckerbrush in Forest City.
"She is very much into dressing up and coming to the fair, said her mother Allyson.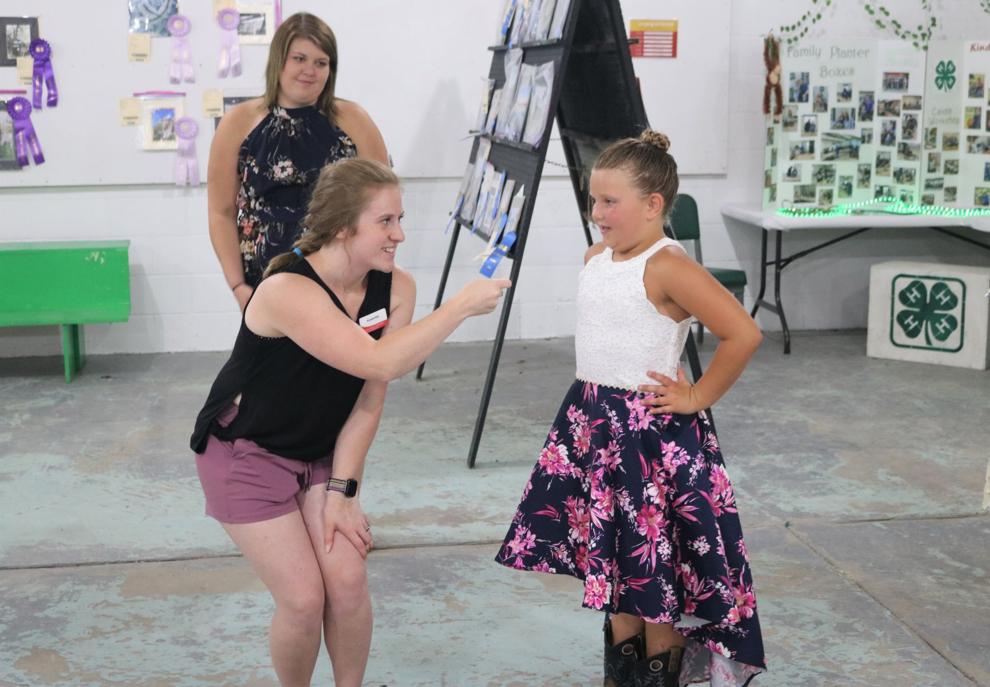 Harper said she liked getting a beautiful bouquet of flowers the most and participating in the competition with her friends Teryn Branstad and Aubree Brown as well as the other girls.
Madison Branstad, who will be a junior at Forest City High School this fall, was crowned 2021 Winnebago County Fair Queen. She is the daughter of Andrew and Keniesa Branstad of Leland.
"I wanted to make a difference in the fair," said Branstad who has been showing goats at the fair for several years and cattle for much longer. "I'm absolutely honored to be here. If it wasn't for my family and friends, I don't know if I would have done it. I'm glad I did. They help me with everything."
In addition to her parents, Branstad noted her 13-year-old sister Gabby and said she is really looking forward to presenting ribbons for shows and helping with other aspects of the fair as the new fair queen.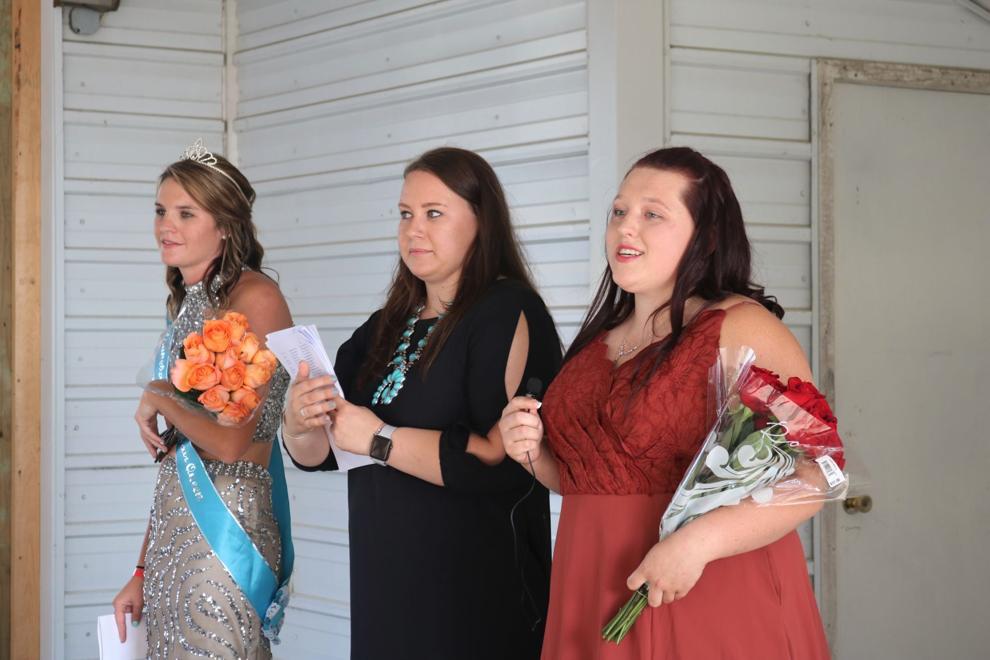 She said her longer term plans are to attend either Iowa State University or Texas A&M University to study large animal veterinary medicine. She was escorted to fair queen contest stage by Colton Main and 2019 queen Katelin Adams placed the crown on her head as the new reigning fair queen.
In her public remarks, Branstad advocated living life for the moment, saying 2020 was such a different year for everyone and that her biggest take away from that tomorrow is not a guarantee.