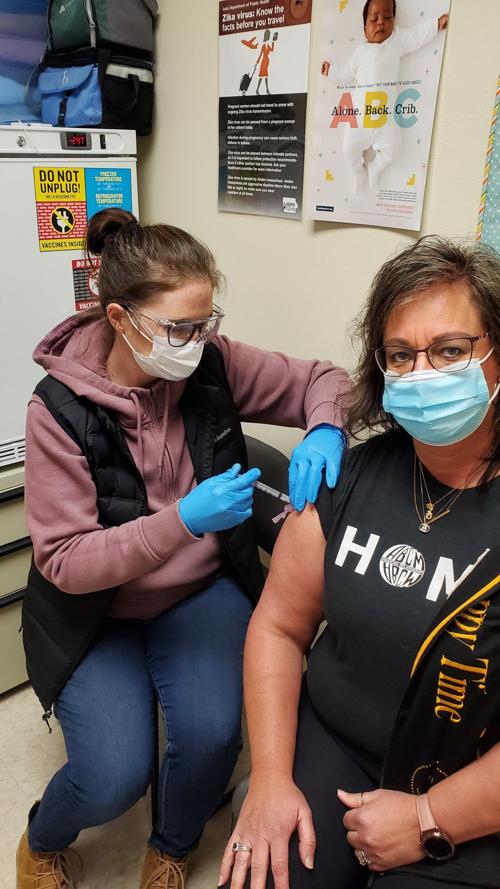 Public Health Administrator Julie Sorenson informed Winnebago County Supervisors on Jan. 12 that the county is transiting to required follow-up/booster COVID-19 vaccinations for its healthcare workers who have already taken an initial shot.
Sorensen reported that Winnebago County Public Health has used its allotted 200 doses of Moderna vaccines for the first round of the state's Phase 1a emergency use rollout.
She said 30 doses went to the MercyOne Forest City Family Medicine clinic, where its nurses administered the first vaccinations. Public Health conducted clinics for other county healthcare workers consenting to be vaccinated.   
Registered Nurse Allison Rice of Public Health has been coordinating the vaccination clinics with Public Health personnel going to the healthcare workers to provide the shots.
With the second round of shots for healthcare workers and care center residents and staff, Sorenson said that Phase 1a is expected to continue through January.
She said Phase 1b will probably start in the first or second week of February, which right now will include persons 75 years and older and front line essential workers.
The Iowa Infectious Disease Advisory Council is working on Iowa's definition and criteria for front line essential workers. Vaccinations for ambulance and emergency response workers have generally been after business hours so all consenting healthcare workers can be present for the clinic.
Sorenson said the Moderna vaccines come with 10 doses in a vile and are kept frozen until use. She said Rice makes sure that all 10 doses are used within six hours of a vile being opened, so no doses are wasted.
"We get phone calls every day," said Sorenson. "Most people that have called really want (the vaccine) and want to know when the next phase will be opened."
Sorenson noted that some Public Health workers are not being able to use their paid vacation time because it has been an all-hands-on-deck effort for the vaccination clinics and COVID-19 efforts. Supervisors expressed that an exception could possibly be made to the county's "use it or lose" policy for excess vacation time (just for Public Health workers). Supervisors said they would discuss the matter further at their next meeting.
Supervisors also discussed the current COVID-19 policies for county employees, but took no actions and will consider possible changes again at their next meeting.
• Supervisors established a 9:30 a.m. Feb. 2 public hearing date to consider the proposed Eagle Pork 15 site in Section 22 of Logan Township. Co-Chair of the Board Susan Smith of Lake Mills plans to meet with the landowner and an Iowa Department of Natural Resources official at the site prior to the public hearing.
• County Engineer Scott Meinders informed supervisors of a fire in a 1989 plow truck and estimated that about $22,000 should be received from insurance for the total loss. He added that the secondary roads department is seeking to purchase a pickup and plow truck, among other equipment, and plans to hold an auction this spring to reduce its fleet inventory.