Mandating masks during the COVID-19 pandemic has been a hotly debated subject not everyone has agreed on since the outbreak in March.
Members of the West Hancock Board of Directors are no different.
After more than 90 minutes of discussion in a special meeting on Thursday morning called to make a decision on a district-wide mask requirement, members were divided on certain points, while keeping the safety of every one at the forefront.
Much of the discussion centered around being consistent throughout the district and with all K-12 students, or mandating masks at some grade levels and not others.
In the end, a compromise was reached.
A motion by board vice president Jay Burgardt and seconded by school board member Angie Johnson to mandate masks in the classroom at the high school, middle school – including when walking in the hallways – during all school activities, and on all school transportation vehicles, was passed 4-2, with dissenting votes coming from Rene Abels and Jon Harle. 
While school board member Leah Deutsch did not vote, she was able to email her thoughts, which were read to the others by board president Ryan Johnson.
The special meeting was called on the heels of a Tuesday press conference held by Iowa Gov. Kim Reynolds that eases quarantine guidelines for schools. 
Reynolds said that state officials will no longer recommend that people go into a 14-day quarantine after having contact with a person who has tested positive for coronavirus if both people were wearing masks during the encounter.
That recommendation is different from what the Centers for Disease Control and Prevention recommends – anyone who has close contact with someone who is infected should remain home for 14 days, regardless of whether those involved wore facial coverings.
Reynolds suggested – after discussions with school superintendents – that such a rule might not be necessary for Iowa school districts, which she said is an incentive for school districts to encourage mask wearing.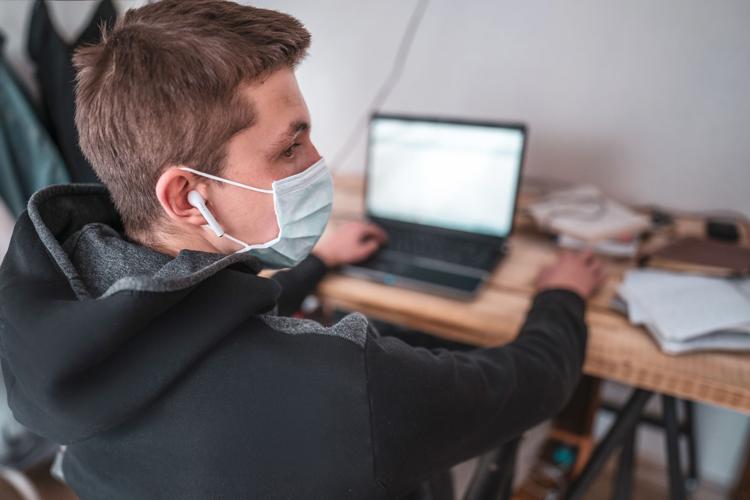 That opened things up for discussion by the West Hancock school board in its special meeting on Thursday.
West Hancock school superintendent Wayne Kronemann started the meeting by spelling out some of the things the board needed to consider in making a decision whether to make any changes to the Return to Learn plan and considering whether to institute a mask mandate in the district.
• Taking into account events, particularly homecoming events
• Parent/teacher conference and concerts
• What to do if students or adults refuse to wear masks if a district-wide mandate is passed
"Initially, the state said that there wasn't a whole lot you could do, but now they say we can give a staff member insubordination and you can kick a student out of school," Kronemann said. "I don't believe that either one of those is the correct thing to do, but they are options."
Kronemann said shields and neck gaiters do not count when talking about a mask mandate. He also said that school personnel do not decide who is quarantined, and that it is the Department of Public Health in collaboration with the district's nurse and principals.
"This is another difficult decision for the school board and the district," Kronemann said.
Jennifer Weiland is a parent of three students in the district, and Thursday morning asked the board to consider mandating masks at all grade levels.
She is an advocate for students, teachers and staff at all levels wearing masks. She believes the more layers of protection you have, the more protected your kids are going to be, which she agrees is the ultimate goal. 
Weiland said that masking has been proven to help, and that as a parent, she is fully supportive of requiring masks when the social distancing isn't possible, including at the the elementary school.  
"As a parent with three kids in the school district in multiple buildings, my kids have been wearing a mask," Weiland said. "That's not just to protect them, but also to protect other kids. 
"As a person who works in health care, I wear a mask every day. Do I enjoy it? No. Do you get used to it? Yes. Masking is one piece of the puzzle. The social distancing is a piece. It all works together." 
After the meeting, the changes to the Return to Learn plan were posted on the district's Facebook page with a message to parents and students:
"This is all being done to protect your children and to decrease the chances of students having to quarantine, which in turn makes them miss school and school activities."
Starting Monday, Oct. 5, until further notice, these are the changes:
1. Middle School and High School students, staff and anyone else entering the building (we are still limiting entry across the district as of this time during the school day) will have to wear a mask when social distancing rules (6 feet for 15 minutes) cannot be met.
2. At this time these rules do not apply for the Elementary School but the school board is still highly recommending the use of masks. We will still be taking all the precautions and mitigations we have been thus far this year.
3. All students and staff will have to also wear a mask when using school transportation and while in the hallway.
4. All people, while attending any school event, whether inside or outside, if they cannot meet the 6 feet for 15 minute rule will have to wear a mask.
Jerry Smith is sports editor and special projects editor for the Globe Gazette. You can reach him at jerry.smith@globegazette.com or by phone at 641-421-0556.
Be the first to know
Get local news delivered to your inbox!