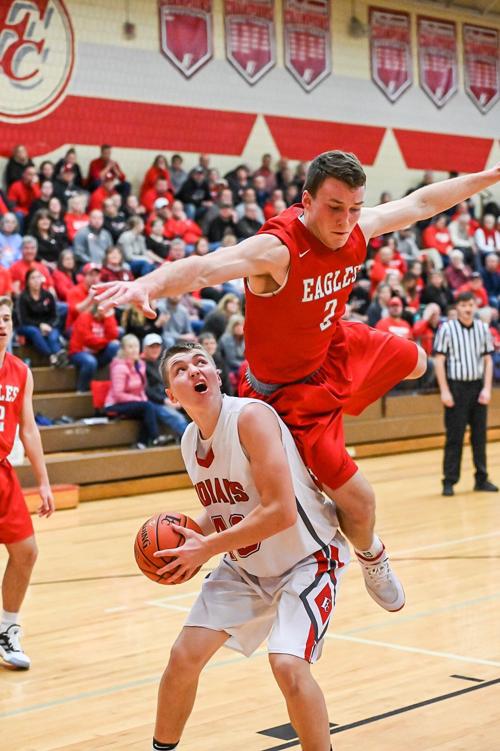 Bishop Garrigan 80, West Hancock 29
The Bishop Garrigan boys basketball team won its fifth straight game on Friday night, as the Golden Bears dominated West Hancock, 80-29. 
After the first quarter, Garrigan held a five-point lead, at 17-12. Over the final three quarter,s the Golden Bears outscored the Eagles, 63-17. In the second half, the Eagles scored just 10 points, three of which came in the third quarter. 
With the win, Bishop Garrigan improved to 10-1 on the season. West Hancock's loss snapped a five-game winning streak for the Eagles, as they fell to 7-4 on the year.
West Hancock played on Saturday at Spirit Lake. Results were unknown at press-time. Bishop Garrigan will play on Tuesday, against Belmond-Klemme.
West Hancock 44, Belmond-Klemme 36 
You have free articles remaining.
The West Hancock basketball team won its fifth straight game on Tuesday night, as the Eagles took down Belmond-Klemme 44-36. 
At halftime, West Hancock held a slim 20-18 lead, but outscored the Broncos in the  second half, 24-16, to snag the win. Senior Joe Smith led the team with 18 points and 12 rebounds, his third straight contest with at least 15 points. 
West Hancock 64, Manson-NW Webster 32
After a slow start, the West Hancock boys basketball team warmed up and scored a 64-32 victory Saturday at home against Manson-NW Webster to improve to 6-3.
While the Eagles shot only 39 percent from the field, including just 4 of 20 from 3-point range, they were able to capitalize from the free throw line, hitting 12 of 15.
Senior Joe Smith had a team-high 15 points for West Hancock, while senior Brayden Leerar had 12 points. Also in double figures for the Eagles were juniors Chase Kronemann and Cayson Barnes with 11 points each.
On the boards, senior Tristan Hunt paced the Eagles with 11 rebounds, including five offensive boards.