There is a bit of ancient sports wisdom that says, "You learn more from losses than from wins."
The West Hancock girls basketball team learned a lot about itself on Friday night in its loss to Class 1A No. 1 Bishop Garrigan. Namely, the Eagles learned that they can hang with just about anybody. 
After falling behind by 18 points at halftime, the Eagles nearly stormed back against the Golden Bears, and pulled with seven points at the one-minute mark of the fourth quarter.
In the end, time just ran out for West Hancock, and the Golden Bears held on for the 62-54 victory.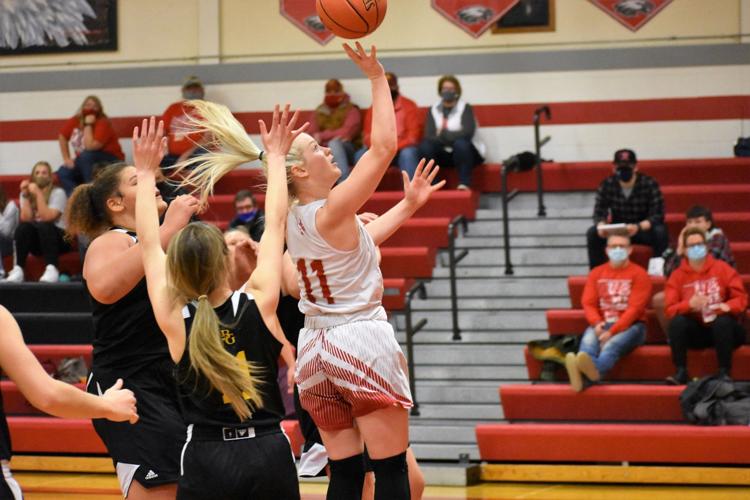 Following the game, Eagles' head coach Paul Sonius and his players seemed upbeat. While the first quarter may have looked a bit grim, as the Golden Bears went on a 16-0 run to pull ahead, 27-8, the Eagles outscored them, 46-35, over the final three quarters. 
"We are disappointed we lost, we don't want to lose," Sonius said. "But on the same token, we showed that we can play with anybody out there. Garrigan beat (No. 2) Newell-Fonda by 20, and they're killing everybody else. We can stay with them."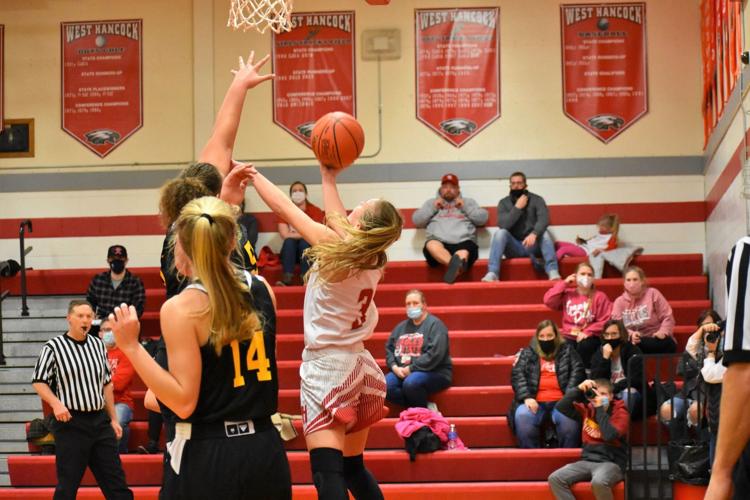 The Eagles were led by senior Rachel Leerar on offense. Leerar scored 28 points against the Golden Bears, with five 3 -pointers and a team-high six rebounds.
Leerar is a fiercely competitive player, but admits that the loss didn't bother her as much as a typical loss would.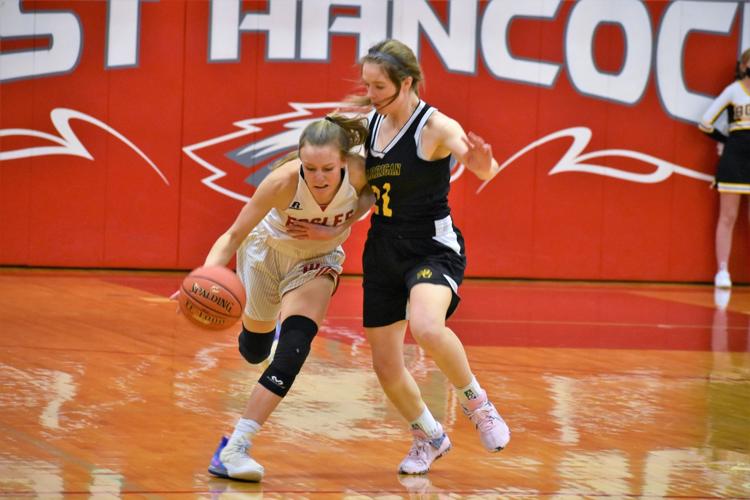 "This is probably one of the losses that I've been the most OK with, and I think that is because we weren't expected to win," Leerar said. "We knew that going in. Everybody was like 'They're the top dog," and we were supposed to get destroyed. It made me really happy that we were able to fight, and our team didn't give up when we were down."
Following Friday's game, Leerar ranks fourth in the state in scoring, regardless of class, is fifth in total field goals, and leads the state with 64 steals. As a two-time state qualifier and a three-time All-State selection, Leerar has proven that she is usually the best player on the floor. 
According to Sonius though, the key for the Eagles is to try to let Leerar do less.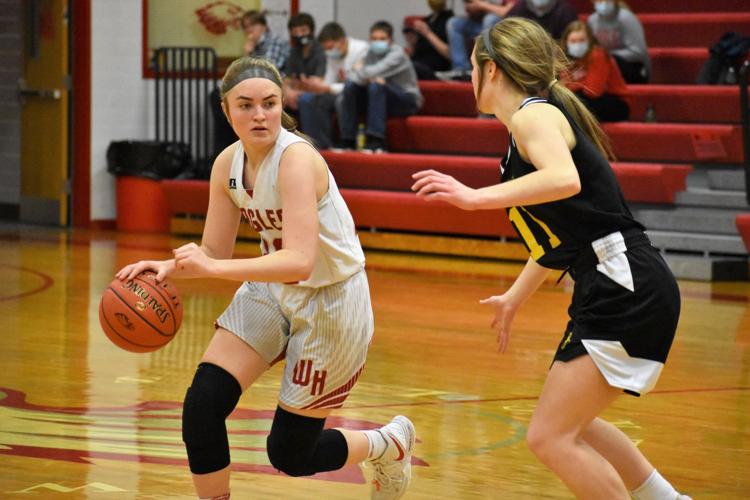 "She is starting to understand that we have other girls," Sonius said. "I think she went through a period tonight where she thought she should score every time, but then she got back on track in finding girls. The moment she understands that she's got to trust those other girls, when she does that, I think we are going to take off. I think that is the big key. We need to trust each other."
This season, Leerar and junior Kennedy Kelly have led the team's offense, with 255 and 134 points, respectively. The pair both played major roles in the team's trip to the state championship game in 2019, and were the team's only returning starters this year. 
But the rest of the roster is fairly inexperienced, which showed early in Friday's game. After a disastrous first quarter, the team settled down, and managed to hold 6-foot-3 Bishop Garrigan sophomore Audi Crooks to only six second half points. Crooks wound up with 18 points on the night and 12 rebounds.
For the Eagles, Kelly finished the night with 11 points, and three 3-pointers. Senior Ann Horstman had a team-high six assists, along with two steals, while junior Scout Johnson had four rebounds and six points.
Perhaps the most valuable part of Friday's game for West Hancock was just the experience of playing against a top team like Garrigan, which could prove crucial for a team hoping to make another state tournament run. 
Before Friday, the Golden Bears' average winning margin was 51 points, and the team had yet to win a game by fewer than 20 points.
"This is the first time that a lot of them have ever been in a game like this," Kelly said of her teammates. "Me and Rachel have experience, because each of the past two years we've been to state, but a lot of them haven't, and this really sets the floor for the games to come."
Now that they've shown that they can put a scare into a top ranked team like Garrigan, Sonius is confident that the Eagles can beat anybody. 
"We have, in our top seven, only two have what would be considered full-time experience," Sonius said. "The other five don't. You saw tonight, that the other five in the last three quarters started to figure out we don't need to be intimidated, and we can play with anybody at that point in time."
Bishop Garrigan may have won round number one, but the Eagles won't have to wait long for another chance. The teams will face off again on Feb. 5, in the penultimate game of the regular season. If all goes well for both, it could be for the Top of Iowa West title.
They will get another chance to topple the conference Goliath, but in the next four weeks, Sonius says, West Hancock needs to take care of business. 
"That is what I told them," Sonius said. "You can play with them, now you've got to finish out and make sure you can hold your own for the rest of the way."
 West Hancock will play again on Tuesday against Lake Mills. 
Jan. 5
West Hancock 79, Belmond-Klemme 37: The West Hancock girls basketball team shot out of the gate in the new year with a 79-37 victory over Belmond-Klemme on Tuesday night.
After getting out to a 14-5 lead in the first, the Eagles scored 31 points in the second quarter to put the game out of reach for the Broncos. Per usual, senior Rachel Leerar led the team in scoring, with 28 points on 12-of-22 shooting. Junior Kennedy Kelly led the team from deep, with 18 points and three 3-pointers.
Junior Leah Aitchison had a team-high eight rebounds, followed closely by freshman Mallory Leerar, who had seven. 
Shane Lantz covers sports for the Globe Gazette. You can reach him at Shane.Lantz@GlobeGazette.com, or by phone at 641-421-0526. Follow Shane on Twitter @ShaneMLantz.