Last month, Paul Kelley, Vice President of Global Supply Chain and Manufacturing for Valent BioSciences, arrived at the Osage plant to celebrate the 50th anniversary of one of the company's flagship biorational products, DiPel® biological insecticide.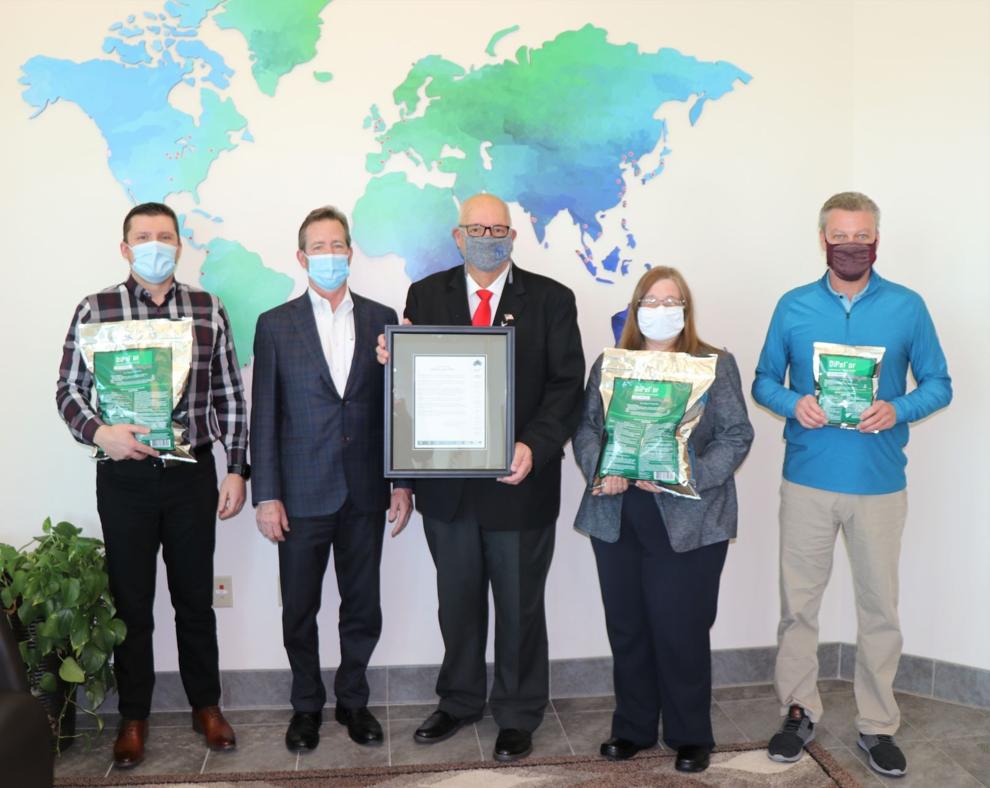 For Osage residents, it was also a celebration of a symbiotic relationship, to place the event in scientific terms.
Kelley was joined by Osage Mayor Steve Cooper, Mitchell County Supervisor Jim Wherry, Valent BioSciences plant manager Ertan Hyuseinov, senior human resources manager Cindy Harris and senior administrative coordinator Lindsay Voight.
While it may seem unusual to celebrate the anniversary of an insecticide, Kelley believes the day was about more than just an anniversary of one product.
When herbicides or pesticides are mentioned, public safety and environmental stewardship are two of the biggest questions posed to product manufacturers. Kelley notes that the lifespan of a product says a lot about its sustainability – especially when thinking about products such as DDT and those containing dioxin that are no longer available.
Because of the increase in regulatory pressure, safer alternatives are in higher demand than in past years.
Kelley said that while the Valent BioSciences plant in Osage is a familiar sight to most local residents, what they may not know is its significance in biorational agriculture. That is one reason why Kelley and the others had gathered – to reflect upon 50 years of sustainable crop protection.
As the global hub of biorational agriculture from the plant in Osage, Valent BioSciences manufactures and ships many different types of biorational products to more than 95 countries around the world.
Typically derived from natural or biological origins, biorationals include a broad range of sustainable products or substances used in agriculture, public health and forestry. They include biological insecticides, as well as products used for crop stress management, enhanced plant psychology benefits, root growth management and post-harvest benefits.
According to Valent BioSciences, biorationals are the fastest-growing segment of agrochemicals used in crop production/crop protection.
For Cooper, having a company like this in Osage was simply a godsend.
"This is the only plant like this in the world," Cooper said. "I can remember the day we had the groundbreaking for this facility to be built. We had a meal over at the Cedar River Complex.
"The gentleman I sat across from was from Libertyville. I got to talking with him, and I asked how he decided to build this in Osage. And he said, 'I'll be honest with you. Where I came from, and my background, when somebody tells me Iowa, all I can think of are massive cornfields.'"
The man told Cooper they hired a company to determine where to build the plant. Headquartered in the Chicago suburb of Libertyville, Valent BioSciences is a subsidiary of Tokyo's Sumitomo Chemical Co., Ltd. and was considering locations around the world. The hired company got back to Valent BioSciences and told them they should build it in Osage. One of the main reasons was its association with A to Z Drying.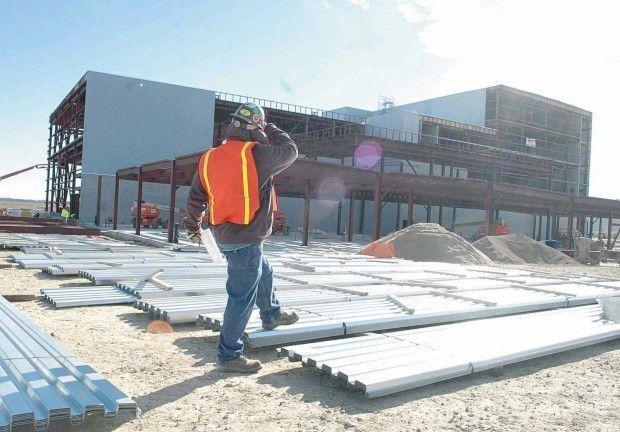 Although the Osage plant's startup was in 2014, Valent BioSciences had been packaging products at A to Z Drying for many years before that. The Osage plant was built to accommodate the significant growth of Valent BioSciences and designed to supply the majority of its products derived from fermentation.
Valent BioSciences hired another company to do the same study, for a second opinion, and they also recommended Osage as the location.
"From the city's standpoint, we're delighted they're here," Cooper said. "As a mayor, it was just like there was a gift presented to us. It's been good for the community."
Kelley said Valent BioSciences' has built a world-class biotech facility in Osage that provides jobs for over 100 employees.
"We have a strong worker safety program and provide excellent benefits for our employees. Demand for our production is growing and we have installed additional capacity to meet demand since the plant first opened," Kelley said.
"The goal of our company is to use natural means to make sustainable products whenever possible," he added. "Our biorational products are environmentally friendly and most are approved for use in organic farming."
One of the products produced at Osage, VectoBac® biological larvicide, is used to control mosquitoes at the larval source to control the spread of disease.
"During the Zika virus outbreak, Miami-Dade County used our product to stop the active transmission of the virus," Kelley said.
Another concern contributing to the rise in biorational control is a warmer climate, allowing parasites to breed in longer periods of germination, to spread faster and destroy entire forests. According to Yale University, in 2016, over 350,000 acres of forests in Massachusetts were defoliated by the non-native gypsy moth.
"Our products control lepidopteran pests like gypsy moths and spruce budworm that destroy acres and acres of forests," Kelley said of DiPel and forest protection products. "They are also effective against cabbage looper and other caterpillar pests that harm crops."
Cooper praised Valent BioSciences for taking steps to improve soil quality.
"That's going to be a big issue. Iowa's losing a lot of topsoil," he said.
With an emphasis on maintaining soil quality, Valent BioSciences is growing microorganisms to keep the soil cohesive and therefore less prone to erosion, while at the same time infusing nitrogen into plants, which receive glucose.
"The company focuses heavily on sustainability and we're looking at implementing a CO2 reduction project," Kelley said of the future. "Overall, our products help reduce carbon and improve crop yields."
While the team came together to celebrate 50 years of DiPel, it was clear that the focus was on sustainable agriculture and an assurance that the next generation of biochemists will rise to tackle new challenges around the globe with products produced right here in Osage.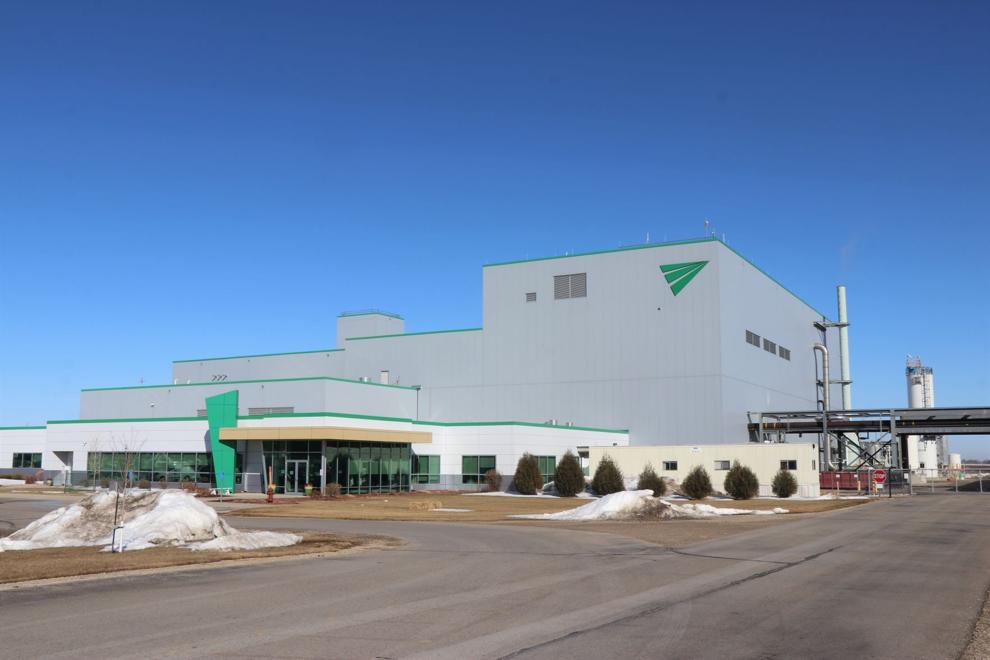 Jason W. Selby is the community editor for the Mitchell Country Press News. He can be reached at 515-971-6217, or by email at jason.selby@globegazette.com.