At the May 23 Mitchell County Board of Supervisors meeting, Mitchell County Conservation Board (MCCB) Director Mike Miner reported finding two endangered wood turtles because of recent flooding. They were a male and a female.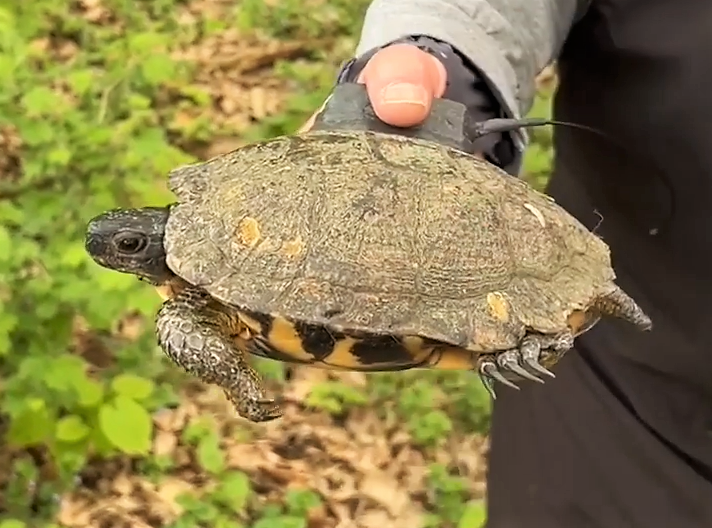 In turn, Miner contacted Dr. Jeff Tamplin with the University of Northern Iowa.
According to UNI's website, "Tamplin's current research is focused on the ecology and conservation of the wood turtle (Glyptemys insculpta), an endangered species of reptile in Iowa that represents a 'peripheral isolate' population at the western edge of its range.
"(Tamplin) utilizes radio telemetry to determine seasonal patterns of habitat selection, home range size, activity and movement patterns, survivorship, as well as population structure and the genetics of this species in Iowa."
According to Miner, MCCB Naturalist Chelsea Ewen Rowcliffe is certified to transport endangered animals. She transported the two wood turtles to Tamplin at UNI, who placed trackers on them. The turtles were then released back into the wild near Mitchell.
Miner noted that wood turtles can also be found in Cerro Gordo, Butler and Black Hawk counties.
"The population's just really shrunk," Miner said. "They're a really unique animal. We do have some endangered animals in the area."
According to Miner, the wood turtle has a lifespan of up to 60 years. It does not become mature until 14 years of age.
Miner approximated the male's age at eight to 10 years old.
"You can take a wood turtle and move it 100 miles away, and it would work its way back to its territory," Miner explained, adding that the turtles can memorize a path by visualization. "They're pretty smart."
The trackers will last approximately five to seven years.
"The males are the ones that move up and down the river stream," Miner said. "Tracking that individual will allow us to find more wood turtles. We'll know where their habitat is and hopefully be able to protect those nesting areas."
Miner invited the public to alert Conservation if they find a wood turtle.
• In other business, Mitchell County Economic Development Commission (MCEDC) Director Jennifer Backer was present to propose a construction loan program. The loan for specific housing construction projects will not exceed $20,000.
Supervisor Mike Mayer indicated he would like to see an income guideline.
"Because otherwise that can be open to everybody and people that don't even really need a loan, but if they get interest-free money, they're going to take advantage of it," Mayer said. "Things like this should be for the people that need it."
Supervisor Todd Frein disagreed, saying the construction loan program would be different from assistance programs, for example, which have income guidelines.
"If you put up a $60,000 building, that's going to increase your property tax, which is coming back to Mitchell County," Frein said. "So no matter how much anybody makes, we're here to get property taxes to Mitchell County."
"If you're going to restrict things based on income, in some instances that's appropriate," said Supervisor Jim Wherry. "In some instances it's not appropriate, because the goal is to get things built – that's what (the construction loan program) is about – get things built and improve things in the county."
Supervisor Mark Hendrickson asked who would monitor and ensure materials and other services for the projects would be purchased in Mitchell County.
Wherry replied that loan applicants must indicate what materials they will use and where they will buy the items.
"Economic development is going to score that, and if they don't meet that scoring, it doesn't work," Wherry said. "We're just trying to do things to improve the county – not just stay level – you need to do things to promote the county. It's a simple fact."
Backer noted there are many individuals looking for incentives to make improvements.
"Maybe they don't qualify for other incentives, but I think this is something that they would utilize," Backer said. "Maybe this is just what they needed to get a project going."
Mitchell County Attorney Aaron Murphy declined to comment, saying it was a policy issue.
Backer indicated the supervisors have final approval for applications. She said it would be one project per person per loan per business.
Wherry added the funds do not come from Tax Increment Financing (TIF).
"Economic Development has a lot more powers that what people think they do," Wherry said. "Whether people like it or not, it's Iowa code, and it says that they can do things – they can have loans, they can receive grants, they can give money to private individuals. It's very encompassing. So, yes, this is legal."
"It's for trying to get revenue to Mitchell County, and it's not that much," Frein said. "$2,000 to $20,000. But if that could help a business, a property owner, it's going to bring revenue back to us."
Mayer suggested trying the construction loan program for one year before revisiting it. Wherry said it would be indefinite, but that the supervisors could choose to reassess and stop the program at any time in the future.
"It might be a good idea to reassess the program after a year," Backer said.
Frein noted that the MCEDC meets every month, and the program would therefore be monitored monthly.
The Board of Supervisors approved the construction loan program.
In other MCEDC news, Backer reported she had two more applications for the in-fill lot program. The program offers $10,000 to anyone who demolishes a derelict home and replaces it with a new build. As of May 2, there had been eight home demolitions, with two new homes near completion. The Board of Supervisors approved the new applications.
Jason W. Selby is the community editor for the Mitchell Country Press News. He can be reached at 515-971-6217, or by email at jason.selby@globegazette.com.