After living as far away as northeast Texas, Tony Stonecypher has been back in Mitchell County for a few years now. He can watch his cattle from a window in the farmhouse where he grew up, their breaths visible as they bear the elements.
As odd as it sounds, right now, the weather in Texas is not so different from northern Iowa. Both locales have been below zero. And while cities such as Dallas are suffering, Osage and surrounding towns are built for the climate. Stonecypher believes that is another reason Mitchell County is attractive to new industry.
For the past couple of years, he has served as executive director of the Economic Development Commission. After making it through 2020 and COVID-19 with Mitchell County, however, he will soon be leaving his post.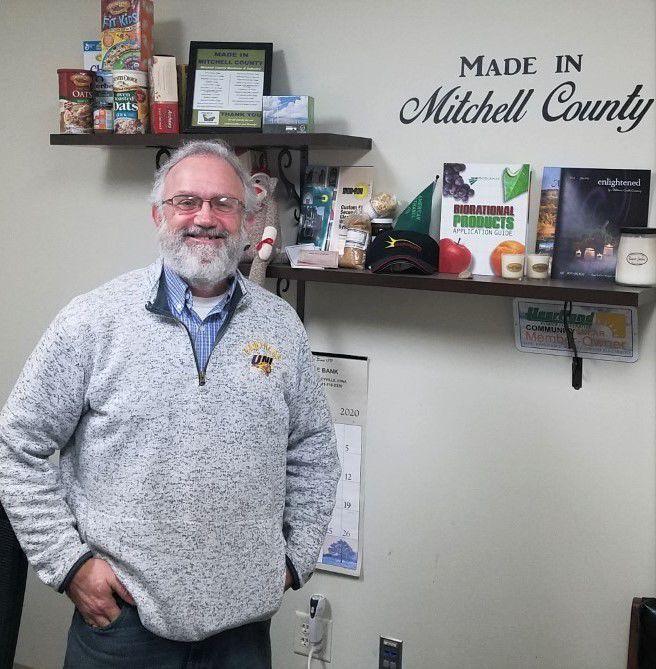 Subzero
In 2000, Stonecypher was still farming in a throwback style to the mid-20th century. He owned hogs and cattle, milked cows, planted row crop, baled hay and mowed pasture.
While it was an important period in his life, eventually he came to a fork in the road that forced him to decide if he wanted to go big to keep farming, or move on to something more stable. For a while that meant living in Texas.
"It's so culturally different than northern Iowa," Stonecypher said of his family's two-year stay. "I'm not saying it's not good or bad, it's just a different world."
Bordering Louisiana, there is a Cajun influence in northeast Texas. While his family lived there, there was a controversial movement to allow alcohol sales. Many church-goers marched down Main Street. The measure passed overwhelmingly despite the protests.
"We said that this just wasn't for us, and that we'd better be getting home," Stonecypher said.
While he sees the people of northern Iowa as tough-minded, Stonecypher recognizes that the land's natural elements also make Mitchell County attractive to industry. Cold weather is part of that appeal.
"Winter has its own natural beauty," he said. "People here are not afraid of it. You see snowmobile and cross country skiing people out in subzero weather. Personally, living away from it, you miss it – walking out on a cold, crisp morning with hoar frost on the trees. People don't realize how blue the sky is until wintertime here.
"When we moved to Texas, the color of the sky changes. It's much lighter and harsher. You can cuss the cold weather all you want, but it is that cycling of the heat and the cold that creates what we have. We can't begrudge it, because it's what makes us who we are."
It helps that Mitchell County is prepared for winter.
"We have family members down south," Stonecypher said of his sisters-in-law in Texas, who are without power because of the recent storms. "They don't know what to do. I feel bad, because we deal with it all the time, but we're built for it. They haven't experienced anything even close to this."
Stonecypher believes advertising the understated benefits of Mitchell County is essential.
"I tried to refocus on doing more promotions, and the marketing aspects of economic development, mainly because I feel like one of our roles should be telling the story," he said. "The people here, the opportunities, infrastructure, climate, the environment, the park structures – all of those together make for a great product.
"But just because you have a great product, if you're not getting your message out, you're missing out."
Tracy Church, who recently took over as EDC marketing and office assistant, would like to carry over that focus on advertising.
"It's going to play a huge part in economic development because right now, even locally, people don't know much about the EDC," Church said. "So how are we expecting these site selectors, outside people who'd be willing to move here, to know about us if our own community doesn't?
"My goal is to amp up social media and get a new website developed specifically for site selectors so we have a chance for industry to find us. I think we need to be out there more, hosting meetings and supporting the schools and workforce. It's important to tell our story, and I don't think we're doing that right now."
Boom or bust
Stonecypher says EDC does less promotion for the agricultural industry, but there is promise in a more locally minded approach to farming.
"Mason City is a good example, with the new greenhouses going up, the tomato houses," he said. "I think that is a wave of the future – more controlled environment agriculture, more variety of produce, particularly.
"One thing (COVID-19) shows is that fracturing distribution systems are opening up opportunities for local producers. The small farm can step in to some new niches that are being created. I think a lot of the current buy local push is very healthy for economic development. We should try to support that as much as we can. Those were opportunities that didn't exist when I was farming."
As director of EDC, he was pleased to watch Stacyville's poultry processing facility begin promoting regenerative agriculture. He believes it will bring benefits to the local economy for years to come.
"They're producing chickens in an environmentally and socially positive way," he said. "They're taking the best of big ag and combining it with regenerative agriculture to create opportunities for small farmers. Seeing opportunities slowly coming down the pipe for small producers is a great thing.
"I hope we've reached the saturation point of getting bigger, bigger and bigger, and that there's a reaction to bring that back down to a human scale. When you look at small producers doing more direct marketing, those are monies that will recirculate within your community rather than going out to a big mega-farm somewhere."
Another innovation he points to are geothermal-heated greenhouses in Nebraska growing citrus throughout the year.
"Because of our latitude, the angle of the sun, the day length, we are actually an ideal climate to raise citrus – except for our polar vortexes funneling down from Canada," Stonecypher said. "They have found a way to produce high quality citrus in greenhouses in Nebraska without supplemental heat. That could absolutely be done here."
All of these ideas, locally grown, innovation and variety of agricultural products, make up what Stonecypher calls a non-fragile system.
That means better health for both the economy and for Mitchell County residents.
"That is a big part of my philosophy, when it comes to city management or economic development – creating systems that are anti-fragile, systems that are resilient," Stonecypher said. "Often these are systems that don't have the boom, but they don't have the bust, either."
Jason W. Selby is the community editor for the Mitchell Country Press News. He can be reached at 641-421-0578, or by email at jason.selby@globegazette.com.