On Sept. 7, the Mitchell County Board of Supervisors began the process of filling a position at the courthouse while secondary road crews continue the chore of cleaning up after a flood.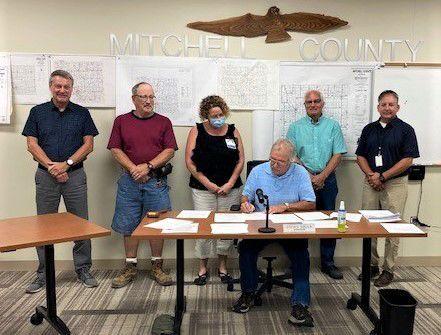 Mitchell County Information Technology Director Casey Ketelsen is stepping away from his duties effective Sept. 22. The supervisors are searching for the next director of IT, and applications may be picked up at the auditor's office.
"As the (applications) come in, the early bird gets the worm, so to speak," said supervisor Jim Wherry. "People eager to get an application in can get an interview right away."
Mitchell County Auditor Rachel Foster indicated the county would receive applications until the position is filled.
The supervisors approved the declaration of September as National Suicide Prevention and Awareness Month. Sheila Kobliska of Mitchell County Regional Health Center was present to advocate for mental health.
Supervisor Steve Smolik read from a letter that encouraged the declaration, which said that each business, school, government agency, healthcare provider, organization and citizen shared the burden of mental health problems, and in supporting suicide prevention efforts:
"As the Mitchell County Board of Supervisors, we also call upon citizens and government agencies, public and private institutions, businesses and schools in Mitchell County to recommit our community to increasing awareness and understanding of suicide (and) the steps our citizens can take to protect their mental health and the need for appropriate and accessible services for people with mental health conditions."
"We've all been touched in some way by suicide," Kobliska said. "A family member or a friend or an acquaintance. It definitely is something that happens. It can happen to anyone."
Kobliska said her program at the hospital, Senior Life Solutions, works with those who are elderly and who have depression or anxiety.
"It's certainly something all of us can change," she said. "Acts of kindness make a huge difference to people when they're depressed. Calling someone up and talking to them can make a difference in them taking their life or not.
"I know we have some great mental health services. Mitchell County social services, they have our social workers out there working with all ages and all populations."
Kobliska said hospital employees will place bows in front of Mitchell County Regional Health Center.
"Just by looking at that, people ask, 'What's that for?' and it starts the conversation," Kobliska said. "Just starting that conversation is what can really make a difference."
Kobliska offered a bow for the courthouse, and Smolik accepted the offer, suggesting placing mental health literature below.
As well, the supervisors approved an official proclamation designating September as National Voter Registration Month.
According to the press release read by Smolik, Iowa consistently ranks in the top 10 in the United States for voter registration and voter participation with over two million residents registered to vote. Seventeen year olds are now eligible to register to vote in Iowa.
Sept. 28 is National Voter Registration Day.
• Mitchell County Engineer Rich Brumm indicated his crews were still cleaning up flood damage from the previous week's deluge.
• The supervisors approved vacating and conveying Bridle Street.
• The supervisors approved Mitchell County Ordinance #54, which amends Mitchell County Ordinance #39: "All customers shall pay a service charge for operation and maintenance in the amount of $51 per sewer user, per month. All charges shall be paid on the first day of the month following the period of service and shall be paid at the office of Carpenter City Clerk."
Jason W. Selby is the community editor for the Mitchell Country Press News. He can be reached at 515-971-6217, or by email at jason.selby@globegazette.com.