The Class 3A No. 2 Osage volleyball team has played 34 sets in 14 different matches so far this season and, after a 3-0 win at West Fork on Tuesday night, have yet to lose any of them.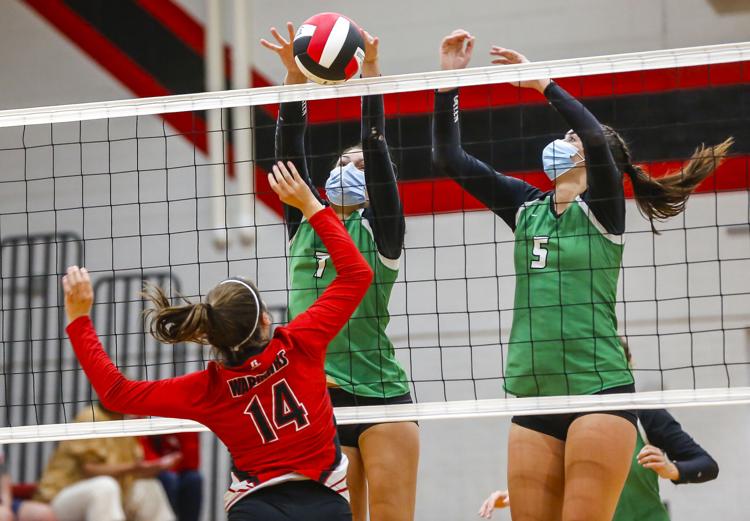 The Green Devils won the match over the Warhawks in three straight sets. The scores of those sets were 25-8, 25-10 and 25-13, respectively. The winning streak isn't lost among the players at Osage.
"We definitely try to keep that going," senior Ellie Bobinet said. "That's kind of our go-to. Like, we can't lose another match, we're undefeated. We're just really keeping that in the back of our minds and just kind of pushing through it."
A strong point for the Green Devils is their senior leadership and capable hitters. Junior Kaebre Sullivan had nine kills on Tuesday night and senior Danielle Johnson had eight. Although those two led against West Fork, any hitter could step up on any given night.
Senior Paige Kisley was a strong hitter a season ago and has 97 kills this season. Sullivan has 68 and sophomore Claudia Aschenbrenner has 52 on the year. Setting them up all season long has been Bobinet, who leads the Top of Iowa Conference with 335 assists.
After falling in the state semifinals a season ago, the Green Devils have bigger hopes for 2020.
"The goal is to definitely win state," Bobinet said. "This is our last go around so we want to make sure we make the most of it and have a lot of fun too."
Although the record and the stats don't lie, head coach Bryan Tabbert says there is still more to improve upon moving forward in order for his team to reach their goals.
"There's always going to be improvements to make," Tabbert said. "Little things on defense that we're going to be changing. Every night out gives us a chance to look at our weaknesses and try to improve those."
Tabbert says there's been many lessons that his team has learned during this year's quest for a state championship. Some of them are lessons learned off the court that affect how the team goes about its business on it.
The players at Osage wore masks during the match against West Fork and have been doing so for most of the season.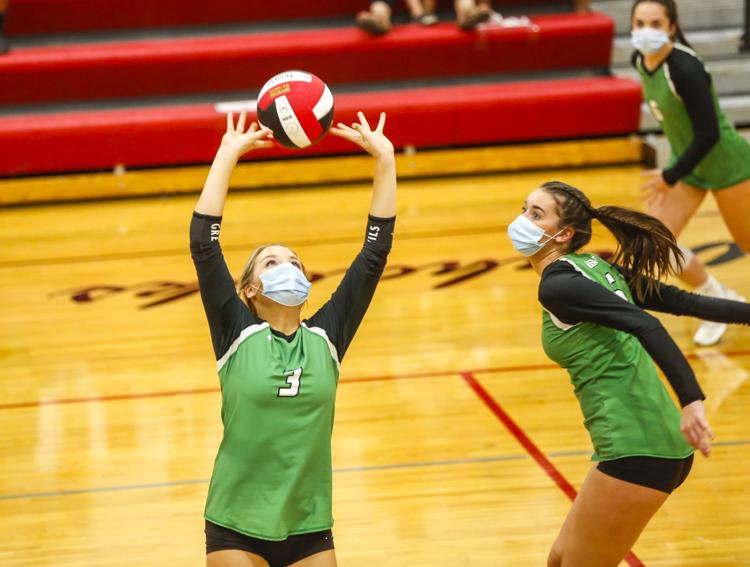 "We've been doing that for a while now," Tabbert said. "Kind of hit home when the football team had to quarantine for a while. The girls took it upon themselves to say 'hey, as a team we're going to wear our masks and do everything we can to protect our season."
Tabbert and Bobinet both say it's necessary to take every precaution to minimize any chance of shutting down the season early. The state tournament is the goal.
For West Fork, the Warhawks knew they would be in for a challenge on Tuesday night. Scoring in double digits in two of the three sets, head coach Hannah Vaughan says she is proud of how her girls fought.
"Going in, we knew Osage was a great team," Vaughan said. "They have a great program, so we just wanted to fight and do everything that we were taught. Our fundamentals, our communication, and I thought our girls fought very hard."
Vaughan says Osage is at a different level than most teams the Warhawks play, so it's good for the girls to learn and feel the differences in the power hitting and movements. Any game is a learning opportunity, according to Vaughan.
"We were able to learn and we were able to get a bunch of touches on some blocks," Vaughan said. "So proud of the girls, they fought so well."
With the loss, the Warhawks drop to 3-9 on the year. The Green Devils are now 14-0.
Be the first to know
Get local news delivered to your inbox!