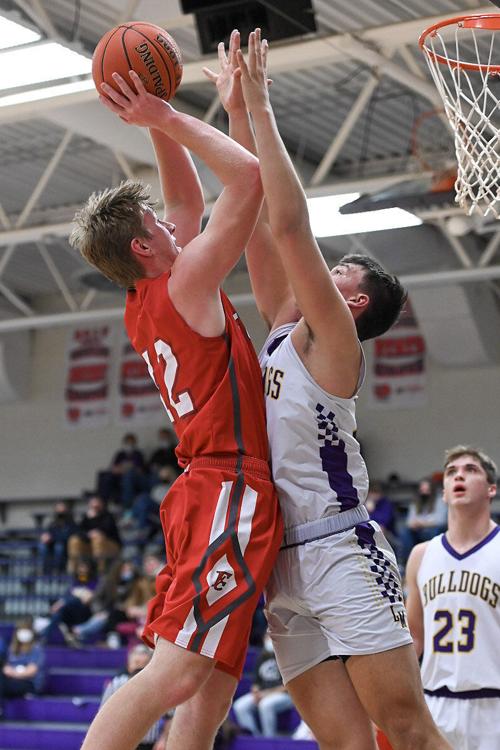 Not much has gone wrong in the Lake Mills boys basketball team's first 10 games of the season.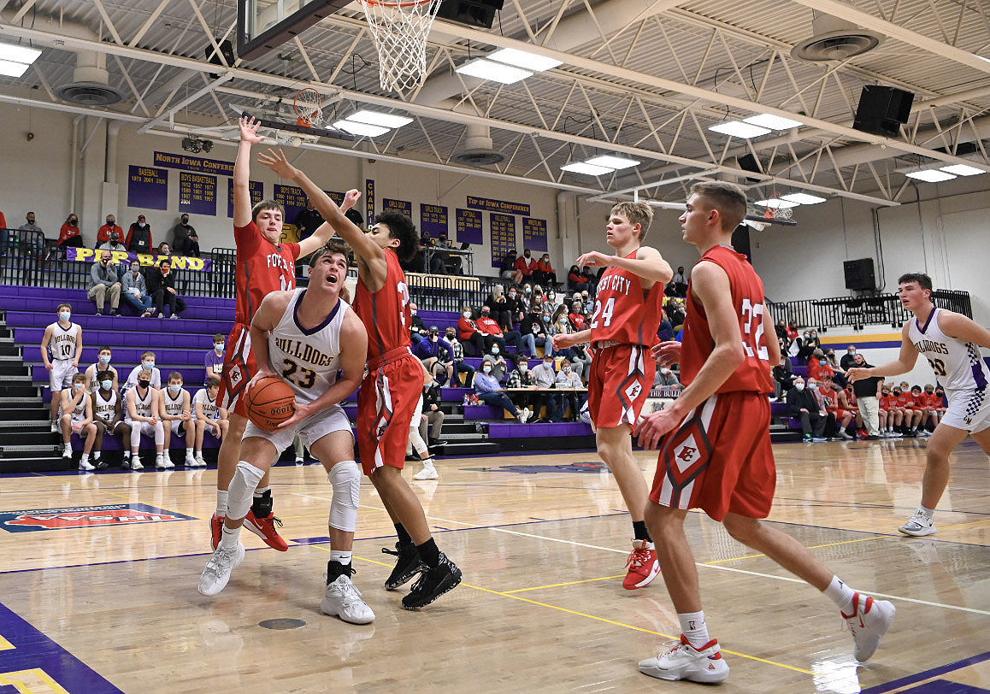 The Class 1A No. 3 Bulldogs have followed up a trip to Wells Fargo Arena in Des Moines a season ago by blowing through their first 10 opponents of 2020-21. Although the Bulldogs were a solid team last year, they might be even better this season.
One of the key reasons? Defense.
"I do feel like we've made a lot of strides," Lake Mills head coach Kyle Menke said. "We had a good defensive team last year as well, but we've been working on some things and trying to take it to a different level."
The boys from Lake Mills have only allowed an average of 39.8 points per game this year – compared to last season's average of over 45. The Bulldogs have yet to give up over 60 points in a game this season.
Lake Mills' defense was on full display again on Friday night, when the squad held Top of Iowa West rival Forest City to under 35 points in a dominant 71-34 win at Lake Mills.
"They're a really good team that knows who they are," Forest City head coach Dan Rosacker said. "They're very well-coached and they know what everyone is supposed to be doing. Defensively, they are much improved this year. Obviously you saw that. We didn't have an answer for what they were doing."
The Bulldogs were able to use size to their advantage against Forest City. Three Lake Mills starters stand at 6-foot-3 or taller, and all three of them scored in double figures on Friday.
Senior Dashawn Linnen has been the Bulldogs' primary scorer, averaging over 20 points per game this season. Linnen has honed in on his game playing on travel teams for much of his life. Now, the 6-foot-3 forward can handle the ball, shoot the 3-pointer and drive to the basket with ease, making him a tough player to guard.
Standing at 6-foot-6, junior Wyatt Helming is a player that can do a lot of the same things as Linnen. As a secondary scorer averaging 13 points per game, Helming has settled into his role as a starter this season.
"We definitely have some versatile players," Menke said. "You look at guys like Linnen and Helming, those guys are as effective at the 3-point line as they are posting up and driving to the basket."
Rounding out the big three is 6-foot-4 senior Caleb Bacon. While Linnen and Helming can score inside and out, Bacon has been a true physical presence down low for the Bulldogs, averaging 12 points and close to nine rebounds a game.
An Iowa State University football commit at the linebacker position, Bacon doesn't mind taking a football mindset onto the court.
"I kind of like it when they bring bodies at me, because it makes more of a challenge to me," Bacon said. "Football helps, too. I just love the physicality getting rebounds and banging in the post."
Between the three big scorers and an improved defense, there's a little bit of an energy surrounding the Bulldogs and their program.
Something special is brewing at Lake Mills, and it's not necessarily at 5 Alarm Brewing on Main Street.
"I definitely think we're playing really well as a team and I think we could keep it up and good things will come later in the season," Linnen said.
For now, a goal for the guys is to stay undefeated. Then, get back to the state tournament.
After falling to Wapsie Valley, 49-45, in the first round of the state tournament a season ago, the message is clear.
"We have unfinished business there," Helming said. "Going out in the first round last year, so our goal is to definitely get back there and try and be better."
The Bulldogs play at 7:45 p.m. on Tuesday at West Hancock.