While trap shooting continues to grow in recent years as a sport in high schools across the nation, one team has remained consistent over the past decade in North Iowa: The Osage trap team.
The Osage trap team was started in 2007 and, each spring since, head coach Larry Johnson and a handful of assistant coaches work with a good number of students to teach them about trap shooting and compete in meets.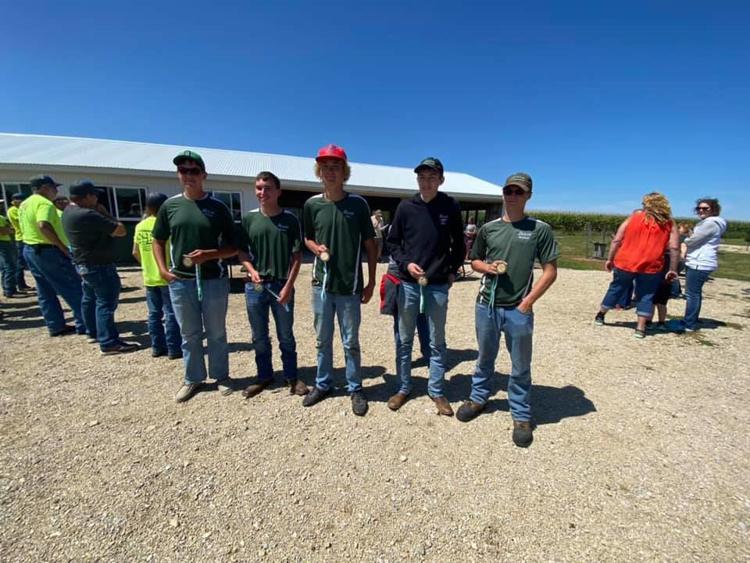 "We are recognized by the Osage school. We support ourselves and we ask nothing from the school except for a school bus," Johnson said. "They're supportive of that. We have roughly 18 kids now and we have had up to 45. We've held that for quite a few years."
Numbers have dropped recently with COVID-19 concerns, but Johnson is hopeful that more kids will take up the sport. He wants to make it known that all students are welcome to join the team.
"I don't care what their names are, they've got to show me by shooting averages," Johnson said. "In this sport everybody shoots. No one sits the bench."
An article by Bob Adelmann in 2017 claims that trap shooting is actually the fastest growing high school sport.
"By 2010, there were 340 students from around the state of Minnesota taking part in the sport," Adelmann wrote. "In 2012, there were 1,500. In 2014, there were 6,100. So far this year (2017) 8,600 high school students, on 268 teams, are practicing those skills at 165 ranges across the state."
Improper use of a firearm could be dangerous, so it wouldn't be completely wrong for someone to think that trap shooting could be an unsafe sport. That doesn't appear to be the case though. According to a study of high school athletics from 2008-2014, shooting sports was ranked as the safest sport in the country.
"Our biggest thing is safety of course," Johnson said. "Come out and watch us and really see how much safety there really is on a trap range. I've had a couple of parents that didn't want their daughters shooting. The daughters finally talked them into it and they came out. They were well pleased."
The squad competes in a league based out of Minnesota. They had a meet on Aug. 15, where the group of Andrew Thyer, Connor Mehman, Ben Popp, Alex Hemann and Mathew Abben placed second in their division.
After that shoot, the shooters that placed at state for the regular season received medals and plaques. Thyer received overall highest average and first place in his division. Hannah Koch received first place in her division and Alexa Thyer received second. Abben also performed well and placed third in his division.

"We normally shoot with other teams and other schools, but this year we ran it virtual because of the COVID," Johnson said. "Next year, if we get it under control, we'll be shooting with other schools. New Hampton, Forest City, a bunch of them."
Members of the team also competed in the Iowa 4-H Safety and Education in Shooting Sports State Match. Andrew Thyer placed first with a 98 and qualified for the upcoming National shoot. Connor Mehmen placed second with a score of 90 and Alexa Thyer placed ninth with a score of 84.
The team has had multiple students go on and earn scholarships to shoot collegiately. Although one of the main focuses Johnson is teaching is safety, the sport teaches other lessons also.
"These kids learn responsibility, leadership," Johnson say. "The first shooters in charge of the whole squad, so if something happens, they're in charge of it."
Osage has had multiple students go on and earn scholarships to compete at the collegiate level.
"We've got a couple girls still actively shooting in college. It's amazing. We're getting old," Johnson laughed. "It's great to have the kids come back and see you."
The Osage trap team works with students all summer until the school year starts. Johnson thinks the Osage community does a great job supporting his team. He also hopes that with more recognition, more students will get involved.
Be the first to know
Get local news delivered to your inbox!