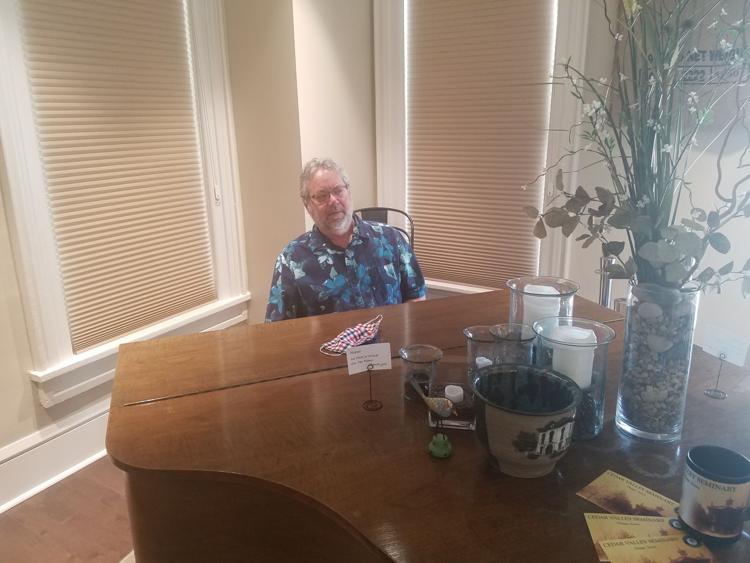 Sam Crosser does not remember the moment he first touched a piano key. He began lessons when he was 6 years old, and by that time, he was already a veteran.
Music filled the home. There was no escaping it. His mother had been a drum majorette in Floyd. His father played the trombone in Spencer. Their courtship started in a Saint Charles grocery store with a wink.
When he was young, his parents formed a band with their children, The Four Generations. The Partridge Family had nothing on them. Crosser's specialty was the cowbell.
In the 1960s, at the Starlite Skating Rink in Osage, owner Clint Barenz held a battle of the bands. The joint was packed. It turned into a sock hop, where teenagers were required to remove their shoes so they would not scuff the floor.
When The Four Generations played their first song, the dancing came to a halt.
Crosser nudged his sister. "Why did everyone stop? Did we do something wrong?" he asked. It turned out the crowd had simply paused to appreciate the family's skill.
In 1977, Crosser graduated from Osage Community High School.
The teacher
In a café near the white sand beaches of Rio de Janeiro, Antônio Carlos Jobim, the writer of "The Girl from Ipanema" and the composer of a collaboration with Frank Sinatra, sat over dinner with Manfredo Fest.
While Fest was not as celebrated as his friend, he could hold his own on the ivories.
Several years later, while living in the radically different climate of wind and snow casing Minnesota, Fest discovered a new talent. He was a musician from Osage named Sam Crosser. For the young Iowan, since the student was ready, the teacher had come. The subject would be jazz.
"He was one of the giants in bossa nova," Crosser said of the samba music Fest imported from Brazil. "He played at the top of the IDS Center in Minneapolis."
Fest was legally blind and learned to read sheet music through braille. Unable to see the notes on paper while he played, he improvised with unscripted gusto. Classically trained, his father was a concert pianist in Germany. This expertise passed from Europe to South America to Crosser.
The kinship started when one of Crosser's brothers gave him an album. His brother said, 'Listen to this guy – Manfredo Fest.'"
At the same time, in 1979, the Mitchell County Concert Association was hosting a performance in Watts Theatre. It was packed. Crosser sat in the front row. The musician was Fest.
"He started out classical," Crosser explained. "But man, he went into jazz – it just blew us away.
Crosser said he helped him load out at the end of the night. He had brochures. He gave modern jazz piano lessons.
"I asked him if he could teach me, and he said, 'Sure. You can either do it by mail or you could come to my house.' My brother lived in Minneapolis, so I had someone to stay with.
The two had more in common than music.
"One lesson, Fest said he couldn't do it because that was his birthday, May 13," Crosser said. "I said, 'Well, that's my birthday too.' So he said, 'OK, I'll make an exception.'"
Ten years later, Fest returned to Osage to play at the First United Methodist Church, because it has a grand piano. Crosser wined and dined and reminisced with his old teacher at the supper club south of town.
"My wife and I were alone in a corner of the room, but Manfredo wanted me to sit next to him," Crosser said.
Much later, Crosser and his wife had driven to State College in Pennsylvania to visit his brother, who had given him a jazz magazine for the road home. There was an article about Fest. He had died.
"It was devastating," Crosser said. "He was a big influence. I still practice his technique."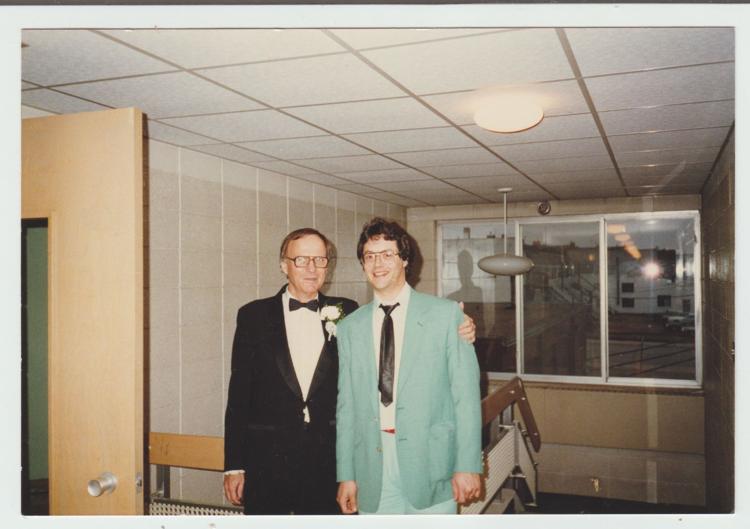 Veterans Day
Crosser sits in Old Central Coffee at the Cedar Valley Seminary, running his fingers across the keys of a 100-year-old piano. It is Veterans Day. Father Doc Crosser had served as an infantry soldier during the Korean War, which pitted the South and the United States, among other nations, against the North, China and the forces of international Communism.
"He was a sergeant," Sam Crosser said. "He went behind enemy lines. It was cold. And they'd take a hill, then they'd go on and take another hill. They'd come back a few days later, and the hill would be overrun again."
Later, the same pattern would be repeated in Vietnam.
"He never liked mice or rats," Crosser said. "When they were sleeping, rats would fall on them and crawl away."
Rats would also eat the dead.
"So later, the guys at the grocery store where he worked would pull pranks on him," Crosser said. "They'd have a toy mouse on a string and pull it across. One time they let a mouse go in his car and he stopped right on Main Street and got out."
Doc did not care for rice either. When soldiers opened a barrel, often there would be maggots crawling inside.
"War is bad," Crosser said. His father did not have an appetite for it, but he served his time and did his duty.
Eventually, Doc donated the piano – which his son had played as a child – to the American Legion in Osage. Crosser had outgrown it, or so it seemed. However, 20 years later, he got the family heirloom back by swapping another piano for it. Currently, two keyboards sit in his house. His baby is a Steinway M medium grand.
"It plays like butter," he said. "It's just smooth."
In 1991, his father passed away from ALS. After doctors predicted he would live between two and five years, he lived for 13.
On the afternoon of Veterans Day in 2020, Crosser plays the 24 notes of taps.
"Once in a while, at military funerals, I'll pull out the horn. It's an honor to the veteran that passed away," Crosser said. "People count on me being in the Fourth of July parade. I've only missed two since 1988. We were brought up that way – for the drum corps, you respect the flag."
Channeling The Four Seasons, the Crosser siblings again played together for the Osage drum and bugle corps called The Precisionnaires, competing at not only the state level, but internationally. In 1975, the corps traveled to Philadelphia and finished 14th in the world, which is not bad for kids from a little town in Mitchell County.
"People tell me when they hear me play, it sounds happy. I play with joy," Crosser said. "You can play sad – slow and minor. Like a funeral or something. Some of these memorials, I like to keep it upbeat."
Johnny Carson and Mr. Ed
For over two decades, Crosser worked long days mixing flavors at Grain Millers oatmeal factory in Saint Ansgar.
"At one time I was in six different bands," he said, "and working 12-hour shifts."
Crosser developed a following, complete with groupies. Playing in New York, in Texas, in Colorado, his van clocked too many miles to count.
"I broke down in Michigan," he explained. "So we had to get a new motor. We rented a U-Haul and went on to the next job. Once the van was fixed, we drove all the way to Omaha – it wasn't an hour or two later when we packed up for International Falls, Minnesota, on the Canadian border.
"An hour out of Omaha, the engine caught fire. So, we're watching the van toast. The funny thing was, there was a Twinkie in its plastic. The van was charred, but here was this Twinkie untouched."
Cockroaches and Twinkies are supposed to be the only things that will survive a nuclear war.
"They say the acidic spit from a cockroach can destroy the steel wire of a piano string," Crosser added.
After the van's death, the firemen wanted a light for their cigarettes. The band wanted a drink of water. Each group had what the other needed.
The patrolmen on the scene sent them to a hotel ironically called The Embers.
"When bad stuff would happen," Crosser said, "the band would say, 'There's no business like show business.'"
While a few of his friends traveled with a farmer to Omaha to find a replacement for the van, in this down time, Crosser walked into a restaurant. The waitress said, "Did you see him?"
"Johnny Carson was here," she said.
But the comedian had left. A few moments before, Crosser had heard the familiar voice but could not place it. The band did not have time to ask Carson for the ultimate gig, and Crosser might have just missed his chance to play for the Tonight Show.
"Who would know Johnny Carson would be right behind you?" Crosser lamented.
The other guys did not believe Crosser. They replied, "Yeah, Johnny Carson was here. Tomorrow, Mr. Ed's coming."
Peanuts and Bach
After his early exploits on the road, Crosser landed a job with a rhythm and blues band from Washington, D.C., The Satisfactions. In 1970, its soulful hit song, "One Light, Two Lights," drifted on the airwaves of Midwestern radio stations.
During his performing days, Crosser studied piano technology, and in 39 years he has tuned a string or two.
People still could call him to play a gig. He enjoys performing everything from the jingle of the Peanuts theme song to the reveries of classical music.
Often, piano instructors employ composers such as Bach to teach students the basics.
"Bach wrote a bunch of stuff for his kids, so they could learn to play," Crosser said. "They were called 'inventions.' You've probably heard them on TV commercials."
It is natural this music is often the first notes strummed by tiny hands.
Classical leads to not only jazz, but as far afield as heavy metal. Some performers play symphonies one night and pop the next.
"When you study the arrangement of a classical song, a lot of it's like country and rock, the way the chords move," Crosser said. "A lot of it evolved from classical.
"Music's something you can do when you're 90. You can play a song 1,000 times, and each time it's a little different."
And in the end, his piano silent, Crosser plays taps.
Jason W. Selby is the community editor for the Mitchell Country Press News. He can be reached at 641-421-0578, or by email at jason.selby@globegazette.com.
Be the first to know
Get local news delivered to your inbox!