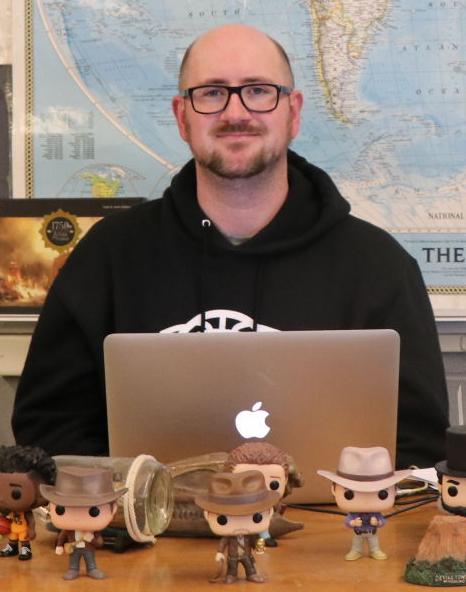 Osage middle school teacher Ryan Huffman's classes stand for the Pledge of Allegiance.
During the War of 1812, a foreign army of British troops overran Washington, D.C., setting the Capitol building and what would one day be called the White House ablaze. The saving grace was a storm that drenched the fires. Lawmakers were forced to flee Washington.
On Jan. 6, 2021, a group of American citizens stormed the United States Capitol building, leaving five dead, including a police officer beaten with a fire extinguisher. Lawmakers were forced to flee this building constructed in 1793.
For Huffman's social studies class, while the students have learned about the past, it is still difficult to put the events of last week into context. For them, Jan. 6 was not so unusual compared to the conflagrations of the previous year.
That Thursday and Friday, after the Pledge of Allegiance, Huffman and his students delved into the issues of sedition and bloodshed.
It was a fortunate segue, as they had been discussing the U.S. Constitution.
"We just got done with the American Revolution, so it was a natural transition," Huffman said.
According to Title 18 of the U.S. Code, if by force two or more persons "seize, take, or possess any property of the United States contrary to the authority thereof, they shall each be fined under this title or imprisoned not more than twenty years, or both."
"We discussed how a lot of the lives, because of one isolated incident, are going to change permanently because of what they did," Huffman said.
Most students either learn about history and politics in school, or are increasingly exposed to the modes of thought expressed by their parents, or are bombarded by Internet content, where different media outlets battle for attention.
Middle schoolers can be influenced by pushing a button. This is done intentionally by those on the other side of the screen. More clicks equals more profit.
There is an app for political beliefs.
"That can shift a lot of opinions about what happened," Huffman said. "You've got to look at both sides of media, too."
So far, 2021 has only been an extension of 2020 – full of COVID-19 and riots.
"We try to look at it from a citizenship level," Huffman. "We talked about protests, because when you look at 2020 – we had protests about wearing masks – we were able to talk about peaceful assembly as opposed to what happened in D.C."
This was also witnessed during the last summer's protests against racism. Whenever the energy became violent, the point of the assembly was compromised. The message became secondary to emotion.
"Even as a student, if you're not happy about something, you can use your voice," Huffman said. "There's a peaceful way to do it."
Occasionally, children know better than adults how to use their words.
The class talked about the young protestor who tragically died, and how she would still be alive today if she had used her freedom of assembly as ensured by the U.S. Constitution and protested peacefully.
"They understand even as a middle schooler that violence, breaking into places you're not supposed to be is wrong," Huffman said. "They know right from wrong."
Huffman attempts to teach his students how to analyze the many sides of any argument.
"I tell them this might be someone's opinion, but that doesn't necessarily make it true," Huffman said. "A lot of news can be misleading. I try to educate them to find the best sources [on their own].
"Right or wrong, whatever people's beliefs are, when it gets to the level [of violence]…. It's not a Republican or a Democratic thing. Let's be good Americans and work together. I think high schoolers sometimes understand more than adults do."
Jason W. Selby is the community editor for the Mitchell Country Press News. He can be reached at 641-421-0578, or by email at jason.selby@globegazette.com.